Kitty King
Evelyn Knapp

Ted Hunter
James Murray
Sylvia Carleton
Thelma Todd

Released by Columbia
Directed by Albert Rogell
Run time: 67 minutes
Proof That It's a Pre-Code Film
By now I am very used to the cringe in old movies when the husband sticks his wife over his knee and spanks her 'to teach her a lesson' about the patriarchy or some such nonsense. Refreshingly, all of the spanking in Air Hostess is clearly foreplay! Look at that!
Both Evelyn Knapp and Thelma Todd take turns appearing in negligees.
Everyone is worried about the hostess getting inappropriate offers.
"Hey– anybody trying to get fresh with you?"
"You mean passengers getting personal? Wanting me to do a little high flying on my own account?"
The plot hinges on a wife letting her husband be seduced by another woman so that he may attain his dream– though his dream is about building an airplane and not about getting seduced by Thelma Todd, so I cannot relate at all.
"Go to her! Go to Tokyo! Go to he–" [SLAM]
Air Hostess: High Falutin'

"There isn't anything I wouldn't do to help you get what you want."
How much do you just want to chill at an airport? Some days I just miss it. About five years ago, when I was helping facilitate traveling friends and co-workers, I was at Narita Airport 6 times in three months. I had my favorite nooks and things to do as I wiled away the hours, usually spending a bit of time on the patio just watching the jumbo jets take off and land for destinations all over the world.
The airport in Air Hostess is considerably smaller, but it's fun to see an airport in the 1930s as it goes about its daily function, even if the total time we spend with the titular hostess doing her job is sadly negligible. And enjoyable it has to be, as, outside a lengthy flashback to the Great War, the first 30 minutes of this film is just hanging out around the airport.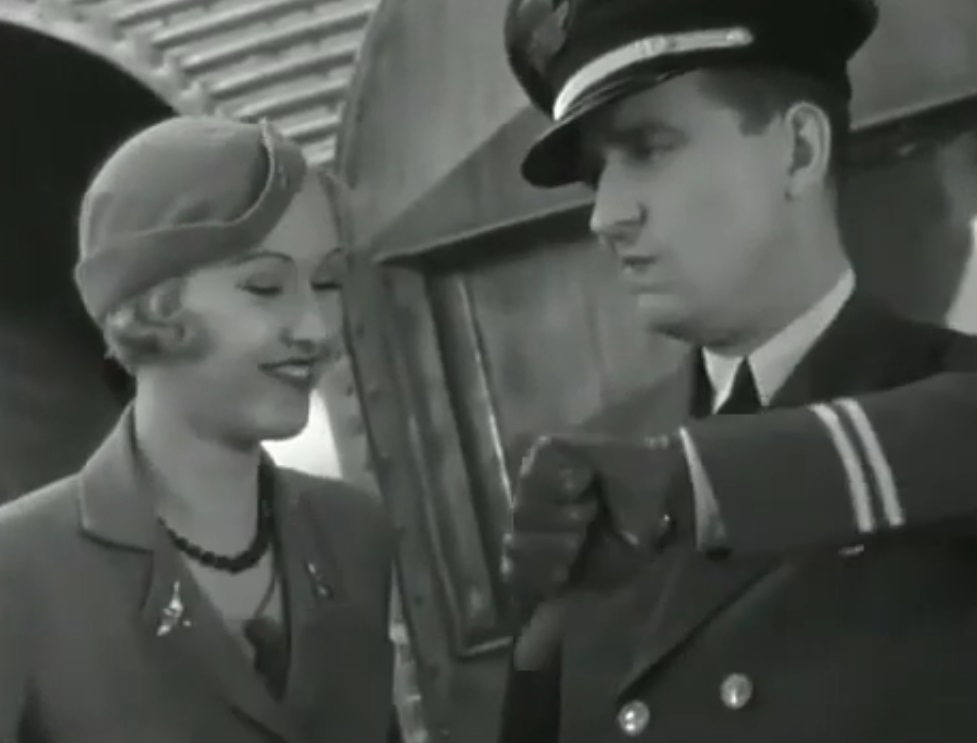 It's here we're introduced to Kitty King, an air hostess who is treated protectively by the mechanics and staff of the Albuquerque Airport. Her usual pilot, Dick Miller (!) (Arthur Pierson) pursues her fruitlessly, but joins in the others in trying to stop Kitty from getting any dates. Kitty huffs, "I've never been alone long enough with any man to learn what it is to get properly insulted!"
Kitty lost her father in the first World War. He was an aviator, and his death had been avenged by Ted (Murray), whose post-war career was mostly burning bridges and working as a stunt flyer. But Ted now has a scheme to fly from the U.S. to Tokyo non-stop with the help of his new airplane design, if only he could get the money to fund it. Kitty is wildly in love with Ted despite his history with alcoholism, and the two are married.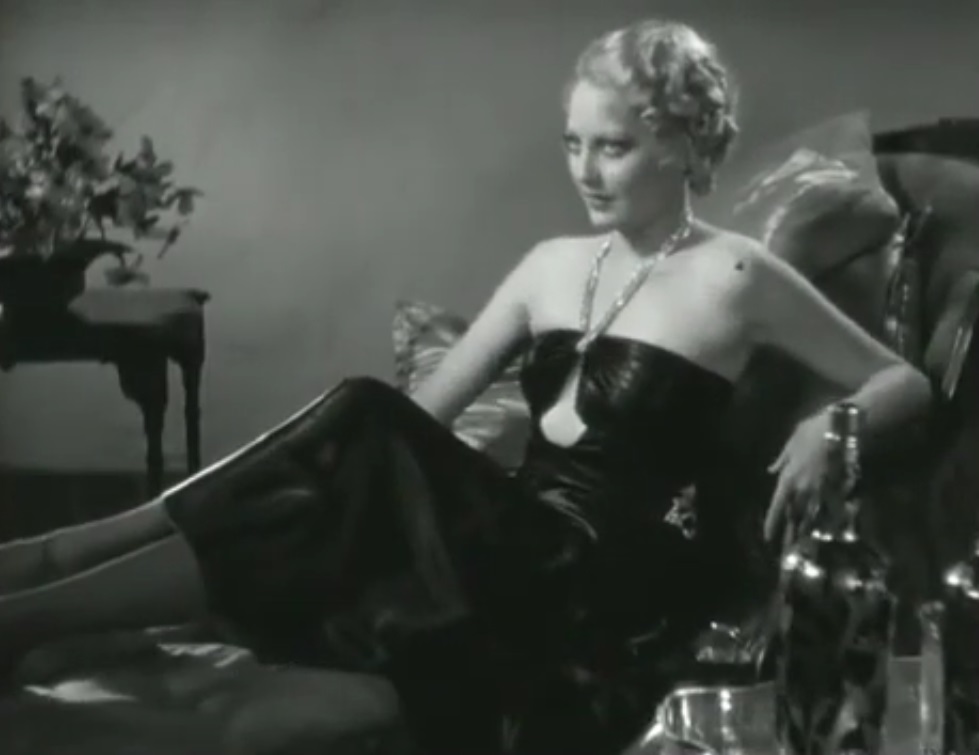 The big hurdle arrives in the guise of Sylvia Carleton, a wispy rich investor who can make Ted's dreams come true so long as he plays ball in the bedroom. The third act finds Kitty pushing her husband into Sylvia's boudoir, even though he doesn't know she knows, and he ends up there, which ends up infuriating them both. Then there is an angry train departure and, oh no, the bridge is out, and, oh jeez, some pilot has to swoop in and stop the train before tragedy ensues…
Air Hostess is a programmer from Columbia, which is usually a pretty good sign not to expect a whole lot. The love triangle elements hardwired onto an aviation plot were very much in vogue in the early 30s from Hell's Angels and Dirigible onward, and Air Hostess doesn't add much besides a few crackerjack air sequences, especially at the end as planes veer in dangerously close to a speeding train.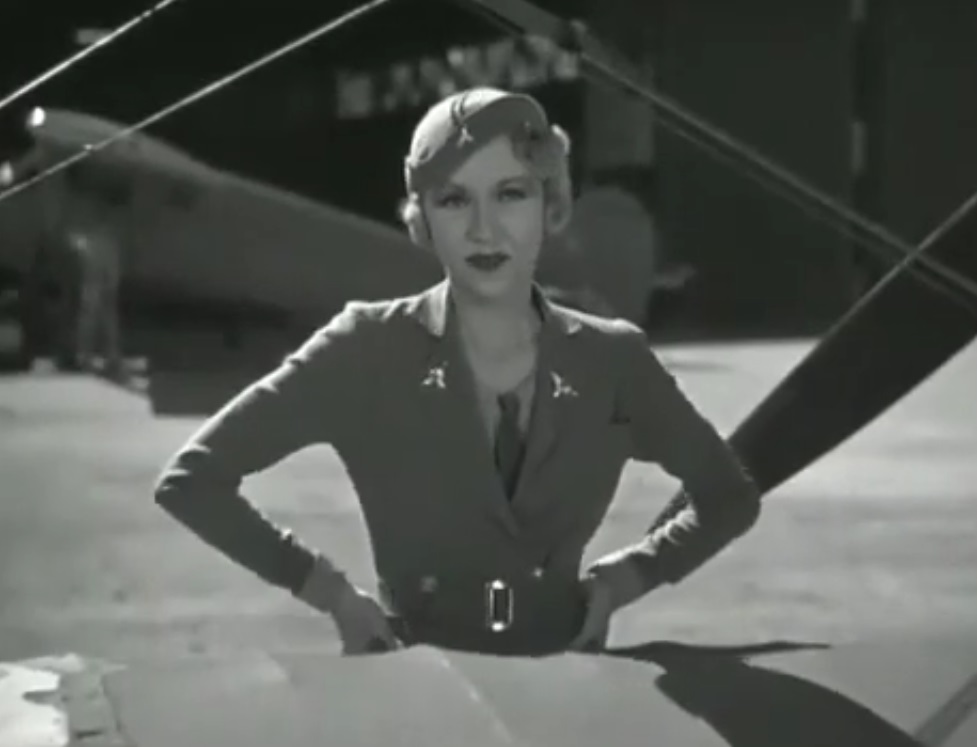 Air Hostess is of no great consequence on many levels and often veers into cliche and cheese. But there are plenty of enjoyable details to be had. I laughed at the little detail that Ms. Carleton's phone number is in bold font, twice as tall as all the rest. I also got a kick out of Thelma Todd, dressed in her nightgown and in full seduction mode, cooing to Murray, "Live, laugh, love!" I guess if you indulge in so many cliches, you may as well just hit upon a new one.
Despite all this, it's hard to really fault the movie for roughly equaling up to the sum of its parts. Some of the movie's bits, such as Murray and Knapp giggling wildly as they intimate their post-spanking plans or Thelma Todd finding the perfect level of incline for her most perfectly seductive poses, are delightful despite the humdrum material surrounding it. Although it happens less and less these days, this is the right kind of movie just to run into and then enjoy the ride.
Screen Capture Gallery
Click to enlarge and browse. Please feel free to reuse with credit!
Other Reviews, Trivia, and Links
Laura at her Misc. Musings didn't care for this one, but pinpoints the airport as Glendale's Grand central Air Terminal built in 1923. She also notes that both stars James Murray and Thelma Todd would be dead surprisingly soon, with Todd dying in 1935 and Murray passing in 1936.
Thelma Todd interprets the seductive blonde so heavily as to flavor the whole picture with a tinge of burlesque. Some of the air sequences have their moments of excitement, but "Air Hostess" needs more than airplanes to conceal the antiquity of its plot.
Variety called it a Western with planes instead of horses and noted, "Not much to the yarn and even less to the acting."
DVD Talk covers the DVD release in great detail. Writer Paul Mavis elaborates on some more of the naughtiness:
Air Hostess's love triangle between professionals in a dangerous, glamorous business–commercial air travel this time–was as old as the hills in 1933, let alone 80 years later. However, the scripters keep things snappy with some funny slang (hospitals are "pain laundries" and "chloroform distilleries"), some amusing gags (Ted crows that the other pilots are "sissies" for flying safe commercial flights…before his wrecked crate drops a strut on his head), and a fair number of semi-naughty pre-Code moments that might tickle your fancy. When Dick starts getting jealous of Kitty's flirting, she spits back to him, "You mean, when a passenger wants me to do a little high flying on my own account?" On her Mexican date with Ted, Kitty puts on a fashion show of revealing lingerie, clearly offering herself for sex (Ted, inexplicably, gets angry and tells her to scram). When they're married, Ted playfully spanks Kitty, making her laugh and giggle before a passionate embrace, while later, Mrs. Carleton, slinky in black satin and a heart-shaped beauty mark on her supple shoulder, tells tipsy Ted to ease off on the booze, because she doesn't want him too drunk, for, well…you know (and so did audiences back then, too).
Aviation pictures are here to stay and there isn't anything you can do about it. You don't need to worry much about Columbia's "Air Hostess" unless you want to find out what one looks like.
Here's Thelma Todd in a promo pic for the movie from Photoplay:
Awards, Accolades & Availability
More Pre-Code to Explore