I treasure obscurity. You may have already guessed this since I run a site that tirelessly mines many of the dustiest corners of Hollywood's history, but I love discovering odd gems, hidden disasters, and near misses.
It's of that last category that star Ann Dvorak falls into. Playing the leading role in only a handful of movies and only really remembered for her turns as the carefree Cesca in Scarface and the tragic Vivienne in Three on a Match, and even then her fame has only arrived in the last few decades as pre-Code films become more widely seen.
Dvorak herself was a fierce, independent woman who sabotaged her own career for love on more than one occasion. The daughter of silent film actress Anna Lehr, Dvorak was a chorus girl at MGM during the boom years of the musical in 1929 and 1930. She then transitioned to supporting work after successfully impressing Howard Hughes and being cast in Scarface. A wide variety of work followed her in the early 30s, from the disastrous Sky Devils to the 'eh, it certainly exists' Love is a Racket. Frustrated by the roles Warner Brothers handed her and deeply enamored with her new husband, Leslie Fenton, Dvorak ran away to Europe for an extended period, halting her promising career in its tracks.
The book doesn't end there, of course– there's still a World War and two more nasty marriages to deconstruct– but the crux of the book really sits in its early chapters as Dvorak essentially works her way up to the top and then almost immediately discards it in a combination of bad advice and romantic impulse. She would return to her work at Warner Brothers (appearing in films like Massacre), but soon fight the studio for her independence before her more powerful contemporaries like James Cagney and Bette Davis took swings for their own releases from the crushing studio bureaucracy.
This is clearly a work of passion from author Christina Rice, who I must admit I've met in real life and seen her point to fuzzy dots in a copy of The Dawn of Technicolor and exclaim, "There's Ann!". Hollywood's Forgotten Rebel is a result of more than a decade of collection and research in hopes of creating a definitive volume, and god knows if anyone in their right mind could ever dare to try and top it.
That enthusiasm clearly reverberates throughout the book as Rice looks at a woman who was always within the grasp of stardom but always got stuck a rung or two below, either because of studio meddling, putting her faith in the wrong people, or her own demons. Dvorak comes across as a stunning but flawed individual, one with remarkable passion and drive whose bad luck sunk her down and forced upon her a lifetime of frustrations.
The moments where Rice is clearly missing the pieces of the puzzle, such as the real reason for the fallout between her and Fenton as well as any pictures of third husband Nick Wade, but it's clear that it wasn't for a lack of trying. The biography is exhaustive, with my only real complaint that I can muster being that I wish more nitty gritty details had been provided about Dvorak's court case against Warner Brothers and the precise maneuverings. But that may just be my own fascination with legal wranglings from a childhood of too much "Law & Order".
Overall, the writing in Dvorak's biography is much like those of many bigger and brighter stars and all the more impressive because of Dvorak's obscurity. While I've read biographies of people horrified by their subject or even just bored with it, it's Rice's undying loyalty to Ann Dvorak which makes the book something special– a fitting tribute to an actress whose bad luck led to her being overlooked too much in life, with the rare luck to be served by a biography that many of the stars who eclipsed her would be envious of.
Notes
Length: 306 pages, 380 with endnotes and index.
Full disclosure: Christina has contributed to a book I edited, Thoughts on The Thin Man, as well as being a loyal friend to the site for years. You'll still note that I complained about something regarding the book and will no doubt never hear the end of it. So I hope you're happy. 😛
---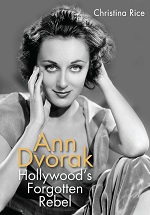 This book is available from Amazon.
---