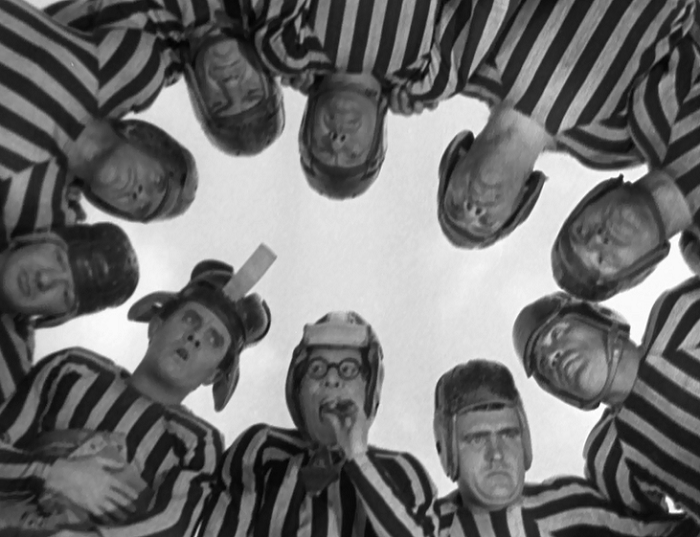 The Particulars of the Picture
Curly …
Bert Wheeler
Spider …
Robert Woolsey
Violet …
Edna Mae Oliver
Norton …
Edgar Kennedy
Barbara …
Betty Grable
The Announcer …
Robert Armstrong
Hold 'Em Jail: The Big House Meets The Big Game

"If you were a kangaroo, I'd go around in your pouch."
The typical comedy team of the early 1930s existed as simple agents of manic chaos. While there were layers to how connected to reality these teams could get– the Marx Brothers strove for surrealism, Laurel and Hardy for simple slapstick– but few traversed these different levels with as much ease as Burt Wheeler and Robert Woolsey.
With Cracked Nuts a few days ago the men played word games and bits of inspired silent comedy. Now we have Hold 'Em Jail which parodies the emergent prison genre that emerged in 1930 with the release of MGM's The Big House. There's hard time, prison breaks, illicit romance, and a big football game.
Okay, that last one is a bit incongruous, but considering how often this film trades in on pure unbridled nuttiness, a bit incongruous sounds about right.
Wheeler and Woolsey are Curly and Spider, a pair of novelty salesmen who are framed and sent to prison. This is a result of their supposed football prowess, as the warden needs a few good men so that he can win in a match with another prison, saving both his pride and his hide.
Curly and Spider don't exactly acclimate, demanding that they be woken up for tea– or lemon and cream, since the tea is the least important part– and complaining of having a drafty jail cell. After they help one hapless man rid himself of a leg iron (Woolsey turning down Wheeler's suggestion to just cut the leg off), they prevent a prison breakout before Curly accidentally soaks the warden with a hose.
The two men still have a fun as they fall for Violet and Barbara, the warden's sister and daughter respectively. Violet and Spider trade barbs, play chopsticks, and take turns dancing one another into walls. Curly risks life and limb to give Barbara flowers one night, and, as he's being followed by a spotlight, stops to make shadow animals.
Wheeler and Woolsey are at their best at the film's climactic football game, though, as they get a chance to shine as a pair of physical comedians in one of the silliest games put on the screen. After helping their rivals up their score, the two realize that they must both win and extract a confession from one of the opposing players in order to get the happy ending they so richly think they deserve.
Both men are wonderful here, and play off each other with their usual good humor. What helps is that Hold 'Em Jail stacks the deck in terms of comedic performers. Edna Mae Oliver, who spent most of Cracked Nuts as a nag, is allowed to let loose as Woolsey's bemused romantic interest. Rather than being the man-hungry type you usually see in these pictures, she comes across as a mixture between Margaret Dumont from the Marx Brothers pictures and playful comedienne Thelma Todd. She has a wonderfully droll sense of humor that clashes perfectly with Woolsey's bombast.
The other ringer is Edgar Kennedy as the prison's warden. The man is a ham, pure and simple, but absolutely brilliant at expressing frustration on a wide scale. Few actors tear into their few remaining hairs or can managed quite a slow of a burn as Kennedy has here, relentlessly surrounded by insanity on all sides.
The movie also has a criminally young Betty Grable as Bert's romantic interest. She'd go on to be one of the pinup queens of the second World War and featured in many Technicolor musicals on her own, making this an interesting pit stop. She's lovely and fun here, ably selling her own rather odd romance.
Whether you find this funnier or prefer the Marx Brothers in their football movie, Horse Feathers, probably comes down to your preference in comedy team, though the mix of prison accoutrements to the football formula gives Hold Em' a little more oomph.
While Horse Feathers rightly lambasts college for being an institution where students go to sleep and cheer sports, Hold 'Em takes it a step further by comparing penitentiaries with higher ed. The mob is the vaulted alumni of the institution, and the best players risk getting pardoned. This equation, making the prison the lower class equivalent of college, is both enlightening and one of those points you could only really make in a comedy.
Hold 'Em Jail is one of the better comedies the duo have starred in, as it utilizes their skills as both screwball and verbal virtuosos. For a good taste of good Pre-Code comedy, this is a good start. Good.
Proof That It's Pre-Code
This is actually one of the least risque of the comedic duo's output. Here's one line that goes a bit far:
"Put them in the bridal chamber and have them cool off."
"The bridal chamber is no place to cool off!"
Violet: "That's funny – I can't seem to hit that top note."
Spider: "Perhaps it's just as well. Where did you learn to sing, anyway?"
"I spent four years in Paris. Of course, I'm not a virtuoso."
"Not after four years in Paris, no."
"I trust we're both talking about the same thing?"
Trivia & Links
Edward Watz in his Wheeler and Woolsey companion calls Hold 'Em Jail "an achingly funny distillation [of prison dramas]". Likening it to more of a Three Stooges vehicle than the Marx Brothers film it often gets compared to, Watz also points out that Producer David O. Selznick added in Robert Armstrong's football game commentary after shooting had wrapped. He also notes that Burt's plot line is parodying another Pre-Code movie, The Criminal Code (1930).
PrisonMovies.Net rates this at just a star and a half, but that's simply because the prison part of the film isn't very prison-y. They do call it a gem, though.
Stuart Galbraith looks at this (and the rest of the Wheeler and Woolsey set) at DVD Talk. He's not enthused about the picture, feeling that it's copious physical slapstick is too much a departure from the team's wordplay, and that the film is too derivative for its own good.
The title is a parody of 1928's Hold 'Em Yale, a silent film that I can't even find a plot description of. I presume it's a football movie, or at the very least an expose on the grabbing epidemic at Ivy League colleges.
If you watched The Big House and wondered why the locations look familiar, Hold 'Em Jail was actually filmed on the same sets over on the MGM lot!
Woolsey at one point intones, as he's dancing with Oliver, "Hips, hips, hooray!" This would be the title of one of the duo's 1934 pictures.
Awards, Accolades & Availability