Gilda Farrell
Miriam Hopkins

George Curtis
Gary Cooper

Tom Chambers
Fredric March

Released by Paramount
Directed by Ernst Lubitsch
Run time: 91 minutes

Proof That It's a Pre-Code Film
"A bicycle seat is a little hard on Lady Godiva's historical background."
The entire story is about three people trying to get their three-way relationship to function. "Three of us is like playing jokes on nature."
Miriam Hopkins declares, and the plot revolves around this, "A thing happened to me that usually happens to men!"
Our resident buffoon, played by Edward Everett Horton, pointedly declares, "Immorality may be fun, but it isn't fun enough to take the place of 100% virtue and three square meals a day!" Each character takes a turn to mock it.
Gary Cooper is forced to seduce a laundress for a clean shirt, and goes as far as she makes him.
There's been plenty of Pre-Code movies that have used the phrase 'making love', but this is the first one I remember using the term 'sex' so blatantly and pointedly.
Frederic March notes, "In other words, you never got to first base." Yes, the euphemistic meaning for first base has been around at least since your grandparents were kids.
Design for Living: A Process of Interesting Elimination

"A thing happened to me that usually happens to a man!"

How do you encapsulate disappointment? I've been aching to see Design for Living for more than a half a decade and, always lacking a good opportunity since the film is unavailable outside of a hard to find boxset, I never got the chance to do so. Finally, last week, Criterion added it to their illustrious collection. Now it was time.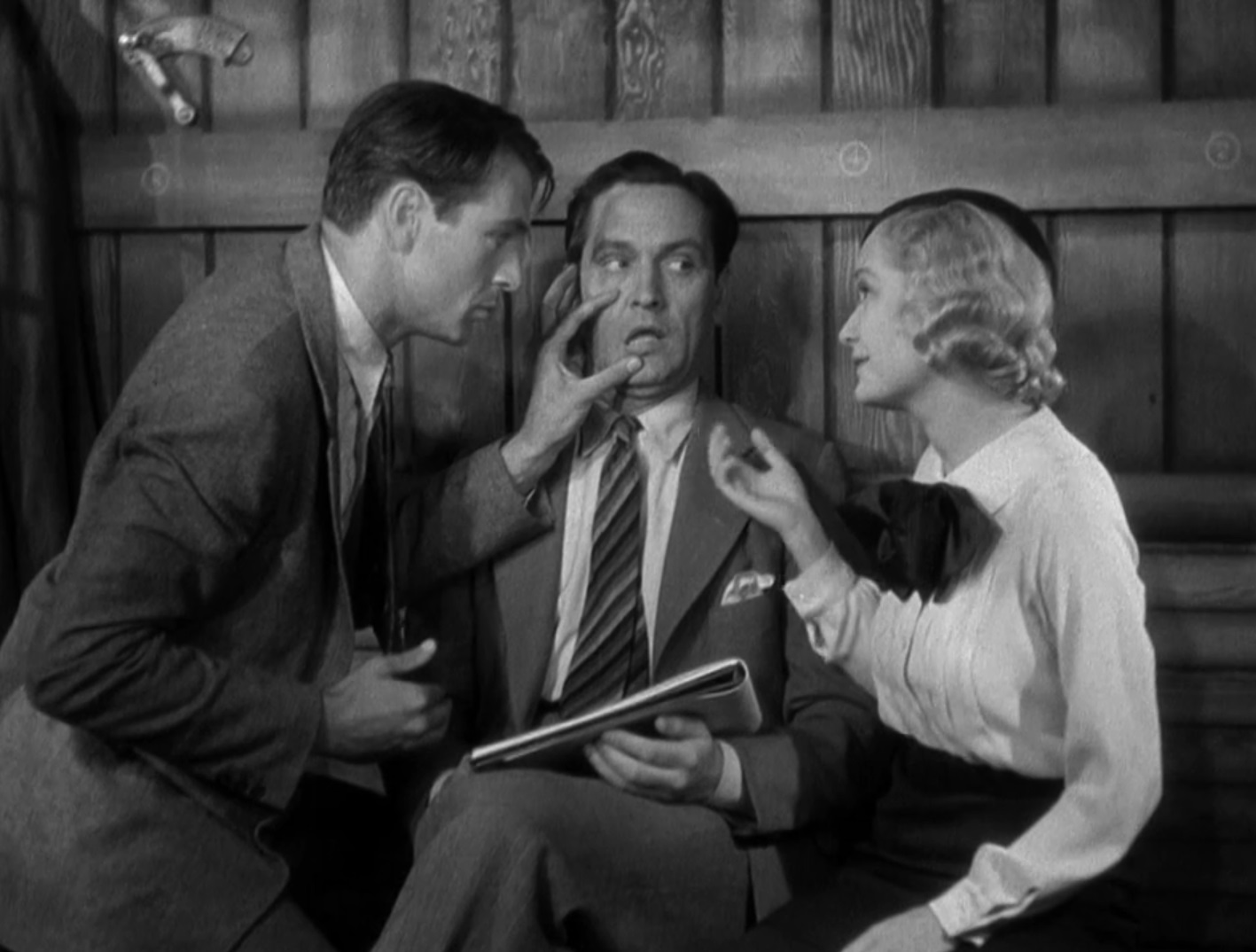 Directed by Ernst Lubitsch and having an air of infamy around it that perhaps could better be described as a fog, Design is a film that focuses on a story of three people actively engaging in a conjugal relationship and the subsequent testing of the boundaries of that arrangement.
This triangle is fashioned by Gilda (Miriam Hopkins) between herself and artist George (Gary Cooper) and playwright Tom (Frederic March). The two men must reconcile their egos, which, by no means is any easy task, while Gilda delights in having the pair wait on her hand and foot. She likes being doubly occupied, and it works until one end of the triangle becomes unbalanced.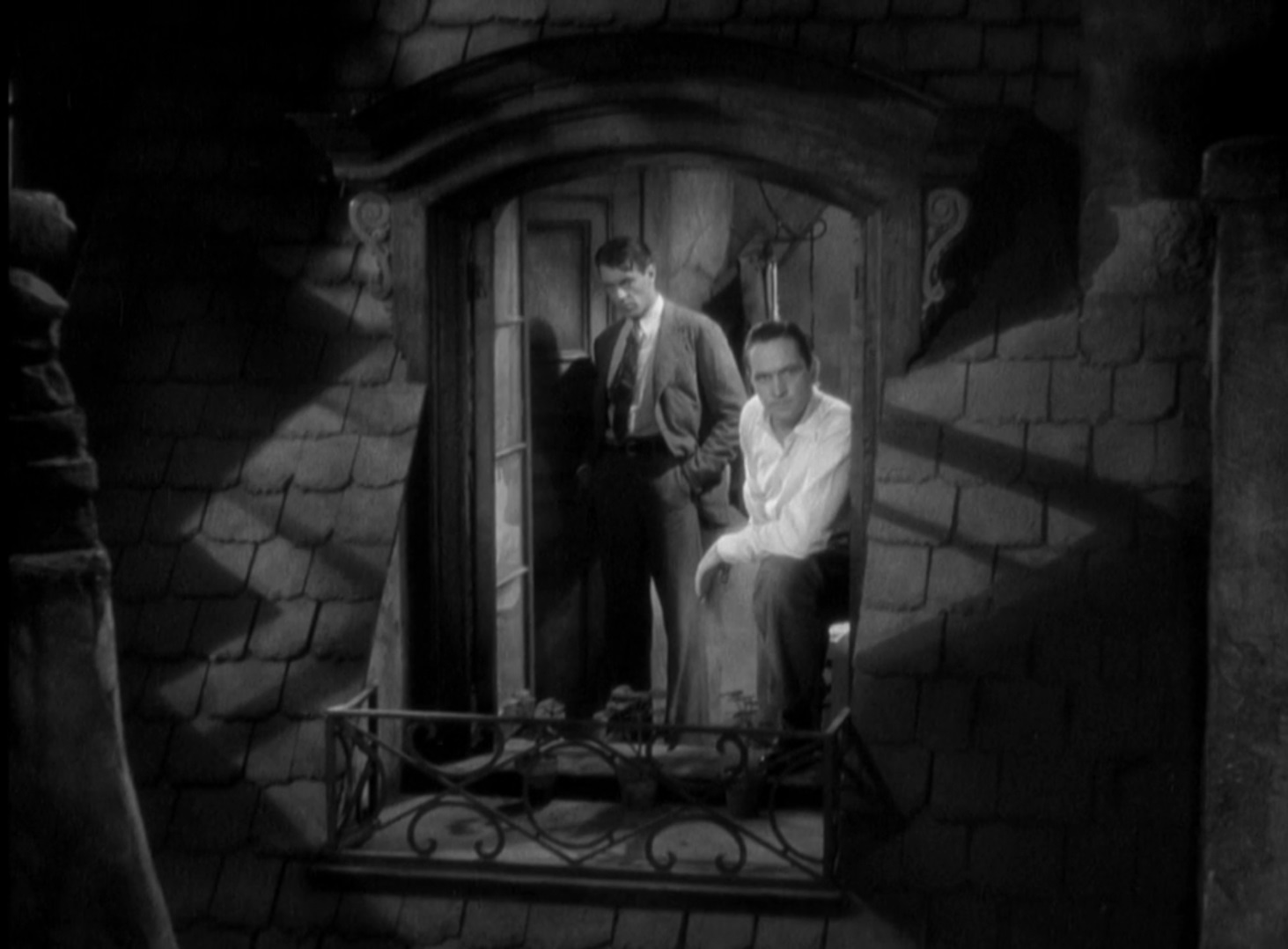 There's a good amount of reversals and seductions here, as Gilda simply can't choose between the two men, and the two men, no matter how close their friendship, simply cannot figure out how to reconfigure their primal instincts. Where this film differs from most others made since is that it refuses to view this situation as impossible or even undesirable: this three way is the best solution, and the three people will work out their differences.
The concept of a menage a trois today is one more commonly left to early morning Cinemax than serious dramatic considerations. In fact, the only modern movie that crosses my mind that considers the possibility is Bertolucci's painfully, woefully unbearable The Dreamers; the less said about that the better.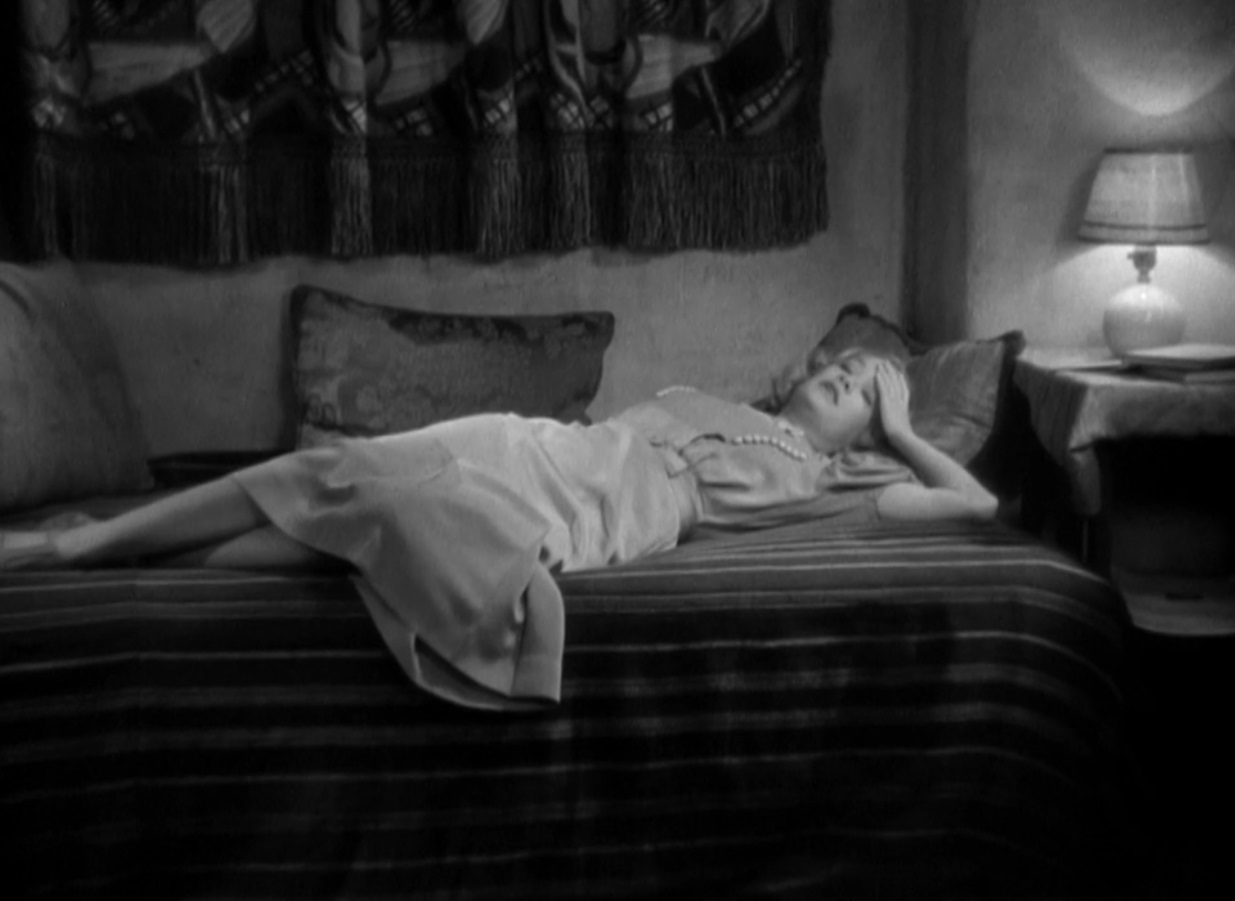 Like his previous but sharper film Trouble in Paradise, Lubitsch takes many opportunities to poke at the collective id of the filmgoing public. Double entendres litter the Parisian streets, as Gilda's bed becomes a point of contention not just for her love of the two men, but the arduous affections of her boss, Mr. Plunkett. When she finds the two men can't reconcile, she turns to him and offers to be his bride; this may be the rare, possibly only film where marriage threatens the sanctity of the three way.
Things turn out well enough for everyone, and, though we never see Cooper and March share a kiss, we're sure that they've learned to sublimate the male urge to better appreciate one special woman.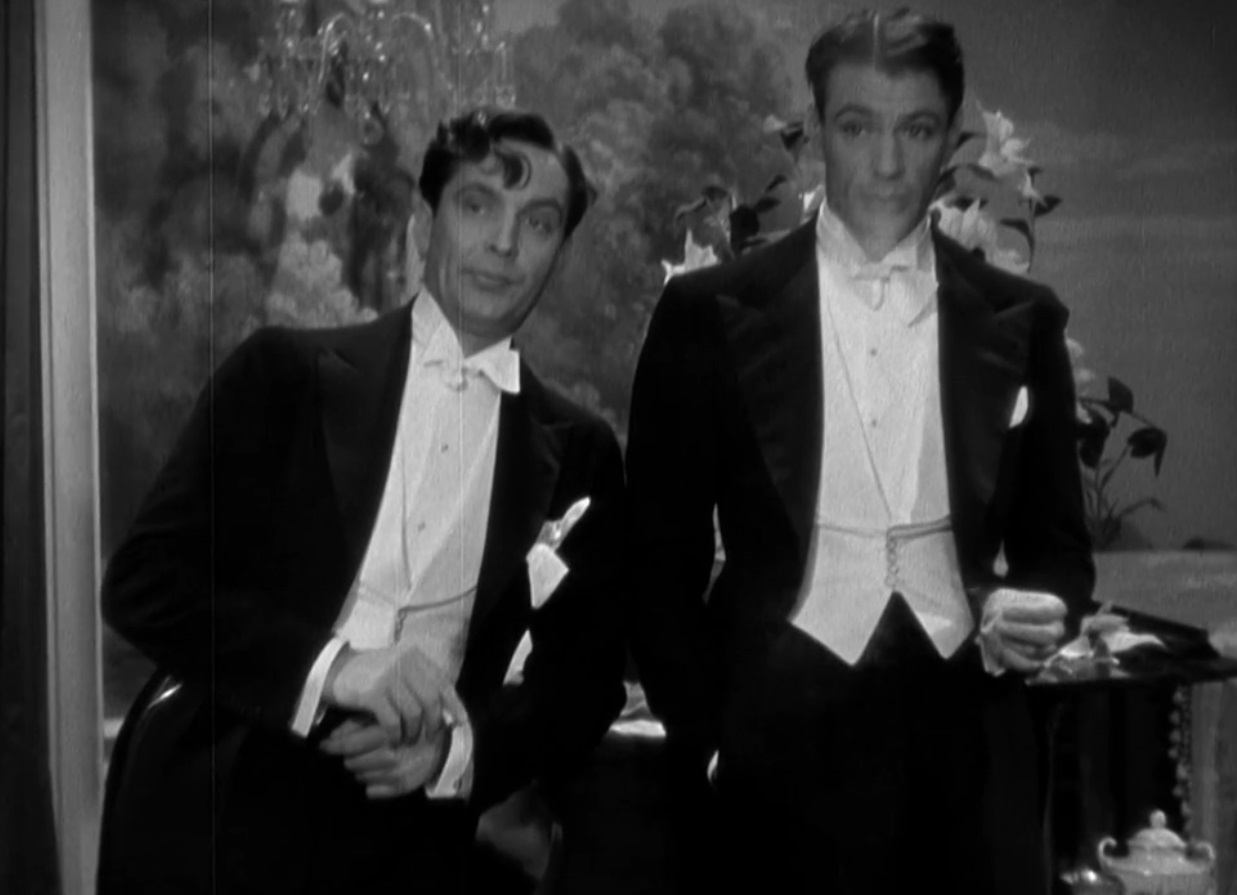 Design for Living has some brilliant chunks, but never seem to coalesce into a whole coherent thought. The radical social realignment it suggests takes what probably is the best path for telling the story of such an imbroglio, namely the classy comedy, but the comedy is stuffy because of its predetermined path. The characters never question the arrangement, but rather only discover their need to find a place in it.
Unfortunately this paradox is counterproductive to the film's tension, and that only serves to highlight another issue with the movie: for a comedy, it's not spectacularly funny. There are long stretches between the humor, and the characters feel broadly drawn, especially Cooper's mediocre painter, George. March has a beautiful scene talking along with his character's own play, which shone with Lubitsch understanding of manly foibles, but his character, too, ends up being a tool of the plot.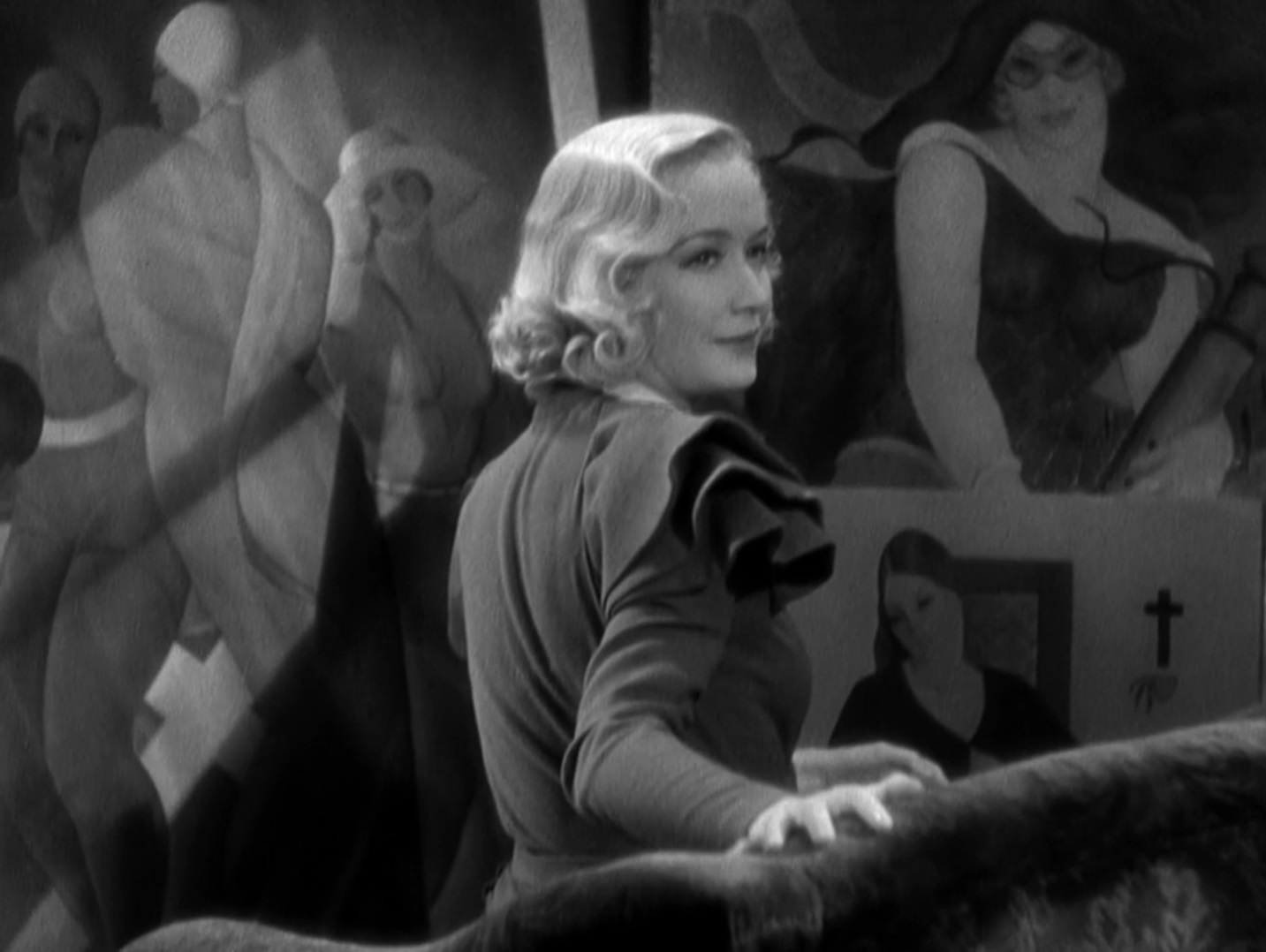 The one who gets away with the most and steals the movie from all involved is Hopkins, as the overdramatic but wickedly promiscuous centerpiece. She's got a spirit of bonhomie that gives her a zest to her step that keeps her ahead of everyone else, and a sad side that sees compromise as inevitable. She's multifaceted, and hardly anything like any female protagonist who isn't conveniently labeled sex addict or placed on one of those Cinemax movies mentioned before, though there she usually is made of mostly plastic and keeps starring into the camera.
In spite of Hopkins' performance and a juicy premise, Design for Living never transcends its parts and gels into a charming whole. It's a shame, and a shock; I do wonder if my expectations were too high, too demanding, but I can't shake this nagging feeling of a film that had the right ingredients but ended up undercooked. It's too freaking bad.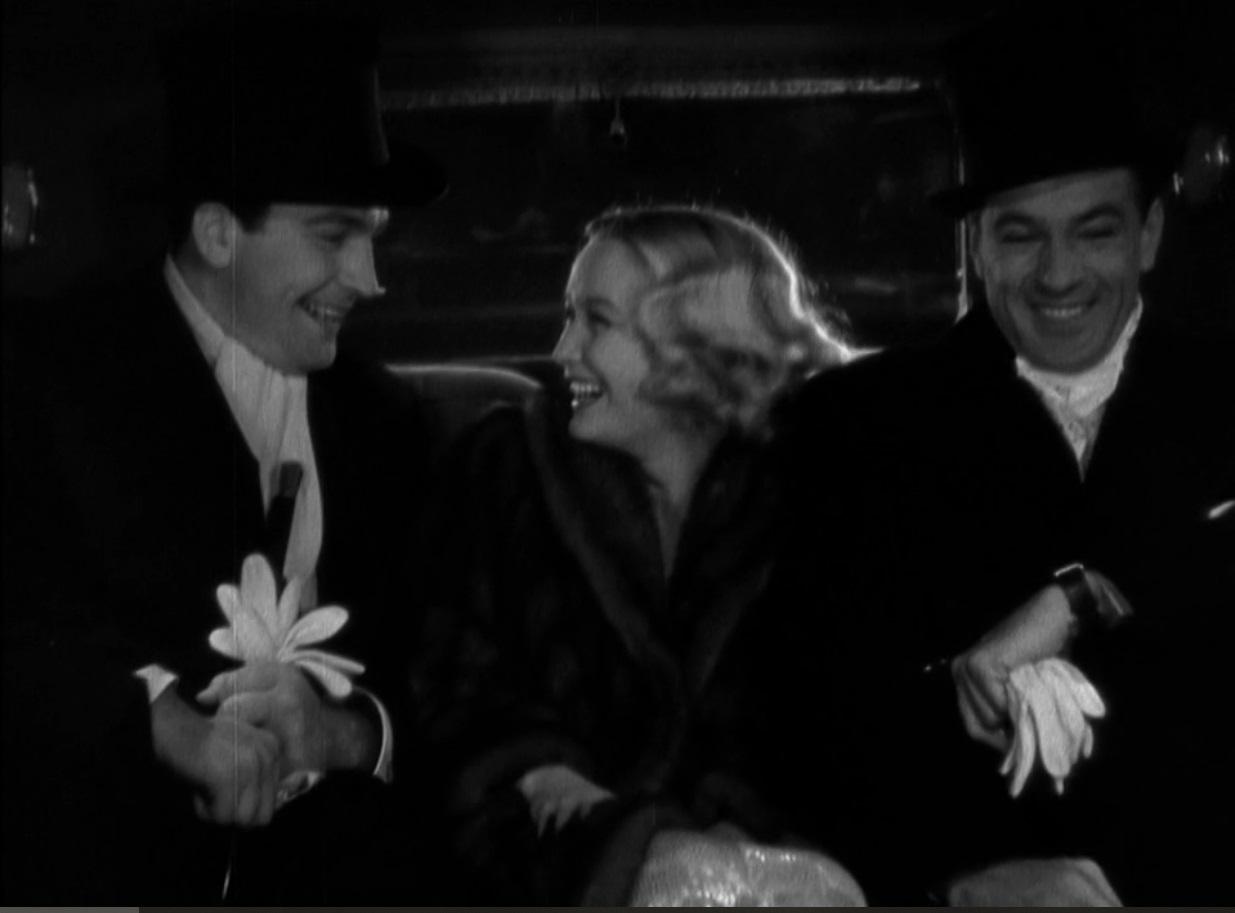 The film just came out on Blu-Ray from the Criterion collection, and it's nowhere near as nice as their Island of Lost Souls blu from a few months back. Besides an essay and a rather uninteresting selected scene commentary (which uses clips from Trouble in Paradise, underlying that film's sharper wit and tone), there isn't a whole lot on the disk. I'd definitely recommend it as a rental first and foremost over a blind buy.
I'm going to try something new, here, so here's a collection of links to interesting articles I found while reading up on Design for Living. I don't think I'm going to do this for every Pre-Code Folly coming down the line, but I figure I might as well share some of the good stuff I find.
Screen Capture Gallery
Click to enlarge and browse. Please feel free to reuse with credit!
Other Reviews, Trivia, and Links
"It Takes Three" — Kim Morgan's fawning essay for the Criterion edition.
DVD Beaver Review — Since I again had to rely on YouTube screenshots, here's a review of the film's beautiful new blu-ray transfer.
NY Times Review — I always get a kick out of reading Mordaunt Hall's reviews, mostly because they come straight from 1933. He really seems focused on the details of the Parisian train station, but also really likes the feeling of the movie.  I also think its hilarious that he saw it at a place called the Criterion– that's kinda how I saw it too!
Awards, Accolades & Availability
More Pre-Code to Explore