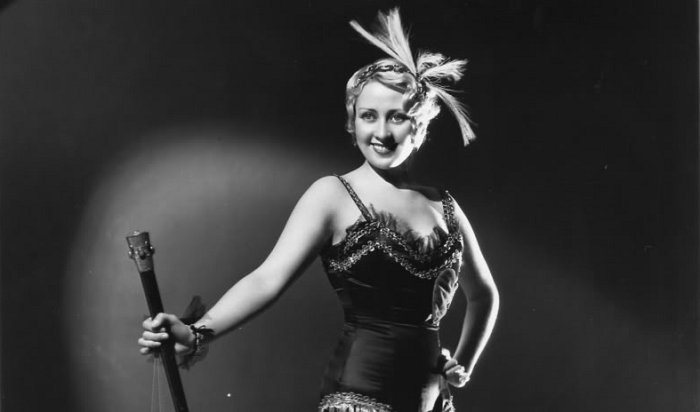 I sometimes get worried that my site is too stuffy, what with it being 99% reviews of movies that were made several decades before my readership was born. I wanted to try my hand at being a little more cordial, so I'm going to try a post with this month's listings on TCM, as well as info about upcoming reviews. Enjoy!
Upcoming Reviews in September
Just a few hints!
We'll be wrapping up Buster Keaton's last pre-Code film with one of the worst films I have ever seen.
We'll hit a movie that has 'blink and you'll miss them' cameos by Lew Ayres and John Wayne.
Two films with the two Barrymore brothers.
A film so obscure that TCMDB still lists it as 'lost'.
And a much requested Joan Blondell film that involves a bathtub.
Pre-Code Films on TCM in September
Please note: All times are EST and subject to change.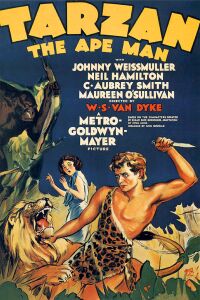 Sunday, September 1st
3:00 AM – Tarzan, The Ape Man (1932) – A British lord raised by apes kidnaps a beautiful noblewoman exploring Africa with her father.
Tuesday the 3rd
5:00 AM – The Passionate Plumber (1932) – A woman hires a plumber to make her lover jealous. MY REVIEW.
Thursday the 5th
4:45 AM – The Doorway to Hell (1930) – Despite his efforts to go straight, a young gangster keeps falling back into crime. MY REVIEW.
6:15 AM – Little Caesar (1930) – A small-time hood shoots his way to the top, but how long can he stay there? Not very, to be honest. With Edgar G. Robinson and Glenda Farrell, contains little or no pizza.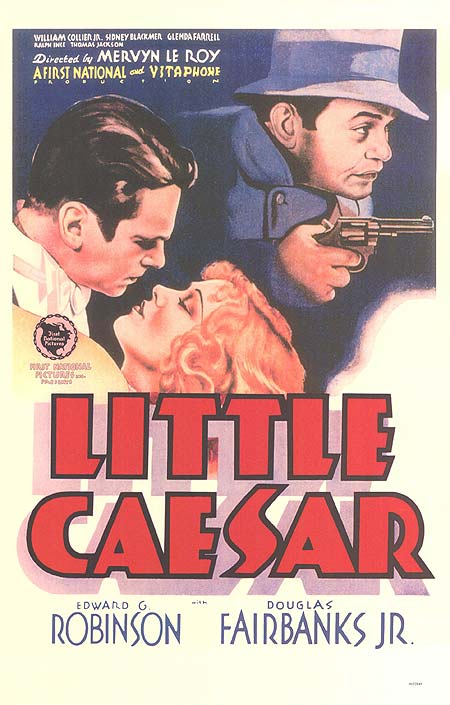 7:45 AM – The Office Wife (1930) – A gold-digging secretary sets out to lure her boss from his straying wife.
9:00 AM – Illicit (1931) – Young free-thinkers turn conventionally jealous when they marry. MY REVIEW.
Monday the 9th
10:45 PM – City Lights (1931) – In this silent film, the Little Tramp tries to help a blind flower seller to see again. No, don't punch her in the eyes, Charlie, that won't work!
Thursday the 12th
3:00 AM – Passion Flower (1930) – A society woman courts heartache when she falls in love with her chauffeur.
4:30 AM – Star Witness (1930) – An old man who witnessed a crime is threatened by gangsters. A William A. Wellman picture!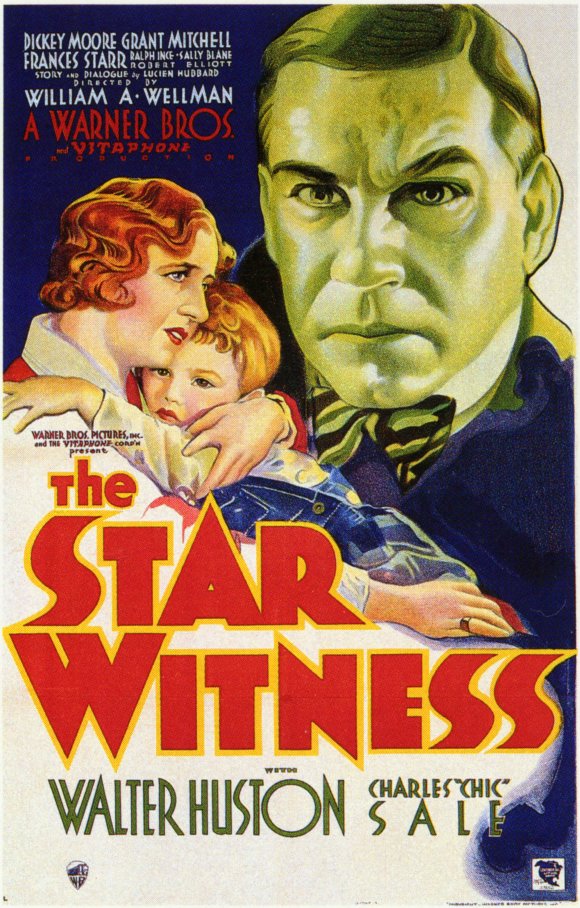 5:45 AM – Gabriel Over the White House (1933) – A crooked president reforms mysteriously. MY REVIEW.
7:15 AM – This Side of Heaven (1934) – An eccentric family tries to work together when the father is accused of embezzlement.
Friday the 13th
4:45 AM –Numbered Men (1930) – A convict learns that a fellow prisoner has been messing with his woman.
7:30 AM – Hell's Highway (1932) – A prison-camp convict learns that his younger brother will soon be joining him behind bars.
8:45 AM – The Big House (1930) – An attempted prison break leads to a riot. MY REVIEW.
12:00 PM – Ladies They Talk About (1933) – A lady bank robber becomes the cell block boss after she's sent to prison. MY REVIEW.
3:00 PM – I Am A Fugitive From A Chain Gang (1933) – A World War I veteran faces inhuman conditions when he's sentenced to hard labor.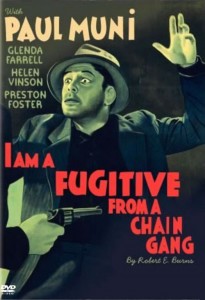 Sunday the 15th
3:00 AM – Viva Villa! (1934) – Rousing biography of the bandit chief who led the battle for Mexican independence.
5:00 AM – King Kong (1933) – I presume you've heard of this.
Thursday the 17th
3:00 AM – Our Blushing Brides (1930) – Three roommates try to land rich husbands. With Joan Crawford.
4:45 AM – Montana Moon (1930) – A flapper weds a cowboy and has to adjust to life out West. With Joan Crawford.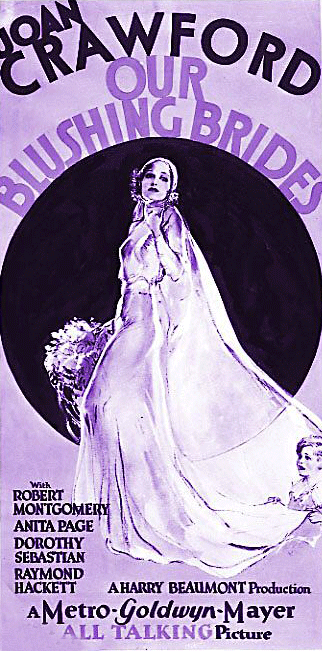 6:00 AM – This Modern Age (1931) – A child of divorce raises eyebrows when she goes to Paris to live with her estranged mother. With Joan Crawford.
7:30 AM – Today We Live (1933) – An aristocratic English girl's tangled love life creates havoc during World War I. With Joan Crawford and directed by Howard Hawks.
9:30 AM – Dancing Lady (1933) – A musical star is torn between a millionaire playboy and her stage manager. With Joan Crawford, Clark Gable, and Franchot Tone.
Saturday the 21st
5:00 PM – It Happened One Night (1934) – Not exactly an obscure film. MY REVIEW.
Sunday the 22nd
5:00 AM – I Am A Fugitive From A Chain Gang (1933) – A World War I veteran faces inhuman conditions when he's sentenced to hard labor.
Monday the 23rd
5:00 PM – Love Me Tonight (1932) – A Parisian tailor falls in love with a princess. With Maurice Chevalier.
7:00 PM – The Story of Film: The 1930s (2011) – The fourth episode in this 15-part history of cinema marks the arrival of sound in the 1930s.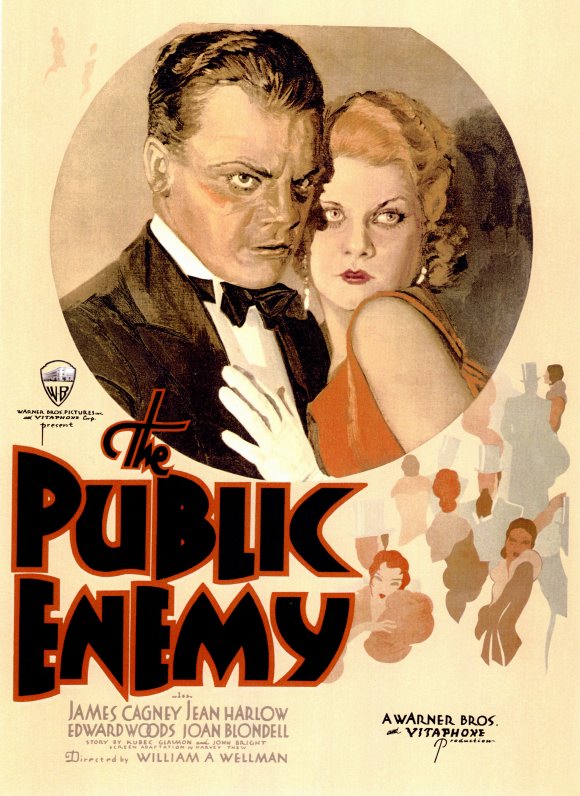 8:15 PM – The Public Enemy (1931) – An Irish-American street punk tries to make it big in the world of organized crime. With James Cagney.
9:45 PM – Frankenstein (1931) – A crazed scientist creates a living being from body parts, not realizing it has a madman's brain. And it's Boris Karloff under the make-up– even scarier!
11:00 PM – The Gold Diggers of 1933 (1933) – Three chorus girls fight to keep their show going and find rich husbands. With Joan Blondell and Warren William. I don't have a review for this one, but if you haven't seen it, watch it.
12:45 AM – Twentieth Century (1934) – A tempestuous theatrical director tries to win back the star he created and then drove away. With Carole Lombard and John Barrymore.
Wednesday the 25th
The morning movies seem to be devoted to divorce on the 25th, which means you should wake your hopelessly romantic friends up early so as to try and disabuse them of their happier notions regarding life.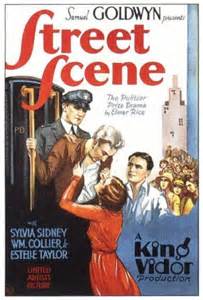 3:00 AM – The Divorcee (1930) – The double standard destroys a liberal couple's marriage. With Norma Shearer. MY REVIEW.
4:30 AM – Divorce in the Family (1932) – A young boy gets caught in an emotional tug of war between his divorcing parents.
7:15 PM – Street Scene (1931) – A husband's violent reaction becomes the talk of the neighborhood when he catches his cheating wife in the act.
Thursday the 26th
3:30 AM – Girl Crazy (1932) – City slickers try to turn a broken-down ranch into a resort. With Wheeler and Woolsey. MY REVIEW.
For TCM's full September schedule, click here.
Open Discussion
I'm open to suggestions about anything right now, from movies to review or features to try out. I love feedback, so feel free to comment!