Released by Paramount | Directed By Mort Blumenstock

A Broadway Romeo: Smarm City
"But I hardly know you!"

"Baby, that's my only chance."
I knew a girl growing up who was obsessed with Jack Benny. I suppose many of my older readers will find nothing strange about this, but in elementary school in the 1980s meeting a girl in the middle of Illinois who was obsessed with Jack Benny was pretty out there. Unsurprisingly, she was the first girl who I ever asked on a date in junior high school; even less of surprise is probably how quickly I was turned down. (I had acne, it was 1994, there was no chance!)
So I always bring a little accumulated baggage to Jack Benny proceedings, probably not helped by the fact that 1941's To Be or Not To Be is one of my favorite films of all time. (I once watched it three times in one day, which is pretty spectacular for someone who rarely rewatches things.) But, admittedly, that's the only Jack Benny movie I like– have you ever seen The Horn Blows at Midnight? My god, it's bad.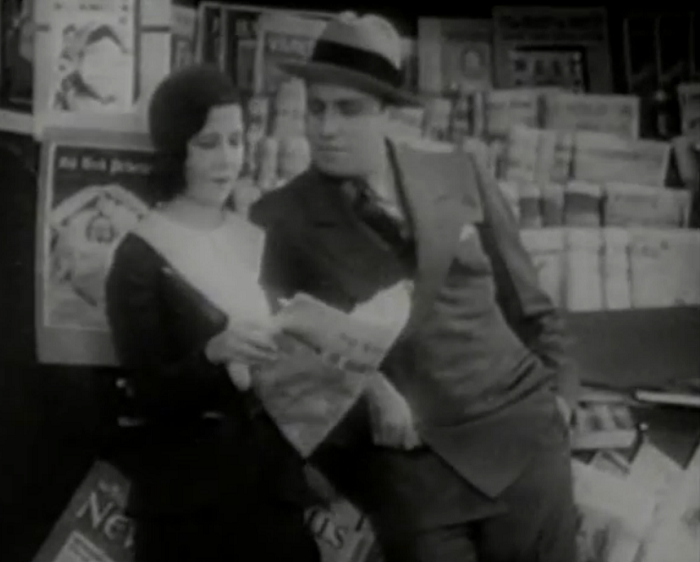 Anyway, the premise for "A Broadway Romeo" is a simple one. Benny, playing Jack, goes to a newsstand to pick up an out-of-town paper so that he can check in on his girlfriend who is playing a show in Kokomo, Indiana. While there, he runs into another girl looking for the Kokomo paper. The two eat dinner together, Benny skimps on the check, and then they discover that both's respective lovers in Kokomo have hooked up. They decided to give it a go between themselves to even up the odds and then we get a fade to black.
The plot, like in a lot of shorts, is simply the clothesline to hang the gags on. Some work (such as Benny ribbing a cheapskate by noting one paper listed a hundred more deaths than the other, making it more valuable), but most flounder. Benny lacks much of the self-depreciation and skinflintiness his later persona would develop, so it's essentially a collection of wisecracks tossed on screen.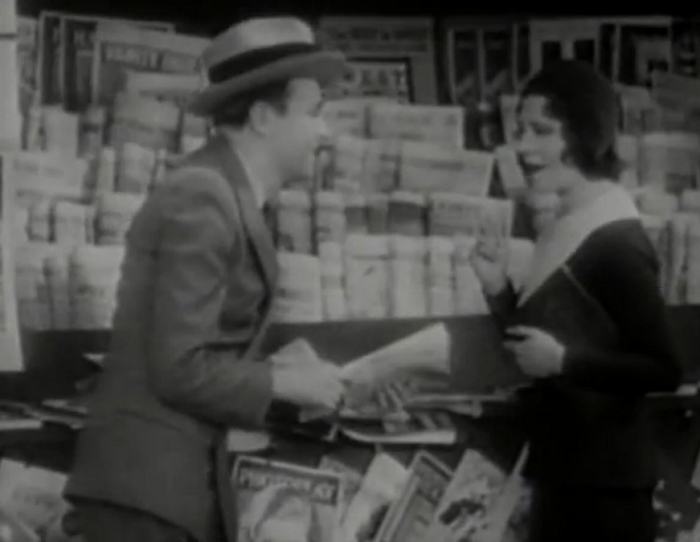 The nicest thing about A Broadway Romeo is probably how ludicrous it is nowadays to see a newsstand in New York devoted solely to newspapers from other towns. Was this a real thing? No idea. But in a digital world where my hometown is eight letters and an enter button away, the charm of the remoteness of this concept shines through.
Benny went on to better things. A Broadway Romeo passes the time.
Awards, Accolades & Availability
This film is available on YouTube here:
Comment below or join our email subscription list on the sidebar!