Norma
Bette Davis
Butch
Pat O'Brien
The Captain
Lewis Stone
Joe
Allen Jenkins
Belle
Glenda Farrell
Pete
Ruth Donnelly
Released by Warner Bros. | Directed by Roy Del Ruth
Run time: 72 minutes

Proof That It's a Pre-Code Film
Since this is a film dealing with the destitute, it's fairly morbid– it opens with Allen Jenkins poking around a mortuary with absolute non-chalance, later talking about the girl he had to put back together like a jigsaw puzzle to discover her identity.
Butch's proposition to the comely Norma, while he's sprawled out on her bed, is pretty on the nose: "Say… how about having breakfast with me in the morning?"
There are also a number of drug references. One girl died in the 'hop joint', and later, when Norma tells Butch something incredible, he yells, "Are you smoking hop?!"
Bureau of Missing Persons: No, Not a Desk
"Then curiosity got the better of me. I wanted to see what I looked like in a coffin."
Running a spritely 72 minutes, Bureau of Missing Persons at times comes across as Grand Hotel for the destitute. Lewis Stone oversees them both– people coming, people going, nothing ever changes.
Don't be fooled by my comparison, though– Bureau has nowhere near the grandeur of the MGM production, and the 'guests' here have even worse track records for happy endings. In fact, I don't believe Lewis Stone ever leaves the office set for the whole film, which feels like a collection of contract players killing a week in the studio. Each is handed strands of vignettes and told to make it and make it snappy. Pat O'Brien, usually a pain in the rear, is halfway charming as a dumb detective who suddenly finds that his wits have some use when he's reassigned to the titular unit.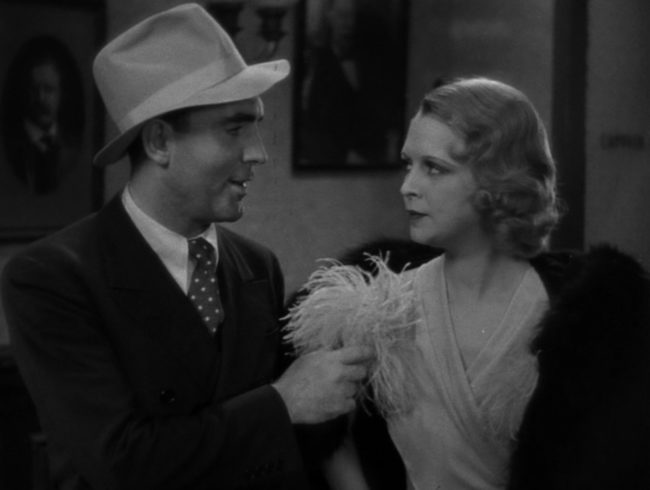 The Bureau seeks out anyone declared missing, for better or worse. One of the movie's better jags is where it teaches O'Brien's character a lesson. He tracks down a boy prodigy named Caesar Roman who's on the run from his parents and hiding out in a tent on a roof. O'Brien comes in and develops a rapport with the kid– they see a bit of each other as people who want to escape all the pressures put on them by others who just don't understand. It's kind of a relief to see this nowadays– a film advocating a kid running rampant on the streets with friends as an exemplary life choice seems like science fiction by modern parenting standards.
Top-billed Bette Davis swoops in at the 30 minute mark to kick off the main plot, wherein a woman pretends one man is missing where she herself is actually missing– missing because she's on the lam from the cops for a murder rap. Davis and O'Brien have a terse sort of relationship, part because of how close-to-the-vest Davis has to play it (on occasion only to protract the film) and sometimes because it's easy to tell that Davis is better than the material. But the chemistry works, and the movie's incalculable twists and fake outs move with speedy grace.
But despite that being the main thoroughfare, this is a movie far more concerned with mood and getting the most out of its contract players. Glenda Farrell has the most wattage, dancing around a befuddled O'Brien as his husband, often introducing herself with a high pitched "OH BUTCHY WUTCHY!". You also have Allen Jenkins, playing fairly serious, as an investigator who looks at some morbid stuff with a raised eyebrow. Ruth Donnelly and Hugh Herbert get some fun bits as fellow operatives, all the while Stone sits in his office, turning over the troubles of the world in his mind.
The movie is as zippy as you can expect, though its structure sometimes make it seem haphazard. Director Roy Del Ruth gets good use out of the film's black and white, and the movie is directed with an economy– even the car chase at the film's end is punctual in an attempt to get things moving along.
Bureau of Missing Persons is a nice, low-key Warner Bros. programmer that doesn't shy away from the rougher stuff in life. It's really loose– sometimes stuff snakes in and out of the narrative People come, people go. And some just disappear.
Gallery
Click to enlarge. All of my images are taken by me– please feel free to reuse with credit!
Trivia & Links
In Fasten Your Seat Belts: The Passionate Life of Bette Davis, Lawrence J. Quirk quotes from an interview he conducted with Pat O'Brien, who recalled, "in Bureau of Missing Persons, she was… not even 'first among equals' but, shall we say, 'equal among equals,' and it galled her no end. 'This picture is lousy as hell,' she said to me more than once while I tried to kid her into a more mellow mood on the set. I remember that she really blew her top when some stupid fan magazine published an item that she and I were 'that way' about each other and we were both married, and moreover, thought of each other only as friends! Oh, it all got to her all right and I am surprised, in retrospect, that it took her three more years to walk out on the Warners." Quirk also writes that Davis was unhappy with the way she was photographed for the film, that she was "…mightily incensed with photographer Barney McGill, who made her look like two different people in mismatched shots. In some she looked almost matronly at twenty-five yet! and in others seemed eighteen and just out of high school."
Kristina at Speakeasy covered this one recently, and recommends it by saying that, "It feels like a pilot episode for the best pre-Code Naked City series never made."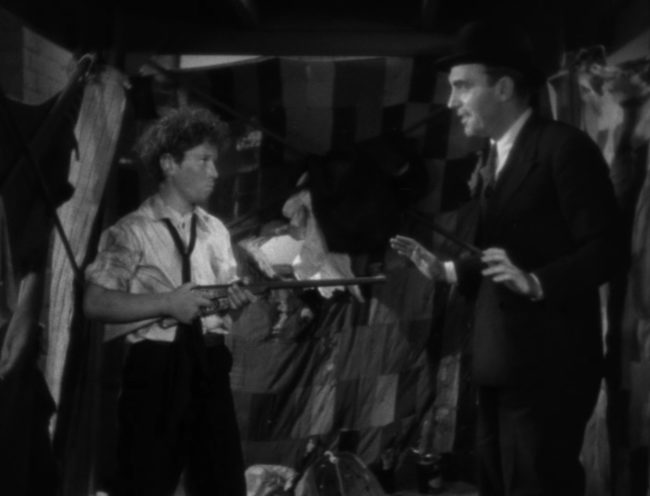 Dear Old Hollywood runs down all of the movie's filming locations– and they're still pretty recognizable!
The film's poster (found on eMoviePoster; it sold in 2002 for $1,500) is simple; I like the tagline.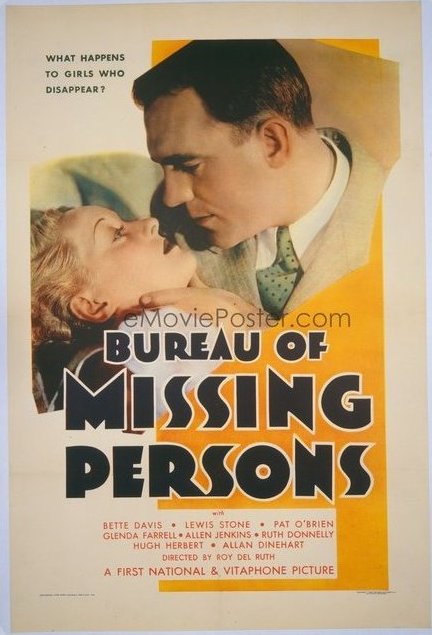 Awards, Accolades & Availability
More Pre-Code to Explore