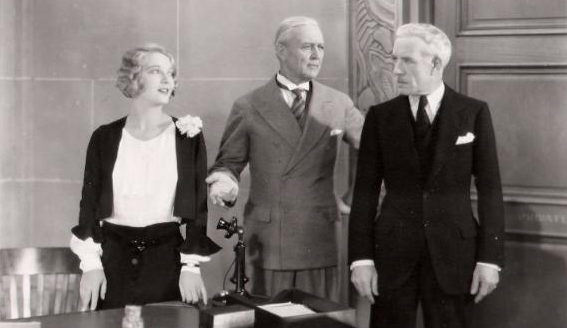 Pre-Code Movies on TCM in May 2015 and Other Site News
Pre-Code.Com Site News for May 2015
June will be reader request month! Please leave a comment below with your suggestions for movies I should hit. I have 8 slots, and it's first come, first serve. There may be a few I defer– no Gold Diggers of 33 because that'll take forever to write, and a few movies I know are coming to DVD with better transfers– but otherwise suggest away. If you need an idea, check out the list of pre-Code movies. Here's June's schedule, thanks to readers like you:

6/1 – Queen Christina
6/5 – The Barbarian
6/8 – Moulin Rouge
6/12- 24 Hours
6/15- Sing and Like It
6/19- Love Me Tonight
6/22- Strange Love of Molly Louvain
6/26- I Am a Fugitive from a Chain Gang
6/29- Midnight
Pre-Code Hollywood Movies on TCM in May
Please note: All times are Eastern. This schedule is subject to change. See the full listings here. To watch TCM online, check out their TCM Watch site.

---
1st, 6:45 AM
The Office Wife (1930)
A gold-digging secretary sets out to lure her boss from his straying wife. Kicks off a day of movies about secretaries.
---
---
---
1st, 10:15 AM
She Had to Say Yes (1933)
A secretary pads her salary by dating prospective buyers for her company
---
2nd, 10:00 PM
Queen Christina (1933)
Romantic tale of the 17th-century Swedish queen and her romance with a Spanish diplomat.
---
---
---
5th, 6:00 AM
One Man's Journey (1933)
Father and son doctors disagree over the son's materialistic goals. With Lionel Barrymore.
---
5th, 7:15 AM
Sweepings (1933)
A man spends his life building a successful business to pass on to his kids who are uninterested.
---
---
---
6th, 9:00 AM
Life Begins (1932)
A maternity ward becomes the focus for the patients', doctors' and nurses' personal problems.
---
6th, 3:45 PM
Registered Nurse (1934)
After her husband goes mad, a nurse fights off the advances of two amorous doctors.

---
---
12th, 6:15 AM
Morning Glory (1933)
A stage struck girl travels to New York determined to make it on Broadway. Katharine Hepburn day!
---
12th, 7:30 AM
Spitfire (1934)
A backwoods faith healer falls for a married man from the big city.
---
13th, 4:45 AM
One Way Passage (1932)
An ocean voyage leads to romance for a dying heiress and a condemned criminal. With Kay Francis and William Powell.
---
---
17th, 10:15 PM
The Blue Angel (1930)
A stodgy professor falls from grace when he's seduced by a nightclub singer.
---
---
19th, 6:00 AM
Passion Flower (1930)
A society woman courts heartache when she falls in love with her chauffeur. With Kay Francis.
---
---
22nd, 6:15 AM
Friends and Lovers (1931)
A society woman and her husband blackmail the men who flirt with her.
---
26th, 6:15 AM
God's Gift to Women (1931)
A modern-day Don Juan tries to go straight for love of an American woman. With Frank Fay and Joan Blondell
---
---
28th, 9:00 AM
The Runaway Bride (1930)
A criminal gang goes after the jewels their dying leader stashed in a woman's handbag. With Mary Astor.
---
---
28th, 12:00 PM
What Price Hollywood? (1932)
A drunken director whose career is fading helps a waitress become a Hollywood star. With Constance Bennett.
---
---
28th, 3:15 PM
Life of Vergie Winters (1934)
A politician marries while maintaining a second, illegitimate family on the side.
---
28th, 8:00 PM
Berkeley Square (1933)
TCM's monthly showing of this film. No idea why.
---
Questions? Comments? Or do you just want to bug me? Leave a comment below!