Idiot's Delight: The Gathering Storm
"Evidentially, Mr. Van, that you are not fully aware of the present international situation!"

"I'm aware the international situation is always regrettable. What's wrong now?"
A lot of other entries you'll read in the CMBA Fabulous Films of the 30s Blogathon are about unequivocally great movies—your Adventures of Robin Hoods and Bringing Up Babys. Idiot's Delight is not one of the great movies of the 1930s. Considering it came out in 1939, it's probably not even among the best of that year.
What it is, though, is unique. It's MGM's first big swipe at the thunderclouds hovering over Europe that would soon engulf America too. But keep in mind that MGM wasn't afraid of fascism, nor were a lot of other Americans. The wealthiest and most autocratic of the studios, Metro-Goldwyn-Mayer luxuriated in tales like Marie Antoinette (1938) about a wealthy, glamorous queen who was simply misunderstood by the grubby masses.
Idiot's Delight is instead about the tragedy of not knowing where those clouds came from or why they're there. It's about life in spite of the uncertainty of the world. And, strangely, it has the full power of MGM's biggest assets on its prow.
Besides having two of the biggest stars of the decade, Norma Shearer and Clark Gable (previously teamed together in A Free Soul and Strange Interlude), it's an incredibly expansive movie, covering the twenty year gap between the wars. It makes no emphasis on events, eras or ages, but that's part of its charms.
Opening with strains of "Over There", George M. Cohan's tune that became the patriotic theme for the First World War, we soon meet Harry Van (Clark Gable), a World War I veteran and flailing actor. He struggles through chorus lines and even selling snake oil before hitting upon a mind reading act with a very sauced Madame Zuleika (Laura Hope Crews).
Waiting in the wings as the act goes badly in Omaha one night is Irene (Norma Shearer). She's an acrobat and becomes fascinated with their scam. She interrupts one night and offers to become Harry's new partner. He passes, but there's a sudden romantic connection between the two that overcomes Harry's natural huckster sensibilities and Irene's rather playful tendency to exaggerate every detail of her life.
One of the most poetic moments happens as the two part ways in opposite directions to continue their tours. As both are in their buses, parting, Irene's begins to move, and she runs along the length of it, waving goodbye to Harry. It's kind of dopey and sweet, a good summation of their chemistry and the warm, lived-in feeling it's already achieved.
A decade later and Van has brought together a troupe of six women called "Les Blondes" who are taking a budget-priced European tour. They're stopped before they cross the border of Switzerland and placed in a nearby hotel. The unnamed country they're now trapped in is on the brink of war and is watching all of its foreign nationals closely.
The hotel's other unwilling guests include German Dr. Waldersee (Charles Coburn), a scientist on the verge of curing cancer and Quillery (Burgess Meredith), an anti-war activist. Arriving later is arms merchant Achille Weber (Edward Arnold) and on his arm is the voluptuous Irina (Norma Shearer), a familiar looking story teller with a thick accent.
… Okay, Irina is really Irene in a blonde wig and Norma Shearer doing her best Greta Garbo impersonation, but it's fun to watch as Harry goes from confusion, to recognition, to bafflement, and finally to admiration at his former fling's new disguise.
The story of life and conflict is written across the characters the two Americans meet as the Europeans fret and plan for the upcoming Armageddon. The hotel is situated next to an airfield and haunted by the drills and sirens that kick off at inopportune moments, setting everyone on edge. As the war grinds closer, tempers flare and reality comes close to breaking into the warm deco hotel.
It's 1939 and the book on the causes and problems of the Second World War was still being written—hell, it was barely out of the prologue when this film was released—so it's unsurprising that the movie takes most of its negative feelings about the conflict from the same place Americans had come from during the First World War. That's why Idiot's Delight may throw off modern viewers, because to it, the war is a scam, a trick played on the masses by the rich and greedy. Second verse, same as the first, and not the black and white 'good versus evil' narrative that would develop as the Allies learned more about the Nazi's motivations.
That fits into the film's overriding themes about disguises and cons. Every patron is phony in some way, save for the honest Quillery (who certainly pays for it, brutally and off-screen), but their lives are all still scarred from the last war with mixed levels of eagerness to move onto the new one at their front door.
Gable gets his only musical number in this film—yes, ever. He sings "Puttin' on the Ritz" with the backup of Les Blondes and even gets out a few dance moves. I mean, he isn't bad, but he's no Astaire or even a limping Cagney. But he is surprisingly game, especially considering his other big film of 1939 was vastly different and made him the icon he remains to this day—but you can read about that one elsewhere.
Shearer, meanwhile, is clearly enjoying the opportunity to send-up one of her biggest rivals with her over-the-top Garbo mimicry. The mix between phoniness and naivete that she finds as Irene is also interesting, and somehow appealing as she scrambles to find a version of herself she can live with. Shearer had been through three prestigious costume dramas before this–The Barretts of Wimpole Street, the disastrous Romeo and Juliet, and her grand triumph, Marie Antoinette— and Shearer seems to be relishing the chance to step back into reality, so to speak.
The film alternates between comedy and drama with no subtlety and no regard for the audience. It's yearning for an answer to a world gone mad and finding none, making it tough to unpack. It's an anti-war Grand Hotel set just as a fragile world seemed on the brink of what may have been the last war they'd ever see. But it's also broadly comic and romantic, playing with the audience's expectations constantly. It can be brutal, but still laconic in its own way, a weirdly disjointed movie that gropes towards meaning without finding it– with an ending that is particularly unsatisfying. That's fine. Idiot's Delight's true finish was still a half decade and millions of lives away.
What I like so much about the movie is that it's a tapestry of many things. It's about the warmth of the unexpected and the coldness of the world. Coming from MGM with an impressive pedigree of producers and technicians and some of its biggest stars, it's a nice, big-budgeted and distinctly odd coda to a decade that had seen the entire world consumed by hopelessness and anger and now propelled towards its darkest hours. Alas, the worst was yet to come.
Links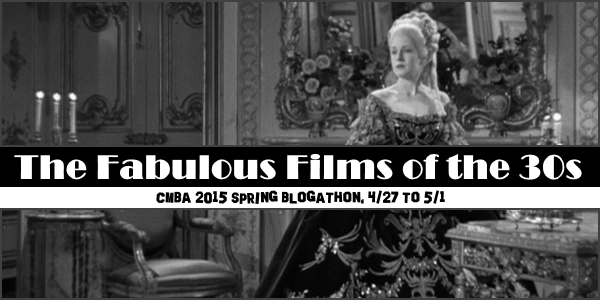 Awards, Accolades & Availability
Comment below or join our email subscription list on the sidebar!