Peter Stanislavsky
Paul Lukas
Marcia
Loretta Young
Philip
Frank McHugh
Blondie
Glenda Farrell
Lola
Helen Vinson
The Announcer
Roscoe Karns
Released by Warner Bros.
Directed by William Dieterle
Run time: 66 minutes

Proof That It's a Pre-Code Film
Frank McHugh asks a gruff man, "Could you love a waiter?"
"One more crack about that and I'll crack your nose!" the other fella snarls.
McHugh is a ghostwriter who brags about his output: "I just finished a book called 'Sex and What Causes It'."
The fad around bridge, the main joke of the film, is contested by Alex Alexandrovitch (Joseph Cawthorn): "Bridge– that's a sissy's game!"
A woman bridge player recalls less ideal times, "Remember how Wilbur used to be? Remember how he broke my nose?"
A number of double entendre uses of the word 'play'.
One of our protagonist's Bridge rivals came into the profession disreputably, originally touring around the country impersonating a Native American. He hisses about his former career versus his current one, "I preferred to be an Indian– you didn't have to have so much sex appeal."
Simmer down, ladies– we have Paul Lukas reading a book in the bathtub:
Grand Slam: Tripping Over First

"What's the matter with him?"
"Bridge! That's what's done it to him!"
So I came to this one kind of circuitously. One of the library's I work at is redoing their reference collection, and I suggested getting A Biographical Dictionary of Film and Film Art: An Introduction because those seemed like pretty good reference books for teens studying film. A few weeks go by, and my boss shows me what she picked out: A Short History of Film, which is neither short nor, well, good on any level. (Not linking it because I fucking hate it, FYI.)
I flip it open to the section on pre-Code Hollywood, which is simply labeled 'Censorship' and read that, because, hey, I have thoughts. And where the book begins to describe the films that led to the full enforcement of the Production Code, they list:

That's right, the very second picture they mention is Grand Slam, lodged between Mae West and Baby Face, in the same sentence as Story of Temple Drake and, well, Murder at the Vanities. I was taken aback; I had never even heard of this film! I've been running this site for eight years; did I miss something?
So I did a bit of Twitter sluething, including asking Thomas Doherty, writer of the comprehensive Pre-Code Hollywood and Joseph Breen biography, if he had heard of the film. He had not. There were no mentions in any of my other pre-Code books, nor could I find anything on the internet that leveled anything more at it than 'airy'. Why did Grand Slam earn a distinction here?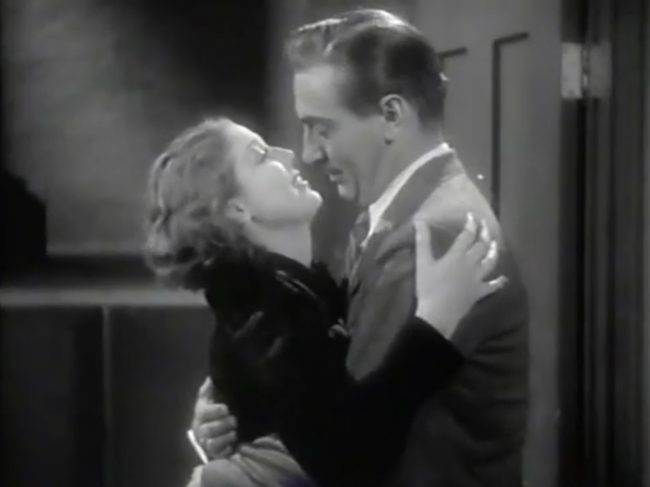 To be honest, even after watching the film, I have no fucking clue. Grand Slam is a pretty typical Warners programmer of the era, taking a hot-button topic like the card game Bridge (yes, Bridge) and lampooning it in a film with their B-listers going to town.
Paul Lukas plays a Russian emigre who falls into the arms of Loretta Young. His character petulantly comes up with the 'Stanislavsky Method' of playing Bridge which seems to consist of poor bidding choices and winking suggestively at the partner across the table from you– here, preferably, your wife. The idea of bringing sex into Bridge sets the nation afire (if you could only imagine!) and soon Lukas' Stanislavsky ends up with a big head and in Helen Vinson's bedroom.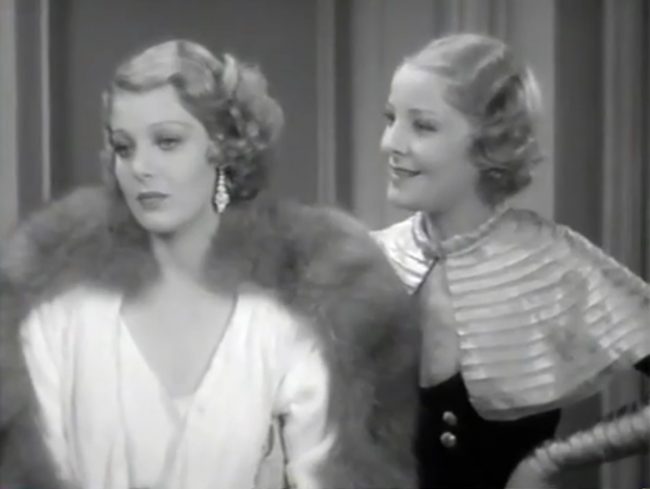 The film climaxes with the entire world coming to a standstill for Stanislavsky to take on old rival Cedric Van Doren (Ferdinand Gottschalk). And I do mean literally– director William Dieterle shows stock footage of divers pausing midair and trains screeching to a halt. The match is going badly for Stanislavsky until Young makes an appearance and agrees to partner with him again. The trains restart their running, the divers finish their jumps. All you need is a cork popping from a champagne bottle for the imagery to be complete.
Bridge was massive in the early 1930s. Here's Bridge Bum on the game's popularity:
Contract bridge quickly gained popularity throughout the United States, where it experienced its Golden Age in the 1930s and 1940s. During this time, famous expert matches were conducted, including the 1930 Anglo-American match and the 1931 Culbertson-Lenz match. The Anglo-American match featured a team headed by Col. Walter Buller of England against a squad captained by Ely Culbertson of the United States. Buller, who had vowed to beat the Americans "sky-high", lost – by a humiliating margin. The result of this event bolstered Culbertson's status as an authority on the game, and his Contract Bridge Blue Book of 1930 became a best-seller. The following year, Culbertson challenged fellow American expert Sidney Lenz to a 150-rubber team match, contending that the Culbertson method of bidding would be a cinch to triumph. The match did much to spark even more public interest in contract bridge, and by the time Culbertson claimed victory over Lenz, the game was vying with baseball to be America's national pastime.
It's not surprising at all that Warners would seize this for comic potential, but it's one of those things that hasn't aged spectacularly well. As someone who has seen more than his share of lambada movies (two), the trends of the past are interesting time capsules, worth a viewing for curiousity's sake at the least.
But that's no reason to actively seek these out, or even list them among the greatest films of all time. (I haven't checked, but I do expect lavish praise for lambada films in A Short History of Film). There are plenty of issues in Grand Slam, especially for any filmgoer who may not understand the least bit about how the game of Bridge is played. (Guilty!)
Loretta Young is relegated to the usual fretting wife role (are there any pre-Code films where her marriage ends up happy?), and Lukas is okay. He never quite nails down how smart his character is, flipping between belligerent and a sap fairly often. I like Lukas, but I don't think he quite carries the script here. Also, it's always hard to believe it when Farrell plays dumb in a film, especially when she plays dumber than McHugh, who at least gets a mildly nasty character this go-around.
I laughed once during Grand Slam and groaned once, which isn't a great ratio for 66 minutes. This is a pretty typical Warner Bros. movie of its era. And its mention in that book– I have no fucking clue.
Screen Capture Gallery
Click to enlarge and browse. Please feel free to reuse with credit!
Other Reviews, Trivia, and Links
Hence, it is not an attempt to elucidate the fine points of the game, but merely a popular entertainment in which bridge is termed a racket. The rowdy doings stirred up a good deal of loud laughter at its initial showing, especially during those sequences where a bridge contest is treated in much the same fashion as a prizefight.
All I need to say is that Grand Slam is an utterly likable comedy that taps into a vein of benign silliness running through the Pre-Code era without indulging in any alienating "nut" humor. It's not as purely funny as the great subversive comedies of the time, but modern audiences may find it more accessible, the characters being more humane, once they accept the premise of bridge's outlandish popularity. A 21st century remake would have to be about poker, and would probably have to be twice as long and half as funny.
Again, seriously, don't buy that book.
Awards, Accolades & Availability
Warner Archive has not deemed this fit to release on DVD at the time of writing; possibly they're waiting for the 30s to roll around again so that Bridge comes back into style. Google Grand Slam and ok.ru if you're so inclined, just make sure you have a good VPN, ghostery, and adblock all primed.
More Pre-Code to Explore