Sheba Miller
Alice White
Nickey Solomon
Chester Morris
Jack
William Bakewell
Released by Warner Bros./First National | Directed by Mervyn LeRoy
Run time: 66 minutes

Proof That It's a Pre-Code Film
"How does she rate? Y'know, yes, no, or maybe?"
Alice White undresses for a shower on camera– at least as much as they could get away with showing.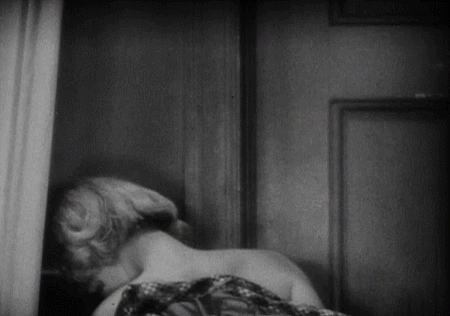 Playing Around: Fair is Fowl
"I just love the way people make up my mind for me around here."
Just because a guy is good and honest working doesn't mean he's not a schmuck. That's my problem with a number of these early dramas, where there's a good boy at home, stuck waiting, wondering, while our heroine tries out the latest devilish suitor to appear in soot and flames. This drama, like plenty of others before and after, put a starlet as the cornerstone in a love triangle. Unfortunately, almost always must the boring man win.
The girl here is flapper Alice White, still struggling with the talking pictures bit. She plays the daughter of a cigar store owner; they get along fine, but they're poor. Dad keeps pushing Jack (Bakewell) on Alice because he's a boring fuddy duddy who usually stands around gaping when anything more serious than soda jerking comes his way. Obviously a well-endowed muskrat who collects stamps in his spare time could steal Alice's Sheba away, let alone a shark like Nickey (Morris).
Nickey is your usual early-sound criminal, a wiseacre who can talk smooth and doesn't mean a thing he says. There's a fascinating level of cruelty to the character, who at one point, after shooting Sheba's father, declines to tell her about it and then proposes that the two run off and get married right away. He's a creature of pleasure and greed, a parasite who takes whatever he can however. And, thanks to the miracle of talking pictures, we also know that his car has a really annoying horn. Truly a villain for the ages.
Under the direction of Mervyn LeRoy, the picture at least moves, and he obviously knew how to photograph White well at this point since this was their 5th picture together. The movie never feels static, and there are several numbers, including one by White herself, that liven things up every so often. The movie also features one scene with Marion Byron as Sheba's friend, who is always a treat.
But there's plenty of other distractions, such as incomprehensible ethnic humor as the people in the tenements surrounding Sheba gossip about her love life. Another issue is the film's ending, a trap involving Nickey that leaves Sheba complaining on the sidelines, completely useless.
Overall the picture is hard to digest, another film that swipes at women who try to step outside of their social strata. Suggesting to any woman that Bakewell here is much of an improvement on Morris, who even murders and lies to her freely, is really kind of an insult since his only notable attribute is being 'steady'. This plot is misogynistic, with Bakewell announcing at the end, "Women can't be expected to judge human nature like us men!" The cops smile in agreement.
Despite what the movie surmises, it's hard to look at Alice and see innocence– her acting is at its most painful when she's playing dumb. She shines when it's time to be devilish. Maybe when this kind of movie got some writers who could put together dialogue and a scenario with some style in a few years, White could have succeeded as another Constance Bennett.
As it is, it's just bad timing all around.
Gallery
Click to enlarge. All of my images are taken by me– please feel free to reuse with credit!
Trivia & Links
Marion and Sheba make plans to see the new 'all talking, all singing' Al Jolson picture that night. Jolson, of course, being a big money-maker for Warner Bros. at the time; the success of The Jazz Singer made Warners enough money that they were able to purchase First National Studio where, naturally, this film was made.
To flaunt his wealth, Nickey suggests to Sheba they, "hop downtown and catch George White's Scandals." The Scandals were a competitor to the better-remembered Ziegfeld Follies. It was a revue show that helped launch the careers of comedians like W.C. Fields and the Three Stooges and beautiful starlets like Louise Brooks, Eleanor Powell, and, of course, Alice White.
According to TCMDB, Alice White playing a stenographer in the movie shouldn't have been much of a stretch for her– she was a stenographer at First National when she was discovered and made a star.
Here's White singing the title song. (You can also see what I mean about Bakewell just looking horrified here, too.)
Awards, Accolades & Availability
More Pre-Code to Explore