Champ
Wallace Beery
Dink
Jackie Cooper
Linda
Irene Rich
Released by MGM
Directed by King Vidor
Run time: 83 minutes

Proof That It's a Pre-Code Film
Champ has a helluva drinking problem.
"Oh, this is Jonah my pal. […] He's colored."
"So he is. Kind of a pretty color."
The Champ is divorced, and he got to keep the kid. The wife remarried, and while there is no sexual tension between them, their mutual affection for their child drives much of the torment of the plot.
The Champ: Punchy Melodrama

"You know… you're not a very good father."

"… You'd better go on while the going is good."
I cried a couple of times during The Champ. A father who does his best in spite of insurmountable personal flaws? I get that.
This is the kind of movie that depends heavily on your ability to tolerate child actors and Wallace Beery, and I'll admit I have a higher tolerance than most. I was recently looking at my Wally Beery page, which features an image of him with a doe-eyed dog. It crossed my mind that, considering Beery's reputation, I would not be at all surprised if he'd strangled that dog to death just for fun. He was a rotten bastard, but I have to admit it– I love watching him act. He has these crags, this way of being quiet at just the right moment before turning again into a big hunk of well-meaning but ultimately unaware meatloaf that just hits me.
The kid actor isn't so bad in this, either. Jackie Cooper, who'd been in Best Picture-nominee Skippy just the year before, plays the part of obnoxious kid pretty well, just south of offensive, mostly because his posture is totally understandable. His Dink is sprightly, loving, and streetwise in ways kids probably never will be again. It helps that Frances Marion's screenplay makes him as much of a parent as his father is. The kid has to take care of things when dad can't, and that's pretty damn often.
The Champ is nothing if not a horror film for modern-day helicopter parents. The titular champ, Andy, is a drunk boxer who lost his last match due to his fondness for the bottle. His son, Dink often has to fend for himself, sober up his father, and also likes hanging off balconies and wandering around roofs. (Later in the film, Dink offers his pint-sized half-sister to, "Come down to Tijuana sometime and I'll show you around!". Personally, I would not want my 9-year-old casually tossing off that offer.)
Andy seems to always to be training for that next big fight that will never come and Dink has to make due with whatever gambling winnings the champ has managed to hold onto for the night. Money flows in and out of Champ's paws like the tide– in and out regularly, while also being completely out of his control.
During a high tide, Champ buys his doting son a racehorse, who gets the moniker Champ Jr.. While prepping it to race, Dink runs into Linda (Rich), a well-meaning debutante who is really his mother. When mom sees the straights her son is in, she immediately sets her new husband, Tony (Hale Hamilton), out to save her son from the Champ with nothing but a wad of cash.
Spoilers.
There's some back and forth. Champ wants his son happy, his son just wants to be with the Champ. The Champ finally getting the big title bout he's been dreaming of, but he's in such a physically weak condition from years of alcohol and fighting, that his victory is a Pyrrhic one. He wins the knockout, but dies shortly thereafter. Dink, distraught, runs into the arms of his mother.
The ending is a tough one. The Champ finally becomes what his son always thought he could be. But is the cost worth it? Even Dink had tried to dissuade his father to reconsider. But was his heart in it? Did Champ do it for his son, for believing in him, or for himself, to prove that he could do it? And was the price worth it? Dink will always be proud of his father. Maybe he still would have been otherwise.
But the sacrifice is key, the Champ dying out of stubbornness, pride, and as a gesture of love. In it, in it's big futile glory, it may be the ultimate love– or the ultimate self-centered decision. I still can't decide which, and I don't think I'd care as much if it didn't rip into my core.
End spoilers.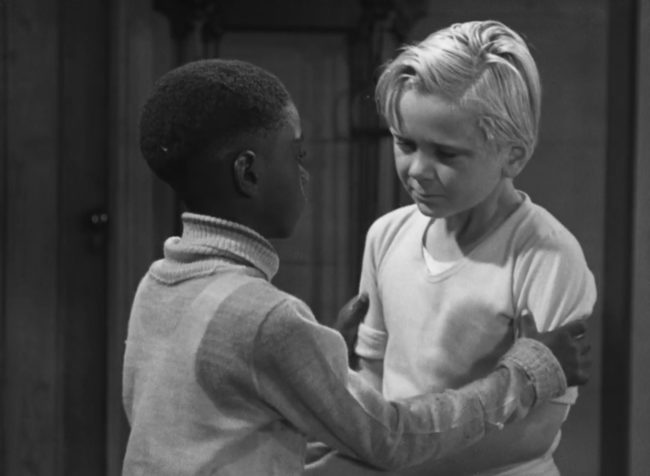 The Champ is a great looking and lived-in film. It may be the most delicate movie about a kid living in Tijuana ever made, too. Screenwriter Marion gives Wallace Beery so much to work with, so much to turnover and to flail at, that the movie is both intensely painful but heartfelt simultaneously. Like I said, I cried. And I'll cry again the next time it's on.
Screen Capture Gallery
Click to enlarge and browse. Please feel free to reuse with credit!
Other Reviews, Trivia, and Links
Remade in 1979 by Franco Zeffirelli with John Voight, Faye Dunaway and Ricky Schroeder. Avoid.
So in 1931, Wallace Beery lost the Best Actor to Fredric March for Dr. Jekyll and Mr. Hyde by one vote, so it was declared a 'tie'. There are plenty of back-handed stories to explain how this happened, all from TCMDB:
When the Oscar® nominations were announced, Beery was considered the frontrunner for Best Actor. How could they not recognize his deeply felt star-making performance? But at the ceremonies, the winner turned out to be Fredric March for Dr. Jekyll and Mr. Hyde. March thanked the makeup artist who had transformed him into the horrific Hyde, and as the evening continued many in the audience grumbled that the Oscar® should have gone for his makeup, not his acting. Meanwhile, the voting committee was double-checking the ballots and noticed that March had beaten Beery by just one vote. At the time, that was enough to declare a tie (it now takes an equal number of votes), so Beery was called up to the podium and presented with an Oscar® of his own, which earned the evening's loudest ovation.
[…]
Another legend surrounds Wallace Beery's Oscar® win. Minutes before the end of voting, actress and gossip columnist Hedda Hopper raced into the Motion Picture Academy®'s offices to hand in her ballot. As a friend of MGM head Louis B. Mayer, who had helped her land her job as a columnist in an effort to diminish rival columnist Louella Parsons's power, she most likely had voted for Beery. Some insisted she had actually run in to deliver her ballot at Mayer's personal request, to make sure Beery won. If she did vote for him, her last-minute ballot put him within one vote of winner Fredric March for Dr. Jekyll and Mr. Hyde (1931), who was the actual winner. Under Academy® rules at that time (since changed), the results were considered a tie. [Note: Cari Beauchamp on Twitter pointed out that this is highly unlikely since Hopper wasn't a columnist until the late 30s.]
[…]
The Academy®'s rules have since been changed to stipulate that a tie will only happen when both nominees receive exactly the same number of votes. That has only happened five times since then, most notably when Katharine Hepburn and Barbra Streisand shared the award in 1968 for The Lion in Winter and Funny Girl, respectively
Fernando F. Croce counters the film's common reputation by asserting it's "

not a "weepie" but an emotive examination of tangled milieus.

"
Pauline Kael called it "a soggy load of heartbreaking melodrama."
Variety predicted it would be "a strong success."
The award for strangest bit of trivia on this one also comes from TCMDB— though, if you've read these books lately (as I have; I'm a dad!), it's not a huge shocker:
Stan and Jan Berenstain have credited the film as the inspiration for the relationship between Papa and Brother Bear in their best-selling series of books, The Berenstain Bears. The series debuted in 1962 with The Big Honey Hunt and has gone on to inspire 300 books along with numerous television shows, a stage show, a feature film and profitable toy lines.
Awards, Accolades & Availability
More Pre-Code to Explore