Berk Jarvis
John Mack Brown
Diony Hall
Eleanor Boardman
Evan Muir
Gavin Gordon
Released by MGM
Directed by Charles Brabin
Run time: 78 minutes

Proof That It's a Pre-Code Film
Berk Jarvis' mother gets killed and scalped by a Shawnee. The villain then spends the movie rubbing it in Jarvis' face. (Not literally.)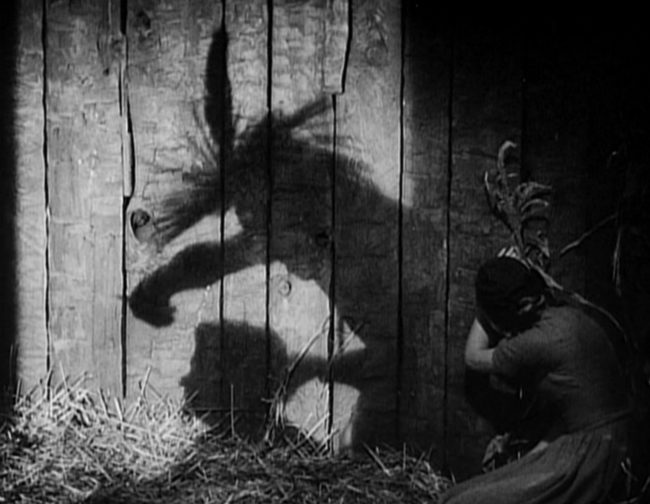 The Great Meadow: Frankly, I've Seen Better

"It'll pleasure me right well!"
Have you ever, y'know, watched Best Picture winner Cimarron and wished it was dumber? Like, a lot dumber? And do you wish that everyone in it had taken the time to put on their best "Hee Haw" accents before the cameras started rolling? Well, if so…
The Great Meadow begins in 1777 in the rural mountains of Virginia (or 'Virginy', as you will). We know this because the Hall family patriarch, reading a newspaper, launches the film with a groan-worthy, "If that young Washington keeps on, he'll make a name for himself someday!"
Here, the Halls, the rugged Berk Jarvis, and the less-rugged Evan Muir join an expedition pitched by Daniel Boone to cross the treacherous Appalachians and settle in Kentucky. They set out on the perilous trek in a fit of optimism, saying goodbye to family and friends before setting off into the unknown.
This sequence is probably the highlight of the film, and only partly because something has to be. The journey is much worse for the wear than expected; people die, children are born, food stores run low, etc. It's Oregon Trail with a number of nice shots, and it reinforces how much danger these people put themselves in just to claim the country for, as the movie so delicately put it, 'a good race'. (UGH) Berk convinces them to cross the final, treacherous mountain in this clip, where he sounds like he's trying out a Tony Robbins routine:
They finally make it to Kentucky before trouble with 'the Red Injuns' (mostly played by white actors) flares up. As noted above, one scalps Berk's mom, so he spends years of his life tracking the man down and returns the favor. Meanwhile, his wife, Diony, and infant are left alone on the frontier and hear rumors that Berk died. Starving to death on the frontier seems kind of foolhardy, so she marries Evan Muir. Well, guess who isn't dead, and guess how the climax plays out.
The reality is so much more boring and tired than whatever you just guessed, so congratulations on saving yourself a few precious moments of life there. No one even raises their voices in the film's climactic scene.
The Great Meadow is all kinds of a mess, never quite settling in on a story to focus on, and with some of the most painfully visceral characters put to film. Berk is the kind of guy who yells in the middle of a knife fight, when he's choking a man and has other foes are lurking nearby, "You can't yell now!" C'MON, YOU HAVE ONE JOB.
On top of that, the sound design here is out and out clunky. Since it's still being promoted as an 'All-Talking Picture' on the poster, I was frantically digging around to see if this movie had simply been shelved for a number of years; it really does feel like a relic from 1927, rather than a star vehicle from 1931.
The movie is a hodgepodge, losing a good setting to a bevy of bad decisions. I honestly don't think words can encapsulate how plainly dumb this film is, and for that, I do apologize. So just keep in mind: no matter how bad I made this film sound, the movie itself is even worse.
Screen Capture Gallery
Click to enlarge and browse. Please feel free to reuse with credit!
Other Reviews, Trivia, and Links
TCMDB talks about how this movie fulfilled the end of John Mack Brown's contract, so good for him:
[T]he advent of talking pictures proved problematic due to Brown's Southern twang. Metro attempted to work around the limitation by casting Brown as Billy the Kid (1930) and reuniting him with Crawford for the western romance Montana Moon (1930) but the studio would ultimately choose not to renew his contract. […] Work in low budget westerns awaited him, at which point the actor was rechristened Johnny Mack Brown and a cowboy star was born.

Variety called it, "a rather a sorry mess". The reviewer adds these observations, which causes me no surprise:
Lastly, I made a video tribute to one character in a bit part whose acting style is rather… unique? See for yourself:
Awards, Accolades & Availability
More Pre-Code to Explore