"Buck" Buchan
Phillips Holmes

Dan McKenna
David Landau

Johnny Moran
Charlie Ruggles

Released by Paramount
Directed by Ralph Murphy
Run time: 71 minutes
Proof That It's a Pre-Code Film
Bootlegging plays a big part of the film, from the college kid who peddles booze to the constantly-sauced reporter Johnny Moran (Ruggles), who intones about his coat, "These pockets hold a quart apiece… at least they did."
70,000 Witnesses: Landau for the Win

"A swell mess you made of things. All for a few rotten dollars."

If I tell you 70,000 Witnesses is, at its heart, a buddy comedy between the sauced Charlie Ruggles and straight-laced David Landau, does that entice you? And, if you asked "who's that?" to either of those names, skipping this one is pretty a easy decision to make.
As a big collegiate game gears up between State and University, State's quarterback, Buck (Holmes), is brought into the speakeasy owned by his brother Slip (Lew Cody). The ultimatum? Drug and incapacitate running back Willy Clark (Johnny Mack Brown) or Slip will have to take care of the problem himself. With $350,000 riding on University winning the game, Slip is pretty eager to keep Clark out of the running. Buck agrees, not planning to follow through with the hit, but the next day at the big game, after running for a touchdown in front of a packed stadium, Clark collapses, dead.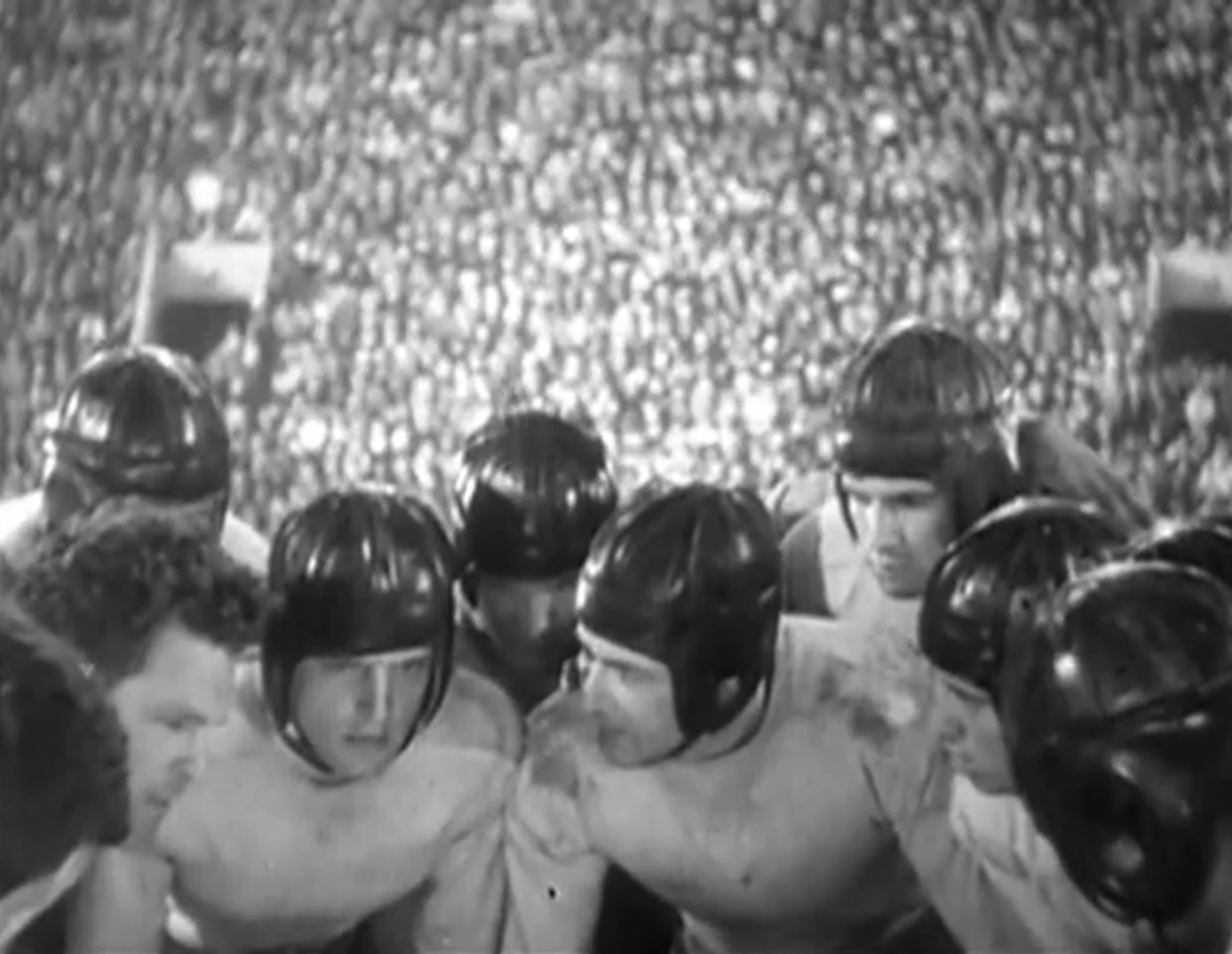 This is where former NYPD detective and now campus cop Dan McKenna (Landau) comes in, assisted by the always-intoxicated Johnny Moran (Ruggles). Moran helps Landau understand how football works, while McKenna rotates through the list of potential murderers, including a student bootlegger, a shady team doctor, a hissing rival player, as well as poor, unfortunate Buck. Finally, McKenna launches a redo of the game down to every last detail with the two grudging teams going at it until the truth comes out.
The central mystery of the murderer is pretty much a no-brainer for any modern dollar store detective, though I will readily admit the revelation of how Clark was killed is over-the-top fun in a way that the rest of the movie doesn't even try. (Imagine watching Casablanca and suddenly an elephant steps on a Nazi.)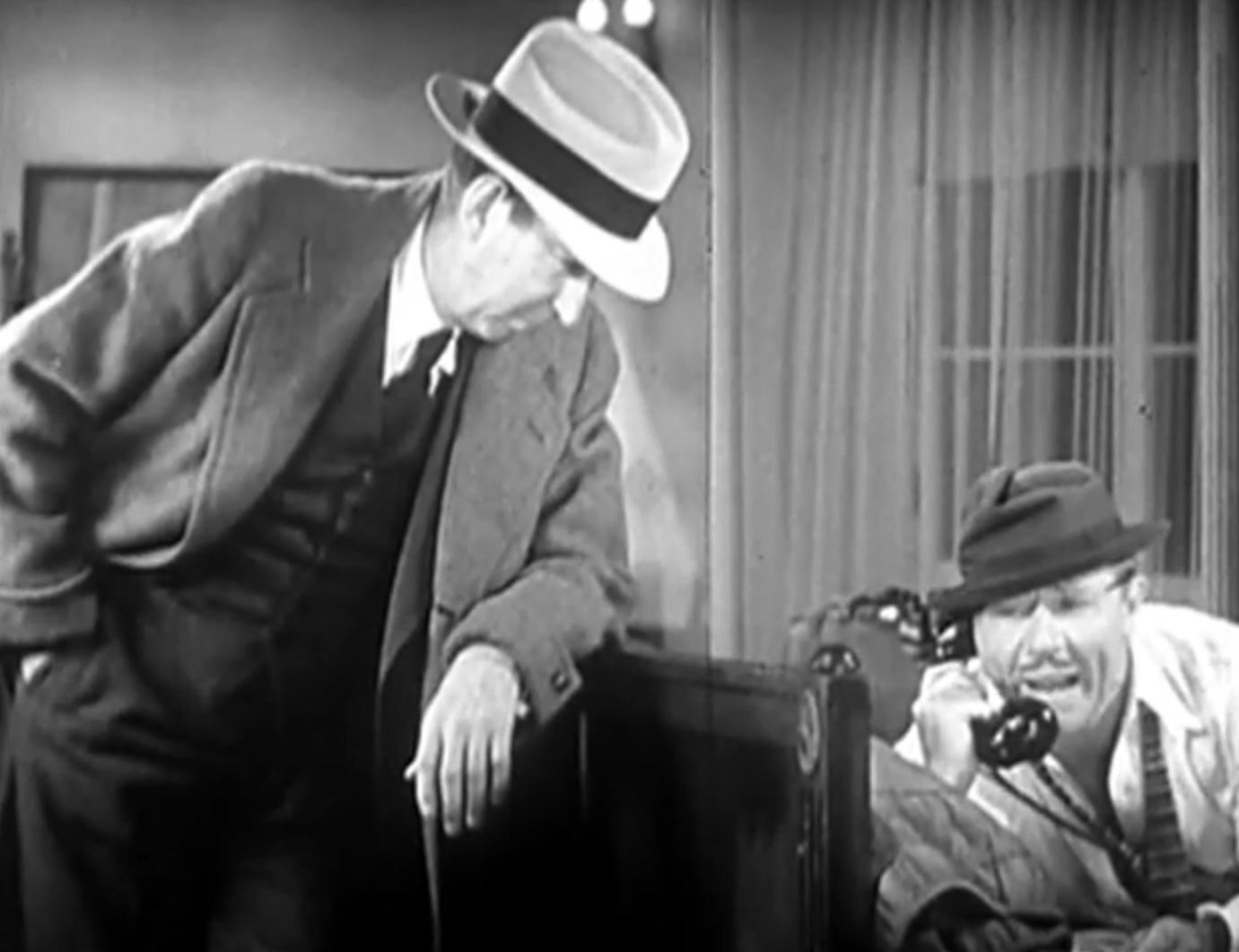 Phillips Holmes, who is far from my favorite juvenile lead of this time, doesn't get or give much here except a punctuated romance with Dorothy Jordan and one truly goofy close-up. The movie is rather much more of a vehicle of David Landau (best remembered for playing a football coach himself in Horse Feathers) whose Detective McKenna is a world-weary family man and whose main advantage is his persistence and ability to observe. (Also, he just follows people everywhere, which works out well.) His byplay with Charlie Ruggles are the film's highlights. Ruggles himself is doing a drunk act throughout, something he could surely do in his sleep by this point and just may be doing here as well.
As for the film itself, it does capture well that weird psychology where a surprising number of grown adults care about college sports, which is just baffling to me. There is a great deal of atmosphere built around the big game, and it's interesting to watch these teams go through these old rituals, including hanging their opponents in effigies and having some old loser alumni return to campus to sing their old college songs. Everyone's wearing awful looking coats and drinking bootlegged booze. It really takes you back.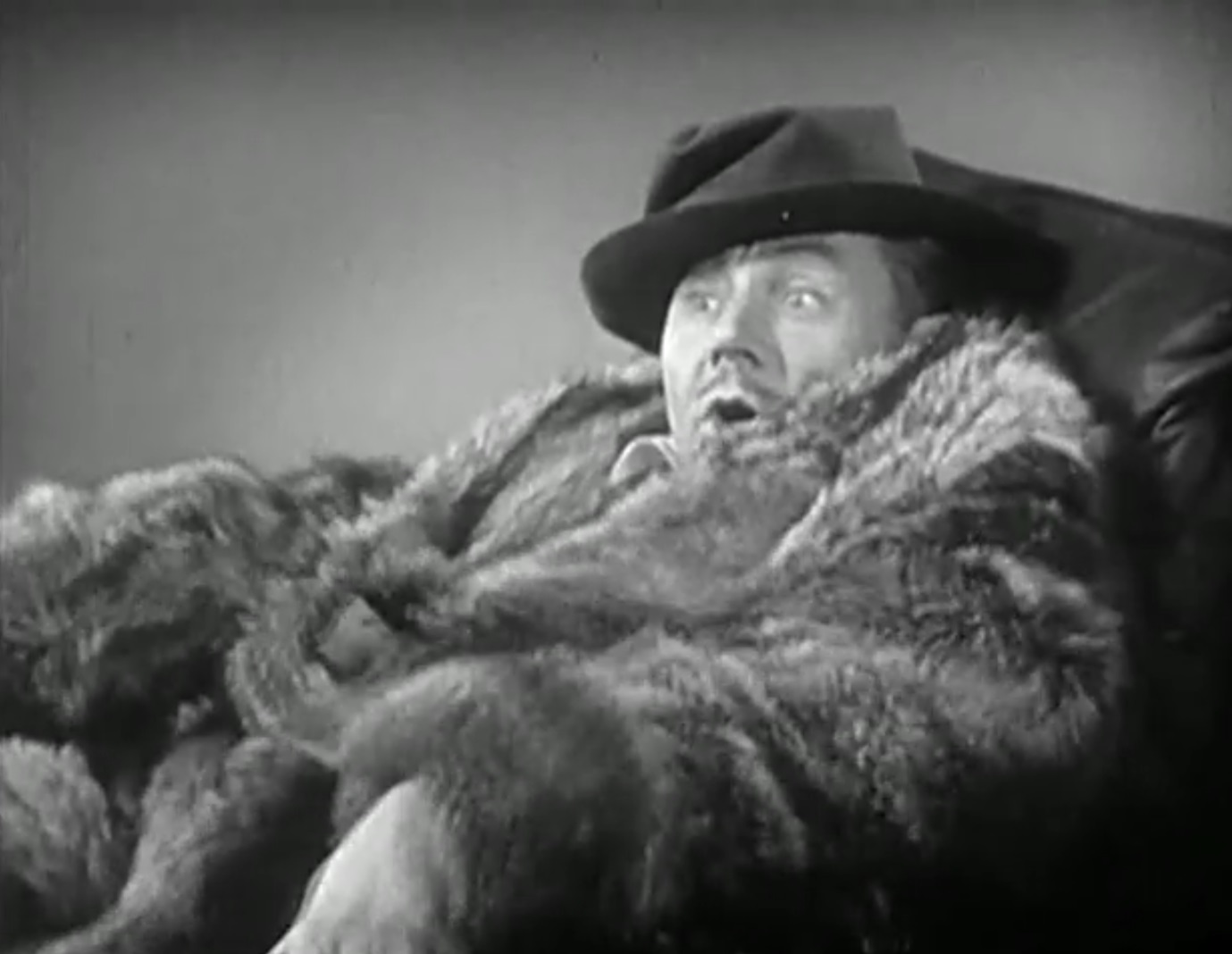 But 70,000 Witnesses, despite the compelling title, is a pretty dull affair, taking a premise that would later be improved upon with tighter plotting and better suspense.
I will say one final thing about the picture: it is impossible for me to hate any film where Johnny Mack Brown dies and the cause of death is "his brain exploded." I am still young enough to appreciate that.
Screen Capture Gallery
Click to enlarge and browse. Please feel free to reuse with credit!
Other Reviews, Trivia, and Links
Leading off with some exhibitor reviews. 70,000 Witnesses was actually a pretty good grosser for Paramount and popular with reviewers as well.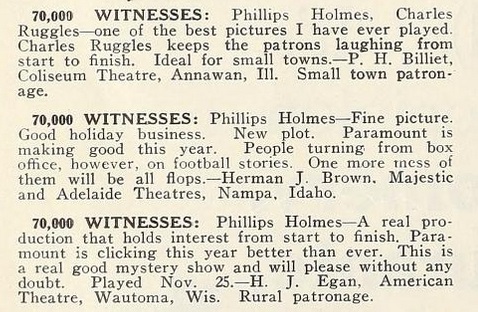 Variety is pleased with the movie, noting of Charlie Ruggles, "He may be doing a drunk forever from the looks of things, but that out to be okay with the fans."
A review from Modern Screen which is actually, uh, really wrong about the exact plot since Holmes supposedly dopes his own team member rather than that of the opposing team. Also, (drunk again) is just an excellent aside.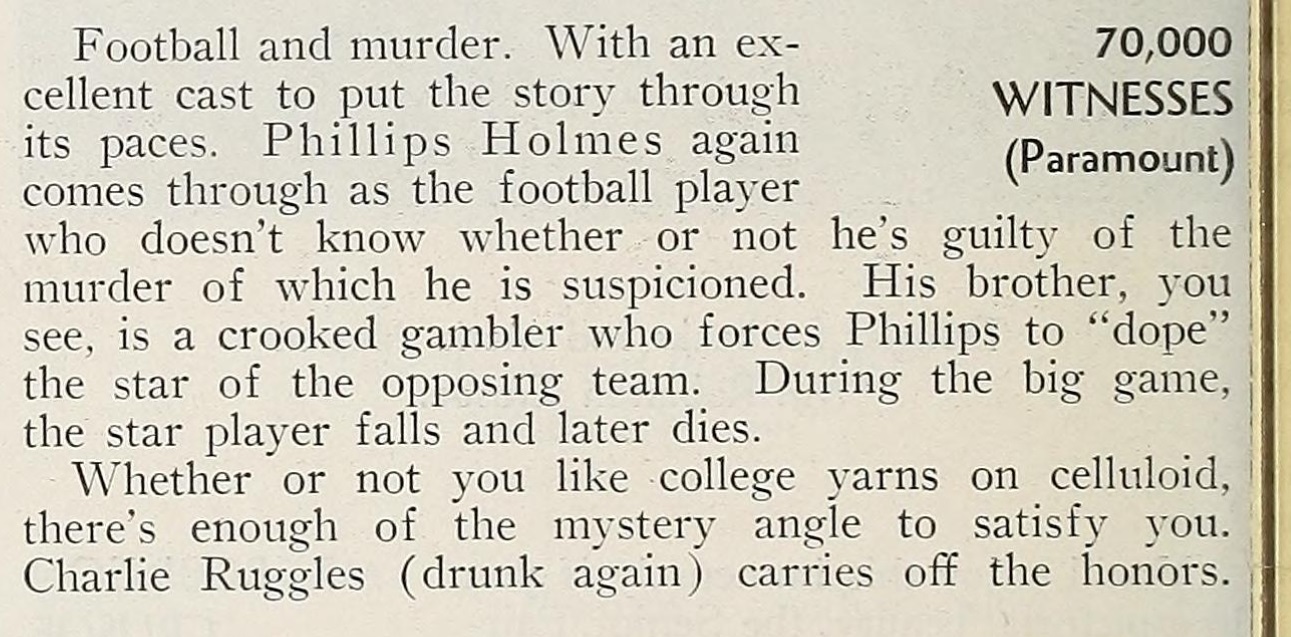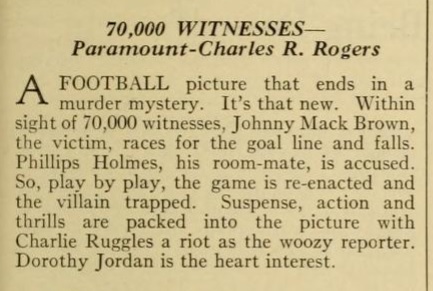 Here's a cutesy behind-the-scenes report from New Movie Magazine confirming that the film's football scenes were shot at UCLA: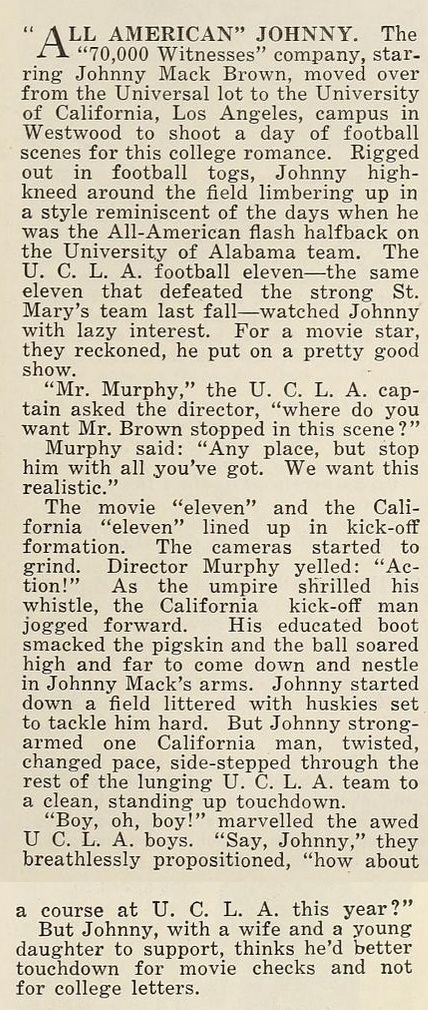 As you can tell from the reviews, Ruggle's drunk act was a pretty big hit at the time. Here's an amusing Photoplay interview with Ruggles that talks about how he rewrites the scripts given to him so that it's impossible to cut his scenes out.
Awards, Accolades & Availability
This is a pretty obscure one. As of this writing, it is streaming over on RareFilmm.
More Pre-Code to Explore