Carol
Genevieve Tobin
John
Adolphe Menjou
Charlotte
Mary Astor
Eric
Edward Everett Horton
Janet
Patricia Ellis
McTavish
Hugh Herbert
Released by Warner Brothers | Directed by William Keighley

Proof That It's Pre-Code
Married man John spends his afternoons "playing polo" over at friend Charlotte's house. Realizing she has to win her husband back, Carol 'drops the soap' while she's bathing so he'll come over and get an eyeful of her.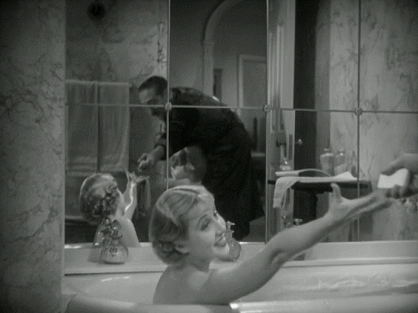 Not much left to the imagination here.
 There's a visit to a hotel where every couple's last name is listed in the register as 'Smith'. As John excitedly tells the desk clerk that there will be a marriage, the clerk smiles and asks, "Are Mr. and Mrs. Smith going to get married? I'll call the priest at once!"
"Well, I've had a lot of shotgun weddings, but this is the first fire axe wedding I've ever officiated at."
Busting in on a unmarried couple who are under the sheets, John turns to a priest: "You mean you can marry them in bed?" "Well, better late than never."
Easy to Love: Yep
"John… it's funny, the evolution of marriage. First a double bed. Then twin beds. Then separate rooms."
Easy to Love is an amusing oddity, as it's an early screwball comedy that fits rather neatly into the mold of remarriage and insanity on a small scale. Being pre-Code elevates it a notch, as the marital infidelities are a little less hidden, and, sometimes, a little more painful than funny.
John (Menjou) and Carol (Tobin) are the perfect couple on the outside, with a beautiful home and a splendid daughter. The problem arises when it comes to the bedroom. As Carol confides to her doctor, "Well, I don't know how quite to put it… well, we're married, we're just not married." He prescribes she seek out a private detective, who goes to work and finds that the 'polo games' John attends every afternoon at 2:30 on the dot are really liaisons to the apartment of her best friend Charlotte (Astor). To further help those of us who can read between the lines, we see John smoking a large cigar in his dressing gown while Charlotte cuddles up next to him in a negligee.
Carol decides to mess with her husband and bursts into the apartment one afternoon with her friend Eric (Horton) in tow. Eric has been chasing Carol for a while but he smells of fish– he's unhappily nicknamed 'The Sardine King' for his business empire. John hides in the closet, which Carol stalks merrily, all the while loudly making up details of an affair with Eric for her husband to broil over. Eric, meanwhile, is sitting next to a frantic Charlotte, happily munching on the chocolates John had brought her earlier in the day and completely oblivious to the complicated romantic sham unfolding all around him.
The film is often hectic, with a great deal of people listening at doors and grimacing before they run into other rooms to accuse, panic, or simply lose their minds. John and Carol's daughter, Janet (Ellis) decides the only way to show her parents to grow up is by pretending to run off with her boyfriend to a hotel in spite of not being married, and she's trailed by four cars of very confused lovers. The third act involves Adolphe Menjou running around with an axe, hissing, "Sometimes I think the law against murder is a great mistake!". By the time Guy Kibbee pops up, you're just like "of course."
I was kind of curious why I never saw this film on any list of screwball films, and, weirdly, it seems to be a matter of studios rather than dates. Despite the plot of mixing couples in the upper class after a great deal of zany confusion, Warner Bros. was never a studio known for its screwball films, a genre dominated by Paramount, Columbia, and RKO. This film's obscurity (the first five search results for it on Classic Movie Search are all me mentioning it in TCM schedules!) certainly doesn't help, but I was honestly surprised when parsing through the great The Screwball Comedy Films, A History and Filmography, 1934-1942 to see nary a mention. Considering its January release date, Easy to Love would fit snugly into the opening salvo of the screwball genre and most definitely holds up far better than half the crap Claudette Colbert and/or Fred MacMurray were in during the period.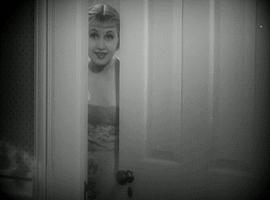 That's not to intimate that Easy to Love is a particularly great comedy– too many stretches of fretting for me, and, like a lot of screwball films, frenetic action takes the place of actual humor for several tedious sections. But the performances are all solid, with Menjou's oily smoothness working well here. Genevieve Tobin, a personal favorite, gives her sex-hungry persona a good workout. Without even mentioning intimacy, besides through the 'polo' euphemisms, the looks she shares helps you immediately discover the conflict in the marriage isn't about emotional neglect but physical.
The rest of the cast is littered with great character actors. Mary Astor plays a nice (and all too rarely pretty smart) vamp while Horton is as buffoonish as ever. Also popping up are Hugh Herbert and Guy Kibbee, two Warners regulars who nicely accent the proceedings. Director William Keighley doesn't do a whole lot to open up the film and has a tendency to play things too broad, but it's also clear he let his actors loose on the material and the talent just went nuts with it.
Easy to Love is a minor comedic hallmark, an interesting array of talent tossing off euphemisms and bathing conspicuously in front of the camera that clearly denote the film as pre-Code while containing enough upper class hijinks to illuminate the path that comedies would head into for the rest of the decade. It's not a wholly successful movie, but it's certainly an enjoyable little stepping stone between comedy's past and future.
Gallery
Hover over for controls.
This slideshow requires JavaScript.
Trivia & Links
The first film from director William Keighley starring actress Genevieve Tobin. They met on the set of this film and would be married in September 1938. The two would collaborate on two more films, including Tobin's last movie, No Time for Comedy (1940).
Charlotte at one point is accosted by a man going door-to-door selling magazines. The issue he holds up is the October 1933 issue of "Broadway & Hollywood Movies". (Here's the cover at eMoviePoster.) The cover girl is Ruby Keeler, another Warners star who could be seen with both Kibbee and Herbert in Footlight Parade and Dames.
Being adepts at their craft, Mr. Menjou and Miss Tobin manage to conceal the shallow places of the plot by a good deal of amusing stage business. "Easy to Love" is at its best when they are shouting at each other from adjoining bedrooms and exchanging icy innuendoes concerning their respective violations of the marriage contract. But seventy minutes of it is a shade too much, and the suspicion increases toward the end that manufacturing a full-length film out of it represented something of a triumph of attenuation.
William Keighley made his solo directing debut with Easy to Love, after co-directing The Match King (1932) and Ladies They Talk About (1933) with Howard Bretherton. He came to Hollywood from the stage, both performing and directing on Broadway and in various touring companies. Adapting a stage play made for a good fit for the director, who applied the energy and pace that defined the street-smart Warner pictures of the early thirties to this drawing room comedy. "Motion picture means 'move.' And if you don't move, the audience moves out on you." He went on to become a reliable hand for Warner Bros., directing studio star James Cagney in crime pictures (G-Men [1935], Bullets or Ballots [1936]) and war films (The Fighting 69th [1940], Captain of the Clouds [1942]) and Errol Flynn in swashbucklers (The Prince and the Pauper [1937], The Master of Ballantre [1953]) among his assignments.
Awards, Accolades & Availability
For a Warner Bros. film, I'm honestly surprised this one isn't on DVD. Watch out for it on TCM.
Comment below or join our email subscription list on the sidebar!