Paul Ossipoff
Gene Raymond

Anya Sorina
Sari Maritza

Prof. Marinoff
Irving Pichel

Released by Paramount
Directed by Louis Gasnier and William Schorr
Run time: 75 minutes
Proof That It's a Pre-Code Film
This is a film set in godless Communist Russia, so it's kind of iffy what you could have gotten away with showing in 1932 versus later in the 1930s. The Code prohibited both ridiculing religious faiths, as the Russian characters do here often, but in this movie that's done to prove the righteousness of Christianity (kind of), so that's probably okay.
The Code also demanded, "citizenry of other nations shall be represented fairly", which I won't say this does, but, again, they're using the Soviets as foils against the greatness of American religion, so that would probably also get a pass.
However, the extramarital sex and living together outside of wedlock at the center of the plot probably wouldn't have made it past 1934.
Forgotten Commandments: Last of the Red Hot Lovers

"You can't serve the state and the home!"
It's been a good minute for me since I've seen a genuinely bad film. I mean, there are movies I've watched recently that are pretty repulsive (I did revisit The Spy who Shagged Me this last week, I am embarrassed to note), but there's a certain category of bad film, one painstakingly tone deaf, that at least is mildly entertaining. One amusing in the way that it is completely humorless.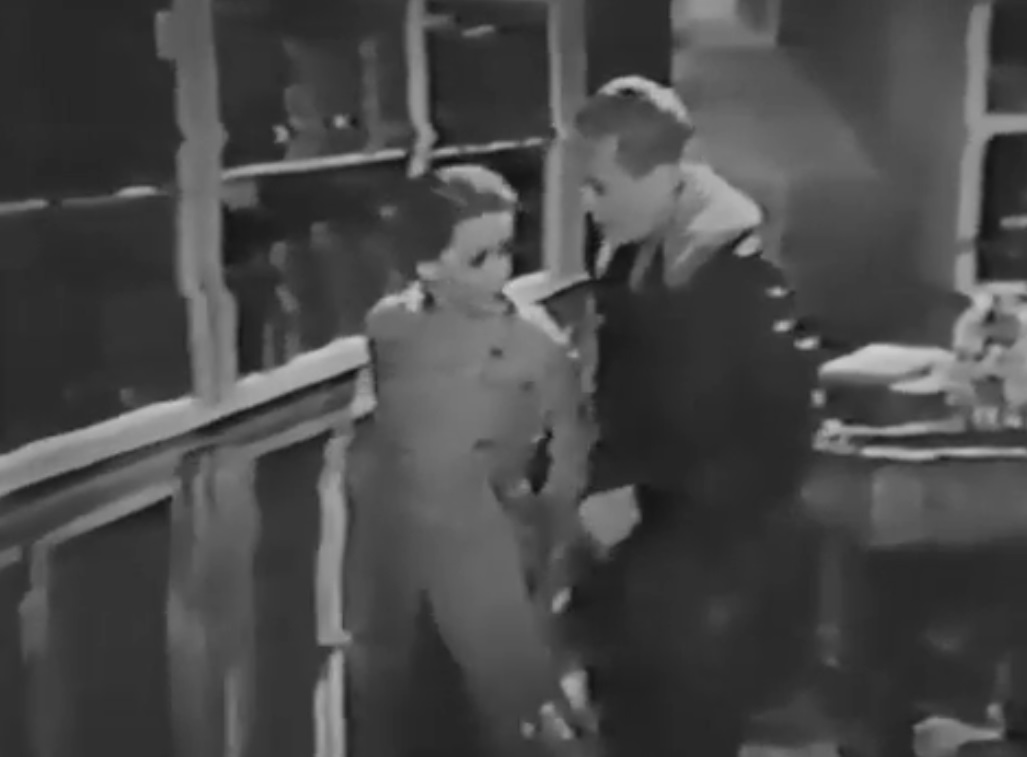 With moralistic clarity, Forgotten Commandments takes our viewers to the new nation of Soviet Russia, filled with wide-eyed optimists eager to shed the old ways and achieve their dreams. And you, the viewer, know you're in for a treat when one of the first lines in the film is Gene Raymond breathlessly intoning to his wife with a horrified look in his eyes, "Don't call me 'darling'. It's… bourgeois!"
Raymond, deciding to act out 'internally conflicted' as 'robot malfunctioning', is Paul, an eager scientist who wants to make in the big city under the tutelage of the great Professor Marinoff (Pichel). But Marinoff is a red-blooded communist and is more than happy to preach at Paul the Russian ideals of state before all else, including especially Paul's wife, Marya (Marguerite Churchill).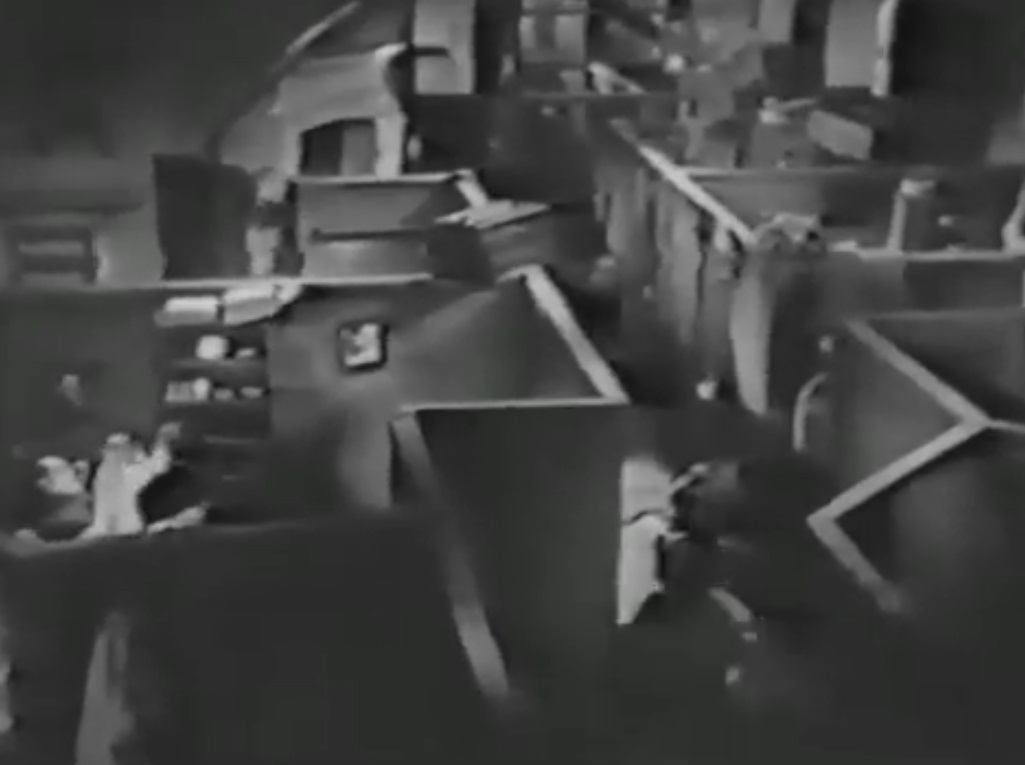 As a counterpoint, Marinoff introduces Anya (Maritza), his lover who is not weighed down by the conventions of marriage. (While kissing her all over, Marinoff bemoans in orgiastic delight, "There's something of the old Christian devils in you… the smile of a beautiful gargoyle!" Ladies, form an orderly queue to get in on this sexy bolshevik action.)
Of course, we've all seen quite a few pictures like this, and we know that Paul and Anya are soon to be paired up, leaving not just Marya heartbroken but pushing Marinoff into the throes of madness. There's a murder, a surgery, and a bunch of hokum, especially in the last ten minutes which are trying desperately to wrap things up and free up the theater for a good airing out.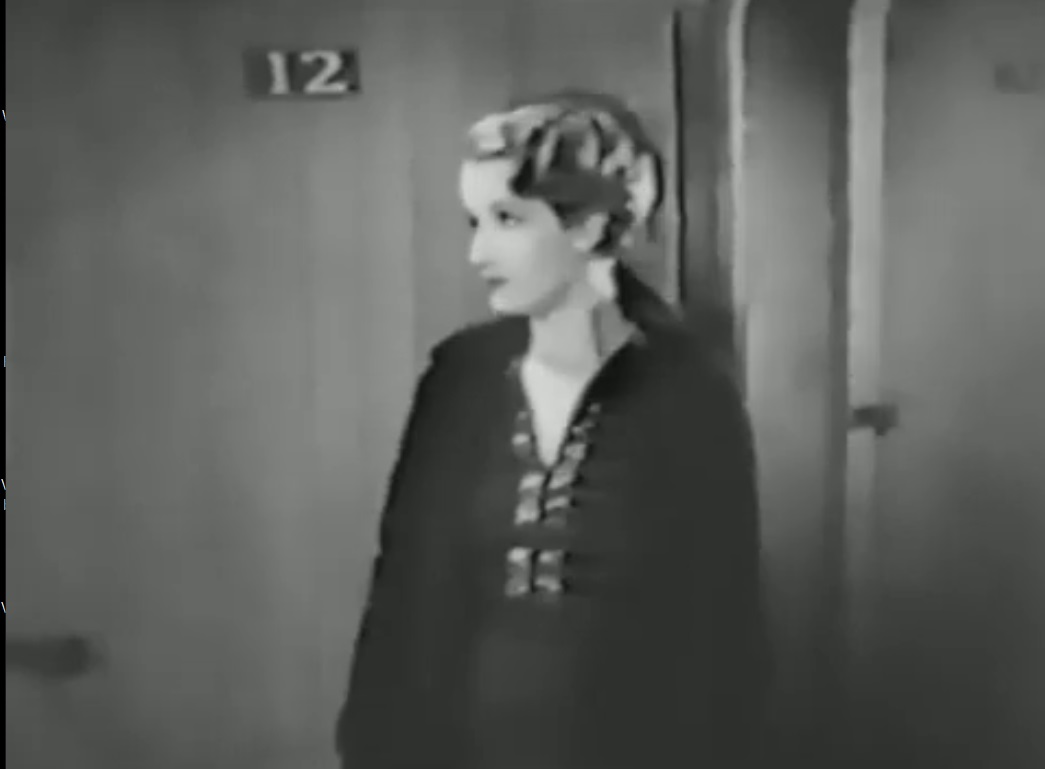 Forgotten Commandments, a tale of adultery in the Soviet Union, is an urgent screed, a dire warning against the dangers of communism and, as written, also a great way for Paramount to reuse some old footage to keep down production costs. So a real two-for-one bonanza.
That's right, during this film, whose plot is definitely important and not the kind of thing we've seen literally dozens of times already set in the United States on this site alone, we are treated to a full unbroken 20 minutes of Cecil B. DeMille's 1923 silent classic The Ten Commandments. There are still intertitles, there is still some music, plus a bit of narration, too, just in case the intertitles are too much for you.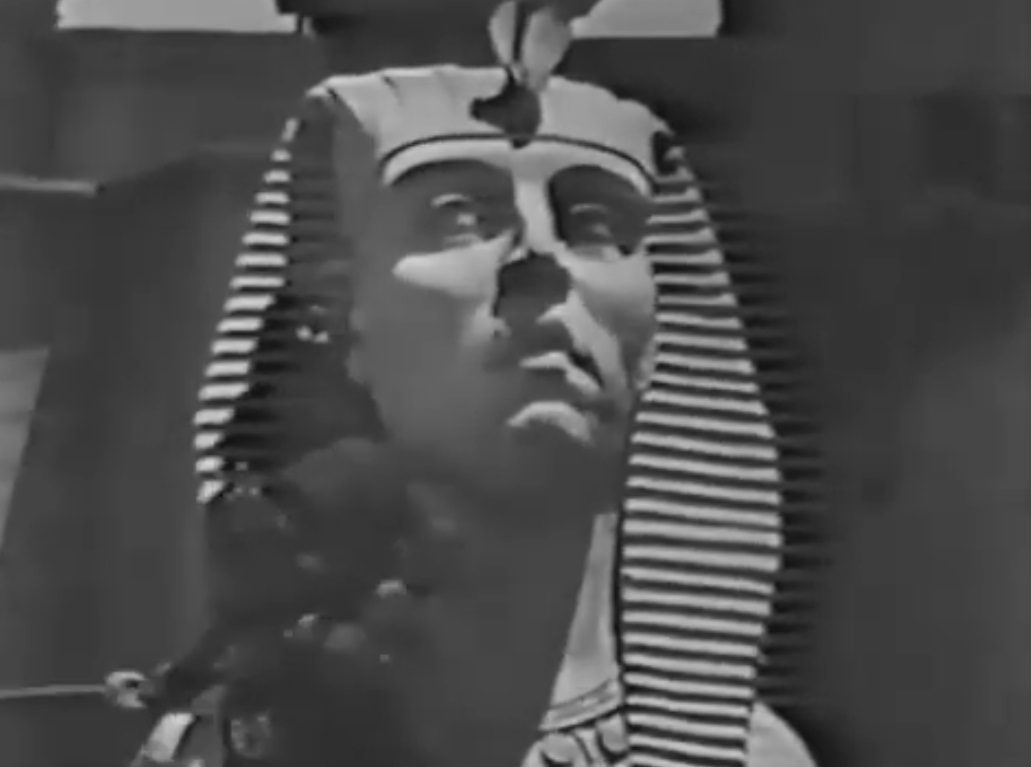 The footage, focused on the parting of the Red Sea and Moses bringing the commandments down from the mountain, is wholly inert. Imagine walking into something like Infinity War last year (or whenever the hell that was) and Iron Man says, "This reminds me of a story when someone else faced a great difficulty" and suddenly we're treated to 20 minutes of The Soloist. Like, okay. Thank you?
What this does setup is probably the most enjoyable (and, as noted below, censored) part of the film, where Pichel's Marinoff runs on in front of a gaggle of astonished, starving children and lays out the new commandments. These include serving the state above all else and emphasizing that men and women should be free to love who they want. It would have been a genuinely shocking moment in a movie crafted with more care, but Forgotten Commandments is sloppy and about as insightful of the Soviet as only the most single-minded propaganda could portray.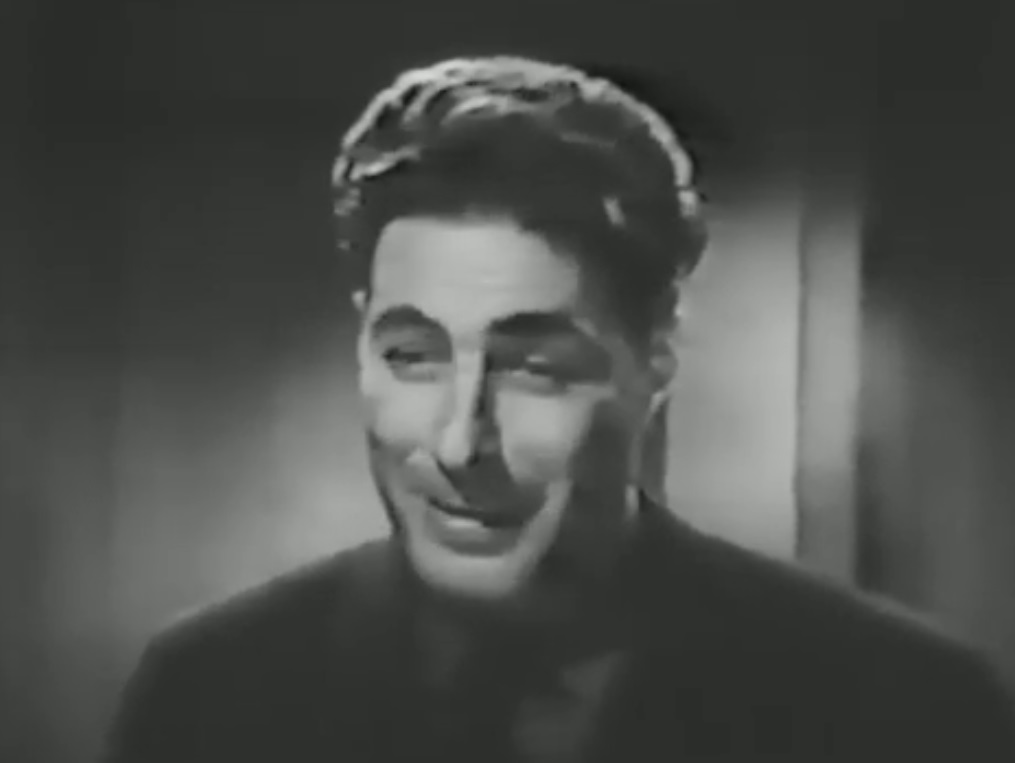 Irving Pichel really is the only redeeming part of this whole thing, having fun in what amounts to a mad scientist role. He has his bombastic dialogue crafted onto necessary plot points, and if those two things are unrelated, the paying audience be damned! Pichel is probably most familiar to readers of this blog for his role in The Story of Temple Drake or directing The Most Dangerous Game, but he's just kind of a meatloaf of a man and all the better for it.
Forgotten Commandments is a hoot in many ways, from leaden dialogue to the way "bourgeois" is passed around like the ultimate insult. For an insight into American preconceptions of Soviet life were drilled into them pre-World War II, the movie is at least an interesting relic. But between throwing 20 minutes of a completely different film into the middle of it and Gene Raymond going 'beep boop', it's honestly barely worth a few good laughs.
Screen Capture Gallery
Click to enlarge and browse. Please feel free to reuse with credit!
Other Reviews, Trivia, and Links
Some interesting production notes from the AFI, including stuff that got censored
Included in the Paramount story files at the AMPAS library are an uncensored release dialogue script, dated May 19, 1932, and a censored release dialogue script, dated May 21, 1932. Included in the uncensored version, which contains lines not in the released film, are scenes in which characters make comments on religion, capitalism, the Bible, the Russian state and birth control. In one such scene, while students are registering for classes, a registrar says to an applicant, "Nursing and child welfare. Looks like a pretty big family, uh?" Another applicant responds, "Better take a course in birth control first, little comrade." While the former line is in the film, the latter is not.
Going even further, here are the edits demanded by the New York censors from the book What Shocked the Censors. Notably, none of this stuff is in the film print I saw, indicating that this is a pretty good listing of the lines that were snipped. And I think we can all agree that "Well, if it isn't old Comrade God himself" is an awesome line and shame on New York for getting touchy about it.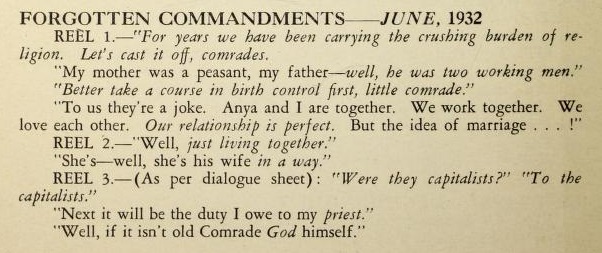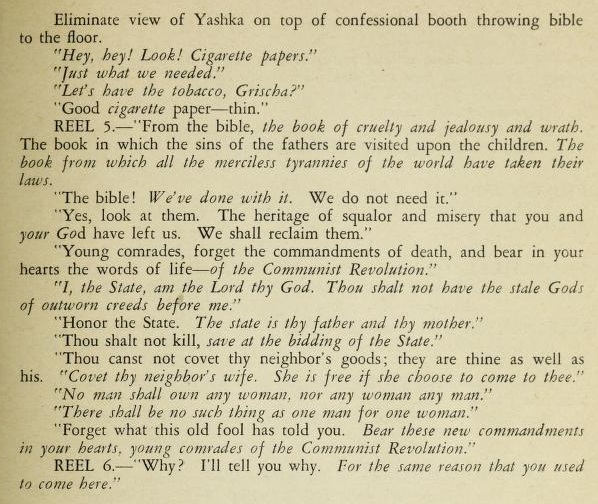 Mordaunt Hall in the New York Times singles this movie out as being notable for being Sari Maritza's first appearance in an American film, emphasizing that she "speaks English well and gives a competent performance". He adds:
The Russian drama is not especially well written, and the manner in which some of the players speak their lines fails to give one the necessary impression of a Russian atmosphere. It is, however, a great improvement over the original modern story in "The Ten Commandments."
If you are, reasonably, wondering who Sari Maritza is and what she'd done to earn such anticipation, she was undoubtedly yet another attempt by studios to recreate the exotic Garbo/Dietrich allure. Wikipedia does a good job of summarizing how that turned out:
Maritza entered films in 1930 and gained some notoriety for dancing a tango with Charles Chaplin at the premiere for his film City Lights in 1931. Although her behavior was described as lurid, which was silly publicity, she attracted attention and was cast in several low budget, but relatively popular British films.
She made the German-UK film Monte Carlo Madness in Germany in 1932 before traveling to Hollywood, but her few films there for Paramount Studios and RKO Radio Pictures were poorly received.
In America, she was portrayed as an exotic European vamp with emphasis placed on her mother's Austrian heritage, but Maritza had lived most of her life in Britain, and disapproved of the studio's attempts to create a more mysterious facade for her. She retired in 1934 following her marriage, and in later years, admitted that she had been eager to end her career as she did not consider herself to be a capable actress.
Say what you want about the film (and I certainly did), the poster probably would have gotten me in the door in 1932: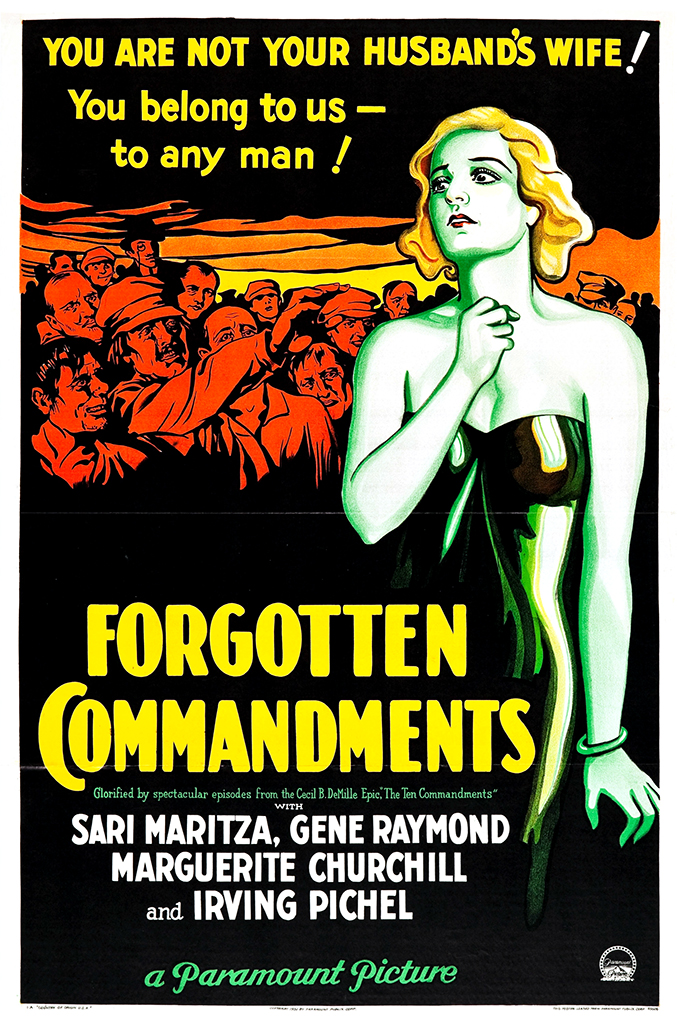 Final judgment from Photoplay:

Awards, Accolades & Availability
More Pre-Code to Explore