Free and Easy: Stop the Pain
"If worse comes to worse, save the last bullet for yourself."
Buster Keaton talks! And he won't stop! For the love of God, someone make him stop.
I decided to spend the latter half of August touching on the talkies of Keaton, one of the greatest silent comedians, more or less on accident. What – No Beer? turned up on Warner Archive Instant, and, after watching it, I found a challenge: there's no way the rest of his output from the era could be so astonishingly awful.
Unfortunately, so far, I seem to be met by serious contenders time and time again. After losing his own production studio, Keaton signed up as a player at ritzy MGM. They oversaw his last two silent pictures before reluctantly helping him make the transition to sound. MGM found early on that Keaton's comedic sensibilities and box office success seemed to function as the antithesis to one another: when he did what they said, the movies made more money.
Let's look at today's flick and Keaton's first talkie, Free and Easy. Anyone who tries to compare this with even his last two silent films that were made at MGM will find it curiously sterilized, as if they placed the microphone above Keaton's head and, while he was busy looking, they nailed his shoes to the floor.
That probably comes from the problems with early sound technology, in which this film may be a master course in. Because of the cost of the film and the rudimentary audio editing abilities, if it got said, it stayed in. Everyone talks, talks, talks and can't stop. Some flubs are kept in, and the result is that the dialogue is naturalistic yet kind of stale. It's akin to a second grade play in some spots, especially the long and mostly embarrassing musical numbers.
Because, yes, if you are a regular reader of this fine website, you will know by now that after the success of The Jazz Singer and The Broadway Melody of 1929, what studios thought people wanted was singing, singing, singing. So every movie that came out, no matter how implausible the scenario, always had a scene of some warbler popping up and going to town.
I say this to help brace you for the surreal: yes, Buster Keaton sings.
But first, the necessary plot. Keaton plays (sigh) Elmer J. Butts, a naive auto mechanic who has volunteered to take Miss Gopher City Kansas, Elvira Plunkett (Anita Page), and her domineering stage mom, Ma Plunkett (Trixie Frangaza), to Hollywood. On the train ride in, they meet Larry Mitchell (Robert Montgomery), a famous suave movie star who is willing to show off his prestige a bit to the pretty girl.
Elmer, who's dumb, slow, clumsy, and generally one of those people to whom luck always seemed to be going the other way, now must compete romantically while helping to get Elvira's screen career on the map. He always seems to work against himself, like when they're invited to a big premiere of Mitchell's latest picture, and Elmer spends so long trying to find a parking space he finally gets to his seat in time for the end credits.
The film has a number of cameos from then big MGM stars– Willy Haynes, Jackie Coogan, Lionel Barrymore, and even Cecil B. DeMille wanders around in the background for a bit– and the film spends its time luxuriating on the making of several motion pictures. Mind you, the narrative stops dead while it does this, but the truth is clear: this is a Buster Keaton film second, an MGM puff piece first.
Hapless as he is, Elmer ends up being chased across MGM's backlot by a security guard, messing up movies before being tested as an actor for Mitchell's latest picture. He fails at his dramatic take– his mangling of the line, "Woe is me, the queen has swooned!" is one of the less unpleasant moments of the picture– but soon finds success as a clown.
Teamed up with Ma Plunkett, Elmer unexpectedly becomes a big star. The two become the comic relief in Mitchell's latest picture, which is about a tyrannical queen (Plunkett) who is in love with a goofy navigator (Butts) who is in love with a hula girl who really has a thing for the handsome leading man (Mitchell). Yes, say what you will about the film, it does cram twice as much plot in by incorporating a whole extra movie into the proceedings.
Meanwhile, Elvira has confessed to Elmer that she really isn't that interested in stardom, and just wants to settle down. In one of those long drawn out conversations where two people think they're talking about the same thing but, alas, are not, Elmer accidentally encourages Elvira to forgive Mitchell for an earlier proposition and marry him when what he meant to say was to marry him. Elmer. You can see where the confusion comes in.
Keaton's singing voice isn't that bad– or my standards in the era of YouTube have dropped that low. The musical numbers give him a great opportunity to show off his physicality, and he can easily keep up the bevvy of choir girls surrounding him. It won't set your world on fire, but the titular number, "Free and Easy", is probably the film's highlight after the brief Keaton/Montgomery fistfight that's almost over before it begins.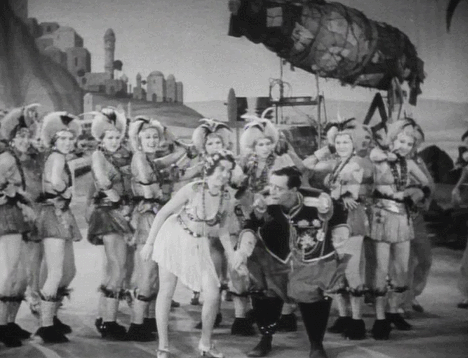 Paralleling the fake film he's starring in, Free and Easy ends on a surprisingly dour note as Elmer Butts becomes a famous film star but sees the girl he loves fall for and marry the handsome leading man. I'm not sure why that happens, other than trying to wring some sense of gravitas of what had been up to then a fairly dull and rote comedy. I'm not one to usually write off downbeat endings, but this may be one of the cheapest you can find.
In fact, the only really interesting thing about Free and Easy is its metanarrative (that is, the narrative about the film's narrative).  Look at the movie's plot: innocent rube comes to the big studio, is treated like crap by said studio, finds a success he never really craved in a performance manner he's never really comfortable with, while losing the girl he loved at the end and no choice but to soldier on as a mockery of himself for all those lovely people out there in the dark.
It reminds me of some poor sap. Can't put my finger on it quite yet, but I'm sure I'll get there soon.
Regardless, Keaton went on to make six more films at MGM after this of varying quality as well as becoming a gag man at the studio. Keaton's voice, a kind of earthy baritone, is perfectly wonderful for his face and one of the great pleasures of the transition to sound.
But it's important when we talk about the transition of silent films to talkies that sometimes it wasn't just the new format that killed the stars. The entire game changed, and for an artist like Keaton, he had no choice but to jump in with the sharks.
Proof That It's Pre-Code
The bon vivant playboy who has lured a beautiful young actress into his home doesn't need the car afterward! Oh my. I guess.
One of Keaton's musical numbers is Elmer and Ma Plunkett whispering various naughty acts to each other and the melody kicking in as their enter their refrain of either pleasure or exasperation. It's very suggestive without being suggestive at all.
"I suppose you make violent love to every girl you meet."
"So what if I do, it never meant anything before I met you!"
Feel free to tell me that sometimes a corn shucking is just a corn shucking, but considering how the film ends… I dunno about that:
Gallery
Here are some extra screenshots I took. Click on any picture to enlarge!
Trivia & Links
The disc Free and Easy comes on includes So Funny It Hurt: Buster Keaton and MGM which does a good job setting up the talkies we'll be discussing for the next few weeks. It talks about how Keaton's contract was traded, his spats with the MGM studio bosses, his deteriorating marriage, alcoholism, and how he became a gag writer and inspiration to stars like Red Buttons and The Marx Brothers. It's a good watch; definitely more worthy of your time than Free and Easy, but I suppose you could figure that out by now.
The film's costar, Anita Page, had just become a big deal after starring in the previous year's Broadway Melody of 1929 which had won Best Picture. She would costar with Keaton and Montgomery a few more times each before retiring from acting in 1936 to raise a family. Here's a lengthy interview with her from the 90s where she talks about her experience during this period in Hollywood.
TCMDB talks about Keaton's rough transition to talkies, and how this movie had a clever premise that ended up totally wasted. They also note one amusing tidbit:
One scene that leaves an eerie aftertaste has Keaton running into director Cecil B. DeMille just as DeMille mentions actress Gloria Swanson. Twenty years later all three would appear in Sunset Boulevard (1950) with Keaton one of a group of silent-film actors referred to by William Holden as "waxworks."
Dr. Macro has stills of the film as well as a couple of posters. Some are fairly amusing (grumpy Lon Chaney could probably be turned into a meme if we don't watch it), but the first one with Keaton relaxing while Page is crouched over him is a pretty great role reversal from most snapshots of the day.
Greenbriar Picture Show tries to dissipate many of the myths surrounding the film, discussing Keaton's transition to talkies and whether his box office successes were truly successes or not.
There's a Robert Montgomery fan blog, and this entry talks about how costar Anita Page felt about him. Sorry, they can't all be about Buster, folks.
Awards, Accolades & Availability
This film is available on Amazon, and can be rented from Classicflix. The set it comes in, The Buster Keaton Collection, also contains Keaton's last two silent pictures. This includes The Cameraman, easily one of his best films, so you have a fine opportunity to see both his high and his lows if you pick this one up.