Proof That It's Pre-Code
"I'm not a madam!" "Well… I wouldn't know about that."
The main character is a conman who goes from card swindling, running a casino, grand larceny, and accessory to murder… and gets away with everything.
Cagney helpfully stuffs some extra dough in Clarke's bra.
The detectives who are on to Cagney threaten him if he doesn't find a job or get out of town. If he doesn't leave town, they promised to "run you in as a vag!" As in vagrant. But it doesn't sound like 'vag'.
When impersonating an Indian and after an afternoon of riding a fake horse, Cagney identifies himself as "Big Chief es-tut-mir-vay-in-tuches", Yiddish for 'Big Chief Pain in the Ass'.
Quigley punches out a critic into a toilet stall. Upon landing, we hear a toilet flush.
"You son of a–!"
"You like fruit. That I know."
Lady Killer: Technically A Dude Killer, Too
Something a little different today– I know I'm on vacation, but I recently guested over at the Forgotten Filmz podcast hosted by the always cool Todd. If you want to hear us talk about how great Lady Killer is, head on over and give it a listen!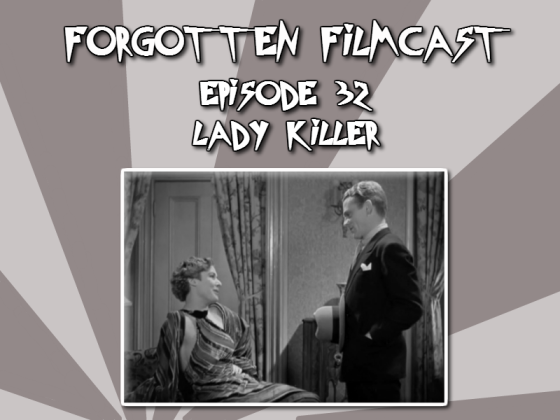 Gallery
Hover over for controls.
This slideshow requires JavaScript.
Trivia & Links
Being a Warner Brothers production, there's plenty of references to their other films sprinkled throughout. At the theater in the film's opening, Wild Boys of the Road is playing. There's also a poster for Edward G. Robinson (Cagney's main gangster star rival) in 1934's Dark Hazard. Richard Barthelmess gets a namedrop, as does someone named 'Rupee Alvarez' (?? – I'd almost think it's Lupe Velez, but there are definitely 'R's there).
The film's second half takes place at National Studios– whose name is pretty close to First National Studios, the company Warner Brothers bought out and absorbed in the early 30s.
And, perhaps my favorite moment of the movie, Cagney and Clarke are discussing where to travel to. Clarke reads the list of bountiful fruits available in Los Angeles and then snaps into a worried look when she sees that the state has plenty of grapefruits. This is a reference to The Public Enemy where Cagney's character smacked Clarke's character in the face with just such a fruit.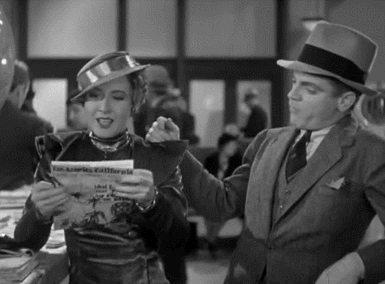 DVD Talk finds the movie baffling but enjoyable, noting:
Trying to keep up with "Lady Killer" is enough to wear anyone down; the patchwork movie feels like it was made up of unused ideas the producers had left over from eight or nine other movies. The key to this one is to just go with the flow. Attempting to make the pieces fit is a failing enterprise, and director Roy Del Ruth seems to have known it: he keeps everything plowing ahead at such a speedy clip that even when you're confused, thinking you've missed some vital plot connection, you're still entertained. His leading man is in full force, and the script's many episodes are all briskly written and work beautifully as standalone pieces. As a result, what should be this set's most frustrating entry winds up instead as a fully satisfying, if totally manic, joyride.
John Greco at 24 Frames mentions that the movie apparently didn't warrant a mention in Cagney's autobiography. He also explains how the film's famous sequence involving Cagney dragging Clarke by her hair was accomplished and what the deal was with all those monkeys:
While the film is funny and entertaining, by today's standards there is plenty that could be considered in questionable taste. The treatment of Mae Clarke is especially unsettling, dragging her across the room and literally kicking her out is played for pure laughs (even the publicity for the film focused on Cagney's treatment of Clarke). Clarke in a letter to a friend explained that she was not hurt during the filming of this scene. If one looks closely, you will see her hands are firmly gripping Cagney's wrist taking all the pressure off the actual hair pulling.
Another questionable scene involves about two dozen monkeys who are let loose during a Hollywood dinner party. The monkeys look like they were tossed into bowls of cream, smashed into cake and forcibly flung around the room. Today, this would certainly raise the blood pressure of animal rights groups and correctly so. I somehow doubt anyone gave a second thought to either of these kinds of behavior back in 1933. While these scenes are cringe worthy, again like so many other films where manners, thoughts and ideas have evolved since, one needs to accept the times in which these films were made.
John J. Puccio calls it, "

a movie that starts light and gets even lighter as it goes along.

"
Posters and screengrabs of Lady Killer and other Warner gangster movies released in a set over at DVD Beaver.
Karen at Shadows and Satin covered this a while ago, and mentions her favorite things about the movie, including this bit I'd missed:
When the gang members visit Dan in his apartment, Spade picks up a picture of Lois, making a comment on how Dan is now "rubbing noses with all the big shots in the picture business." Dan chuckles and off-handedly remarks: "Well, call it noses if you like." (Whoa!)
Here's the movie's trailer:
Awards, Accolades & Availability
This film is available on Amazon. If you pick up the DVD for this one, it comes with a commentary track and a host of other features.
Comment below or join our email subscription list on the sidebar!