Sweetheart
Jack Oakie
Pres
W.C. Fields
Angela
Susan Fleming
Secretary of the Treasury
Hugh Herbert
Mata Machree
Lyda Roberti
Mysterious Man
Ben Turpin
Released by Paramount Pictures | Directed By Edward F. Cline

Proof That It's Pre-Code
The President: Hello sweetheart.
Migg Tweeny: Listen, my name's Tweeny.
The President: You'll always be sweetheart to me.
Migg Tweeny: I know, I know, but there's talk already.
The villainous Mata Machree (based on Garbo's character from the previous year's Mata Hari) does a number of serpentine dances and sings a song called, "It's Terrific (When I Get Hot)" which contains a fair share of suggestive lyrics. She's also called a 'cooch dancer' for what it's worth.
"There's another way to make love, you know." "… In public?!"
The film's title really has nothing to do with anything, but certainly sounds evocative.
Million Dollar Legs: Strutting Their Stuff
Faster than a speeding bullet! Stronger than a locomotive! Able to leap tall buildings in a secret bound! It's… George! And George! And yet another George!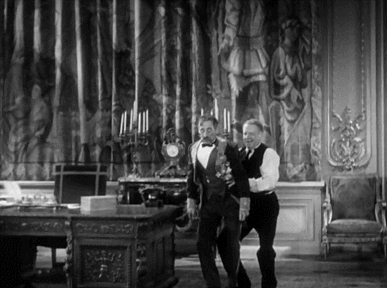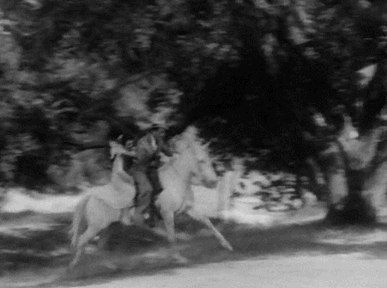 That'll have to serve as my silly introduction to you about the silly
Million Dollar Legs
, the story of an entire nation of super powered misfits named Klopstokia. It's a small distant country whose chief exports and imports are goats and nuts. A majority of its residents are also listed among the same.
President George (W.C. Fields) is in a bind, since his country is heavily in debt. His cabinet, lead by Secretary of the Treasury George (Hugh Herbert) is out to get him, employing spies and deceit of all sort to undermine him. Of course, the presidency of Klopstokia is actually determined by arm wrestling, which may also be hindering the political infrastructure.
Thankfully master salesman Migg Tweeney comes to the rescue; it's mostly out of a deep affection for the president's daughter, Angela, than anything. (Oh, and every woman in Klopstokia is named Angela. That's important to know too.) Tweeney's plan involves getting a sponsorship deal if the super powered country can sweep the 1932 Olympics in Los Angeles.
That's a pretty loose description for a pretty loose movie. Million Dollar Legs traffics in cartoon insanity– in fact, I'm pretty sure I've seen a number of the film's gags resurface years later in Looney Tunes and other abstract stabs at comedy. It's a film that goes for broke with its humor, offering up punchlines every few second.
In this attempt, sometimes things get weird beyond measure– a palace messenger chases Migg and Angela across several miles while dressed as a goat at super speed. Another time a brief walk in the woods between the romantic couple results in them leaning on the wrong rock and being dropped down into the villain's lair via elevator/palm tree.
Like a number of Paramount comedies from this era, the finished film gives off the feeling that a few things got lost along the way, either from desperate editing or slipshod censorship somewhere down the line. Migg's valuable pocket watch ends up smashed under a giant weight with no explanation or reaction from him. The Mysterious Man, who doesn't seem to be spying for anyone in particular, disappears about halfway into the film.
But bits like that only add to the surreal atmosphere of the film, which defies manners for most of its run. The best part may be the Klopstokian love ballad that Migg sings to Angela, the tune of "One Hour with You" (from the Paramount production One Hour with You) replaced with nonsense lyrics. Jack Oakie sings the words "im ploogle gig" with such loving and affection he puts many of the crooners of the era to shame.
Oakie is in fine form, taking his usual enthusiastic go-getter character and putting him in one of the wackier fish out of water scenarios out there. His measured reaction to this insanity makes the movie work better than it has any right to. Fields, in one of his first sound features, is rather surprising. His health conscience super-strong Pres is the opposite of his usual womanizing, drunk persona. It's a delight not only to see him play against type, but to also think himself the rock of sanity when he is in reality the head inmate of the asylum. (It should be noted that I'm probably the only person in the world who prefers Oakie's comedic stylings over Fields' usual work.) There's also a deep comedic supporting cast culled from silents and talkies, from the masterfully blubbering Hugh Herbert to stiff faced Andy Clyde. Hell, even child actor Dickie Moore is funny.
While there are elements of political satire to the film, it rarely reaches the same heights as the 1933 films Duck Soupor Diplomaniacs. The few points that are there are nicely made at least: just because the strongest are in power, that doesn't make them the smartest. A country will exploit whatever resources it has to its own benefit– and work against itself if the opportunities are there as well. Also, goat milk is delicious and good for you. Don't discount that.
Million Dollar Legs is a lunatic lark, the story of a misfit country that succeeds on the world stage because of sheer luck and inventiveness. Even if Klopstokia isn't the U.S., I think there's more than a fair bit of the U.S. in Klopstokia, then and now.
Gallery
Hover over for controls.
This slideshow requires JavaScript.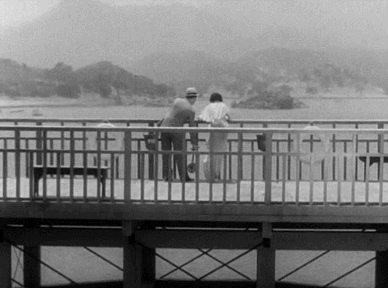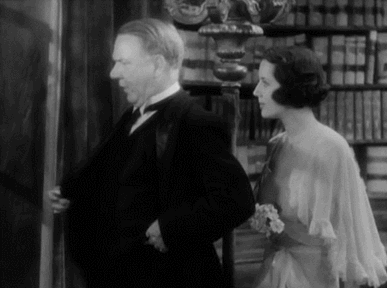 Trivia & Links
The movie opened two weeks before the 1932 Los Angeles Olympics in hopes of capitalizing on it. Also set during the Olympics is the otherwise unrelated but also utterly daffy Search for Beauty.
TCMDB notes that W.C. Fields insisted on improvising most of his role. Fields was famous for copyrighting a lot of his material in hopes of dissuading copycats, and apparently bought the rights to his work in this film for a total of $.50. Paramount had felt that he wasn't big enough to be given a starring role yet, and this movie was a field test for that.
A Trip Down Memory Lane recounts the remarkably short life and career of Lyda Roberti, a Polish emigrant most famous for this movie and Eddie Cantor's The Kid from Spain. She passed away in 1938 from a heart attack at the age of 31.
FilmFanatic.Org is into this one and notes its place in Fields' filmography.
Not the original theatrical trailer, but I did manage to find one someone threw together for a revival screening a few years back:
Awards, Accolades & Availability