Joe Anton
George Raft
Jerry Healy
Constance Cummings
Iris
Wynne Gibson
Leo
Roscoe Karns
Mabel
Alison Skipworth
Maude
Mae West
Released by Paramount | Directed by Archie Mayo

Proof That It's Pre-Code
George Raft awakens and undresses to bathe. We see a lot of him. Llllladies.
This film is set in a speakeasy, and, boy, does it. Iris appears in the first act bragging about having had three cocktails before breakfast.
"Beat it, dear, I have to get dressed."
"What of it?"
"Speaking of flowers, Joe, just what kind would you prefer?"
"Oh, anything at all is fine except pansies."
Plenty of homosexual undertones. Besides a shot of two women sharing a cigarette as well as a glance, Karns' sidekick acts like a moody lover to Raft most of the film. On the other end of the spectrum, Skipworth at one point drunkenly looks at West and asks: "Do you believe in love at first sight?" Also, later, we're treated to seeing how the two of them spent the night:
There's a lengthy joke where Skipworth thinks West's character is a prostitute. (Can you imagine?)
Raft and Cummings have a falling out wherein he assures her that, if he were a pirate, he wouldn't even toss her to the crew. Yikes.
Night After Night: The Mob Mentality
"Goodness, what beautiful diamonds!"

"Goodness had nothing to do with it, dearie."
I don't get to toss out the word 'bawdy' nearly often enough for my taste, but Night After Night, one of the exemplars of pre-Code Paramount's saucy mixture of class, crime and canoodling, definitely earns that moniker. And judging from the reviews I found (or, to be more precise, couldn't find), it is woefully underseen.
George Raft, riding high after making the coin flip iconic in Scarface a short while earlier, gets the leading man push as a former hood turned speakeasy proprietor named Joe Anton. Joe's got a problem, and it's not the rival mobsters barking at the door– he wants culture and excitement. He takes diction lessons and wallpapers his room in framed photos of framed European locales. His right hand man (who it seems wouldn't mind it being a little more) is Leo (Karns), tries to keep his boss focused on the murderous thugs while also juggling all of his boss' women.
This includes the possessive Iris (Gibson) and the bawdy (YES) Mabel (West), plus the latest object of Joe's obsession, Jerry (Cummings). Jerry's family used to own the house that Joe's speakeasy now occupies, so she appears there nightly to stare at the home of her youth before her fortune was stripped away and all she was left with were her memories.
Joe likes her air of class and sophistication. She becomes fond of calling him a pirate and, after a close shave, gives him a big kiss. He takes it the wrong way, but only because she's become so hollow on the inside she's forgotten that something belongs there. Things are sorted out with only a few shots fired and a minimum number of deaths.
The real pleasures of Night After Night are in the side stories and the many ludicrous innuendos that dot the movie. There's Leo's affectionate treatment of his boss, micromanaging every detail to try and keep his friend carefree– but also delighting in taking the piss out of him when he gets too full of himself. There's also Joe's diction teacher, Maude (Skipworth), a refined but accepting woman who makes the mistake of spending a night in a speakeasy and seeing her whole world turned upside down. And then there's Wynne Gibson's Iris, who is spiteful, childish and surprisingly clever, and keeps everyone on their toes. "I'm not a good sport," she insists angrily when she sees Joe waltz off with Jerry. "I'm a tough loser!"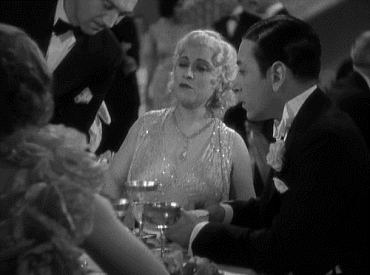 But the show is undoubtedly stolen by Mae West's loud, brassy Mabel, who sweeps in from a loud, vulgar universe to ramp up the film's craziness. If you know West's double entendres, you won't be disappointed. This is West's film debut and one of the very few times she's in a supporting role for obvious reasons. As a completely unapologetic woman, she mows over and charms all those before her, audience included.
George Raft, who I've never really cared for in the slightest (and is usually portrayed as one of the dumbest stars of the era in a bounty of behind-the-scenes materials), comes across here with warmth and a steely determination that never segues into wide eyed histrionics. While he lacks the forthrightness of Gable, there's something to said for his more laid back approach, and it's easy to empathize with him. Cummings, who is equally disillusioned, also plays her character on a tight wire between desire and practicality. She gets a great scene near the end of the film where she tears Joe's room to pieces, which I wonder if Welles saw in his pre-Citizen Kane days.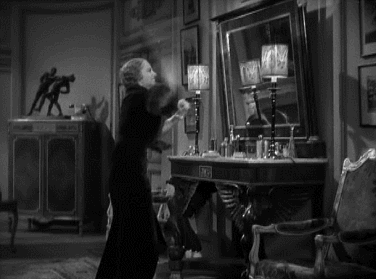 Director Archie Mayo and the rest of the creative crew do a great job in establishing the setting, making the speakeasy both grand and intimate all while keeping the viewer firmly grounded in its structure. The film spends the first 16 minutes happening in realtime and the movie itself only covers the course of a few days, giving a nice sense of immediacy as well as intimacy as we're shown the business' workings from the ground up.
Rather than comment directly on the class system– "being rich is bad, being poor is good" like many other Depression pictures proffer– Night After Night bounds for somewhere down the middle. Your problems come from trying to be what you're not, whether that's a cultured gangster or a slumming socialite. The best thing to do is find a compromise between what you want and what you need, and you'll be rewarded. In time, of course.
Night After Night mixes seediness with class to a great degree both in the way it's filmed and what's on screen. What's left is a nice little hidden gem, well worth it for anyone who wants some more West in their life.
Gallery
Hover over for controls.
This slideshow requires JavaScript.
Trivia & Links
From AFI's film notes: the film's prologue was originally longer, with the entire history of the house portrayed from it being new to its eventual dilapidated state (further emphasizing the direness of the Depression). It also points out that Cummings' role was originally intended for Paramount star Nancy Carroll.
Greenbriar Picture Show doesn't care much for the film, but is bowled over by Mae West, calling her performance here her best. (And I would agree save for I'm No Angel.)
Thirty-five years later, we're left with a rather odd feminine screen presence that seems not of this earth — or at least not the earth we occupy today. Were there ever women like Mae West? I mean, even in the Gay Nineties, inevitable setting for virtually all her movies? Maybe the real-life Jenny Lind or Maud Adams were like this — Sarah Bernhardt in her youth perhaps? West must have seemed peculiar even during the peak, albeit wildly popular. That generous, if corpulent, figure adhered to conventions of an earlier day (the gay nineties again), not to mention studied theatrical posing in costumes that must have weighed sixty pounds in the box. I was reminded of this unspooling Universal's DVD of Night After Night, Mae's 1932 motion picture debut. This isn't much of a movie, but it may well be the best thing she did, and for all that, it's worth a closer look.
The New York Times seems okay with the picture, but believes that it could have benefited from "a measure of restraint."
Posters, stills, and lobby cards for the movie can be found at Doctor Macro.
Awards, Accolades & Availability
This film is available through the Universal Vault Series on Amazon.
Comment below or join our email subscription list on the sidebar!