Imhotep/Ardeth Bay
Boris Karloff
Helen Grosvenor
Zita Johann
Frank Whemple
David Manners
Released by Universal Studios | Directed By Karl Freund

Proof That It's Pre-Code
Several fairly gruesome deaths, on camera and off.
Helen gets put in some Egyptian garb, and apparently Ancient Egyptians were big fans of bare midriffs and strategically placed sequins.
Our hero's suggestion as to why a man might have been buried alive and his name erased from history: "Maybe he got too gay with the vestal virgins!"
The Mummy: Love Never Dies
Honesty time: The Mummy was the first movie that ever scared the shit out of me. Strangely, unlike Dracula, which I regarded as cheesy upon its first viewing in my childhood, I caught a clip of The Mummy on a kid's show when I was young. It was the scene of Frank Whemple, desperate to protect the woman he loves, Helen, putting a medallion of Isis upon her doorknob. But, sensing a weakness, Ardeth Bay (AKA the titular mummy) grabs his heart from afar, and slowly chokes the life out of it.
That sense that there's something out there– an ardent, pensive, ancient evil– is watching and waiting for you absolutely terrified me. It didn't help that I grew up Catholic, where the teachings I received demonstrated that God functioned in much the same capacity. (I doubt an Isis medallion would win much good grace with Him either.)
It was an early nightmare, and a fear of the unknown gripped me for much of my adolescence. I've gotten over most of that now, but that feeling of impenetrable dread always stuck with me. That's what makes The Mummy so invigorating decades later; it's horror that's inexplicable but persistent, something always there and lurking among the shadows.
Let's go over the story real quick, so we can dive into the meat and potatoes of the film (or the falafel and baba ganoush as the case may be). In 1921, a British expedition stumbles upon the remains of a mummy named Imhotep and a box that very clearly says, "Whatever you do, don't open this. Seriously."
Unfortunately, an impetuous assistant named Ralph, who is sick of the boring part of archeology, pops open the box to find The Scroll of Thoth, a tome which tells how to resurrect the dead. No sooner does he feast his eyes upon it than does Imhotep reach over his shoulder to grab it. Ralph, having seen the line between death and life so cruelly mitigated, goes completely mad. The head of the expedition, Sir Joseph Whemple (Arthur Byron) runs back in, baffled at his assistant's laughter and the missing artifacts.
Ten years later and Sir Joseph's son, Frank, is digging in the desert with a new British expedition and having fairly rotten luck. Into his headquarters steps Ardeth Bay, a tall, gravely looking man with frightful eyes. He reveals where they can find the tomb of an Egyptian princess named Ankh-es-en-amon. The discovery is a success, and soon the artifacts are laid in the Cairo museum, ready for eager acolytes.
But Ardeth is more than he seems, and hides among the relics, chanting a passage from the scroll. This calls socialite Helen Grosvenor to the door of the museum, where Frank finds her. Through a confluence of hypnotism, reincarnation and ancient, forgotten magicks, Helen is carrying the soul of Ankh-es-en-amon. And Imhotep, AKA Ardeth Bay, used to have a thing with her.
But Helen meets Frank and before you can say 'ineffectual romantic couple', they're making moon eyes and trying to unwind all this business about a mummy. But, with the help of Egyptian expert Dr. Muller (Edward Van Sloan), the three just might… you know… not die horribly.
While Dracula is about a persecuted, charming monster at the fringes and Frankenstein and The Invisible Man more concerned about science gone too far, The Mummy is about the murky mire of human history. It's a primordial evil reaching from beyond the centuries, disabusing modern audiences that the past is actually finished but instead endures.
It's an evolutionary tale, honestly. The idea that mankind lost its connection to nature as technology infiltrated our lives isn't a new one (I personally think it's toilet paper that pushed us over), and The Mummy is deftly evocative in tying long ago civilizations to the unsuspecting present. Has mankind improved over the centuries, with technology allowing him the chance to grow and become smarter and wiser? Or has it simply coddled us, removing us from the true world and putting the whole of humanity in a big bubble just waiting to be popped?
This movie believes the latter, and Imhotep is the needle to mankind's assumptions.
The Mummy, Buried Alive
What is it that's so enduring about Imhotep? The Mummy has been remade and reinterpreted more than a dozen times at this point, and it's hard to discount the charm of the monstrosity. Like a lot of great villains, Imhotep's rationalizations are fairly reasonable. Every step he took are those made by a man in love, formed by millennia of fanatical devotion. That devotion, though, became dark and twisted after Imhotep's punishment.
Or maybe it didn't? Despite the lengthy back story we get on his origin, Imhotep only shows himself as loyal and desperate. His betrayal of the gods and the consequential punishment– a gruesome scene of the struggling, desperate man being wrapped up and buried alive– may have merely exacerbated a baser human, someone closer to the primordial anger and frustration encased in us all. Surely his new appearance backs this up– his skin has become just as much sand and dirt as it is living flesh. He's twisted, ugly, and old.
The film takes pains to create a dichotomy between him and our hero, Frank Whemple. Both are obsessed with the same woman in a way: Frank admits that he'd developed an affection for the mummy during excavation, after all, and now he lusts after her reincarnation. This is healthier, even if Frank's total contributions to the film entail almost dying and distracting someone for a few crucial seconds. He can't stop the force of centuries of malice, only delay it.
Unlike Dracula, who is driven by a primal bloodlust, Imhotep is driven by righteousness. He has suffered for centuries and given up the treasures of his nation; this devotion has surely won him the right to have Helen. When she rejects him in the finale, he simply ignores it! By his reasoning, her flesh is beyond her possession.
This sense of entitlement reveals Imhotep to be a supernatural stalker, a devotee from long ago who expects acquiescence from the beings he considers beneath him– modern mankind. As it turns out, the old gods are not dead, but merely idle. His failure is one of hubris.
The Mummy closes with the villain defeated, but an existential quandary at hand. Frank and Helen's brushes with forces they'd previously thought to be fiction will force them into a reckoning with themselves. Imhotep may lose his battle to reclaim the woman he loved from the gods, but he leaves behind an indelible mark on the 20th century.
I do want to step back real quick, before I wrap this one up. My favorite scene of the movie remains that moment I saw when I was a kid. Frank, with his breath choked out of him, crawls across the floor to Helen's door, desperate to reclaim the Isis talisman to protect himself. He collapses, possibly dead, and Helen's door opens. A woman so warm and receptive to him earlier walks over his corpse and down the hallway. It's such a striking and horrifying moment that it'll always be with me, a place where affection and joy meet the cold reality of the inconceivable. It's a moment that reminds you that for all the trappings of modern convenience, the unknown and powerful are still be out there. Waiting.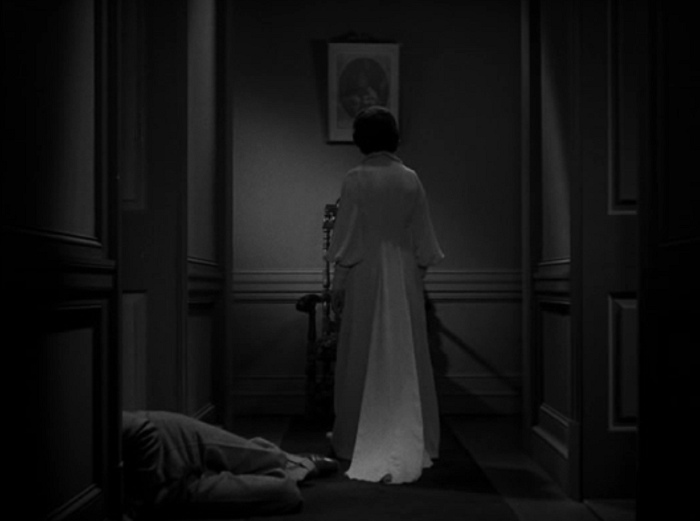 Gallery
Hover over for controls.
This slideshow requires JavaScript.
Trivia & Links
Today's entry is brought to you by the letter 'M' and the Great Villain Blog-A-Thon. Click on the banner to check out the dozens of bloggers going on and on about their favorite makers of mischief all across the silver screen!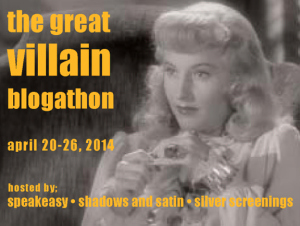 For as successful as it was, The Mummy never spawned a direct sequel. However, it was remade several times:

By Universal in 1940 as The Mummy's Hand. This was followed by The Mummy's Tomb (42), The Mummy's Ghost (44), and The Mummy's Curse (also 44). In the last three, duties as the lead mummy was turned over to Lon Chaney, Jr., if that gives you a hint at their quality.
By Hammer in 1959 as The Mummy, though its plot was more of a remake of 1940's The Mummy's Hand. This feature also spawned several sequels (though the plots were not related), The Curse of the Mummy's Tomb (64), The Mummy's Shroud (66), and Blood from the Mummy's Tomb (71). The Wikipedia page for Blood from the Mummy's Tomb insists that a 5.8/10 rating on IMDB makes it equivalent to a 3-star film, a feat of numerical trickery in the service of denial the likes of which I rarely get to see.
And by Universal again in 1999 with The Mummy, a blockbuster horror/action film starring Brendan Frasier. This was one of those movies I watched innumerable times as a teenager, and I still really enjoy it. As for its many sequels and spinoffs– The Mummy Returns (01) The Mummy Tomb of the Dragon Emperor (08), and three Scorpion King films– the less said, the better. Except for, of course, that the second Scorpion King movieis a prequel to a spinoff prequel to a sequel to a remake. Layers upon layers, people.
As it is a Universal Horror movie and has been extensively written about, I'm just going to point you to the IMDB Trivia page for info.
For anyone who needs a stiff drink to get through this one, the guys over at Alcohollywood crafted a drink and a drinking game based on this film, as well as recording a podcast about it and its remake.
A friend over at Turban Decay blogged about this one and its representations of Arabians. Besides noting that the film seems to be an anti-imperialist screed, he also gives some background on Egypt at the time of the film's production.
The violent Egyptian revolution of 1919, spurred on by nationalist Saad Zaghloul, led to the British recognizing Egypt's nominal independence on February 28, 1922. But with the British continuing to control their foreign interests in Egypt—especially the Suez Canal—and Sudan, there still existed very strong feelings within the Egyptian people that the British still had far too great a presence in their country and culture. Egyptian nationalist thinkers such as Muhammad Husayn Haykal and Muhammad 'Abd Allah 'Inan railed against these influences.
Greenbriar Picture Show posted about the life of a Mummy acolyte way back in 2006. He makes a wry Black Cat reference (well, I laughed at least) and talks about the film's legacy. One amusing passage:
Boris Karloff and Edward Van Sloan were the lucky ones. They died before us monster kids grew up. Neither of them had to face the prospect of anxious would-be interviewers banging on their nursing home door. Poor Dave and Zita made it into the 1990's. Manners lived to a ripe ninety-seven. He got to where he was telling fans he'd rather die than submit to another interview. He just wanted to eat pancakes in the dining room with the rest of the seniors. Telling yet another horror fan what it was like working with Bela Lugosi was worse than a rectal exam for him. Not that I'm setting myself above his inquisitors, mind you. I once wrote Mr. Manners a fan letter, back in 1969, and wouldn't you know it? He didn't want to talk to me either.
The Nitrate Diva delights in this film, comparing it to film philosopher Andre Bazin's 'mummy' theory of film. Besides talking about Freund's great use of tension in the film's opening minutes, she also draws parallels between the Helen's two suitors:
Frank even admits that one of the reasons he loves Helen is because she reminds him of the dead Princess. His "pure" desire for Helen therefore translates into a need for a victory over death, again. Yes, I'm psychologizing, but he has a crush on a corpse, for crying out loud! By having the woman who reminds him of the Princess, he can feel as though he's conquered death and time. Wait, isn't that what Imhotep wants, too?
From the links that the Nitrate Diva provided is Richard Freeman's impressive history of not just The Mummy but how the idea of mummies permeated literature. He also breaks down the similarities between The Mummy and Dracula in a rather succinct way: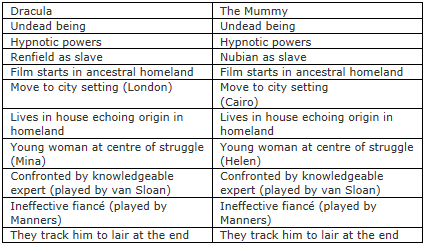 In a brutal scene the live Imhotep is entombed while not only are the slaves who oversaw the process killed, but their murderers killed as well, so that no one would carry recollection of Imhotep's "nameless death." Just before snapping Helen out of her trance Imhotep tells her as Anck-es-en-Amon, "My love has lasted longer than the temples of our gods. No man ever suffered as I did for you," and suddenly the monster becomes a bit more human.
Awards, Accolades & Availability