Mary Fanshawne
Fay Wray

Dr. Barclay
Ralph Bellamy

Dr. Selby
Walter Connolly

Released by Columbia
Directed by Lambert Hillyer
Run time: 70 minutes

Proof That It's a Pre-Code Film
The movie opens with a having gotten acid in her face by a jilted lover. It's certainly an attention-getter.
A woman in the ward, who's had three ribs broken by her husband, chortles to a concerned bunk mate, "Surely you're not denying a man the privilege of beating his own wife!"
An attempted suicide to cap it off.
Once to Every Woman: Women Can Do Better

"Men aren't born great, they make themselves by hard, grinding effort."
Knowing and understanding that the medical drama is well over a century old, it's still hard to see a movie so cliched, so colorless that it's barely an improvement on a blank television set.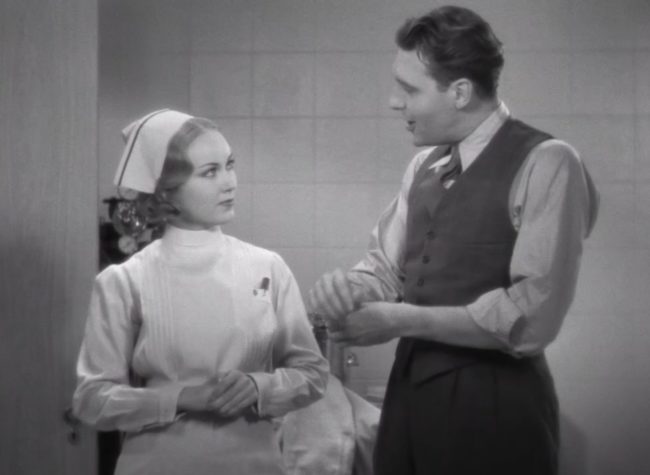 Once to Every Woman is about a dedicated, professional nurse named Fanshawne (Wray) whose only weakness is a schmoozing doctor named Dr. Preston (Walter Byron). He's not very dedicated except, as one character puts it, "The MD at the end of his name stands for 'More Dames'!" Yes, Dr. Preston's got his hands in the candy stripers.
Meanwhile, the head of the hospital, Dr. Selby (Connolly), is butting heads with youthful and ideal Dr. Barclay (Bellamy) over "innovative" and "new" surgical techniques as well as Selby's age and infirmity. Barclay also moons over Fanshawne, while a junior nurse named Doris (Mary Carlisle) keeps Preston away from his more important duties.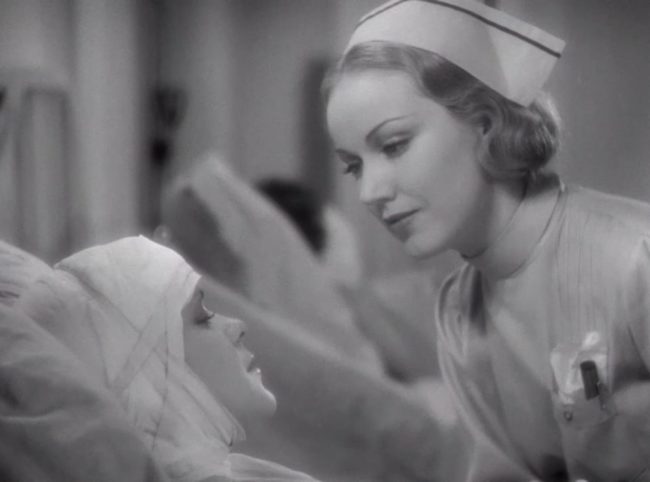 The conflicts are so facile and rote, it's almost hard to believe a movie has actually happened when it all wraps up. Filmed leisurely, Once to Every Woman tries to be both a gripping medical drama and a romance, and it's really bad at both. Take the surgery scene where Selby and Barclay's conflict finally plays out, shown in complete silence. The idea is there but the tension isn't. The cinematic cards have already shown us Selby morosely staring at his old degrees and awards, and sadly regarding himself in the mirror. In a film of this caliber, it's a miracle that Connolly is never forced to refer to Bellamy as a whippersnapper.
The romantic plot is somehow sillier, as the all-business Wray falls for an obvious Lothario. Fay Wray, despite her modern reputation as Kong's right hand gal, was often either the temptress or a snappy professional woman in many of her movies. Here it's the latter, which is nice. Wray has an easy authority and professionalism that's well used here and in fare like Ann Carver's Profession. Despite the doctor's duel that is the focus of the film's first chunk, she's far more interesting to watch when the surgery comes around as she coolly performs her duties. The acting she does with her alert eyes while she's done up in surgical garb is more captivating than anything else here.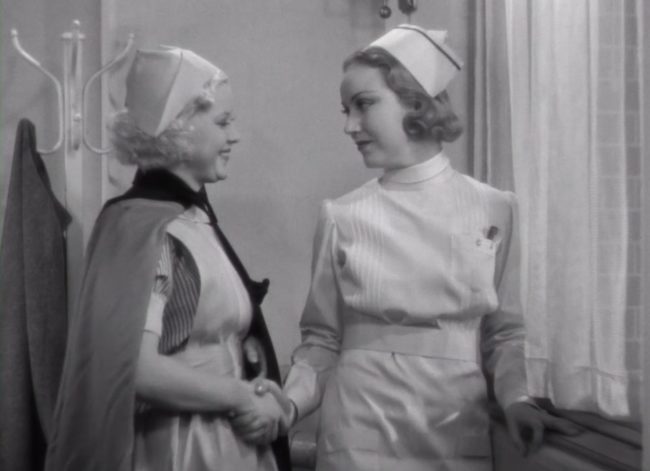 While there are some interesting notes (a woman whose face was scarred by acid attempts suicide in one almost-grisly scene), it pales in comparison to 1934's medical dramas, especially Men in White, which this beat to the screen by a few months. Frankly, this feels creakier than any medical drama put on a television screen since the 1950s. Despite Wray's ample charms, Once to Every Woman is not worth the effort watch.
Screen Capture Gallery
Click to enlarge and browse. Please feel free to reuse with credit!
Other Reviews, Trivia, and Links
It happens that this exhibit is no more feeble, and possibly a little less so, than its brethren of the cinema program class. Its capacity for arousing indignation against its obvious faults is resident in its capacity for convincing the spectator of its equally obvious potentialities.
Variety noted "it wouldn't make the grade."
One of the patients eagerly receives a signed picture from her favorite star Jack Holt. Holt was one of Columbia's few stars it kept on its rosters, and Wray was a frequent contract star at the studio, so they appeared in 5 pictures together between 1930 and 1934; their last one would be Black Moon, released a few months after this.
Awards, Accolades & Availability
This film is an obscure one. It has played once on TCM, which is where I caught it during its premiere on the channel in May 2020. Don't worry, I'm sure you can find it somewhere.
More Pre-Code to Explore