Polly
Marion Davies
Rev. John Harley
Clark Gable
Rev. James Northcott
C. Aubrey Smith
Released by MGM | Directed by Alfred Santell
Run time: 69 minutes

Proof That It's a Pre-Code Film
"Say Polly– did you know they recognized you when they saw the elephant's south end?!"
"Your hips is petrifying– I can feel it!"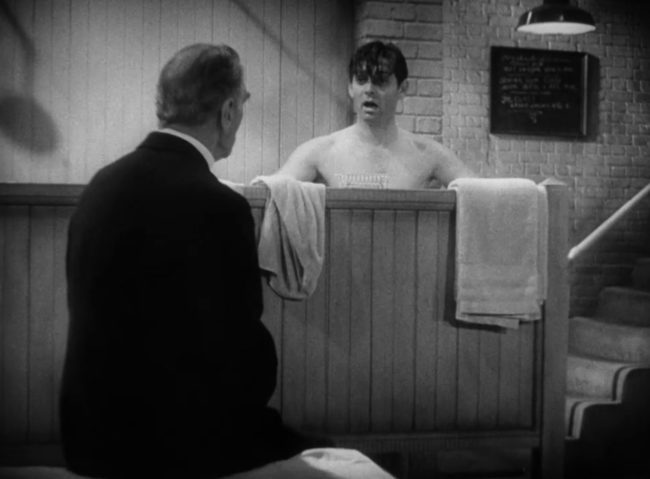 Polly learns the Bible to better flirt with a priest. … it's not that interesting.
Polly of the Circus: A One-Ring Affair
"Keeping your mind off women is like learning to pitch horseshoes by mail. You know how it's done, but can you do it?"
Never give a trapeze artist an even break, I guess. Polly of the Circus is a low key melodrama that posits that those darn carnies can be stand up people too, which I suppose was an important message the same year Freaks slithered its way onto movie screens across the country.
Marion Davies plays Polly, a daredevil trapeze artist who gets little respect from her peers and even less from the towns she visits, as her tiny outfit is used to promote her as a sinner rather than a skilled daredevil. She's a consummate risk taker, which backfires when a momentary distraction results in an agonizing fall. She recuperates in the home of boyish and good looking Reverend John Harley (Gable)– she trades him wit for some good old fashioned Bible learning. Inevitably and unsurprisingly, the two fall in love, much to the consternation of Harley's congregation and the world at large.
I mean, they talk about the Bible quite a bit. While Davies gets to toss off a few witty remarks, Gable is a big, grinning Boy Scout, whose cruelest action in the film is to go to the church and pray without telling his wife first. As Paul Mavis at DVD Talk notes, "he's at best a bashful altar boy, not [a] brawling sex animal". That turns the movie down a bit– it's never a meeting of equals, but a woman's ascension to holiness by way of a moral redemption.
How she redeems herself is ludicrous, but that's much of the film. There are some nice moments– the traveling Polly showing Harley the house she's finally chosen with a angelic glow.  And the film's shot of a gleeful gable, grinning ear-from-ear as he takes in the big top is adorable.
Polly at the Circus is one of those 'nice' movies– its message is about the goodness in everyone, and true love wins at the last second. There are some acrobatic sequences for the kiddies, and the sexual tension is dialed so low it may as well be a 40s Metro melodrama where everyone is buried under a dozen petticoats. Except for the rare moments of liveliness (and Gable and Davies do try), this movie can only satisfy those who made it– and even then, I have my doubts.
Gallery
Click to enlarge. All of my images are taken by me– please feel free to reuse with credit!
Trivia & Links
When I say they tried, I don't necessarily mean that they enjoyed it. Here's TCMDB on Gable combating his casting:
In the Gable biography Long Live the King by Lyn Tornabene, studio executive Mina Wallis recalls, "Gable called me up in a terrible mood and said, 'I don't want to do this bloody thing.' I went to the studio immediately, met Clark there. We stayed till two in the morning, with L.B. hammering at him. Finally Hearst said, 'I'll buy him the best car…there's a new car out, ten thousand dollars….I'll give him a present of the car.' Clark was right in the room. He said, 'I'm not interested. I don't like that picture. I don't want to do it. Rewrite it. Do something to it. Maybe then…." Gable eventually agreed, but insisted the script be rewritten.
In spite of the changes, Gable was still unhappy and walked out after the first day's production. Hearst stepped in again and helped negotiate a new contract for Gable. The star soon returned to work with a new two-year contract making $2,000 a week.
To me, at times Marion seems reminiscent of Joan Crawford in Rain in both their free-spirited, flirty natures and their similar almond eyes and you cannot deny that both women were beautiful. During the film it is easy to see that Marion was an accomplished silent actress; there are several wonderful slapstick comedy scenes – mainly with Rev. John's servant Downey – and Marion's funny lifelike impressions of some of the smaller characters.
Awards, Accolades & Availability
More Pre-Code to Explore