Jeffrey Farraday
Lawrence Tibbett
Tony Farraday
Esther Ralston
Mrs. Farraday
Emma Dunn
Doc
Roland Young
Snipe
Cliff Edwards
Rodman Farraday
Purnell Pratt
Released by Metro-Goldwyn-Mayer | Directed by Harry A. Pollard
Run time: 76 minutes

Proof That It's a Pre-Code Film
"The last place I'd worry about being caught by your husband would be in your bedroom."
"Tell me, Connie, when are you going to stop being a good woman?"
One sequence sees the fully adult Tibbett bathed by his mother. He then squirts white soapy foam at her. It's… weird.
"Virtue's not a necessity to a woman. It's a luxury. When she's in love."
Wife had an affair before marriage with his brother.
"When I go to the devil, I go in style!"
A young boy shows off his spelling prowess: "I know D-E-V-I-L and H-E–"
"Sleep 'n' Eat" is the stereotypical slow black guy again. This time, black people are all scared of (spins "Wheel of Racism") foxes.
An entire song by an all black group singing about the joys of "Chitlins and Cornbread" is performed. Our hero then goes and sings them a few tunes that they dutifully dance to.
The Prodigal: Hobos on the Plantation
"A man can be a tramp and get away with it, but a woman can't!"
The Prodigal, a rarely seen tramp-in-a-rich-person's-home musical-comedy-drama-romance, is alright.
The problem here for everyone is the past. Our lead, Jeff, runs away as soon as possible whenever possible. It's not fight or flight, just fly, fly away. He was in jail for a short time, something his stuffy brother, Rodman, can't stand. Rodman's wife, Tony, also has a history that he won't let her forget about. When Jeff returns to his family's expansive Southern estate to take a break from trampin', he falls for Tony instantly, while several of his hobo pals tag along to keep things wacky.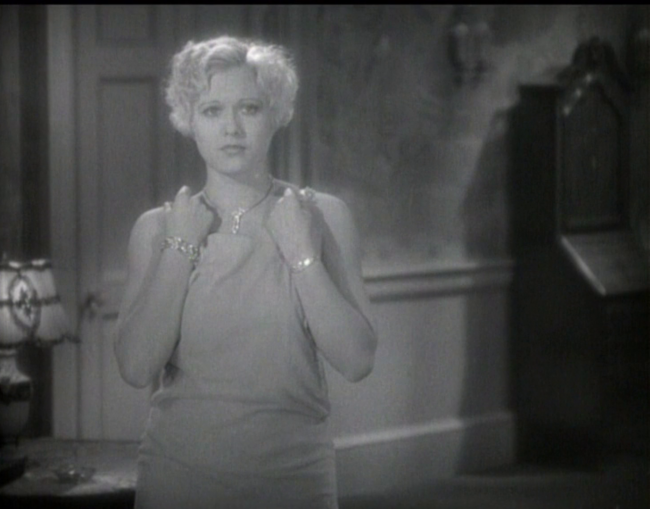 Lawrence Tibett, who'd gotten an Oscar nomination for 1929's Rogue Song, kind of looks like a mouse to me. While he's agreeable and charming to an extent, there's not much energy behind him when he's not belting out a tune. He's luckily supported by Cliff Edwards and Roland Young as wisecrackin' bums (a natural fit for Edwards, and it's definitely interesting to see dapper Young donning mismatched clothes). Esther Ralston is a real find here– her character of Tony is appropriately antagonized between her happy youth, her domineering husband, and all the temptations freedom offer.
Weirdly, the mix between the 'appropriately goofy' romantic couple, the white bandleader and the extended scenes set in what is essential black tenement housing, much of the film began to remind me of a more stuck-up version of the Marx Brothers film A Day at the Races. While no one rubs on black face, Jeff does take his time to sing spirituals at them while they dance around in rags; combined with the usual ugly stereotypes, it's a bit much. Jeff and his hobos pals skewer their upper class opponents with minimum fuss and wit, though, and the songs are just about as lame.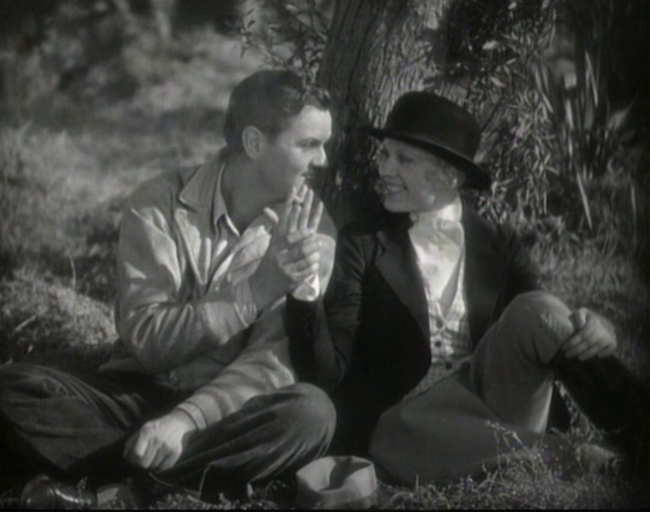 The film wraps up with not exactly a soaring romantic ending, but Jeff back off to tramp to his heart's content. The movie regards homelessness as a virtue, a mere inconvenience on the good people of the world. This is always kind of funny in MGM productions, which kind of wrap this up in romanticism and magic.
The whole movie is much in the lines of that fairy tale aura. The sound levels are fine, and anyone with an interest in listening to Lawrence Tibbett's rich voice are in for a treat. Otherwise, it's just not a whole lot to be excited about.
Gallery
Click to enlarge. All of my images are taken by me– please feel free to reuse with credit!
Trivia & Links
According to TCMDB, the film apparently contained even more musical numbers originally, but they were trimmed down as the musical backlash of 1930 kicked into gear.
Awards, Accolades & Availability
This film is an obscure one– it only had 11 votes on IMDB last time it played on TCM. I wish you luck in finding it!
More Pre-Code to Explore