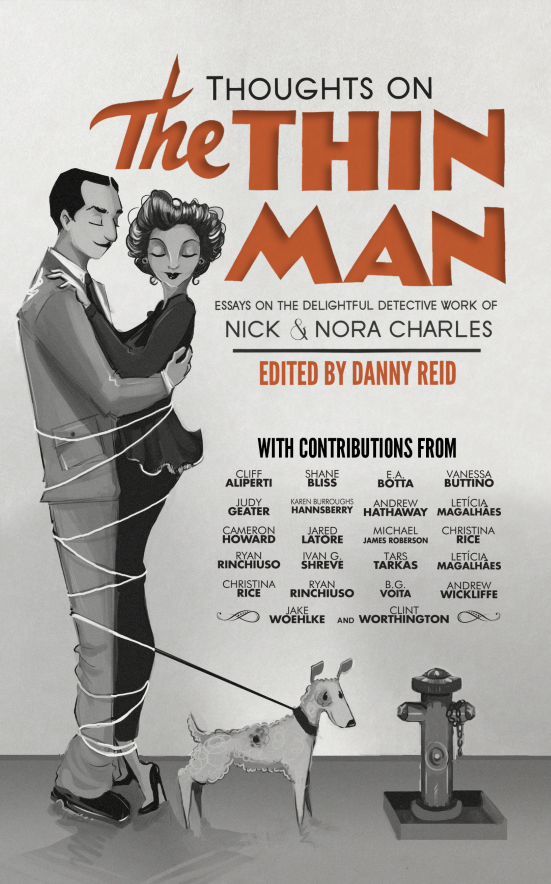 For those of you following along since my initial post in July and through the many updates I've posted since, you know this has been a long time in coming. And it's come! Thoughts On The Thin Man: Essays on the Delightful Detective Work of Nick and Nora Charles is now available at Amazon in both paperback and for your Kindle. I recommend the paperback version over the Kindle one, but that's just me– but do know if you buy the paperback, you also get the Kindle version for free.
And, if you do buy it, please, please leave an Amazon review– it would be much appreciated! (though favorable reviews would be more appreciated, naturally 😉 )
All proceeds from copies of the book sold will be donated to the ASPCA.
Here's the book's description:
Undoubtedly some of the most witty and urbane films of Hollywood's Golden Age, the six movies that composed MGM's Thin Man series showcased a pair of wealthy, inebriated detectives who solve murders in their down time. Through the series' run from 1934 to 1947, William Powell and Myrna Loy turned Nick and Nora Charles into a cinematic institution, showcasing a marriage that was sexy, funny, and exciting, whether there was a gun pointed at them at any given moment or not.
Thoughts On The Thin Man reflects on these famous films, looking back at Dashiell Hammett's original inspiration, the genesis of the films, and the men and women who made them possible. This collection of essays covers all six movies, including detailed plot breakdowns, quotes, trivia, discussion of motifs, looks at the many spin-offs of the series, a couple of nostalgic odes, and even drinking games, including a custom cocktail devoted to the duo. Would you expect any less?
The Complete List of Contributors
Once again, a big thanks to everyone who participated and helped with this book, making it everything it is and more.
As for the future, you will definitely be seeing further books from me, both on essential pre-Code films and, more than likely, maybe another book about good ol' Nick and Nora. But for now, let me sit back and relax and enjoy this moment.