Released by Pinnacle | Directed by Marshall Neilan

Chloe, Love is Calling You: Hang Up, Dear.
"Give me two bits and I'll tell your fortune. […] High water… sticks and stones… about a mad gal with a great big home. Find a room in the swamp… the roots of evil. About a fight in the night, in the devil's will."

"Alright. Now I know everything. So long!"
A few months ago, when I stumbled upon the truly 'this movie will irrevocably scar your soul' Golden Dawn, I had little doubt that I'd hit the bottom of the barrel. That movie, a racist screed in disguise as an operetta (featuring a black-faced Noah Beery cracking a whip while singing gibberish in some indecipherable register), is truly one of the most baffling, disheartening movies I've ever seen.
In its grand tradition, Chloe, Love is Calling You also delivers lessons on racial mixing, this time in the Deep South. Mammy (Georgette Harvey) has brought her daughter, Chloe (Olive Borden) back to her childhood home. Mammy is still seething over her husband being lynched nearly two decades earlier and has arrived to get her revenge on the one she blames for it, Colonel Gordon (Francis Joyner). This leads to a showdown. The poor black townsfolk who, outside of the scared-of-ghosts-and-voodoo butler, are all angry, vicious thugs are to eager to take the white people down a notch, if only they could.
For most of the film, when there aren't fistfights, alligator wrestling, or voodoo ceremonies, the movie is heavily invested in the romantic triangle between Chloe, Wade, and Jim (with cutesy, whimsical music to match). Chloe is absolutely horrified at the idea that she may be partially black, meaning that Jim, who is of mixed ancestry, is absolutely repellent to her. Things improve when she meets the rich, handsome, and 100% white Wade. When it's discovered that Chloe was actually Gordon's 100% white daughter, stolen as a baby in a revenge plot by Mammy, the love triangle lock is secure.
With her plans foiled, Mammy loses it and orders her daughter to be sacrificed in a ritual voodoo ceremony. It doesn't go as planned, and Chloe ends up with the white man, as I'm sure you knew.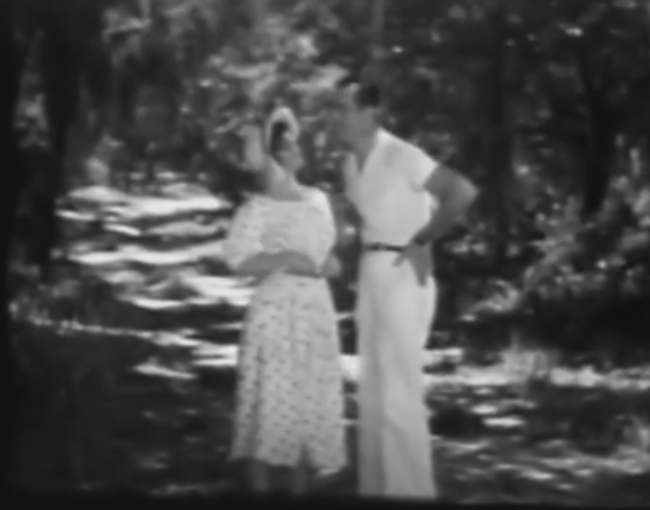 The best part of the film is the title, which also marks it as the film's only good part. The acting from the white half of the cast is very laid back, while the black half is forced to grunt and yell like… well, you know. It's shameful, pitiful stuff, with none of the lurid touches that make something like Black Moon interesting. The cheapness of the film is hard to deny, from the clear-watered alligator fight in the bayou, to the plot that's built on fanning racial hysteria rather than generating any sort of actual thrills or thought.
Chloe, Love is Calling You is the kind of movie I feel less like reviewing and more like apologizing for. I'm sorry, world. I'm sorry, reader. I'm sorry, me.
Trivia & Links
Last film role for Olive Borden, who in the late 20s had been a popular star at Fox. She left the studio after a pay dispute and ended up working sporadically afterward, earning a reputation as being temperamental. She shows little magnetism in this movie (not that anyone had much hope in making it out alive) and retired from the screen. She worked as a mail clerk before serving as a WAC in World War II. Afterward, she attempted a comeback but suffered from problems associated with alcoholism and passed away in 1947.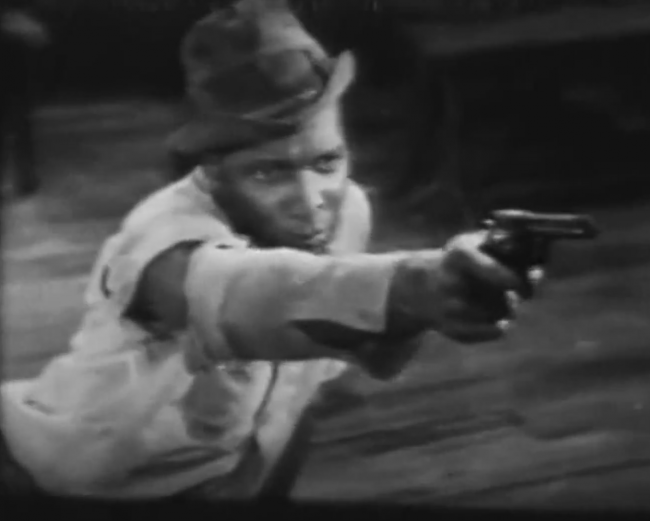 Black Horror Movies has a great rundown of this one, pointing out how the film's racism escalates stupendously the further it goes on. They begin by explaining:
While it's been packaged as the "bonus" film on the DVD release of The Devil's Daughter, Chloe is actually much more entertaining — granted, also much more noxious — than that painfully slow and predictable melodrama. What begins as a standard "tragic mulatto" tale quickly devolves into some sort of "white is right" propaganda that, while perhaps not as intentionally racist as, say, Birth of a Nation, nonetheless delivers twisted, jaw-dropping morals.
[T]he scenes of the Voodoo ritual are hauntingly evocative, with, big old Oak trees dripping Spanish Moss behind a huge bonfire, while black silhouettes writhe and dance in the foreground like souls out of Hell. And the images of poor Chloe tied to the sacrificial altar as Wade Carson and Jim Strong battle to her rescue recall the very best pulp-cover art, providing a lurid finish to a distinctly uneven but somehow memorable film.
Awards, Accolades & Availability
This film is available on YouTube.
Comment below or join our email subscription list on the sidebar!