Directed By William C. McGann

The Stolen Jools: All-Star Insanity
"I'm looking for pearls."

"Why don't you try the oysters?"
The all-star production has a rich history. From the cameo-laden Show People (1928) with a bevy of silent stars sharing a table to more modern iterations like It's a Mad, Mad, Mad Mad World (1963) and Disney's Marvel's The Avengers(TM) (2012), getting enough star power together is a surefire way to get an audience into seats.
As such, the pre-Code era is famous for some of its glossy productions that showcased the depth of studio's star-filled benches. Early talkies like MGM's Show of Shows (1929) and Paramount's Paramount on Parade (1930) were big, variety show-like affairs, which would eventually be refined into grander, large-scale dramatic productions like Grand Hotel (1932) and Dinner at Eight (1933).
That being said, "The Stolen Jools" is an aberration, one of the more unique productions to showcase talent of the era simply because it's one of the few to cross studio lines. Stars from MGM, Warner Brothers, Paramount, Fox, RKO, and Hal Roach's studios all make appearances, all free of charge since the short was created as a pitch for charitable donations.
"The Stolen Jools" was produced by the National Vaudeville Artists (NVA) and distributed free to theaters in 1931 as part of a drive for donations to help with running a sanitarium for retired performers suffering from tuberculosis. (Sanitarium here is more how we'd use 'in-patient clinic' today.) The film's costs were covered by Chesterfield Cigarettes, and Paramount distributed the film where owners would ask for donations after its presentation.
The plot is a shoestring to cram as many stars on screen as possible. Norma Shearer's jewels have been stolen, so it's up to a detective (Eddie Kane) to track them down. This means interviewing dozens of Hollywood stars, with everyone having a pithy line or gag ready to go. It's breezy and fun, and obvious that most of the stars are happy at the chance to let loose for a moment or two. It also reveals a different side of their personality when the improvisation obviously kicks in, reflected in Richard Barthelmess' discomfort and Fairbanks Jr.'s ability to spin out on-the-spot wisecracks with the best of them.
The short is an interesting time capsule, showcasing some of the biggest stars of the very early part of the era. While there are bonafide stars here, notably Shearer, Crawford, Stanwyck and more, others, like William Haines and Fifi D'Orsay, would see their stars dim from this point on. Between its casual nature and loose structure, it's one of the most fascinating documents of precisely its era, and it has a couple of good laughs to boot.
(… And, well, El Brendel, too, but nothing's perfect.)
Trivia & Links
The film was considered lost for decades until it was rediscovered in Britain in the early 1990s.
Since everything here is done for charity, there's a ton of reused sets, costumes, and references to other Hollywood movies. I'm sure I've missed a few, so feel free to point them out in the comments below.
Edward G. Robinson and George E. Stone both appear as gangsters looking for the missing jewels. This is one of the early (and many) times that Robinson would spoof his gangster persona from Little Caesar (1930). Notably, both Robinson and Stone appeared together in Five Star Final (1931).
The dress Shearer is wearing while she searches for her jewels (and in that screenshot up top) is from Strangers May Kiss (1931).
Edmund Lowe and Victor McLaglen appear in their uniforms as Sgt. Flagg and Sgt. Quirt, their characters from What Price Glory? (1926), This Cockeyed World (1929), Women of All Nations (1931) and Hot Pepper (1933).
Warner Baxter pops up in a sombrero, recreating his character from In Old Arizona (1928) and The Cisco Kid (1931). He'd play the character once more in 1939's The Return of the Cisco Kid before the role was taken over for series of B-Westerns starring stars like Cesar Romero, Duncan Ronaldo and Gilbert Roland.
Wheeler and Woolsey get involved in a slap fight with Kane. The detective asks, "Did you ever do this before?" and Woolsey snaps, "Yeah, in Rio Rita we did." Rio Rita (1929) is the lavish production that made them film stars.
Lowell Sherman plays the director who kicks Kane off the set for not looking like a detective. Sherman directed a number of famous pre-Code films, including She Done Him Wrong (1933) and Born to be Bad (1934).
Eugene Pallette mutters that he wishes Philo Vance was here– funny since Pallette appeared as the police inspector in 1929's Canary Murder Case with William Powell as Vance.
Douglas Fairbanks Jr. appears in a flyer's uniform, most likely from his appearance in The Dawn Patrol (1930).
The first half of Barbara Stanwyck's poetry is missing from the print, though what remains of the apparently dirty joke makes you wonder what was lost. This is the only time that Stanwyck and Fay, who were married in 1928 and divorced in 1935, appeared on screen together.
And here's the entire cast list, graciously stolen from Wikipedia because there's no way I'm typing all of that out (click for big):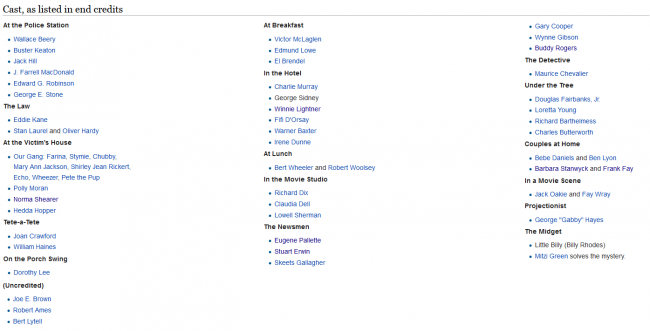 Awards, Accolades & Availability
This film is in the public domain and available on YouTube.

Comment below or join our email subscription list on the sidebar!