"It's like Harold Lloyd without his glasses—no one would recognize Elvira in a turtleneck."
I woke up hungover. Hell, I still am hungover and it's six something in the evening. It's my own damn fault, but the consequence was that I missed the History of Vitaphone presentation that had been one of my festival must-sees. I feel awful about it, and I should, but I needed those hours of peace.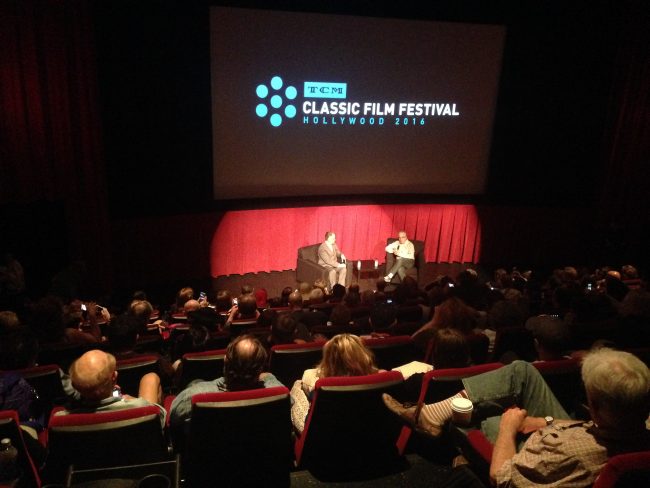 A House Divided
William Wyler's son, David, talked with Eddie Muller before the film and had only just seen the film himself a few days before. He noted that of the original 330 scenes for the film, Wyler and a young John Huston rewrote over 100 of them on their own.
The film itself is dynamite, with the writer and the director doing some things fairly ahead of its time—omitting a lot of exposition and extensive amounts of shooting out of doors—while being rather old fashioned. Mueller commented ahead of time that it seemed like that Universal may have had Walter Huston's character originally in mind as a Lon Chaney role, and you could feel it. The movie is a churning drama about a father and son who could not be any less alike—and mail order bride Helen Walker arrives to drive a wedge between them. It really reminded me of the pre-Code Kongo in a lot of ways, and Wyler demonstrated a surprising amount of energy in a pair of ugly, drag out fight scenes.
Definitely worth catching at its replay on Sunday. Oh, and TCM finally finished announcing their repeats for Sunday, and half of them were ones I'd managed to get into. (Not necessarily actually see…). They include Double Harness, Shanghai Express, A House Divided, Bulldog Drummond Strikes Back and A Tree Grows in Brooklyn.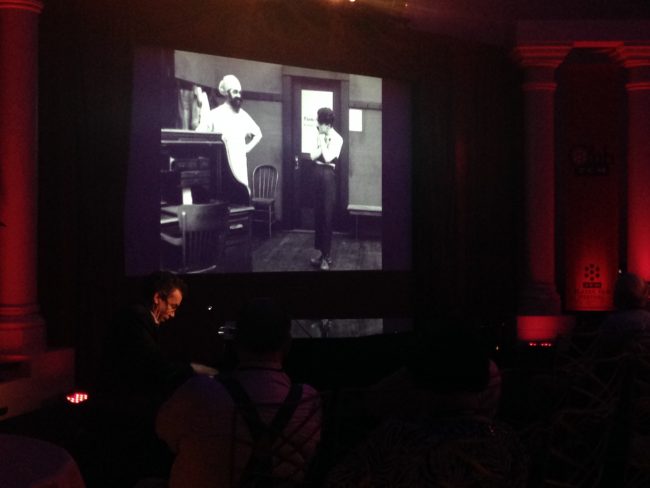 Film Discoveries with Serge Bromberg
The highlight of the day for me was Serge Bromberg's electric presentation about the work and care that goes into reassembling a film from its elements. As the main example, he took a Chaplin short and simultaneously showed four different versions from four different sources, and you could see them flicker as frames from one version disappeared or damage occurred on one of the others. The final version he showed included a version with the original ending, an additional 45-seconds discovered on a 16mm film print that hadn't been seen in 101 years. It was nothing life shattering, but still a neat find.
There was also a rediscovered solo Laurel short that was pretty cute, with perhaps one of the best realized rhinoceros costume that was obviously put together over a weekend. The pie fight that earned Battle of the Century its infamy is inspired. Besides several pie-related Mexican standoffs and a number of tosses that violate the laws of space and time, the short (or at least the half we were shown of it) were perfectly zany.
All of these shorts, by the way, were shown with accompaniment by Bromberg himself on the piano. His enthusiasm was infectious, and his stories about the random discoveries of such a wide variety of films were a treat. He capped off his program with a short promo that Laurel and Hardy had shot for Parisian exhibitors in 1936—and had not been shown since. That 80-year-old treasure, while not innovative by any means, was unique and a nice demonstration of the two's natural ability to play off one other.
A Conversation with Elliot Gould
After last year's wonderful Shirley MacLaine interview, I had high hopes that this would be good. I'd originally been wanting to do the wine tasting, but opted for this, mostly because I just had a really good seat in Club TCM. These rationalizations work in the moment.
The interesting thing about the interview was, in comparing it to Maltin talking to MacLaine last year, it was much more technical about the craft of acting. Baldwin freely discussed his method and a few of his stories (including the moment where Marlon Brando correctly guessed his weight), while Gould was a bit more reserved.
They discussed his career apex in the 70s and briefly touched on Gould's marriage to Barbara Streisand (apparently that was a thing). Gould felt he evolved as an actor over his first few roles, and felt he really hit his peak working with Robert Altman on MASH, The Long Goodbye and California Split, though he felt his biggest challenge was working with Ingmar Bergman in The Touch, a movie where he plays, well, Ingmar Bergman. Gould explained that he realized one day that, "the camera doesn't give me problems. I give me problems."
Overall, it was a nice, relaxed talk, and Gould seemed very relaxed and amicable.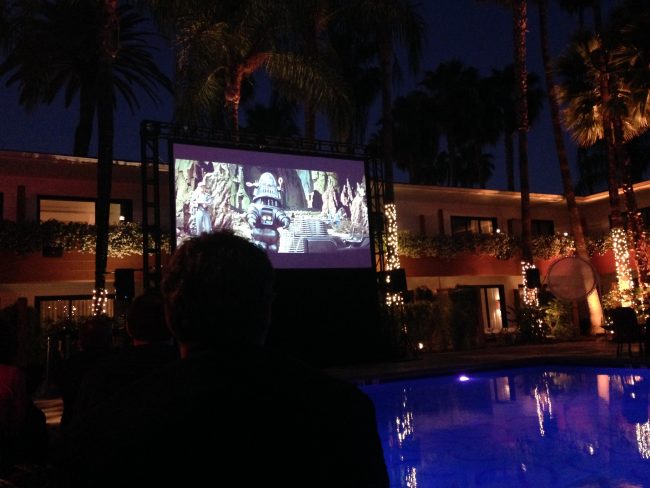 Forbidden Planet
"We all know why we're here—to get drunk and to be outside."
The festival staff was building to the Forbidden Planet screening for a while, and for good reason: host Greg Proops brought along special guest Robby the Robot. The suit, which cost $1,000,000 to make, still looks fantastic, with every doohickey still working. The robot gave a good interview as well.
The movie itself is, well, definitely familiar in the way a lot of 50s sci-fi is, but benefits from a lovely palette. Anne Francis is one sexy space chick, and that is one cool friggin robot. Jill from The Retro Set bought be a glass of wine and we got to be classy and watch Walter Pigeon ham it up.
And, yes, somehow, despite being the one in line last night who didn't like Walter Pigeon, I'm the only one who was there to watch the only movie he was in in the entire festival. :/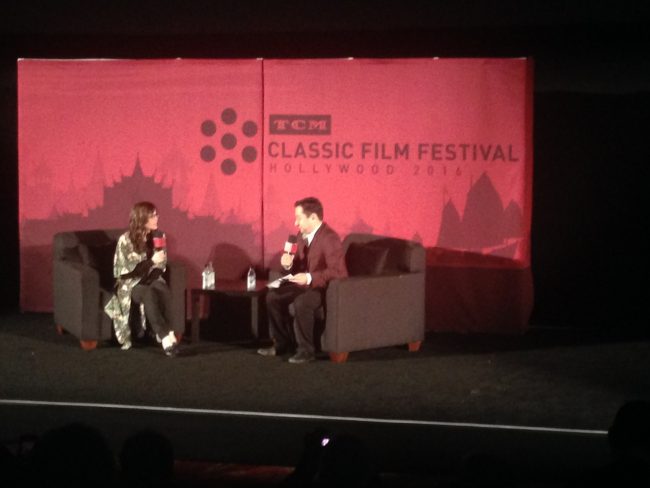 Rocky
Jill, Sean and I hurried over to wait in line for Rocky, but, luckily, it was rather sparsely attended. In fact, we got there less than an hour early and the numbers hadn't even broken the 60 mark. The staff chalked this up to the mammoth screening of The King and I that preceded it, but, from my point of view, the festival just didn't do a lot of time promoting the fact that Talia Shire was introducing the film. Shire was magnificent, extremely lively and playful throughout her interview. She admitted that she'd gone and bought all of the clothes for her character from Goodwill and that she probably got the role because she playfully punched Stallone, and it was hard enough to impress him.
Rocky was actually the first film I've sat through in the Chinese Theater, and the atmosphere itself is such a majestic treat. Getting to hear Bill Conti's score with such a terrific sound system made it feel like there was really a full orchestra in the theatre with you. The movie itself is pretty good, but I'd forgotten much of it and may have fallen asleep for a crucial bit in the middle. But Shire's eyes should have gotten top billing for sure, followed by Conti's score.
The theatre also sells Pocky and mocchi at the concession stand, so I was able to go look at those whenever homesickness washed over me.
Gog 3-D
Rocky started late, so I literally sprinted up the steps next to the Chinese Theater (yes, waving my arms in the air when I reached the top while whistling the Rocky score) to get to the Multiplex for the festival's 3D showing of Gog. The film was a hoot—a super-secret laboratory is racing to finish an American space station when a bunch of highly suspicious (and pretty obvious) murders occur. A sexy, stiff white guy shows up to flirt with his incognito girlfriend (She: "In space, there is no weaker sex." He: "That's why I like it here.") before two robots adorned in dozens of phallic symbols start tearing shit up. Then Herbert Marshall jumps into a room wielding a flamethrower at a rampaging robot and all seemed right with the world.
I got home from Gog and, to my surprise, found my two suitemates still up, Lesley and Mike. Lesley had apparently been so livid about Ben Mankiewicz's innuendo-laden interview with Anna Karina they were still miffed. We talked about interviews and styles, as well as our best experiences of the festival so far.
Mike, who works at Google, talked about the upcoming robot apocalypse and joked with Lesley about how we'll surely be rounded up by the robots "in the next five years, not the previously expected 10."
Unfortunately, that joke made me freak out a bit. I thought of my smiling baby daughter and running huddled in the woods… and, you know. I tried to reassure myself, but I kept thinking back to Gog and how completely stupid every character was. Then I connected that to Microsoft's recent artificial intelligence Tweet bot that was spitting out raving racist rants within a day of inception.
We really are that dumb. God. So if you need me the next few hours, I'll be desperately trying to sleep and not think of the world's imminent death. I need to get a flame thrower.
Thanks once again for the existential dread, TCMFF.
TOMORROW! – Party party party. And the password is "Swordfish".
If you're on Twitter, follow me at @PreCodeDotCom where I will update whenever I'm near a good wifi signal and if I'm not a lying in the smoldering crater of civilization. I will definitely be at the closing night party, so feel free to say hi!