Day 2 of the TCM Film Festival was a blast, plain and simple. Lots of unique screenings and experiences for me, and even a couple of lousy films couldn't ruin it for me. Plus I got Hawaiian pizza. Yum!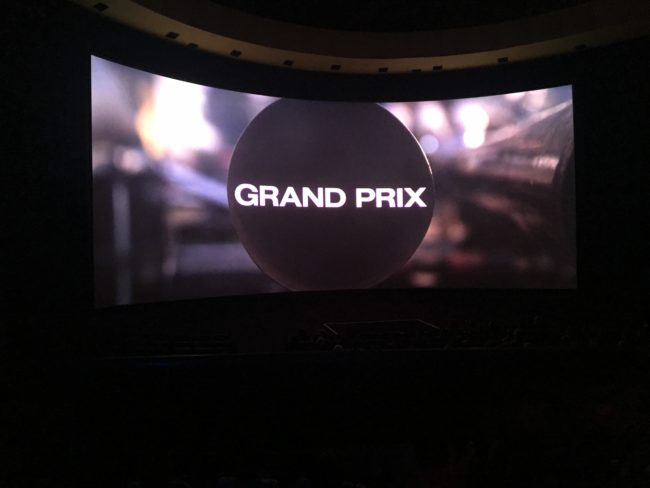 Grand Prix
"So it has always seemed to me that to do something very dangerous requires a certain absence of imagination."
I picked Grand Prix because I'd seen it before and knew it had to be seen in Cinerama, and I was not disappointed. Luckily, I saw it with a few first-timers as well, and they were likewise blown away by the film shown in the spectacular Panavision format. Introduced by Leonard Maltin, he warned audience members to beware of motion sickness. More on that in a minute. He also told the audience that Grand Prix played at the Cinerama Dome for 43 weeks during its original run– because it was the only place in town that it could play.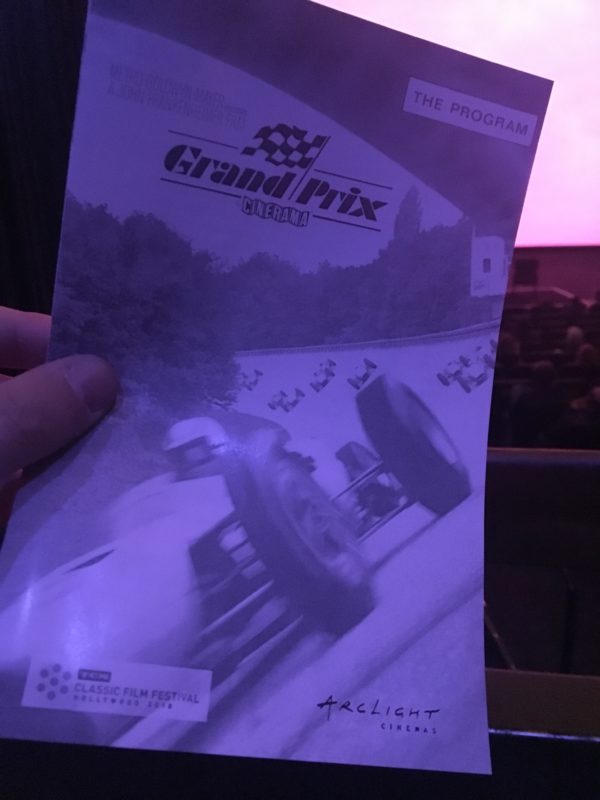 Grand Prix is a long movie, but a fun one. I always love how James Garner's character, despite being the top billed, still is dislikeable in just how much his ambition clouds his empathy. I also love the film's visual look, the score, and just the ambition of the whole enterprise. Using Panavision cameras mounted on the car, you do feel the tension of the races from the first person point of view.
The highlight was, of course, Eva Marie Saint's arrival halfway through the second half of the film. She had a conversation with Maltin after the film ended, but spent the first fifteen minutes a little nauseous at what she'd just seen.
Eva Marie Saint on Grand Prix: "I think the driving just goes on and on and on. I'm not sworn to silence. […] I don't like this kind of movie." #TCMFF pic.twitter.com/Jmq8S9lYNI

— Pre-Code.com (@PreCodeDotCom) April 27, 2018
One story she told was particularly amusing: her au pair accidentally brought Saint's child onto set the day that she filmed Yves Montand's death scene, and thought that Montand had really died. She had to console her kid a lot, and still feels about it. The kid, of course, grew up to be a therapist.
She spoke highly of the amount of dedication it took John Frankenheimer to make the film, and of working with Montand. Montand apparently took her on his lap the last day of shooting and told her that he was her favorite leading lady. "Now he tells me," giggled Saint.
Montand spared with Maltin quite a bit over the film, but it was a lot of fun to watch. She took one question from the audience, which was what it was like to work with Brando. "I don't remember him in this film," she deadpanned.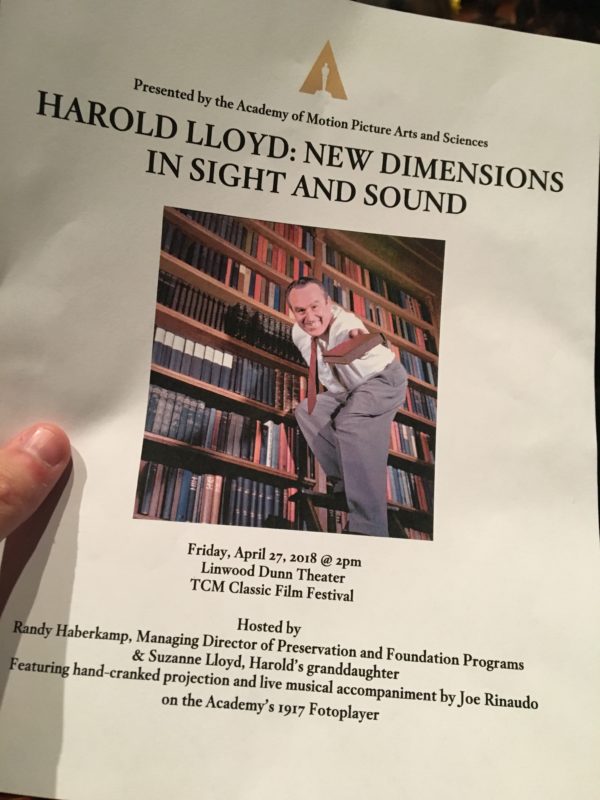 Harold Lloyd Rarities
"That's Jayne Mansfield. Why would anyone want to shoot her in 3D?"
Held at the Academy's Lynnwood Dunne Theater, this presentation was a doozy. Built in to the theater, and only one of thirteen in the world, was the Fotoplayer, a giant piano/whizzbang/sound effects thing.
.@TheAcademy's 1917 Fotoplayer ready for its closeup! #TCMFF pic.twitter.com/tsrDFDI5Vw

— Kim L. (@Kimbo3200) April 27, 2018
The presented pieces were all fantastic, including a series of Lloyd's home movies (some shot in, I kid you not, two-strip technicolor), some brilliant 3D Kodachrome prints (that included the only 3D photos of Marilyn Monroe, which were A+ if you were wondering), a newly restored short ("The Jazzed Honeymoon") and some colorized, 3D-ed footage of the clock sequence from Safety Last. I'm not crazy about colorization, but adding the 3D was an interesting twist for sure. I think having it available is fine, as long as it's not the only thing available.
The home movies were narrated by Lloyd's granddaughter Suzanne Lloyd. They were all great, though now my wife insists that our daughter needs a life-size "doll" house of her own with working electricity and kitchen.
The Roaring Twenties Party
The cab ride I shared back to the Roosevelt Hotel with my wife, Angela, and Lara also included a driver who sang along with "If I Were A Rich Man", so it was fantastic. I swung briefly by the Roaring Twenties Party, and there were 30-40 people with their gladrags on, ready to go. It looked amazing, and I was bummed I had to go.
If you swing by the #TCMFF Roaring Twenties Party, there are free glasses of wine and boas. So win-win! pic.twitter.com/eARlkSZsJa

— Pre-Code.com (@PreCodeDotCom) April 28, 2018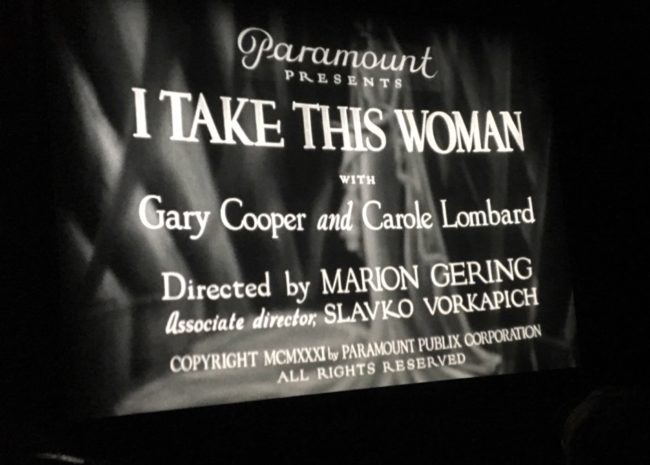 I Take This Woman
"Spank me, daddy. I deserve it."
I was even more bummed after watching I Take This Woman, which was a pretty lame pre-Code about a snooty Eastern girl (Carole Lombard) falling for a grizzled cow hand (Gary Cooper). There's one sweet scene set at Christmas where the two share Christmas gifts in a small one-room house, but the film isn't sure where it's emotional endpoint is and thus climaxes randomly a half dozen times. But, hey, it's definitely one of those pre-Codes where you cannot predict the ending based on anything leading to the last ten minutes of the film.
The best (and most surreal) part of the whole affair was Illeana Douglas' introduction, but that was only because she gave the wrong introduction.
So Ileana Douglas did a great introduction for I TAKE THIS WOMAN (1940). Unfortunately, it was before I TAKE THIS WOMAN (1931). She handled it with grace and humor when that was pointed out. #TCMFF pic.twitter.com/lJq8vckB8a

— Pre-Code.com (@PreCodeDotCom) April 28, 2018
And I'm glad I'm not the staffer who let that mess up occur. Illeana did as the audience who directed the film so that she could tell a story about them.
Someone shouted out, "Marion Garing!"
"I have no idea who that is," Illeana sighed.
Regardless, the audience applauded and shouted, "We love you Illeana!" so no hard feelings all around. And, hey, now I want to see the remake.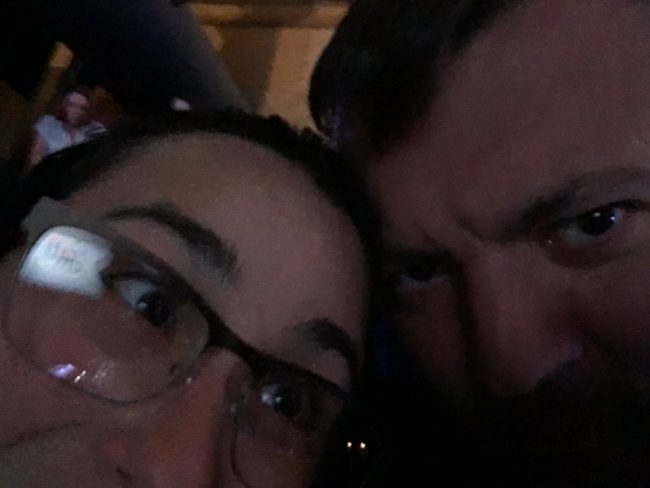 Leave Her to Heaven
"I'll never let you go. Never, never, never. "
Dave Karger's brief, spoiler-free introduction was nice. Someone from the audience shouted, "We love you Dave!" and he cheerily replied, "Thanks Dad!"
I'd never seen Leave Her to Heaven before and, honestly, I didn't like it a whole lot. I kind of felt that Ruth manipulated Ellen in a few ways that she probably knew and understood the consequences of because of her love of Richard. My wife disagreed, but ya know. Besides one good (obvious) moment, it didn't engage me.
I strayed over to the midnight show for the intro, though I didn't get to stick around out of exhaustion. I did manage to get a copy of The Fish Who Saved Pittsburgh into a pair of good hands, so it was all worth it.
Randomly selected Tweets from Friday
Once more, living my best life! With @backlotsfilm and @MaterialGirl850 #TCMFF pic.twitter.com/GUwSdNNCrN

— Pre-Code.com (@PreCodeDotCom) April 28, 2018
Carole Lombard's presumed reaction to I TAKE THIS WOMAN rarely being shown since '31 because when author Mary Roberts Rinehart took possession of the film rights & elements, she made a 16mm print & tossed the camera negative. Thanks @UCLAFTVArchive for restoring this! #TCMFF pic.twitter.com/zxxMRT7ybg

— Kim L. (@Kimbo3200) April 28, 2018
#LoveBirds @tcmfilmfest pic.twitter.com/HXswC4VCjI

— Jessie Maltin (@jessiemaltin) April 28, 2018
.@PreCodeDotCom's cameo appearance at the Roaring Twenties party #TCMFF #TCMHQ pic.twitter.com/lDKNBJzJ6j

— 🏳️‍🌈 Marya @ TCMFF (@oldfilmsflicker) April 28, 2018
Roaring Twenties party is roaring 🍾🍾🍾 #TCMFF pic.twitter.com/Ys4heLziUz

— TCM (@tcm) April 28, 2018
I'm standing in line for Leave Her to Heaven in front of someone who has seen Abel Gance's Napoleon *four times* in theaters. I've heard some crazy things today, but that's near the top. #TCMFF

— Pre-Code.com (@PreCodeDotCom) April 28, 2018
My god, it's full of phones. #TCMFF pic.twitter.com/CVuvsgTwA9

— Pre-Code.com (@PreCodeDotCom) April 28, 2018
After LEAVE HER TO HEAVEN:
Me: "I actually think Ellen had some reasonable points."
My wife: "Ooohhh, that is not what you want to hear from your spouse."#TCMFF pic.twitter.com/ZWkufmdIZn

— Pre-Code.com (@PreCodeDotCom) April 28, 2018
Romeo Carey on Worlds Greatest Sinner: "My dad says, if making a controversial movie sells, I'm going to make a controversial movie. […] Instead of running to it, [people] ran away from it." #TCMFF pic.twitter.com/rkKsYY1dIt

— Pre-Code.com (@PreCodeDotCom) April 28, 2018
Here for the midnight screening of THE WORLD'S GREATEST SINNER where @HIFilmFest and @cinebeth are handing out goatees and buttons! It's gonna get wild! #TCMFF #FilmGeeksSD pic.twitter.com/fHklyCMRvv

— The Nitrate Diva (@NitrateDiva) April 28, 2018
if there are lessons in LEAVE HER TO HEAVEN they are these:

1. u can actually swim and sleep in lipstick it's fine
2. men luv ladies who garden
3. never develop a crush on anyone it will destroy u
3b. when a crush eventually does destroy u, be as extra is possible#TCMFF pic.twitter.com/WNNLgBJdDK

— dori (@wordsonfilms) April 28, 2018
Tomorrow: I don't know! It's like 2 AM when I'm writing about this! There are people in the pool behind me arguing about the merits of charter schools! Nothing makes sense any more!
If you're interested in following more of my up-to-the-minute coverage of this year's TCMFF, follow along on my Twitter feed, @PreCodeDotCom. And, if you want some exclusive content and pictures, consider joining my Patreon for just $1 a month!