I'm running out of fuel We're hitting the home stretch for the 2018 version of TCMFF, and opinions are running pretty high. Everything, from the design of the badges to the festival's look and movies seem to have been kicked up a notch this year. Unfortunately, my third day was hampered by a couple of bad decisions I made, soooo….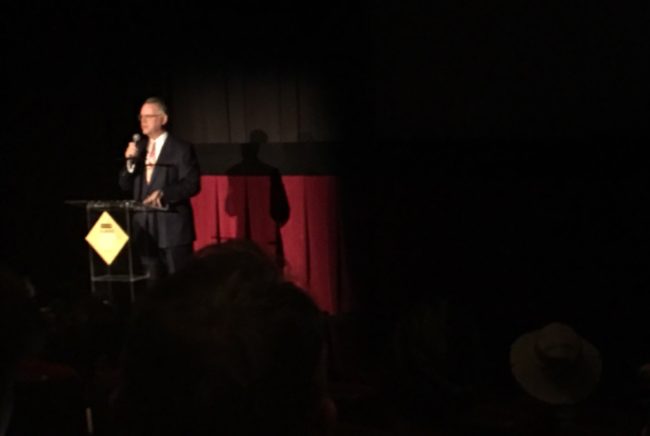 Kiss Me Deadly
"You want to avenge the death of your dear friend. How touching. How sweet. How nicely it justifies your quest for the great whatsit."
Kiss Me Deadly is not a 9 AM movie. It is a '1 AM and I've got insomnia and I need something that will get me dozing movie'. The movie is a series of scenes where tough guy Mike Hammer variously punches men, kisses women, punches women and– well, that doesn't happen, but it would have livened things up a bit. Man of the names in the investigation blur together, and while the ending is certainly memorable, even the restored ending from 2003 still seems perfunctory.
Wife and I spent the morning tortuously deciding between His Girl Friday and Kiss Me Deadly. We chose the latter. ☠️☠️☠️ #TCMFF pic.twitter.com/mAmzVyj0JL

— Pre-Code.com (@PreCodeDotCom) April 28, 2018
Mickey Spillane once punched Eddie Mueller and said never to call him an author. "I'm a writer!" Spillane also told him that any book that takes you more than two weeks to write should be ripped up. #TCMFF pic.twitter.com/q1OsT7q88O

— Pre-Code.com (@PreCodeDotCom) April 28, 2018
I really didn't like it, and my wife liked it even less, which hurts since I picked it over her choice of His Girl Friday. Which is a much different movie. Oh well.
Bullitt
"Integrity is something you sell the public."
I hadn't seen Bullitt in– Christ, probably since high school when I watched it on VHS. Since my first choice was stomped on by a line, I caught this one with Em and my wife. I enjoyed it– it's very minimalist. Determined cop, hypocritical politician, doubtful girlfriend, and a very badass car. I didn't get the best seats in the world, and part of that was because I was next to people who applauded for every. single. thing. Like when the car chase began and the car chase ended. It was annoying except for one moment:
The best part of BULLITT was when someone applauded because an in-movie radio broadcast announced that the Giants beat the Dodgers. #TCMFF

— Pre-Code.com (@PreCodeDotCom) April 28, 2018
I really liked the Lalo Schrifin score and, as someone who lived near San Francisco for a while, seeing the city when it somehow looked cleaner. The little details of McQueen's performance stood out to me this time, too, like when he expects the orange juice in the opening shot or how his shopping routine proceeds. All in all, a good time.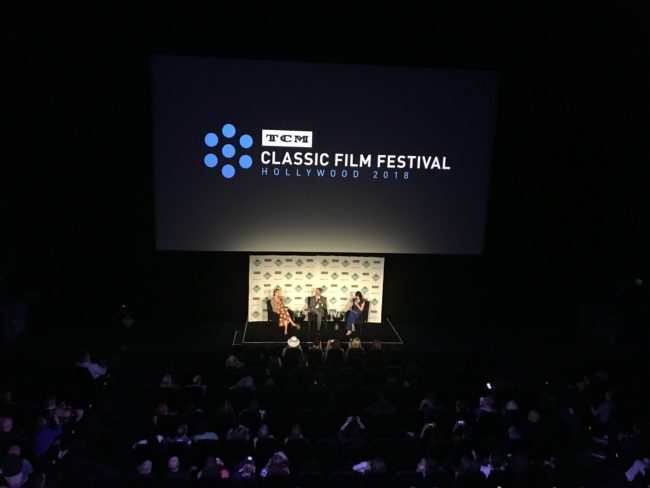 Girls About Town
"Once in her lifetime, every woman will have to give a man five dollars."
Emily and I hurried to catch Girls About Town down at the Egyptian, hoping to be the very first people in line. Instead we found Joel already just sitting there. With a pizza. It was annoying, but he held our seats while we went to the Pig 'n' Whistle and talked about Tokyo.
Girls About Town was one of the films I was most excited for, because it's a ton of fun in a really carefree Paramount way. This is even after I learned that Eugene Pallette was a crazy racist who apparently went full militiaman in Oregon later in life– fun fact. But still.
The Studio Relations Committee (SRC) fretted over "undue exposure" of GIRLS ABOUT TOWN ('31) stars Kay Francis & Lilyan Tashman. Here's what Kay has to say about that. #TCMFF pic.twitter.com/i2TkKZBByZ

— Kim L. (@Kimbo3200) April 28, 2018
Wyatt McCrea learned his grandfather was famous when his 4th grade teacher told him that Joel had looked good on TV the night before. #TCMFF

— Pre-Code.com (@PreCodeDotCom) April 28, 2018
Joel McCrea was a paperboy in Hollywood as a kid. He said director/actress Lois Weber "always paid her bills on time." #TCMFF

— Pre-Code.com (@PreCodeDotCom) April 28, 2018
Joel McCrea was a paperboy in Hollywood as a kid. He said director/actress Lois Weber "always paid her bills on time." #TCMFF

— Pre-Code.com (@PreCodeDotCom) April 28, 2018
The introduction was fluffy– actress Zoe Perry, Wyatt McCrea, and Illeana Douglas spent most of it flirting hard with one another, which was pretty cute, but there were some good moments.
A note on the print and why seeing screenings like this matter to me: I actually rewatched a chunk of Girls About Town pre-Festival to make some .gifs and screenshots, so seeing it on the big screen in a pristine version was amazing. Also, the difference between the muddy dupe I have and the one on the big screen is extremely noticeable.
One scene, in particular, is worth noting from a pre-Code point of view. Kay Francis' character almost drowns at one point and Joel McCrea rescues her from the water. When he pulls her onto a boat, her swimsuit is strategically wet and extremely translucent. Like, nothing is left to the imagination, and it's freaking scandalous. I hadn't really noticed that in my rewatch of the film, but it's so apparent (and distracting). I have no idea how they got away with it. I may not even have noticed it on a DVD, but on the big screen– anyway, there's the importance of showing movies how they're meant to be seen. So you can see just how risque they really got.
I'm so happy that so many more people got the chance to see the fabulous GIRLS ABOUT TOWN in the nicest print I've ever seen. (also Kay Francis' nipples were super visible in this print, wow) #TCMFF pic.twitter.com/pgUxJqRmxe

— Pre-Code.com (@PreCodeDotCom) April 29, 2018
Also, I feel like I really shouldn't tag TCM in anything involving the word 'nipples'. That was my bad; I asked Matt Patterson if it was an appropriate thing to Tweet without realizing it was Matt Patterson. (I love you, Matt)
kay francis fucks

— Kristen (@salesonfilm) April 29, 2018
Random Intros

Show People Lara Fowler from Backlots by my friend and the fantastic . She's working on a staggering book about Marion Davies and chatted about her life with Leonard Maltin.
The great @silentfilmmusic is welcoming people into the Egyptian for SHOW PEOPLE via organ. #TCMFF pic.twitter.com/jAcdwH8dTy

— Pre-Code.com (@PreCodeDotCom) April 29, 2018
"I can guarantee you'll have a good time." – @leonardmaltin on Show People #TCMFF pic.twitter.com/TCgs23cUX0

— Pre-Code.com (@PreCodeDotCom) April 29, 2018
"I find there are two ways of interpreting Marion Davies in the general public. Some people see Citizen Kane and think that's her, but it isn't. And then there's another faction that tries to counter that and says she's a perfect angel. She's a human being." #TCMFF pic.twitter.com/W0CCnJ2FXg

— Pre-Code.com (@PreCodeDotCom) April 29, 2018
If you enjoy SHOW PEOPLE or just want to know more about Marion Davies (and there's a lot to know), follow @backlotsfilm!! #TCMFF pic.twitter.com/kFYRDElD8M

— Pre-Code.com (@PreCodeDotCom) April 29, 2018
After that, I went over to poolside to get a taste; you should always go to at least a few minutes of poolside, I believe. This year was especially great since the California weather has been extra cool and pleasant. Like, I managed to wear a jacket every day without turning into a puddle, which is extra great.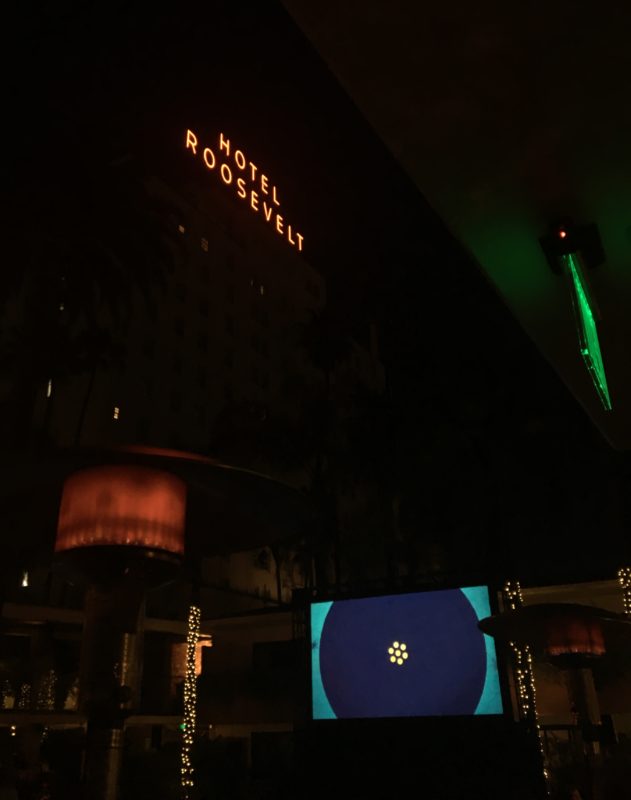 The intro for Where the Boys Are was kind of a let down, and a singer (whose name the app doesn't mention) did a good, if very modern rendition of the title tune. I still wish Connie Francis had made it, but you can wish in one hand and crap in the other and then your hands are filthy, that's gross, ew, it was a metaphor.
Scarface

"Kind of gaudy, isn't it?"

"Ain't it though? Glad you like it."
Playing against a Hitchcock nitrate and The Big Lebowski with Jeff Bridges, Scarface was luckily easy to get into. Director John Carpenter's intro was short but lively, speaking with a fan's enthusiasm. He even gave a shout out to Ann Dvorak, who certainly earned it in that picture.
Cinema Unit says: If everyone isn't excited to see Ann Dvorak (pretty much steal the movie) then they deserve a diet of June Allyson.#Scarface #AnnDvorak #TCMFilmFestival #TCMFF #classiccinema #film #cinema pic.twitter.com/rw1c0g5pG5

— Robert Gibbons (@robert__gibbons) April 29, 2018
John Carpenter (@TheHorrorMaster) says you're cool if you find all the 'X'es Howard Hawks hid throughout SCARFACE. It was Ben Hecht's idea, based on the 'X'es newspapers put over dead gangster photos. #TCMFF pic.twitter.com/AWXCSMvhR3

— Pre-Code.com (@PreCodeDotCom) April 29, 2018
Seeing Ann Dvorak on the big screen in SCARFACE is now my all time #tcmff highlight. Having John Carpenter single out her performance in his intro made it that much sweeter. #vivaanndvorak pic.twitter.com/oW637t88sG

— Christina Rice (@christinarice) April 29, 2018
I haven't seen the movie since I wrote my initial review, and I really enjoyed it once more. The print was gorgeous; there were audible gasps at several points and I just wanted to hug Paul Muni's beautiful face throughout.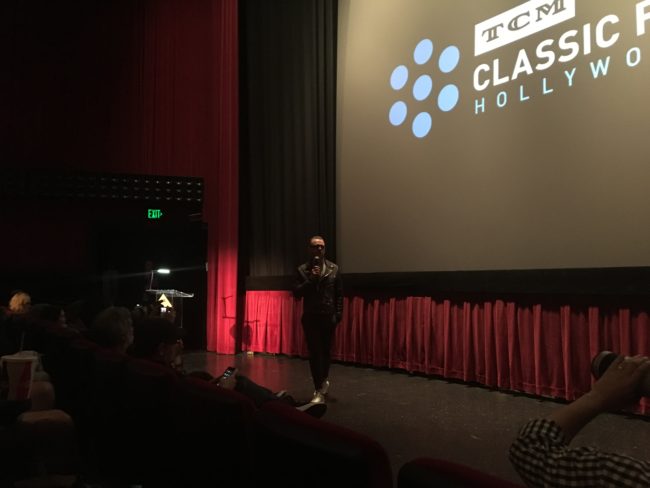 The Night of the Living Dead
"They're coming to get you, Barbara, there's one of them now!"
I'd caught wind of who the surprise guest replacing Edgar Wright was earlier in the day (and it wasn't Edgar Wrong, Kristen). Simon Pegg arrived and gave a very lively introduction. Besides connecting his start in Shaun of the Dead to the movie, he talked about meeting George A. Romero and how innovative the director was.
The highlight was his story how he, Edgar Wright, George A. Romero, and Quentin Tarantino at one point all went to the mall from Dawn of the Dead and acted like zombies just for fun. Yeah, I would do that too if I ever ended up near Pittsburgh.
So, confession time: apparently, I'd only previously seen the 30th Anniversary Edition of this film, which added a lot of footage of a reverend on the television who talked about a moral good and removed 15 minutes elsewhere. So this was a new (and improved) experience for me. My wife hadn't seen it before, and, after Pegg's introduction, decided that she had to.
My wife: "Oh no, the zombie cookie is attacking Adolphe Menjou! And Hamlet! And The Producers! And the cameramen!" #TCMFF @cinebeth @HIFilmFest pic.twitter.com/1C7tXfxrf2

— Pre-Code.com (@PreCodeDotCom) April 29, 2018
Simon Pegg's the surprise guest at NIGHT OF THE LIVING DEAD. "We based our career on knicking [Romero's] ideas." #TCMFF pic.twitter.com/032ANR5Noe

— Pre-Code.com (@PreCodeDotCom) April 29, 2018
"Each of these empty seats represents a fool!" laments Simon Pegg at NIGHT OF THE LIVING DEAD. #TCMFF pic.twitter.com/BQuPJqJ8It

— Pre-Code.com (@PreCodeDotCom) April 29, 2018
Staying up for the showing was the right choice, and even my normally skittish wife loved it a ton. Great pick.
Others Tweets from Saturday
Everyone who hangs out with me in line before a pre-code at #TCMFF and me in line for a pre-Code at TCMFF \/ pic.twitter.com/iC6w1Y89zJ

— Pre-Code.com (@PreCodeDotCom) April 28, 2018
Gotta love how #TCMFF audiences clap and cheer when they hear that the movie they're about to see was condemned by Legion of Decency!

— The Nitrate Diva (@NitrateDiva) April 28, 2018
Shoutout to everyone who applauded when William Holden emerged from the pool in Sunset Boulevard #TCMFF pic.twitter.com/cZIJFEqkqk

— Julia Ricci (@julsrich) April 29, 2018
The TCM Wine Club is nice. But I'm holding out for a dessert club. First item should be a chocolate sculpture of The Maltese Falcon. #TCMParty

— Elise (@TeamRickandIlsa) April 29, 2018
So if you've seen me today, I'm wearing a giant hat. Rest assured, I am removing it for every screening. You're welcome. #TCMFF pic.twitter.com/dGPsJVhCtD

— Casey K. (@NoirGirl) April 27, 2018
So my first year at #TCMFF, Karen saved my life with a granola bar at The Apartment. Found her and her husband Todd up in the balcony at The Egyptian and caught up! pic.twitter.com/oMTVHZBYJo

— Pre-Code.com (@PreCodeDotCom) April 28, 2018
Tomorrow: Well, it's today now because I skipped the first show to sleep in! I made the right call! And now it's the Bonhams auction, a couple of random films, and finishing it off at Phantom of the Opera, or so I believe. Stay tuned!
If you're interested in following more of my up-to-the-minute coverage of this year's TCMFF, follow along on my Twitter feed, @PreCodeDotCom. And, if you want some exclusive content and pictures, consider joining my Patreon for just $1 a month!