The last day of the TCM Film Festival is always a bittersweet experience. You're exhausted, barely alive— and yet you're kind of hoping that they announce that they're going to add a fifth day, just because they can.
Anyway, I'm on the train ride home, watching the ocean drift by the window. Let's do the last day and hit the highlights, yes?
We took Sunday morning easy– almost a necessity after watching the midnight– so my wife slept in and we caught some of the Bonham's auction.
At the lobby of the Roosevelt. This Belgian Casablanca three-sheet on cloth has them baffled– could be worth anywhere from $1,000 to five figures. #TCMFF pic.twitter.com/zOa5fVZpYt

— Pre-Code.com (@PreCodeDotCom) April 29, 2018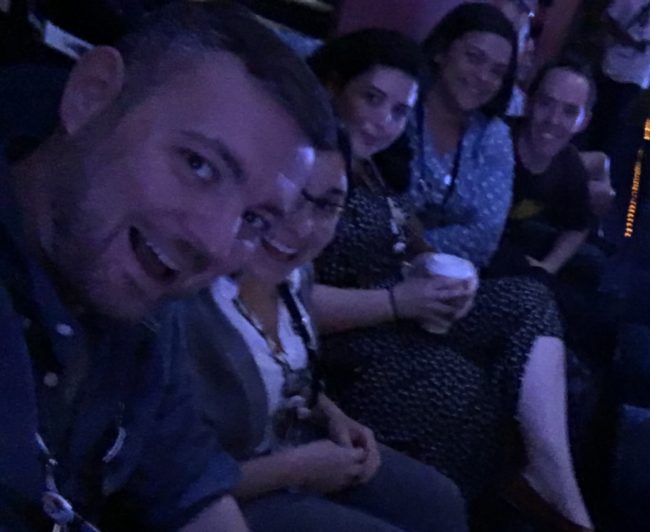 The Taking of Pelham One Two Three
"How come that gate ain't locked?"

"Who's gonna steal a subway train?"
I was really anxious about taking my wife to Pelham after she was so indifferent to Bullitt, but you know what? She freakin loved it. For those of you who haven't seen it, it's about four criminals with an extremely elaborate plan to hijack a subway car and ransom a million dollars. But how do they escape? That's the question. Walter Matthau and a cast of New Yorkers headline this very New York movie. Bruce Goldstein intro'd it, and it may be my favorite I've ever seen as he took you through New York's landmarks and history to put the movie into context.
It's a complete coincidence that The mayor in Pelham looks like Ed Koch. Koch later introduced it at Film Forum and said he was glad it wasn't him– the mayor in the movie "is a schmuck." #TCMFF pic.twitter.com/FNm0oOoqth

— Pre-Code.com (@PreCodeDotCom) April 29, 2018

Mostly Lost
Short at Mostly Lost involves a mischievous dog *squints* trying to explode a baby. Silent comedy is wild, man. #TCMFF

— Pre-Code.com (@PreCodeDotCom) April 29, 2018
Apparently my only Club TCM presentation of the 2018 festival (which can show you how varied this thing can be; I think I never left it last year), Mostly Lost focuses on the annual event held at the Library of Congress where members of the public are asked to come in and help identify fragmented films. They showcased the short "Toodles, Tom and Trouble" wherein, as mentioned above, a dog tries to explode a baby (don't worry it's a just a doll) (though the dog does explode) (like, seriously, it was wild).
They talked various methods you can use to identify fragments, obvious ones like calendars on the back of the wall, fashions, and cars, to most sneaky ones, like the type of typewriter in the back of the scene, the kind of street lamps being used, or even how the scene was lit. It was informative; the crowd even got a chance to try and identify one of their own. Believe it or not, silent movies are not my forte and I was of no use. They did manage to figure out the film's actors, the production company, and the distributor though, which was pretty amazing for less than 10 minutes of work. It definitely piqued my interest in going to the event in the future.
Ben Model also did a presentation on the importance of fluctuating frame rates in creating silent film comedy. It was a more technical version of this, which is filled with interesting info:
… Blessed Event?
So uh I snuck out of the first 10 minutes of Phantom of the Opera to watch Bruce Goldstein intro BLESSED EVENT. Shhh, don't tell my wife. He's talking about how much the play and film THE FRONT PAGE inspired the pre-Code era. #TCMFF pic.twitter.com/961CpmFO73

— Pre-Code.com (@PreCodeDotCom) April 30, 2018
Lee Tracy's performance on stage in THE FRONT PAGE inspired Norman Lloyd to go into acting! #TCMFF

— Pre-Code.com (@PreCodeDotCom) April 30, 2018
You know we're getting late into the festival when I'm cheering for Allen Jenkins *a little too loud* #TCMFF pic.twitter.com/tz2JutfiqG

— Pre-Code.com (@PreCodeDotCom) April 30, 2018
The Phantom of the Opera
Our last film of the festival was the original Lon Chaney silent version of Phantom of the Opera. (Just a quick side note: Scott McGee, who was the TCM staffer talking before the introduction, told the audience that it was shown because someone last year at the after-party had complained about the festival never showing a Chaney movie before. So your voice counts!)
Wow. So before PHANTOM OF THE OPERA, Leonard Maltin politely asked the audience not to laugh, asking them to put themselves in the spirit of the proceedings. And it worked! No one laughed. No one wants to disappoint Leonard Maltin. #TCMFF

— Pre-Code.com (@PreCodeDotCom) April 30, 2018
Leonard Maltin gave an excellent introduction to the film, and asked the audience not to guffaw or hold themselves above the movie at all. And it worked! It was a great crowd– there were audible gasps from people when the Phantom's mask gets ripped off. The two-strip Technicolor sequence was absolutely stunning on the big screen, too. The score by the Mont Alto Motion Picture Orchestra, an unrecorded one they created solely for this screening, was lovely and a nice note to end things on.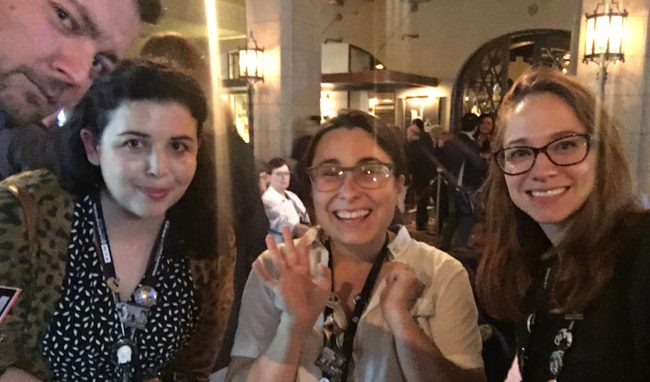 And then there was the party, and the after party, and all that. The best part about TCMFF is all the people you get to see and talk to, especially when you get to complain about alcohol prices together, and the after party is an amazing venue for that.
Next: I'll put together my final thoughts and have them up in a bit. I'm sure you can't wait, right? Maybe? A little?