Thursday — yes, it's somehow already Thursday– is the first official day of the 2019 Turner Classic Movies Classic Film Festival (#TCMFF). Here's a run down of the events I participated in during the day, as far as I recall. Which may not be much…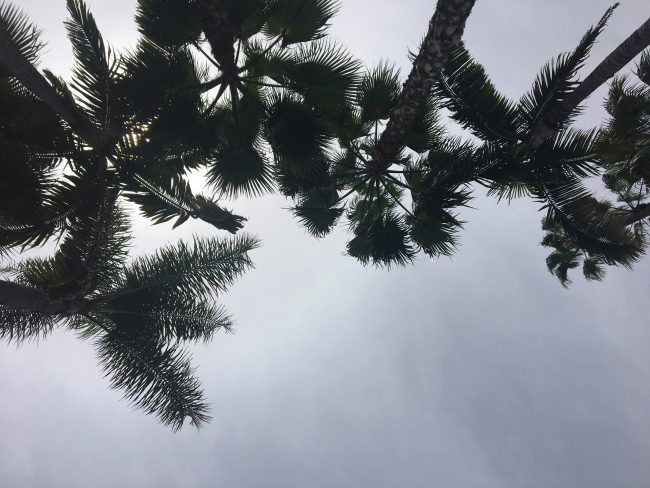 Sitting By the Pool at the Roosevelt, Pretending I Was Dead to the World
I 100% recommend this pasttime. Especially when you're a might hungover.
So You Think You Know Movies
My big kickoff for the festival is always the delightful quiz held by Bruce Goldstein. This year's questions included bits on the '31 Maltese Falcon and Mystery of the Wax Museum. Not many people in the audience expected us to see Dickie Moore play just about every pre-Code star or for a good portion of the Skidoo closing theme to get a play, but it happened. And, thankfully, no one sung along with the latter (at least in earshot).
Night World
Cool kids row @ NIGHT WORLD #TCMFF pic.twitter.com/Irw7LjVTfV

— Pre-Code.com (@PreCodeDotCom) April 12, 2019
My most anticipated movie of the fest was also my first, which really takes the pressure off, let me tell you. The film was introduced by Sara Karloff, who may not have had a lot of stories about the film, but chatted happily about her father and his lengthy career. "Frankenstein was my father's 81st film," she explained. "And no one saw the first 80." She also detailed his ascent in the theater, from how he pretended to be an actor to get parts and worked a wide variety of jobs to stay afloat.
Sara Karloff says "FRANKENSTEIN was [her father's] 81st film, and no one saw the first 80." #TCMFF pic.twitter.com/UuAbbj5vmd

— Pre-Code.com (@PreCodeDotCom) April 12, 2019
Sara was born on Boris Karloff's 51st birthday ("I was the most expensive gift he ever got") and doted on her. She has nothing but admiration for her father and the trail he blazed, including the fact that he was one of the first members of the Screen Actors Guild.
The film itself is a hoot. I have an old review you can check out here, and it played really well on the big screen. I was gaga for the many close-ups of Mae Clarke, and Lew Ayres smolders. And that smile from Karloff at the end– priceless. I was also happy to see so much Clarence Muse on the big screen, too.
NIGHT WORLD was Pre-Code Cray. #TCMFF pic.twitter.com/kdcQTuiBOr

— The Retro Set (@the_retro_set) April 12, 2019
The Bachelor and the Bobby Soxer
I was a little reluctant to walk all the way to the Egyptian for a movie I hadn't seen in a decade or more, but I'm glad I made the trip. The Bachelor and the Bobby Soxer, a film where Cary Grant is forced by Myrna Loy to date her teenage sister (!) still holds up as a mid-40s screwball comedy. Grant literally sparkles as a night in shining armor, and Loy has some really great emotional work as a law-lover who melts for the emotional Grant.
My favorite part, and something I feel like I'd only get at TCMFF, was during an early scene in the movie. Grant is introduced as the lecturer to a class of bored high school students who, as they see him walk to the podium, awaken and begin to applaud and wolf-whistle wildly. The audience at the Egyptian joined in, too, well-deserved wolf-whistles and all.
Egyptian Theater Balcony Club represent! #TCMFF (yes it is this dark) pic.twitter.com/TLDgwh8YsL

— Pre-Code.com (@PreCodeDotCom) April 12, 2019
Much of the first day is getting pictures with friends, meeting people, and realizing that you haven't gotten pictures with people and then missing the opportunity to do so– like a sucker.
I also went back to my AirBnB to join Miguel and Beth as they prepared their goodies for Friday's Santo flick, and I think it's going to be a ton of fun, for sure.
Other Fun Fest Tweets
A taste of the ribbons of #TCMFF. Just in case you're going to start collecting.. pic.twitter.com/aiGIKCc9tm

— Pre-Code.com (@PreCodeDotCom) April 11, 2019
Caught up with @iluvcinema and chatted streaming services. The future for film fans will be interesting to say the least. #TCMFF pic.twitter.com/XsZE7M8Al7

— Pre-Code.com (@PreCodeDotCom) April 11, 2019
You may notice the ethereal glow on @GlamAmor — that's real. And it is always. #TCMFF cc @thedameupstairs pic.twitter.com/rKO29vqAMe

— Pre-Code.com (@PreCodeDotCom) April 11, 2019
"People like old stuff. I'm old now and people like me."

Ted Turner's wit is still as sharp as ever. Loved the interview with him and @BenMank77 at his old office in Atlanta. Kudos to the team who put together such a beautiful tribute kicking off #TCMFF. pic.twitter.com/yavCnhqxGt

— Diana Bosch Catanese (@thedameupstairs) April 12, 2019
https://twitter.com/sales_off_film/status/1116591189027745793
Coming Up
Tomorrow I'll be hitting up Merrily We Go to Hell, Sunrise and more! Follow along with my inane updates @PreCodeDotCom.