The second (!) day of the annual Turner Classic Movies Classic Film Festival (TCMFF) was, for me, a packed affair, full of old favorites and new discoveries. It was a cornucopia of decades, tones, and swanky mixed drinks. Well, maybe drinking wasn't the best idea before my first film of the festival…
Some people have coffee this morning, some do not. #TCMFF @HIFilmFest pic.twitter.com/5xlTtKCcVN

— Pre-Code.com (@PreCodeDotCom) April 12, 2019
Merrily We Go to Hell
I'm a big fan of this Dorothy Arzner drama (as you may already know), and the gorgeous print was a big hit with the audience. People were lining up for it over two hours before its start time, no small feat since it was a 9:00 showing. (I arrived at 7:15 and was 20th in line; I probably smelled no better than anyone else there, either.)
And now… it's showtime! #TCMFF pic.twitter.com/vFxyCJiQZI

— Pre-Code.com (@PreCodeDotCom) April 12, 2019
One thing I somehow forget at the Fest is that a lot of people see movies they've never seen before, and thus have no idea what's coming. Merrily twists from a congenial screwball farce to, briefly, The Divorcee, to a brutal third act was absolutely a joy to experience with the audience.
The audience hooted and gasped. My favorite moment was near the end when Sylvia Sidney, bedridden and comatose, snaps to life when Fredric March suddenly returns to her. Her eyes pop open with exhausted joy and the audience gasps. The investment that the TCMFF audiences are willing to put into the films really is what makes them such a treat.
I took a break for lunch and a few errands and spent some time relaxing in Club TCM, which has gotten a complete overhaul from previous years and looks positively ethereal.
One of the other fun things about the festival is just what kind of people you meet. Sitting in the Roosevelt lobby, I talked to a woman who has worked in art design in Hollywood for decades and helped design movie campaigns back in the day. She told me a few very interesting stories about working with various studios, including the imbroglio around making the posters for The Last Temptation of Christ.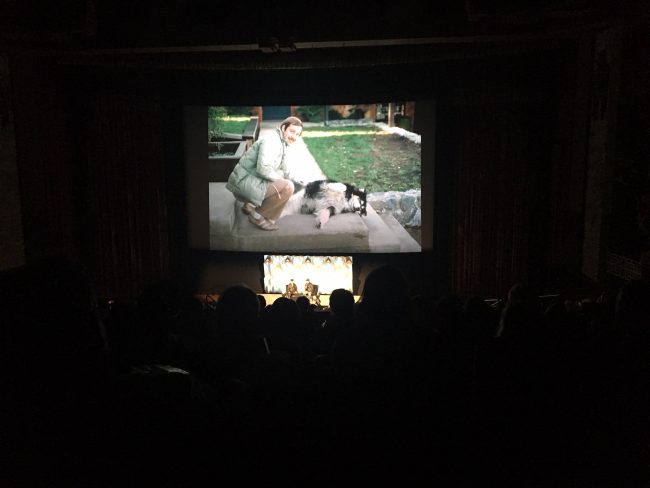 Raiders Introduction
While waiting for Sunrise, I caught Ben Burtt and Craig Barron's introduction to Raiders of the Lost Ark (and, honestly, I would have stuck around if I hadn't just seen it in the theater a few years back). They showed footage explaining how they devised the film's sound effects, such as adjoining the noise of a whip crack with the sound of a harrier jet. It was a very fun demonstration, with both men dressed in their own Indy costumes, and delighting in ribbing one another as they revisited their old work. This presentation also included an adorable shot of George Lucas' dog, Indiana. What a good boy!
Ready for SUNRISE! #TCMFF pic.twitter.com/FErdZShhpu

— Pre-Code.com (@PreCodeDotCom) April 12, 2019
Sunrise: A Song of Two Humans
This… didn't really hold up for me.
Vanity Street
Pre-Codes are again pretty popular at TCMFF. It's a shame these weren't left in the Egyptian, as both Merrily and Vanity Street were sold out, with the line to get into Vanity Street being exceptionally brutal as the Multiplex staff, bless them, couldn't quite work out how to handle the deluge of Sunrise attendees arriving after they'd already begun handing out numbers. I had a couple of friends ditch the film out of frustration.
Made it, ma! Front row at VANITY STREET. #TCMFF pic.twitter.com/3n9DaXruro

— Pre-Code.com (@PreCodeDotCom) April 13, 2019
Which is too bad, since Vanity Street is a pretty cute little pre-Code with a number of risque moments, including Mayo Methot wearing a see-through gown and a construction worker growing excited as he paged through a copy of The Well of Loneliness.
The movie has to make a bit of a shift from a more 'life of the street' comedy to a more serious melodrama in act 3 that doesn't work completely, but I still really enjoyed it.
Desert Hearts
At the insistence of my great friends Meg, Sales, and Marya, I went down to the Legion Theater, a new venue added this year. It is sublime. Like, words cannot describe.
Okay, the Legion is AMAZING and I haven't even been in the theater yet. #TCMFF pic.twitter.com/rLEPoMvhcl

— Pre-Code.com (@PreCodeDotCom) April 13, 2019
And it has a bar in the basement. (Tip for veterans and active duty– you can get a very nice discount on the drinks!)
Desert Hearts was a lovely story about two women falling in love in 1959. I appreciated how, well, good it was for a 1980s film, especially in how it threw these polar opposite characters into a heated affair in a world that sneered at them. It was incredibly sweet, and I'm looking forward to picking up the Criterion edition.
El Santo Versus the Evil Brain
This movie was crazy. Is that a surprise from the description? The introduction by Viviana Garcia Besne warned us that much of this film and its sequel share footage, but she didn't mention the film often reuses its own footage only a few minutes apart. In the film, Santo is drugged and forced under the control of one of five scientists in Havana. The film has innumerable scenes of cars driving that fade into other scenes of cars driving. It's a deeply silly movie, and the audience, encouraged to participate, had a ton of fun with the film. That was probably the most awake I've been for a midnight since Herbert Marshall unpacked his flamethrower for Gog.
https://twitter.com/milliedechirico/status/1116968321172172801
Beth and Miguel handed out Santo masks, cookies and individually packaged chocolates, which was a treat. I passed out at 2 and, of course, woke up again at 6:30. Only one constant at TCMFF– "you'll sleep when you're dead."
Other Tweets and Things
Not sure if I'm actually awake yet. #TCMFF @vintagecameos pic.twitter.com/rJGbevwIHr

— Pre-Code.com (@PreCodeDotCom) April 12, 2019
Sitting next to @TheDarkPages as she sees her face on the big screen. #TCMFF pic.twitter.com/1qvk60bsXN

— Pre-Code.com (@PreCodeDotCom) April 12, 2019
"We make little bits of forever and that's the most wonderful part of the movie industry." pic.twitter.com/9HQHhq2nt1

— Diana Bosch Catanese (@thedameupstairs) April 12, 2019
Ain't no party like a pre-Code party, cuz a pre-Code party stopped in 1934 with the implementation of the Production Code. #TCMFF With @milliedechirico! pic.twitter.com/VZLIWxiKB1

— Pre-Code.com (@PreCodeDotCom) April 12, 2019
Move along, folks. Nothing to see here.
*Innocent Whistling* #TCMFF pic.twitter.com/WddD4xu2sT

— Andrew Alonso Allons-y! (@MadManMalfonso) April 12, 2019
Growing increasingly concerned that the most positive portrayal of marriage I'm going to see today at #TCMFF may have to come from SANTO VERSUS THE EVIL BRAIN.

— Pre-Code.com (@PreCodeDotCom) April 12, 2019
"I like to call pre-Code 'a niche within a niche'." — @caribeauchamp #TCMFF pic.twitter.com/np21SMdDS4

— Pre-Code.com (@PreCodeDotCom) April 13, 2019
cut it a little close number-wise but made it in for VANITY STREET #TCMFF pic.twitter.com/6LCrjTuhuV

— emily rauber-ro 🦇 (@vintagecameos) April 13, 2019
MRS. BOGART DIDN'T WEAR GARTERS | MAYO METHOT | half of the #BattlingBogarts
VANITY STREET (1932) FRIDAY, APRIL 12 #tcmff@caribeauchamp Introduction
GOOD READS: HUMPHREY BOGART by Nathaniel Benchley
Mayo was actually quite good as a sassy brassy fading Follies star pic.twitter.com/1xdqS86Ae2

— Ana Roland (@donnalamour) April 13, 2019
Coming Up Next
Day three sees me in line for Tarzan and His Mate two hours early! (How else do you think I have time to write this?). Follow me on Twitter for more updates, or join my Patreon to get an exclusive Tarzan and His Mate pin. Cheers!