I went back to work today and my coworkers asked me where I'd been. "L.A.," I replied. "To see some friends."
The 10th TCMFF (and my fifth) was a rollicking good time. I saw some good movies, I saw some bad. I saw some fun things, some frustrating ones.
Some quick stats from me:
12 films this time, with one Club TCM panel and one Sunday morning at Larry Edmunds. 'New-to-me's include Vanity Street, Desert Hearts, El Santo vs The Evil Brain, Tarzan and His Mate, Indiscreet, and Cold Turkey.
Only two films I ended up not caring for were Sunrise (which was surprising since I'd seen it before and loved it…) and Tarzan and His Mate, which was also a surprise. I wish I'd picked other movies, but I made the best decisions I could with the information I had at the time, so I'm not that upset.
I only saw half of the festival's six Cary Grant films playing. In her intro to Indiscreet, Cari Beauchamp noted that next year really has to be the year for Notorious, and I agree.
I didn't see any movies at the Chinese Theater or poolside, which I regret. Two shows at the Egyptian, three at the Legion, and the rest (sigh) at the Multiplex.
Plus, somehow, of the TCM hosts, the only one I saw outside the closing party was Dave Karger before Cold Turkey. I mean, seeing programmer Millie de Chirico before each screening proved to be a pretty good sign, but it was still kind of funny.
The Hits
The Legion Post 43 – I've been in a lot of venues in my life, movie palaces from the Castro to the Chinese, and rarely have I been so utterly delighted by a movie theater. The seats are comfortable and spacious; I sat in the center and the back and had great views every time. And, with my wife a veteran, it was nice to get to spend some time in a place that was so connected to the military community. I can't wait to go back; I hope the venue begins screening more pictures soon.
The photo booth at the Multiplex – Adding a green screen and a variety of animated options was a ton of fun. The only downside was that there was only one, and that I saw a number of the older clientele struggling with it. Maybe having someone out the first day to walk people through it would help.
The midnight shows – El Santo vs. The Evil Brain may be some of the most fun I've had in a theater in ages. Just a baffling, silly film. And, while I didn't watch The Student Nurses, the introduction to it was fascinating.
The lines – I will complain about the lines in due course (because of course I will), but I had some really fun conversations this year, from a film professor to just eavesdropping on people trying to figure out what "pre-Code" exactly is. (Always a fun debate.) I truly get a kick out of the random encounters you have with this, and it makes the festival really engaging. (It also convinces me that more than half of the TCMFF crowd is from the Midwest…)
The theme – Highlighting romantic comedies was the right idea for the national moment, and the Fest presented a lot of great options. (Though maybe one or two films about a *happy* marriage wouldn't have hurt…)
The sub-theme – As my friend Sales noted, "This year's theme is actually Follow Your Heart: Love at the Movies, and, While We're At It, Fuck Nazis." Pictures like Open Secret, All Through the Night, Raiders of the Lost Ark, It Happened Here, and others all touched on quite welcomed anti-fascist messages.
When it's time to leave #TCMFF pic.twitter.com/RPYUieMD7H

— Pre-Code.com (@PreCodeDotCom) April 15, 2019
The Misses
The Multiplex lines -I was honestly surprised, considering that removing Theater 4 from the mix should have meant the Multiplex experience was less confused. Instead, the volunteers and staff seemed utterly unprepared for the waves of eager fans that poured out of theaters looking for their next screening. Vanity Street is now shorthand for that kind of brutality, where the person handing out the numbers ordered everyone into line whether they had numbers or not, and then continued handing out numbers to whoever approached them. It was a disaster.
The connections between what's shown and the Big Screen Classics and the films at the Chinese Theater – I know what's playing in the Chinese will always be the biggest of big — The Godfather Part II! Butch Cassidy! Steel… Magnolias? — but the link between these shows and what TCM picks for their monthly Big Screen Classics dilutes the audience for both.
Audience members on their phones – I don't mind people snapping pictures at the title card (something I'm more than guilty of) or checking a buzz as long as they do their best to be discreet, but anyone who actually starts flicking through their Facebook feed should be picked up and thrown into the nearest volcano.  I only had one incident of this (during Tarzan with some incomprehensible Spotlight pass holder), but it's still frustrating.
People who are there for the intros and not the movies – Who should get in for Escape from New York, the person who is going to ditch after Kurt Russell's interview is done or the person who is there to watch the interview and the whole film? I've done both and don't have much of a problem with it, but I know some people were really frustrated at the number of people who just stayed for the celebrity and left, leaving seats that others could have better used. I have no idea how to fix this, but I know it's something people have a problem with.
The cool shit I didn't do because I'm lame. Again – I really regret missing Open Secret and the Gone with the Wind panel. There's always decisions to be made, but I'll be sad I missed these.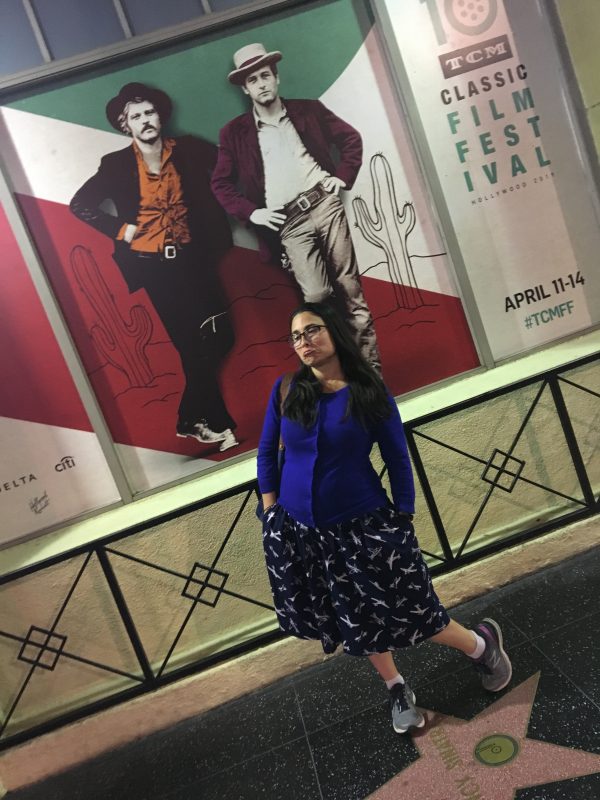 Final Thoughts & Hopes
Overall, my biggest complaints about the festival come from me not being able to be everywhere at once. Great movies with great audiences, and this year, the 25th year of Turner Classic Movies, was an ode to both the network and classic film in itself.
In a time where every studio is carving out their own streaming service, physical media grows increasingly marginalized, where repertory theaters seem to be fewer and further between, and it becomes so much easier for people to dismiss classic film out of convenience than try and engage it, the TCM Film Festival was a welcome celebration of all Hollywood.
Every studio, and almost every decade was represented. It was a beautiful moment of stewardship, a chance for classic film fans to take a deep breath and let their anxieties drift away for four precious days. Tomorrow we will fight again for access, for preservation, for those film reels that decay in the vaults. But for four days, we got to savor just how lucky we are, amidst the riches of the greatest films of all time. And the greatest friends, too.
https://twitter.com/sales_off_film/status/1117871916067344384
"We're finally getting good at [group selfies]." "Just in time, too." #TCMFF pic.twitter.com/Q2BKmRWv4s

— Pre-Code.com (@PreCodeDotCom) April 15, 2019