"You're a dad and shit and doing stuff."
It was harder to leave my kid than I thought it would be. The last month or so she's started smiling a lot in the morning, and she has a gloriously beautiful smile. I miss my wife, too, though all of our individual vacations are a mix of sorrow and being thankful that we no longer have to share a bed with both our spouse and the dogs.
I flew Singapore Airlines, which I only mention because it was one of the nicest international flights I've ever been on. I got a window seat and was bordered by two very polite Japanese women who gossiped about their vacation a bit and flipped through guidebooks. My training as a new parent meant that as soon as the lights dimmed, I was out, which is a rarity for me on airplanes—I'm usually just starring at the back of people's heads in the dark.
I caught the FlyAway shuttle– $8 to Hollywood– and checked into my hostel for the first night of my stay. Hostels are, as always, this great mix of eccentric and horrifying. If you're young enough and don't mind the complete lack of privacy (I have my days where I do and where I don't) they're a way to make the trip much more affordable. Staying at the Roosevelt is $300, staying at a hostel is $40.
Arriving back in the States, I was pretty much immediately slapped in the face with a decent bit of culture shock. It's been a while since I'd smelled urine in public, ya know? There are a multitude of differences between Tokyo and LA, which I'm sure you already know. The diversity, especially, is completely foreign to me, as I'm pretty much used to being the only gaijin wandering around in a sea of unfamiliar words.
Then again, walking on Hollywood Boulevard would probably be a cultural shock if I'd just left from my old hometown in Illinois. Families wander by speaking in an infinite range of foreign voices. The homeless nap under plastic garbage bags and on top of cardboard boxes under the awnings of empty deco grocery stores. Tiny women on big bicycles cycle through lights. Five white guys with identical wavy hair, wifebeaters and greased up beards mill gossip as they work through the higher end stores. I don't know what I'd call it, though the words 'deeply sad and unpleasant' were the first to spring to mind. If there was some epicenter that represents all the lost dreams among glittering excess, the destitute among the privileged, surely this place can't be too far from it.
But if it weren't for Hollywood Boulevard, that feeling when you first walk into the Roosevelt might not be as completely intense. It's truly a step into the past, a link to the opulence of the past. Many people there were clearly trying to emulate that aura, from the women in beautiful dresses to the men who actually weren't wearing shorts—myself included. (for once)
On Thursday night, I decided to establish my own sort of tradition and I had a beer in the bar in the lobby of the Roosevelt—as I'd done in 2015—and I sat and watched the TCM crews setting up the stage for interviews and furiously working inside Club TCM to get it completed. I saw Scott McGee standing above on one of the many peak-a-boo balconies pointing to a new lighting arrangement. The energy was there, though subsumed, as nervous crews kept surely counted down the minutes. I probably wrote about the Roosevelt last year (in fact, I'm not promising that I just copied and pasted all of this from my coverage last year, I've got things to do!), but it's a godsend. It's peace amidst the chaos. It's the light in the darkness. It's really cool even though the drink prices are obscene outside of happy hour, and trust me, that is not a criteria I take lightly.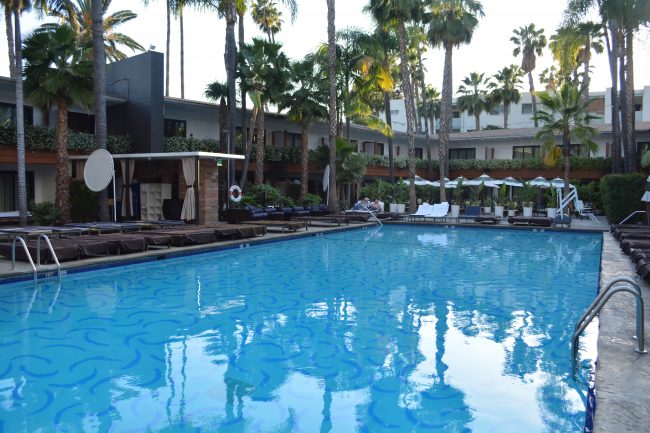 I went up into the Chinese theatre to take some pictures with my nice camera, including a capture of Colleen Moore's handprints. I scoped out where the TCM Shop would be this year—in "Sugar!" between the elevator landings of the Graumann's Chinese and the Chinese Multiplex. If TCM gear isn't enough for you, they also have an entire section devoted to Elvira merchandise, which I am a-okay with.
While catching some pics up above, I caught sight of the distinctive shapes of some friends—Kellee, Annemarie, Aurora, and Gary, and I quickly inserted myself into their hullaballoo. I had some drinks and listened to them talk about the multitude of studios they've visited on this go around—seriously, check out the stuff they've posted on the backlots of Fox, it's great. Also showing up were Eva and Paula, and several polite arguments were had about which piece of movie memorabilia would be the most valuable if they had unlimited money.
Got some sleep. That was good.
I woke up Thursday morning being mooned. It was unintentional, no doubt, I think, but if you don't want some sleepy guy accidentally seeing your butt, don't change in the middle of a mixed dormitory room. But while some people don't care about that, I cautiously covered my eyes for the rest of their changing ritual. Welcome back to America indeed.
I made my way to the Roosevelt lobby, because if you don't know where anyone is, you can sit there until someone shows up. Case in point: Aurora arrived within a few minutes and invited me to breakfast. Breakfast! Food! What a pleasure.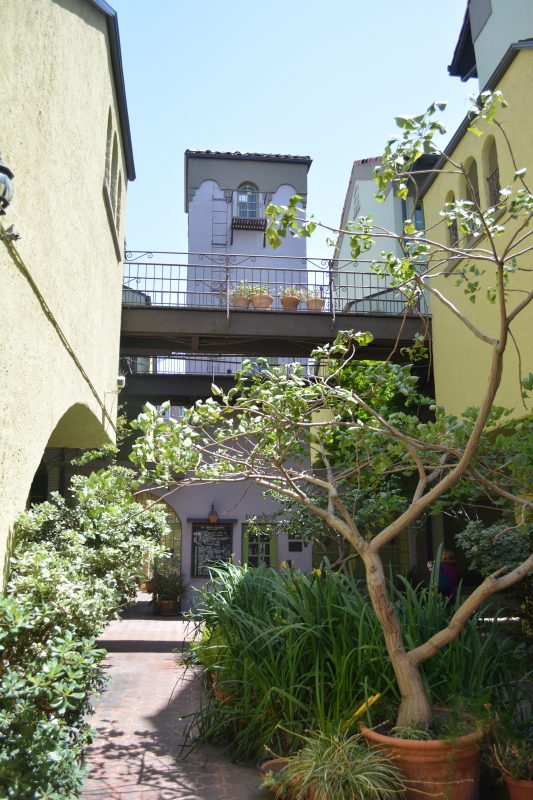 After breakfast, I caught up with my suite-mate for the weekend, Lesley. We headed downtown where she had an interview with Mark A. Vieira. Fans of this site will undoubtedly know Vieira, because, come the fuck on, of course you do. The man behind the superlative pre-Code tome Sin in Soft Focus among dozens of other beautiful books ranging on topics from George Hurrell to Cecil B. DeMille to Greta Garbo (read his Garbo book, seriously). His studio, located in the same group of buildings that housed Hurrell's original photography studio, is beautifully old fashioned, decorated with hundreds of film books, a variety of gorgeous stills, and one immensely long row of 16mm prints of dozens of classic films.
He and Lesley talked extensively about his new book about film noir, and it was fun listening to his many travails in the world of publishing. The talk was all-too-brief, but a treat all the same—though there was that awkward moment where Vieira and Lesley both started talking about what they were doing and what music they were listening to when I was born. I'm young. I get that. There was a lot of other great details I'll leave Lesley to post, but it was informative and fun. Mark also signed my copy of Sin in Soft Focus, and it is now one of my proudest possessions.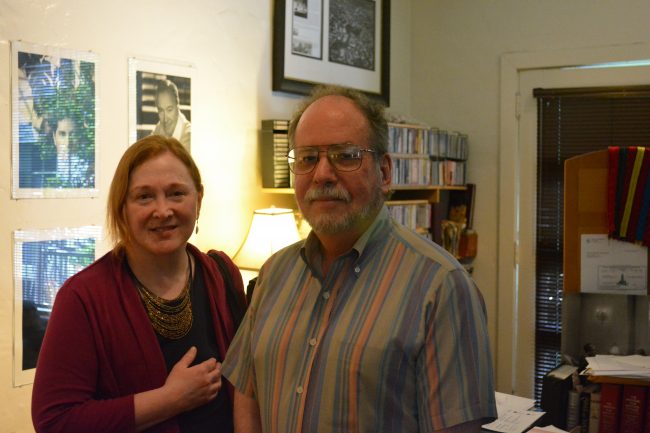 Lesley and I headed back to Hollywood and checked into the Magic Castle (free snacks for all!), and, of course, I ran over to spend a little while more in the Roosevelt lobby, where a giant social media TV screen flashes tweets occasionally from fans, and another screen runs a lengthy promo for the channel. (If you're there, check out Robert Osborne's fancy 90's wave—he looks like he just ducked and rolled out of A Flock of Seagulls). Turner Classic Movies, a network whose founding was based almost entirely on a billionaire grumbling, "goddamn, it's been nearly a full month since I've seen Gone With the Wind", wants you to come to TCM Film Festival and enjoy all the TCM stuff.
I can't blame them. Frankly, it's a hell of a lot of fun.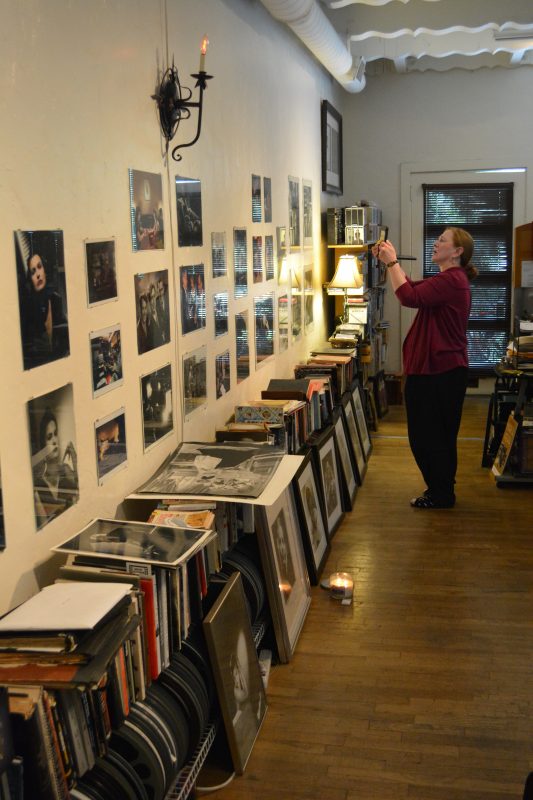 This weekend, they rolled out two new programs, one to much shock and awe, the other with a decent bit of skepticism. Let's roll into this:
One of the most consequential announcements in a while at least is the news that Turner Classic Movies and the Criterion Collection are teaming up for a new streaming service called Filmstruck. The news sent ripples—what does this mean for Hulu? Fandor? Mubi? (Is Mubi still a thing?) What movies will show up? How many rhetorical questions can one person who didn't have any time to read any of the articles fit in to one paragraph? One can only guess!
It almost seems unfortunate that TCM, on the eve of the festival, also announced Backlot, a new subscription based service that allows a deeper level of access to fans of TCM. Vote on movies to show! Get a podcast! Tour the TCM set! You could be randomly selected to be a guest programmer! If this thing isn't chock full of pictures of Robert Osborne holding an American flag with a bald eagle perched on his arm, I'll be amazed!
The service is $87 a year. Which is… well… a lot for something that apparently isn't a new streaming service like Filmstruck and is instead geared much less at someone who is a classic film groupie than someone who convinces their children that Robert Osborne is related to them. (Side story: yes, I know a person who does this.) Will mentioned that he sees it as an updated version of the PBS pledge drive—a dollar for them supports them keeping their content ad free and doing what they're doing. It's honorable, but simply kind of unexciting compared to the other announcement.
Between the two announcements, the Filmstruck at least seems theoretically interesting. Could I have a Criterion blu-ray of Gold Diggers of 1933 in my future? Hahaha, the gods would never be so kind. But the possibilities are spinning the imagination of many.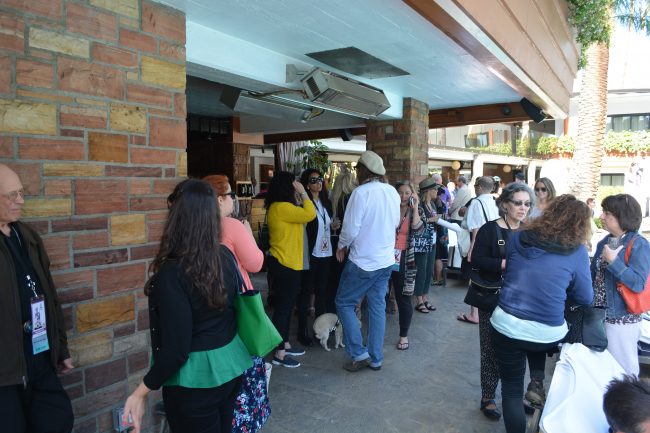 After the lobby was the pool, where many of the early arrivals were hitting the mojitios and doing their best to recreate the best moments of The Thin Man. Raquel bought me a congratulatory beer and Jill got me a shot of vodka. It took me quite a while to realize all of the hugs and congratulations were not simply for making the long journey from Japan—look, I watched Two Weeks Notice—but for the birth of my wee little one. Everyone was very enthusiastic and wanted to see pictures, videos, and any tattoos I'd acquired in the last 11 weeks since her birth. There was also a fair bit of "how could you abandon your wife?", after which I explained my wife had pretty much told me to go, followed by "your wife sounds like the nicest person in the world", followed by me saying, "yeah, pretty much."
Talking to people was a lot easier this year—last year it took a while to get to know everyone and slink into the groove. This year was immediate with the night dominated by hugs and jokes. The default question is always "What are you looking forward to?" followed by immediate bitching about conflicts. I ended up talking a lot—am I jetlagged? I'm writing this at 2 AM, so who knows.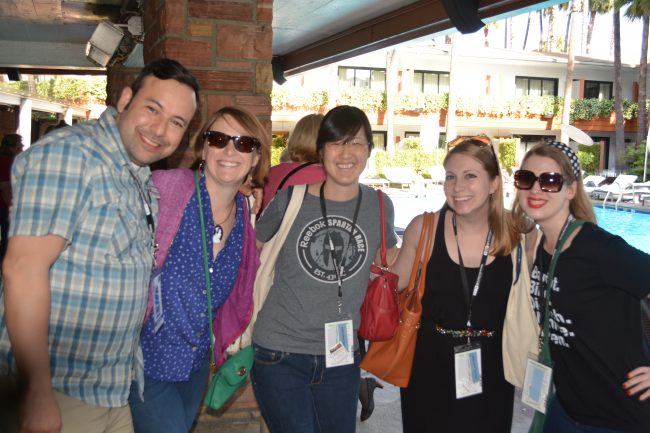 It was really hectic in that crazy way, but surprisingly laid back. Jessica now knows all about my wife's breastfeeding regimen (hi, wife, I'm sure you're happy to hear that), Ariel told me all about her secret archiving projects, Karen gave me a copy of the book Ex-Wife like a saint, Kim told me all about the PCA's love for Jewel Robbery, and I talked to Matt about that Forbidden Hollywood series I'm rumored to enjoy. He also told me many secrets about the struggle for WAC blu-rays—damn you all, buy 42nd Street—and even humored me about my hypothetical "mass travel versus exploding dog" scenario that I sometimes employ when I've been drinking.
I hitched back to the hotel via the wonderful Anne Marie (always dressed nicer than me), with Angela, Kristen, and Jessica transporting a fairly tipsy Marya on their laps. It was a tiny Mazda, but it was fun. And we weren't arrested! A successful pre-TCMFF day.
I got back to the hotel and one of my favorite movies, 1994's Kicking and Screaming, was on one of the hotel's hundred of channels. And I sat and I wrote. They're also showing a bunch of the Species movies. Man, maybe it's time to go to bed.
Tomorrow is the big start of the festival. I really wholly have to recommend popping in on Tuesday — that extra night of relaxation is a beautiful thing, even if you're unwittingly going to wake under a full moon.
Now for what I always do– TOMORROW! — more drinking, Club TCM, trees growing in various burrows, no more Species movies and more!