Proof That It's Pre-Code
It's all about prostitutes!
Women get smacked around and/or killed!
In a nice switch around, we get to see a dude get dressed.
Everyone gambles all the time!
"A gentleman don't talk that way to a lady."
"Who's a lady?"
Virtue: Taking It Back
"You took me in, but you never forgave me!"
History. We've all got it. And if you're the loony jealous type, what your lover did before you met can drive you up the wall. I've never had this problem (he laughs nervously), but since time immemorial, that idea that a person's sexual history defines them has haunted people.
Carole Lombard is May, who's just been kicked out of town for prostituting. And not just any town, but New York City– you know she must've been to up to something pretty gnarly, making her implied history certainly a tad bit colorful. She doubles back to the city, though, and immediately stiffs a cabby named Jimmy on her way to try and get some money from old friends.
May is earthy, sweet, and honest, which is a far cry different than Jimmy's many issues. Jimmy's pal, Frank (Ward Bond), starts the movie smitten with love. "Marriage must be okay– they're still making baby carriages," proclaims Frank.
But Jimmy is much more conservative. He sneers at Frank, "You want the genuine article, don't you?" Women who've gotten around aren't pure enough for Jimmy. He wants a virgin 10 out of 10, and he ain't afraid to smugly proclaim it.
May's old friends are a handful themselves. There's Lil, the old wizened one who got out of the game to take care of her loser pimp, Toots (Jack La Rue). Then there's Gert (Shirley Grey), another prostitute trying to go straight with May, though Frank and Toots both have their eye on her as well.
After paying him back for the fare, Jimmy helps May get a legit job as a store clerk, and soon the courtship is in full swing. He's obsessed with saving up enough money in becoming a partner in a gas station, and May fully supports that, but he's stuck on the idea that marriage means the end of his dream. But when he proposes, pretty much on accident, even he can't deny that he just loves her too much not to go through with it.
That happiness doesn't last, as the exact night of returning from their honeymoon at Coney Island they find a vice detective waiting to take May out of the city once more. Jimmy is devastated– not only is he a really terrible reader of people, but his much vaulted desire for the virginal bride has become completely tarnished.
They get back together, but things aren't the same. One incident with Gert faking an illness leads to a massive misunderstanding and Jimmy jumps to the assumption that she's returned to hooking. And, just because of the genre, May ends up going to jail for murder, and Jimmy has to learn to have enough faith in her to prove her innocence.
The film is full of hard knock dialogue– "Money's the last thing I think about." "Yeah, every night before you go to sleep."– and is surprisingly gritty. May, upon being robbed by a friend, pays her back with a rather vicious beating, leaving the crook begging for mercy. The audience is taught a valuable lesson– don't mess with Carole Lombard.
Director Frank Buzzell makes frequent uses of mirrors throughout the picture, which compliments the mirroring of scenes. One notable one is where May in the forefront of a mirror, primping, notices Lil sneaking money into her purse. Later in the film, after May finds Gert to get her money back, the mirror is again used.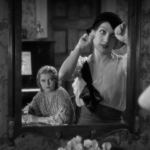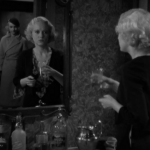 This mirroring extends to scenes that lack a mirror as well. A long early scene of domestic bliss is replayed later when Jimmy's suspicions taint every interaction. Jimmy's binge at the speakeasy is similarly repeated, the first time with him skipping the drink and the second time him indulging in it. And Jimmy and Lil's character arcs are even mirrored– both have to give up ingrained beliefs that they've long resigned themselves to in order to save May's life.
I've been talking about Jimmy quite a bit because, despite the film fitting into the women's picture genre of the time, he's the character that must change in this movie. May knows what she wants by the end of the first real, and the rest of the movie is her trying to talk Jimmy out of his stuffy condescension. It's a character piece for him, going from a brash cock of the walk who thinks he knows everything about women to a better person. He's learned not to judge based on a person's past.
Virtue's many little twists keeps it a fun romp, and Carole Lombard's devious smile and sly dramatic chops never cease feeling like a revelation. There are definitely shades of Frank Borzage's Bad Girlhere, though this is still definitely more artificial in its conflicts and resolution– not a bad thing, just an observation. Thanks to a good script and excellent acting, Virtue is a nice little gem from Columbia.
Gallery
Trying something new…
This slideshow requires JavaScript.
Trivia & Links
Fans of historical irony take note: when Jimmy is recovering from his three day bender, he asks Frank if he looks any better.  Frank responds, "You wasn't no Clark Gable!" Lombard and Gable would later star together in No Man of Her Own and would start an affair in 1935 before being married in 1939. (Hat tip to VP on the correction on this one in the comments below!)
The DVD of the film opens with a scene with just audio as it was cut by the Production Board. Since no one has found the full footage, it's nice to at least have the audio inserted in since it does help set up the movie quite well.
TCMDB's excellent article talks about Carole's experiences working for Columbia, including this great bit about her first meeting with notorious studio head Harry Cohn:
If anything, Virtue is more famous for its behind-the-scenes first meeting between Lombard and Harry Cohn, the foul-mouthed Columbia Studios mogul. "When Carole Lombard reported to his office for the first time," according to biographer Larry Swindell (in Screwball: The Life of Carole Lombard),"there were no polite preliminaries. He said, "Your hair's too white…you look like a whore." Carole shot back, "I'm sure you know what a whore looks like if anyone does." He was startled and captivated by her. He tried to soften his approach, but if the purple verbiage slipped out beyond his control, Carole replied in kind, and they waged a sort of card-stacking profanity contest. Harry Cohn decided that this here was one tough dame, but a looker, and he made a sensuous overture. Carole said, "Look, Mr. Cohn, I've agreed to be in your sh*tty little picture, but f*cking you is no part of the deal." According to fable, Harry Cohn straightened his trousers, cleared his throat, and said, "That doesn't mean you can't call me Harry." To his surprise and delight, he and Carole Lombard would always get along."
I mentioned my deep appreciation of Mayo Methot back in my review for The Mind Reader, and I enjoyed her in Virtue as well. Moira Finne over at The Skeins gives a wonderfully in-depth look at Methot's life and career.
You can find a review of the entire Columbia Pre-Code Collection over at DVD Beaver, along with a few more screen caps.
Awards, Accolades & Availability