A brief roundup since, as you've no doubt noticed, the last couple of days have been crazy between TCMFF, the blogathon, and my own travels around the country (I left LA on Sunday and have been in Atlanta, NYC, and Denver since!). Apologies for all the cool cats who regularly follow the blog or my Twitter and don't need this repeated, but I figured if you got lost in the melee, this is a good place to start until we return to our regularly scheduled reviews on Monday.
The Pre-Code Blogathon
I want to thank Karen for co-hosting (and, frankly, doing 90% of the work on this), because Karen is seriously one of the coolest, nicest people I've ever met. I also want to thank all of the blogathon participants for joining in the fun, and I've seen some insanely impressive stuff so far.
Unfortunately, my travel arrangements were made after the blogathon was planned with little consideration in regards to the latter, and I don't have the time or ability to comment on everyone's posts right now (I took my wife's laptop with me on vacation, further complicating things.). As soon as I'm back in glorious Japan next week, I will tear into the embarrassment of riches gladly!
My Reports from the 6th Annual TCM Film Festival
Special Podcast Over at Horrible Imaginings
As mentioned in the Day 4 post, Miguel Rodriguez and I talked pre-Code Hollywood before getting locked in an office building. (Read the post, seriously.) You can listen to that podcast and my melodiously nasal voice over here.
And a Kickstarter Suggestion
Since I have your ear, I figured now would be a good time to suggest you check out Dominique Guerra's Kickstarter for Dizzy with That Dame, a pre-Code-inspired short film that needs some financial help. There's three days left and they're 2/3rds toward their goal, so give it a look!
In the meantime, next week we start a month of wrapping up Norma Shearer's pre-Code output, which, hey, is as good of a time as any to post this: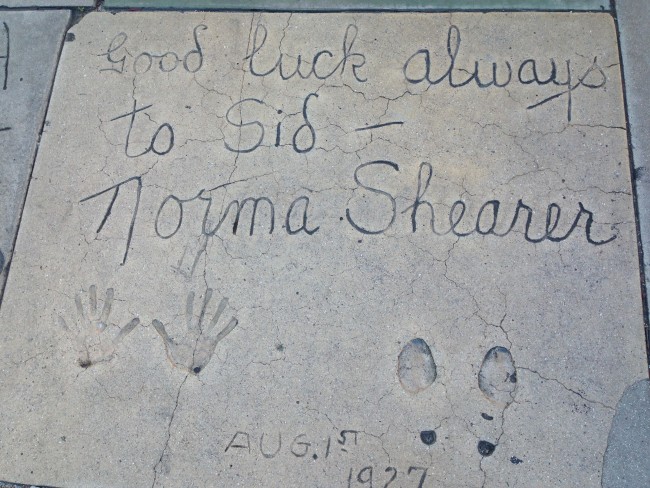 Man, I miss LA. Anyway, I have a flight to Sacramento in two hours (the fun never stops!), so I'll catch all of you on the flip side.