Of all the books I've read about Stanwyck (and this is #3), Starring Miss Barbara Stanwyck is the one I imagine most likely to show up on the actress' own bookshelf. While not unremittingly fawning, the book is an upbeat look at her life, a careful curation of her filmography with hundreds of gorgeous stills accompanying it. To wit: as an avid "internet person who looks for pictures of Barbara Stanwyck on the internet to fill my idle hours", I was not disappointed– there were many stills here I'd never seen before, which was a shock and a surprise. And they look great.
While the book does claim to tell about her fabulous personal life, truth be told, there's hardly anything about Stanwyck outside of her work here. Her marriage to Frank Fay gets two mentions– his part in convincing Frank Capra to watch her screen test and then a single line that notes that they got divorced. Robert Taylor doesn't get much better, despite even being a costar on several occasions.
That being said, the book is the only one I've read so far that actually goes in-depth on Stanwyck's radio appearances and also has a deeper appreciation for her television appearances. While the book does cutoff before her final roles– no mention of "The Thornbirds" of "The Colbys" for obvious reasons– it's still a handsome, thorough companion.
It's all very prim and proper, which on some level makes it quite dull. The lack of quotes for this review are because there was really nothing worth quoting– most of the book is extensive quoting of others and reviews or summaries of Stanwyck's many films. Smith's writing style is serviceable, but rarely compelling. The book may be of best use as the coffee table book it was meant as, something to flip through when you've completed a Stanwyck movie just to get a bit of gossip on it.
Smith has a deep affection for Stanwyck, and the book shows that. The end result isn't a tell-all, but a compact guide to her career that will satisfy many fans' desires.
---
Reading level: Casual.

Release date: 1974.
Length: 332 pages.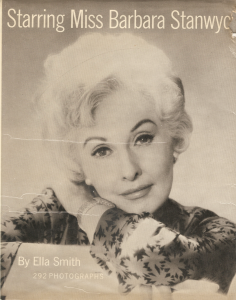 Purchase it here from Amazon
to help support this site.
---