The Particulars of the Picture
Cracked Nuts: Exactly As Advertised
"If you only had money, you'd be beautiful."
You're going to know whether or not Cracked Nuts is up your alley with the opening visual gag: a sign for an apartment building called the Venus De Milo Arms. If the audacity of such a corny gag brings even a whisper of a smile onto your face, Cracked Nuts may be for you.
It's for me, which should surprise no one. The movie has some of the corniest gags you can imagine, but so many of them fly in at once that it's hard to complain. Comedians Wheeler and Woolsey– Wheeler being dumb but cute, Woolsey being sly and leering– are on their best behavior, even if the film's formula mixes things up their usual dynamics a bit.
Nuts is different than most of the team's other collaborations as the two don't run into each other until about a half an hour into the picture. We're instead treated to a setup where both men find themselves vying for the throne of the fictional kingdom of El Dorania. Bert wants it for love, Bob wants it for money.
Bert is Wendell, a rich man who isn't rich enough for Aunt Minnie, who lords over his true love, Betty. He's kind of a schlub, too, unable to get Betty flowers without getting kicked out of a hotel and accidentally soaked in a shower. Minnie decides to head to El Dorania to keep Betty away, but Wendell follows behind as he plans to finance a revolution in the country.
The country has undergone plenty of revolutions– they're on their twelfth monarch of the year when Woolsey's Zander Parkhurst– AKA Zup– wins the country's leadership in a game of craps. The country's former first lady– twelve times over– Carlotta attaches herself to his arm, and both joke about how getting his head on the local currency is not as important as getting his hands on all of it.
It turns out that their characters, Wendell and 'Zup', have been great friends for a long time. This makes their mutual attempts at assassination and backstabbing embarrassing to each other. They finally just get sloshed on 100-year-old brandy, before one of the revolutionaries, tired of the delays, just declares that they'll assassinate Zup via airplane bombing at a ceremony the next day.
A lot of the gags in Cracked Nuts are dumb as hell– the bombing of Zup goes awry when a crosseyed pilot is assigned to it. An extended sequence where Wendell and Zup plot military strategy goes awry when they begin getting confused over city names like "What" and "Which"– many years before Abbott and Costello perfected a similar routine. There's one long dialogue sequence using 'well' every which way, and I won't lie, I thought it was pretty swell.
If you look at the film politically (not something one is apt to do), democracy not that much different than monarchy. The revolutionaries are more interested in money than in power, and interested in power only when it involves money. The entire governing body of this fictional country is a joke, as is any respect shown towards it. Government is a scam– a big one, but a scam nonetheless, an unsurprising sentiment of the Depression Era. Two later comedies, Duck Soup and the pair's Diplomaniacs, play with the same themes better and funnier, but Nuts isn't bad for a dry run.
But if you look at the film as instead a vehicle for the duo, it shows off their talent handily. Both are naturally charmers, and when they do meet up at the middle of the film, it's the joy in seeing these two bounce off one another with such precise insanity that it's impossible to ignore their chemistry. Cracked Nuts starts off slow, but it definitely ends with a bang.
Proof That It's Pre-Code
Jokes about booze: "As good old Caesar said, 'all roads lead to rum'."
Jokes about homosexuality:
"I was born into the purple, baby, born into the purple."
"Like a pansy!"
"Not that purple."
Jokes about sex, and hinders, and much much more.
Gallery
Here are some extra screenshots I took. Click on any picture to enlarge!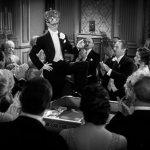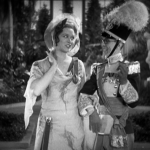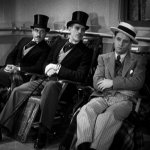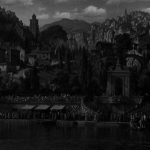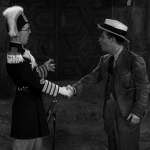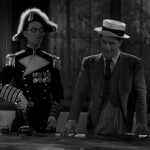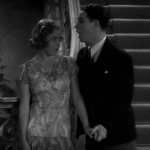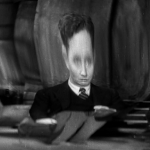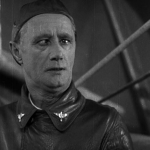 Trivia & Links
Edward Watz in his seminal examination of the duo, Wheeler & Woolsey: The Vaudeville Comic Duo and Their Films, 1929-1937, really laid into this one. He calls it a "bizarre little potboiler" and walks through the film's troubled back story (based on a short story no one had any idea what to do with) and belabored production. If you want an in depth look at the duo and their movies, this book is essential.
Mitch's Video Vacuum also found this to be lacking, and also complains about the duo being kept apart for most of the movie's run time.
However, Stuart Galbraith seemed to enjoy it, calling it fun. He also reviews the all of the other films in the Wheeler & Woolsey RKO Collection that came out recently.
Awards, Accolades & Availability