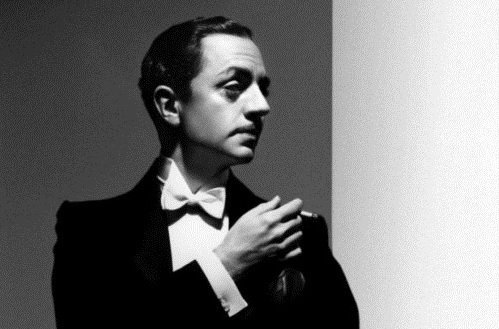 "There is more money in being liked by an audience than in being disliked by it. The biggest thing about movie audiences is the sympathy they give characters on the screen. But the art of acting and the talent of selecting what one will act are divorced qualities."
– William Powell

Charming and urbane William Powell was born in Pittsburgh in 1892. He was on the New York stage by his twenties and moved to Hollywood in 1924.He worked in about thirty silent pictures before the talkies arrived, most often as a slimy villain, including George Wilson in The Great Gatsby (1924) and the sinister Boldini in Beau Geste (1926).
Powell's fortunes changed dramatically when talkies arrived and he was cast as famed golden-age detective Philo Vance in The Canary Murder Case (1929). The film, an early talkie, also starred a luminous Louise Brooks as the doomed Canary and an unrecognizable Jean Arthur, is rather creaky for modern audiences, but Powell's charm helps overcome the many technical challenges. Powell would reprise the role several times in The Greene Murder Case (1929) The Benson Murder Case (1930), The Kennel Murder Case (1933), and in a spoof segment for Paramount on Parade (1930).
Powell moved from Paramount in 1931 to Warner Bros. when he was offered a higher paycheck, which was an odd fit for the actor. Warners didn't specialize in the same kind of sophisticated fair that Paramount or later MGM would, but the studio put in an effort for its new star. His two best films from this period are undoubtedly the Lubitsch-esque Jewel Robbery (1932) and the remarkable drama One Way Passage (1932), both paired with former-Paramount co-star and newly minted Warner Bros. queen Kay Francis. He was also loaned to RKO for the charming Double Harness (1933) alongside Ann Harding.
Powell's move from Warners to MGM was probably the most fortunate of all, as they immediately put him in two of his best remembered films. The first, Manhattan Melodrama (1934),paired him for the first time with Myrna Loy and gave him Clark Gable to bounce off of in a fairly sophisticated tale.
The other film, shot in only 14 days, is one of the best remembered films of the Hollywood golden age, let alone the pre-Code era. The trailer for The Thin Man (1934)actually has Powell's Philo Vance and introducing himself (and the audience) to Nick Charles, also played by Powell. Nick Charles would soon become synonymous with Powell's suaveness, and would inspire a five more sequels, a few even as good as the original. Powell and Loy would go on to co-star in 14 films together as well.
Powell would be nominated for an Academy Award for three of his films: The Thin Man, Our Man Godfrey, and Life with Father. He never won, but starred in The Great Ziegfeld which took home Best Picture. His last role was in John Ford's Mister Roberts before he retired, which won him acclaim. He spent three decades in contented retirement and passed away from heart failure in 1981.
William Powell's Pre-Code Filmography
Studios
Videos of William Powell

YouTube has up the documentary William Powell: A True Gentleman, at least at the moment. So don't sleep on it!
Books About William Powell

William Powell Sites and Links