Michael
William Powell

Mary
Carole Lombard

Irene
Wynne Gibson

Released by Paramount
Directed by Richard Wallace and Edward Goodman
Run time: 71 minutes

Proof That It's a Pre-Code Film
Guy Kibbee's portly oligarch is taken with the 'funny little green drinks' of Paris– absinthe.
"He was playing 'nature's nobleman' with someone…"
Powell plays a blackmailer who haunts adulterers and the like.
Man of the World: Ground Down

"Well, I suppose Paris means something different for everyone. For you, I imagine it means clothes. To Mr. Reynolds, an interlude, a pause between business deals. To your uncle, I daresay it means change."

"And to you?"

"Ah, I don't know. There was a time when it meant everything. Gaiety, glamor, adventure. And now… Now it's just a place to live. And eat onion soup at one in the morning."
It's such a relief to watch a William Powell movie. Even when they're bad, he's a marvel to watch. The polite restraint. The pinpoint mannerisms. The way he lets words roll around, like he's dispensing wisdom when he's really cracking a joke– sometimes even at his own expense.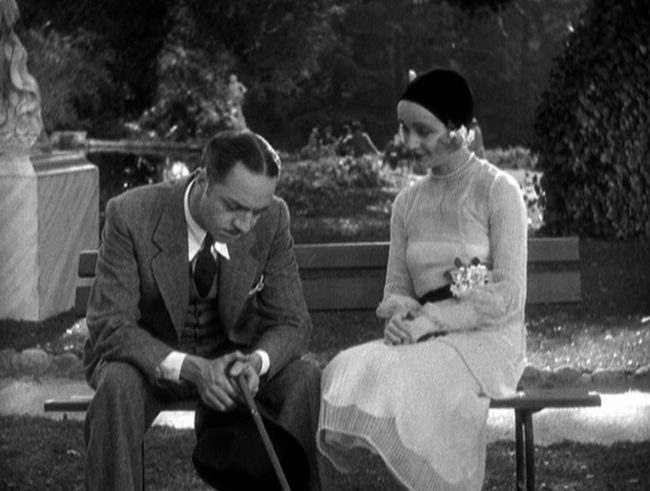 Here Powell is Michael, a former newspaperman who got burned and now has changed his name and sequestered himself in Paris. His exile is supposed to be in the service of him writing a book, but instead he finds it too easy to shakedown dimwitted American tourists and live off the winnings. He's cheered on by the embittered Irene (Gibson), who was once his fling until she couldn't stand his more principled views on the world.
This arrangement is fine until Michael meets Mary (Lombard), the niece of one of his blackmailed clients. She has a businesslike beau named Frank (Lawrence Gray) but quickly falls for the more cultured and thoughtful Michael. Michael is left with the choice of whether or not to reveal his career as a blackmailer to Mary, and just whether or not that'll spoil the whole thing.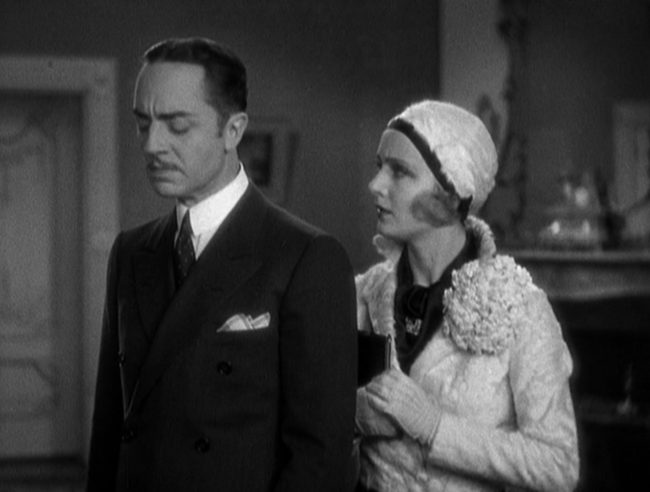 Man of the World has a fairly typical plot for the era; a sinner falls in love with an innocent; class and the law neatly divides them at the third act break. Being a Paramount production, this one has a tidy amount of continental sophistication backing it, with a literate, ponderous script from Herman Mankiewicz.
His writing imbues Powell's Michael with a proper sense of dignified tragedy. The blackmailer is smart and generous, but his experience with the upper crust set has left him seeking precision strikes of revenge. He's not like his con artist pals, who spend the money faster than they can acquire and use less sophisticated methods of persuasion. Even his love of books is mocked by his pals (something I really felt), while they bicker over what Michael's lines are and why any and all should be crossed for a few extra bucks.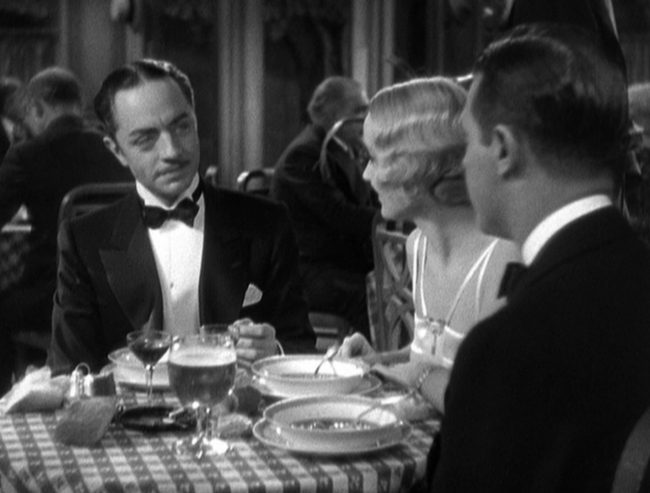 Michael is such a soulful character. For example, here's how he sums up the longing he feels for America, a country he fled, contrasted with Paris:
"It's not the chop suey you miss. It's what it stands for. Home, America, friends. Fellows I used to know. Plain things without sauces."
Powell is paired up with Carole Lombard, still a few years shy of her screwball queen persona. At this period, she was usually trapped in the role of a beauteous muse. She certainly gets some lovely gowns here, but what really works is a certain yearning in her eyes. Directors Wallace and Goodman (one for staging, one for dialogue in the new talkie era) pose her carefully, making her a shining beacon that Powell is drawn to and the audience is as well.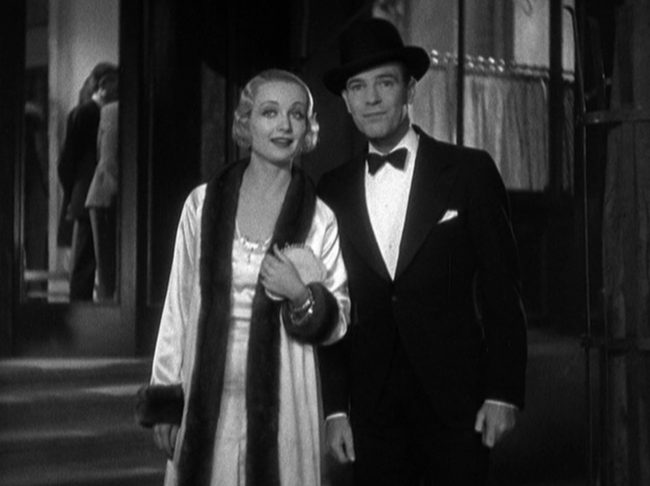 Wynne Gibson, the near-eternal other woman, is good as a con woman and Michael's spiteful ex. Guy Kibbee is fun as a millionaire having a bit too much fun (give a line like "Paris is certainly a liberal education!" to Kibbee and dare him not to be a treat), while eternal bit-player George Chandler even gets a few lines as Gibson and Powell's comic foil.
Man of the World is dour and weary, but it works because Powell saddles his shoulders and keeps looking up. Lombard is luminous, and the Paramount production values give this one the right amount of flair. Though the ending doesn't quite stick the landing, it may be because the rest of the film– and Powell/Lombard's chemistry– works too well.
Screen Capture Gallery
Click to enlarge and browse. Please feel free to reuse with credit!
Other Reviews, Trivia, and Links
This is the first of three films William Powell and Carole Lombard would make together, the other two being 1931's Ladies' Man and 1937's My Man Godfrey. (Wow, 'Man' in all the titles? Crazy.) Powell and Lombard met on the filming of this movie and married; they would have an amicable divorce in 1933.
Mordaunt Hall in the New York Times calls it enjoyable but "scarcely credible" (imagine his take on superhero films). Sound films were still a rough enough technology at this point in 1931 to merit this mention from Hall:
And again it must be said that the reproduction of the voices is wonderfully life-like, for the tonal quality is so modulated that one has to listen keenly to hear the lines, which is far more satisfactory than having the utterances blasted from the screen in a deafening fashion.
I rarely, if ever, find Laura of her Miscellaneous Musings down on a film, but she's not a fan of this one. She notes, "he film is slow-paced and melancholy, and one is glad when it draws to a close after 72 minutes". Ouch.
Variety says this is pretty much only worth watching for Powell. Which ain't a bad reason at all.
Awards, Accolades & Availability
More Pre-Code to Explore