Harold Hall
Harold Lloyd
Mary Sears
Constance Cummings
 Vance
Kenneth Thompson
Released by Paramount Pictures | Directed By Clyde Bruckman

Proof That It's Pre-Code
When Harold dons a magician's coat and accidentally lets loose a flood of mice at a ritzy party, the person who flips out the most is a very effeminate man.
Movie Crazy: Two Much
Confession time: Harold Lloyd is my favorite of the big silent film comedians. Yes, longtime readers probably aren't too shocked at this. While Sherlock Jr. and Steamboat Bill Jr. are among my favorite films and I've made it through my fair share of Chaplin movies, I've always found Lloyd to be the most creatively frenzied of the trio, with even his legion of obscure silent features like Dr. Jack and Girl Shy more delightfully unhinged than more well-known but depressing fare like Battling Butler or The Gold Rush.
But then I said he was a favorite silent comedian. Like Keaton, and, on occasion, Chaplin (who wisely avoided talkies for as long as he could), the monumental shift in the language of cinema between silent and sound pictures had a net negative effect on their careers. Lloyd responded by slowing down, and continued to make self financed movies the way he wanted. More pragmatic than Chaplin, more savvy than Keaton, Lloyd tread the line.
But, like I said in my review of Feet First, Lloyd still had trouble adjusting to the new medium, even if his films looked and sounded better than a majority of the major studio's output of the time. His third talkie (and most often touted as his best) Movie Crazy has a lot of great gags, but a lot of lame ones as well. For a 90 minute feature, there's quite a bit of dead space.
A 40-year-old boy from Anytown, USA, gets a letter from Planet Studios after he accidentally sends them the wrong head shot. He heads to Hollywood where his innately clumsy nature causes havoc, from screwing up a train station romance scene to losing his shoe during a rainstorm. His constant bungling enchant screen star Mary Sears as his bumbling but generously kind nature make her smile, so long as she isn't the victim of his latest spaz attack.
To further drive home the point of what a nut Harold is, Sears is busy starring in a film as a Spanish seductress. The black wig, dark makeup and silly accent disguise her completely to Harold (and, to be honest, it's all pretty effective until the audience is let in on the gag), and Harold is soon stuck in a love triangle with two women– who are both the same woman.
Constance Cummings' character is a huge adjustment (and step up) from many comedic silent film leading ladies who were often from the school of damsels in distress. The character of Mary Sears is playful, smart, and likes to tweak Harold simply because she's so affectionate for him. She finds her work frustrating, as most of it is spent rejecting her romantically-obsessed leading man or putting up with the lame characters she's saddled with. Harold is a welcome departure because he's able to fulfill her sublimated desires and reek havoc on the studio system that has pigeonholed her into an uneasy success.
The villain of the film is the aforementioned film's leading man Vance, and he's a baddie. Besides randomly showing up at Mary's home crying, drunk and begging for sex (always a winning combo), he also promises Harold that if he can't have her, no one will. This leads directly to the film's highlight, a showdown between the two men on a sinking ship set during the filming of Mary and Vance's picture. The long, mostly silent fistfight has some pretty funny stuff as well as a few spectacular moments– the two men hanging upside down, tied by their legs and still swinging punches– is pretty dazzling.
But the most wonderful aspect of the film is probably its fluid direction, which, in spite of the anguished pace, is often mobile and daring. Take the scene where Lloyd approaches the train station, which is a tracking shot turned crane shot and back to tracking– all seamless. Though the authorship of the film is in question (more on that below), it's still pretty far ahead of its contemporaries in terms of its look.
It's editing, though, maybe not so much. Movie Crazy is much more interested during its first half at poking at Hollywood and asking why any idiot would want to enter a den of control freaks and sociopaths. The second half focuses more on the romance triangle, but both parts take long digressions, from a mixed up magicians coat to a lengthy screen test scene that never reaches any of its humorous potential.
You just feel bad for Harold. Like I said back in Feet First, his 'Glasses' character feels out of step with the times. Again, being a starstruck 40-year-old is vastly different than a starstruck 30-year-old. He spends all of Movie Crazy being ragged on, crushed and mortified in new, horrifying situations.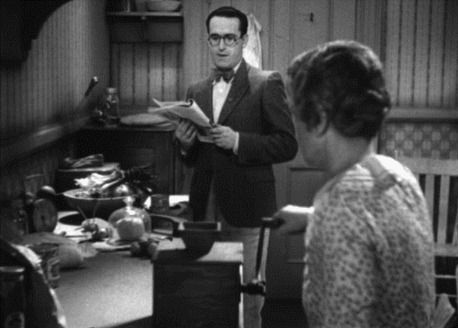 But I can understand why a lot of people would enjoy Movie Crazy, if not for the fine craft behind the camera, then for Cummings' performance and the admittedly great climax. To be honest, though, Movie Crazy reminded me far too often of Free and Easy, another talkie with an independent silent comedian exploring the strange new world of the studio system. Unfortunately, in both cases, the transplant isn't a success.
Gallery
Hover over for controls.
This slideshow requires JavaScript.
Trivia & Links
The Northwest Chicago Film Society has an excellent piece about why this is their favorite Lloyd film simply because, unlike most silent comedies, the female character is at the forefront. They also excellently touch on the directing for the film as well:
The gratifying exception is, not coincidentally, a Lloyd talkie—Movie Crazy (1932), surely his best talkie and probably his best film overall. Watching Lloyd—nearly forty and, what's more, always a businessman first and a comedian second—play a fan magazine-addled yokel inspires incredulous mirth all on its own. His on-screen partner, Constance Cummings, is something else—a real and ambitious actress who ably develops her own characterizations independent of his foibles. She's quicker than he is, constantly and consciously evaluating her allegiances, scheming and then finding herself dangerously unprepared for the spoils. It's a fully-formed personality and a performance that actively repudiates the perfunctory history of her predecessors.
Cummings even negotiates something of a dual role—up-and-coming actress Mary Sears (sufficiently up to afford a colored maid and coming enough to have a modest mansion) and her on-set alter ego, a ridiculous imitation of a Mexican love interest. (Part of the pleasure of Cummings's performance comes from her self-awareness and punk insouciance as regards this ethnic theater.) That Lloyd's Harold Hall cannot recognize the two women as one suggests some indigenous melting pot calamity, as well as, incidentally, a kind of That Obscure Object of Desire in reverse.
For anyone else trying to follow the in-movie movie… uh, what's going on with it? Guy meets girl at train station. End up on old fashioned pirate ship. Random dude shows up and beats the crap out of the film's protagonist. The end?
TCM talks about the 'auteur-ness' of the picture and Clyde Bruckman's inglorious end:
Movie Crazy's director was Clyde Bruckman, a top notch comedy craftsman and writer on projects such as Buster Keaton's Sherlock, Jr. (1924) and The General (1927), who had one fatal flaw: a debilitating drinking problem. Lloyd reported that during the production of Movie Crazy, Bruckman "had a little difficulty with the bottle and we practically had to wash him out and I had to carry on." Despite directing the majority of the film himself, Lloyd ended up giving Bruckman sole credit as director and went on to work with him on many subsequent pictures including Welcome Danger (1929) and Professor Beware (1938). However, Bruckman's drinking and legal problems eventually made him unemployable and in 1955 he shot himself with Buster Keaton's pistol.
Awards, Accolades & Availability
This film is available on Amazon in the third volume of the Harold Lloyd DVDs. The set includes his second best full length silent comedy, Speedy, and his best short by far, Never Weaken. Also on the set is For Heaven's Sake, which is an underrated little gem that flips the usual Lloyd formula to surprising results.
Comment below or join our email subscription list on the sidebar!