Ah, Hollywood. No matter how many times I make my pilgrimage to the film capital of the world, I'm always surprised how filthy it is.
But that's okay! Besides the rather copious amount of garbage that is strewn the street– somehow even more than usual thanks to a particularly raucous film premiere the night before we arrived– and the smells– oh the smells– and the promise of damnation from that usual gang of rascals, there's still a shine of Hollywood glamour underneath. Just be sure to scrub your hands afterward.
This year's TCMFF is much like other years, in that there's a ton of cool stuff going on, and there's no way you're not going to miss a lot of it. It is just impossible. If you are curious about going to the TCM Film Festival, you can check out this guide I put together like a week ago. It's good for newbies!
The posts over the next few days are my experiences at the Festival. Yours will vary– they'd better, anyhow– but I want to give you an idea of the variety of things you can do. And just how murderous Theater 4 is. But mostly the fun!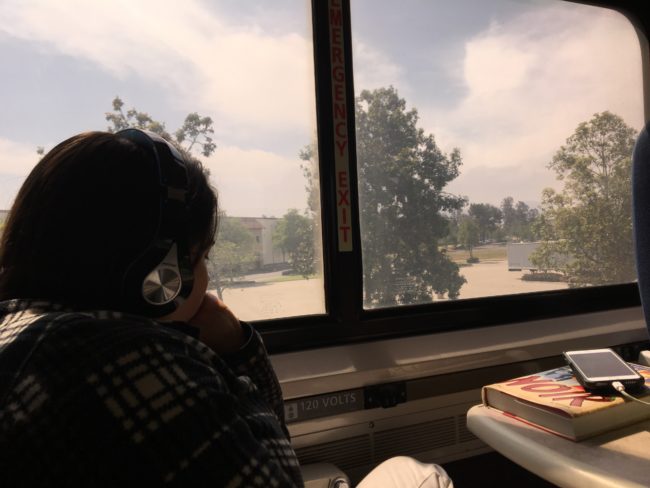 Tuesday: Getting There
My wife and I have probably one of the easiest, non-local commutes to the festival. We live on the Central Coast of California, and there's a train that goes directly to LA Central Station from our hometown. And most of the route is along the coastline. It is very relaxing. I almost finished a book.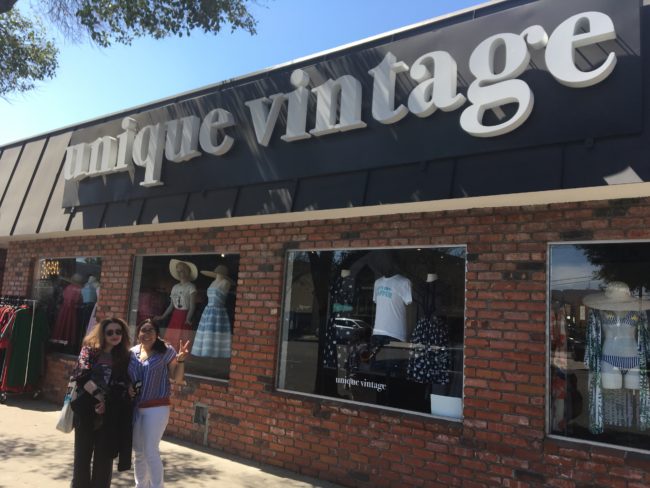 Vintage Row
Though that's not its official title, there's a spate of shops on Magnolia Blvd in Burbank that cater to antiques and vintage styled clothing. We grabbed Sabina Stent and perused many of these places and found some truly… unique pieces.
Unfortunately, I do not look good in bolos, and I can't talk myself into buying pure polyester pants quite yet. We also met up with Karie Bible and Beth Gallagher to check out cosmetics. And I got to play on Twitter while that happened. Win-win!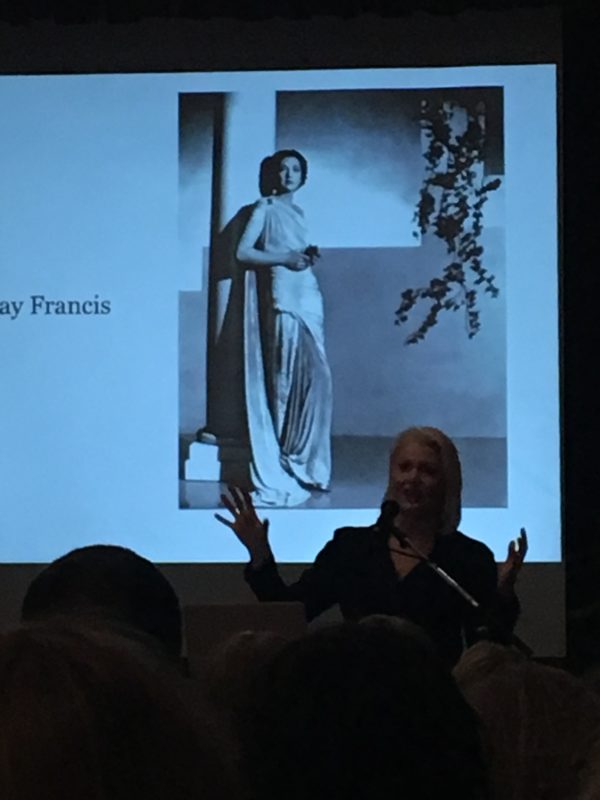 Fashion in Film 2018
Held at the Women's Club of Hollywood, Kimberly Truhler gave a two hour talk about several films playing at the festival and the way their costuming plays into fashion history. Here's an example she showed comparing Travis Banton's costuming for Kay Francis from Girls About Town and one of its antecedents:
As someone fairly ignorant of women's fashion (sorry), I always find Kim's talks enlightening. They remind you of how fashion fit not just into a movie's style, but a studios. And it helps you see the links between designers, stars, and their 'personas'. Kim is always wry and incisive– and very appreciative of Joel McCrea's torso, as well all should be.
The Women's Club itself has a fascinating history. Here's a brief rundown, and it's well worth a read. The current President, Rosemary Lord, is currently fighting to return the Club to its former glory after it was seized by greedy developers a number of years ago. If you can volunteer or donate time or energy, they'd appreciate it. Check out their site here.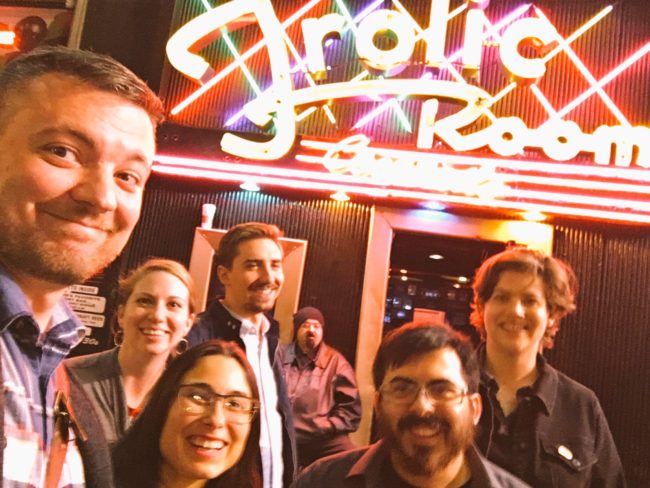 The Frolic Room
"How do I say the letter 'Z'? Do I say it… sexy?"
Located a bit of a trek down by the Pantages theater, my wife was confused as I called the Frolic Room "a famous bar in Hollywood history" and also "a very divey dive". Famous for being a haunt of Bukowski and its massive Hirschfeld mural, they also have a jukebox. And that jukebox did not play the right version of Britney Spears' "Toxic". So I'm still bitter.
But I caught up with Kristen Sales, Jessica Pickens, Brandon Brown, and Carl Garcia, and we discussed everything from "Star Trek" (Jessica had no idea), weird-ass 60s movies (The Phynx and Wild in the Streets, mannn), Ann-Margaret in Viva Las Vegas, Burt Lancaster saying his 'ABCs', and more. Probably the best part was when we took out our phones and showed each other what ads were targeted at us on Twitter. Jessica had Wendy's, Carl's were in Spanish, and mine were for cybersecurity and investment banking. So my Twitter presence is ritzy, I guess?
The party had to break up eventually, even though the jukebox was still only playing the loudest club music. I learned everyone knows more about Lady Gaga than I do and also when people talk about St. Vincent, she is a musician and they don't actually mean the movie of the same name. It's important information!
Some Twitter Highlights From Tuesday
It's sneaking up on ya! #TCMFF is just two days away! pic.twitter.com/UzDcbOkeiu

— Pre-Code.com (@PreCodeDotCom) April 24, 2018
On second thought, I think I'll just go ahead and get in line for #FinishingSchool now. #TCMFF

— chris (@chrisreeder_ATX) April 24, 2018
We have arrived! #TCMFF pic.twitter.com/d75ZbZ8E4S

— Pre-Code.com (@PreCodeDotCom) April 24, 2018
Danny got new glasses. pic.twitter.com/53xlC2Kkru

— Sabina Stent (@SabinaStent) April 24, 2018
The Women's Club of Hollywood, where the presentation is being held, has a fascinating history– once the site of the Hollywood School for Girls where Jean Harlow attended #TCMFF — https://t.co/wfUJvUtjfW pic.twitter.com/xelHe2Fr8i

— Pre-Code.com (@PreCodeDotCom) April 25, 2018
It's time! #TCMFF pic.twitter.com/l0PN8BWu3Z

— 🏳️‍🌈 Marya @ TCMFF (@oldfilmsflicker) April 25, 2018
Wednesday: Getting Around
Our first stop was the special preview of the TCM Boutique open to members of the Backlot. I have an annual tradition of picking up a magnet for the fridge, and I also grabbed a water bottle because I'm an idiot and didn't bring one.
Hollywood Heritage Museum
This museum, contained in the barn that what would be Paramount Pictures got its start in, is a funky and nicely done ode to early Hollywood. Besides figures of Laurel, Hardy and Buster Keaton you can pose with, they have copious amounts of photos, props, cameras, and more that tie them both to the legacy of Cecil B. DeMille and the silent era. My favorite piece was the Fox "Grandeur scope" camera used for The Big Trail, but there were tons of neat tidbits, and it's really just a 10 minute walk from the Festival area. Well worth a visit.

LACMA Poster Exhibition
Our next event took us a bit of a drive away to the Los Angeles County Museum of Art (LACMA), where collector Mike Kaplan is currently exhibiting 14 of his beautiful, immaculate vintage posters. Though it's only a small amount, the detail in this posters is stunning, and they look amazing considering some of them are chugging along to their 90s.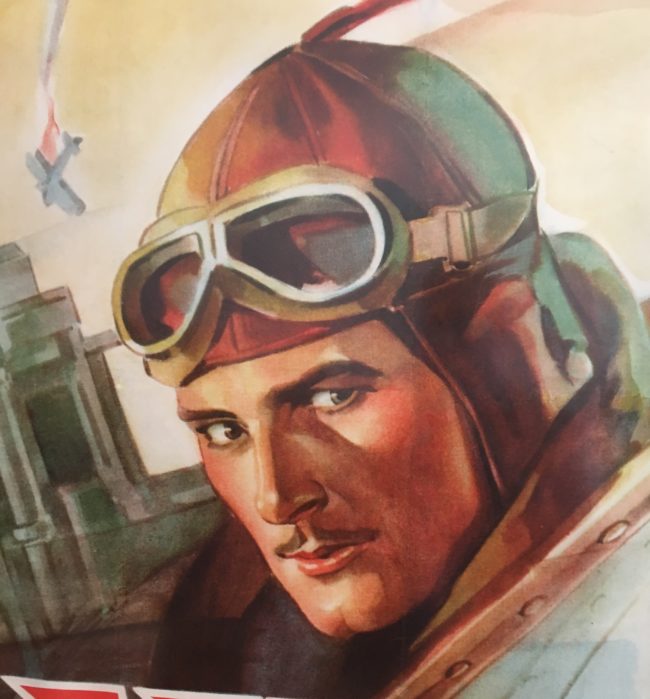 Kaplan walked through the posters and his stories in collecting them. The best one may have been how one particular, disorganized Manhattan poster store sold him the top 2/3rds of the three sheet for The Dawn Patrol; they didn't have the rest. Years later, he wanted to get the poster completed and almost went to a restorer until he put an ad in a collector's magazine about the bottom third. Someone answered, and it turns out that they'd bought their piece in that exact store. It was reunited!
My personal favorite poster is the What Price Hollywood? piece that has Connie Bennett's beautiful face covered up by an array of scandalous headlines. It's very unusual for the era and and really indicative of the movie, making it extra special. The one-sheet for Red-Headed Woman (with apparently only 2 like it remaining in the world) was also amazing to see in person, with the red far more vibrant than anything you can get off a computer screen.
Since it's so few posters and it's such a trek from the festival, I can't say it's a 'must see' unless you're really into collecting, you're a local, or if you have a car. But, especially if you're all three, you really have no excuse at all.
"Going to the TCM Classic Film Festival" Poolside Party
I've recommended it before, but if you're looking for a great resource or place to get to know people, the Facebook group "Going to TCM Classic Film Festival!" is a great resource of like-minded film (and Robert Osborne) fans. Each year they have a poolside meet-up which has slowly escalated into a major event.
This year saw both Cora Sue Collins and Barbara Rush return to dish on Hollywood gossip, as well as Mary Astor's great-grandson arriving with her Oscar.
Mary Astor's grandson with her Oscar!! #TCMFF pic.twitter.com/5BVrTA5QJL

— Aurora (@CitizenScreen) April 26, 2018
Press & Social Media Mixer
"Look, we've all seen Burt Lancaster's dick. That's great."

"You said that last night, too."

"It's still true!"
Most of the rest of my Wednesday night was eating at Mel's, drinking wine, and gabbing about pre-Code (please don't ask me to define pre-Code Hollywood or what it's like to be a military spouse unless you have ten minutes to kill).
One thing that's come up in multiple conversations is the importance of preservation. I've written before about my deep belief in film preservation as well as presentation, and this year, from the Women's Club to the Hollywood Heritage Museum, I am being constantly reminded of how it's not just films that need attention from film fans. There are only so many links to our past, and in a time where these buildings take up valuable property where assholes can make a quick buck, standing up and fighting for them is so important.
Anyway, enough of my preaching. Here's some random photos of me hanging out with people because life is good:
Random Tweet Selection from Wednesday
In the center of the Roosevelt is a big Filmstruck rotunda with a bunch of peepholes you can gaze into. Very cute. #TCMFF pic.twitter.com/1oH8YwOlO3

— Pre-Code.com (@PreCodeDotCom) April 25, 2018
Yes we are here for films, but we with each passing year I increasingly look forward to seeing my movie mad friends. #TCMFF @HollywoodComet @ImBrandonBrown @LaurasMiscMovie @thephantomasmatic @NoirGirl @MaterialGirl850 @PreCodeDotCom pic.twitter.com/uDQEckVZ8K

— A Classic Movie Blog (@classicmovieblg) April 25, 2018
Billy Barry wtf you doin #TCMFF pic.twitter.com/Gyo25jcgBo

— Pre-Code.com (@PreCodeDotCom) April 26, 2018
Costumes worn by Joan Crawford and Ann Blyth in "Mildred Pierce" are in display in Club TCM. #tcmff #tcm #clubtcm #joancrawford #annblyth #mildredpierce pic.twitter.com/WcQNR8NkkK

— FilmRadar (@filmradar) April 26, 2018
KLAATU BARADA NIKTO from the #TCMFF shop. pic.twitter.com/Lcto07M355

— Aurora (@CitizenScreen) April 25, 2018
#TCMFF 2018 is here! Predict year 9 will be divine. pic.twitter.com/ZbbEMLiid5

— Illeana Douglas (@Illeanarama) April 26, 2018
T'was the night before #CinematicChristmas #TCMFF pic.twitter.com/ISimYVIiEB

— iluvcinema (@iluvcinema) April 26, 2018
PSA: don't google "Victor Mature penis". No matter what Jill says.

— Pre-Code.com (@PreCodeDotCom) April 26, 2018
Next: The Fest Begins!
And if you see me or my wife around the festival, you can ask for a free pin from one of us! She'll have The Merry Widow, I'll have Girls About Town, and if you back me on Patreon, you'll get the Scarface one.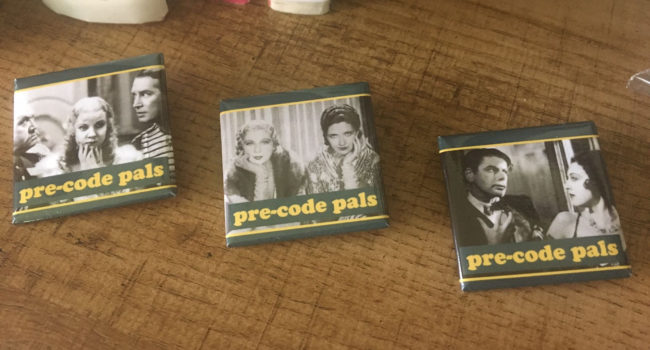 If you're interested in following more of my up-to-the-minute coverage of this year's TCMFF, follow along on my Twitter feed, @PreCodeDotCom. And, if you want some exclusive content and pictures, consider joining my Patreon for just $1 a month! This currently includes Mike Kaplan talking about the Red Headed Woman and What Price Hollywood? posters, as well as Hollywood Heritage President Richard Adkins talking about the history of the museum and Hollywood.