Ah, TCMFF! How much I've missed you! And… how I still miss you.
The 2020 Turner Classic Movies Film Festival was supposed to be my first long-term vacation since a wedding I attended last June. Now, thanks to The Great Lockdown, I am at home, working two part time jobs virtually and juggling a 4-year-old and an 8-month-old. For those of you unfamiliar with those ages, it mostly involves watching "Paw Patrol" and endless screaming. I love both my kids, and we're on week four. I now have a favorite member of the Paw Patrol, and, dear god, it is not Chase.
10 things to do in quarantine – classic movie edition #TCMFF pic.twitter.com/QFH2XGoVEZ

— cinemanavia (@cinemanavia) April 15, 2020
TCM, understandably frustrated by the cancellation of their annual film festival and orgy of cinematic delights, has instead opted to use their cable television channel to host a virtual film festival. Featuring archival interviews and footage, the previous ten chapters of the TCMFF saga will be mined thoroughly as we trek through this Thursday night to Sunday evening. These include recordings from the festival, from extended interviews with the likes of Kim Novak, Eva Marie Saint and Luise Rainer to various intros and promos.
You can find the full schedule, along with a very special message from Ben Mankiewicz here, but I'll go ahead and list the pre-Code films being presented for the virtual TCMFF (all times EST):
4/18 @ 3:15 AM: Night Flight, introduced by Drew Barrymore. The movie itself is pretty dull (you can read my review here) but the fact that this movie was out of circulation for 75 years makes it an interesting curiosity and
4/18 @ 9:15: AM: Double Harness, introduced by James Cromwell. A TCMFF legend from 2016 because of how difficult it was to get into this high-demand event, the network is clearly mocking us by adding this to TCMFF 2020 and will probably just show a "movie not found" screen for 70-odd minutes. I like the movie well enough, as you can read my review here.
4/18 @ 10:30: Vitaphone Shorts. One of my biggest regrets in life (yes, life) was missing Ron Hutchison's Vitaphone presentation back in 2016, and now we are given a few of these 1929 shorts, early talkies, in commemoration of that event. FATE MOCKS ME. Anyway, this looks boss.
4/19 @ 2:00 PM: Red-Headed Woman, introduced by Cari Beachamp. Amazingly, the only movie that the virtual TCMFF is showing that I was in attendance for. Red-Headed Woman is one of the most essential pre-Code films and definitely worth seeing if you, for some reason, have not seen it; my review here.
4/19 @ 12:15 AM: Baby Face. It was set to show at TCMFF 2020 with an intro by Bruce Goldstein of the Film Forum, also of many of my favorite TCMFF presenters. Perhaps one of the most quintessential pre-Code films, I'm DVR-ing the hell out of this one. My review here.
We added some new venues to accommodate the #TCMFF Special Home Edition–so please make sure you have your ticket ready, and enjoy the festival starting tomorrow at 8pm ET!

Download your "tickets" here: https://t.co/awyjFKqmSC pic.twitter.com/Gnp7rxiSFk

— TCM (@tcm) April 15, 2020
The only movie I'm currently planning on watching while it airs is Safety Last on 4/18 at 1:15, because my daughter love, love, loves Harold Lloyd and it'll be an easy sell. The festival is otherwise programming a number of great movies, but you surely don't need me to tell you to watch The Seventh Seal, do you? (and if you haven't seen it, jesus, it's The Seventh freaking Seal)
Since us classic movie nerds are still really desperate for human interaction Here are some of the fun events that will be happening:
TCM itself will also be posting tons of clips to YouTube, Facebook, Instagram and Twitter, and host an Instagram Live session with Beef Mankiewicz himself, Ben Mankiewicz, on Thursday evening. The network will also be hosting giveaways the next few days with what little TCMFF 2020 merch was made; get it while it's hot!
If you're spending your time stuck at home therapy shopping in a desperate attempt to revive some pleasure centers in your brain, I would recommend Kate Gabrielle's 2020 TCMFF pin set: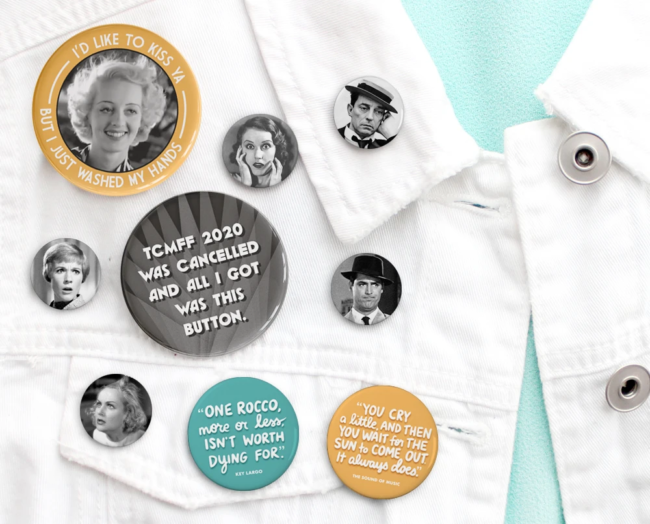 And, again you could also pick up my pins by joining my Patreon; $2 for one, $5 for both, and they will ship later this month.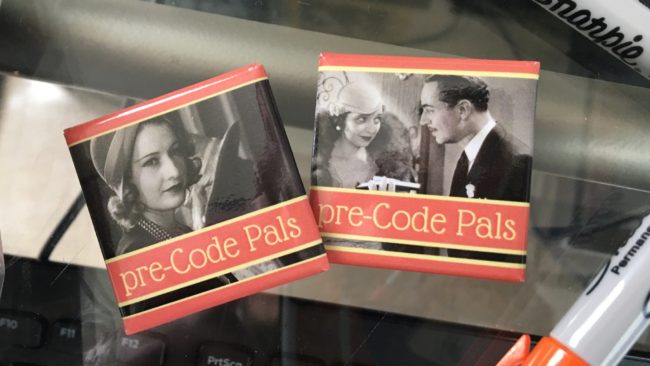 I would also highly recommend you check out Kate Gabrielle's very fun old movie 70s-inspired game show "Box Office Draw". Her latest episode is heavily focused on the 2020 TCMFF, so give it a watch:
Lastly, Larry Edmunds Bookshop, which I've written about here extensively, is a book store on Hollywood Boulevard filled to the brim with every kind of film book published, plus tons of stills and posters to boot. They're currently undergoing financial hardship and asking for donations. I put some money in, and then my 4-year-old, who gets some money every month with the specific goal of having her donate it, also shot Jeff $25 because "I like books" and "I want to help daddy's friend." Very nice of you, kiddo.
I know I'm probably missing some stuff (I was too late to talk about Kimberly Truhler's always great Fashion in Film presentation that happened tonight; sorry Kim!), but here are some of the other recommendations/picks posts I've seen put up by friends for TCMFF 2020. Be sure to check them out:
I have a few ideas of things I might try to put together the next few days to celebrate, but, otherwise, I hope you guys find some gems on the network and follow along at #TCMFF and TCM Party on Twitter or check out a lot of the cool stuff happening at Going to the TCMFF Festival on Facebook.
And, you know, take care of yourselves out there. I can't watch all these movies on my own.
You can read all of my coverage of previous TCMFF festivals here.