"I mean, I was within spitting distance of Leonard Maltin."

"Danny… did you spit on Leonard Maltin?"
The amount of writing I'm doing (or trying to do) at the festival fascinates several people. My impression is that most of the other members of the media are using their social media outlets to feed things in bits and pieces. Having a Japanese simcard means that I cannot tweet 3,000 times and call it a day. (Not that tweeting that much is really a cakewalk by any means.)
But I wanted to pull out the stops, write a few things that accurately explained the festival experience both on busy days and laid back ones. There are moments of frustration, of grave stupidity, of awkwardness, of stupid drama, of hilarious one upmanship, and, most wonderful of all, communal glow.
Look, I started writing this at 2 AM, don't expect Shakespeare.
I woke up early to try and be the first in line for 42nd Street — being 1st is a weird festival badge of honor– and was disappointed. I'd had a late start thanks to my complete ineptitude in regards to SoCal public transportation. (It's not a touchscreen? It gives change in dollar coins? You don't have to swipe the card on the way out? I have to push another button or it'll eat my $20?! Son of a…) So I ended up with #33 and then making a break for it for…
11:00 AM – Book Signing: Rory Flynn
This was a precision operation. 42nd Street was supposed to start seating at the same time as the signing, so I ducked in to be first. I thanked Ms. Flynn for the talk from the day before, and got a signed copy of her book for a certain mother in my life. She told me that this is one of the first times she'd given the presentation and was very happy that it went over so well, and it really really did.
11:30 AM – 42nd Street (1932)
I scurried back to the Chinese Multiplex just in time for the line to be admitted, meaning I ended up with a perfect center seat at the perfect height. I'd met Anne Marie the night before as we'd both been in Club TCM writing up the festival experiences and hit it off instantly. We talked for a bit before the movie began and realized we pretty much the same schedule for the day, so we were buddies from there on out.
The Q&A before 42nd Street was… bad. Disastrous is probably the right word, but I'll be more polite than that. Christine Ebersole, an actress who'd starred in the Broadway revival a few years back, talked about what 42nd Street itself means to theater people, which was nice, but there was really nothing there connected to the film, and the decision to take questions from the audience was misguided.
Luckily the print itself was pristine, a new restoration which, like I actually guessed when it was announced, is indeed coming to blu-ray soon (I'm so cool sometimes). There are maybe one or two shots that stand out, but it otherwise looks perfect. You can see every stocking seem and count the pores on Guy Kibbee's face, should such a thing be up your alley.
42nd Street isn't my favorite of the Berkeley musicals, but it's undeniably exciting and well made. Watching the film's finale, the titular number with Ruby Keeler smiling and stomping out her spectacular routine, I won't lie, I was completely overwhelmed with emotion and honestly started crying. (This is not a common event, in case you were curious.)
Moreso than any repertory audience I'd been in in my life, the packed theater was heavily invested in the movie. I could hear people whispering in amazement as the long sequences unfolded and laughing as every joke is so perfectly delivered. It was such an utterly perfect experience– I'll never see that movie like that again, with so many people I admire and appreciate, in such a captivating setting. It's a moment that's actually making me well up now, which is super dorky. Like Ms. Hepburn says at the end of Roman Holiday, "I will cherish my visit here in memory as long as I live."
(Side note: looking up that quote, I'm suddenly very glad I didn't actually go see Roman Holiday since the ending of that movie slays me as is, and they probably would have had to carry me out on a stretcher afterward.)
1:45 PM – Air Mail (1932)
If the screening of 42nd Street was a moment of pure kismet magic, then Air Mail was the crashing down to earth moment. (… it's a pun…)
There are some great moments, so please don't get me wrong. The crashes that bookend in the film are spectacular, with the early one being wonderfully gruesome in a way unusual for the period. It's a John Ford movie that's very procedural and concerns an air mail service and the dangers they go through. Ralph Bellamy, who's good in supporting bits, was a poor choice for a lead here, and Pat O'Brien is more of a pain than an anti-hero.
One tracking shot through Stuart's class of Native Americans following a bunch of miserable looking parents lining the wall while their children unenthusiastically sing Christmas carols is among the movie's best moments. It contains a richness of comment that is subtle and unmistakeable, and all too briefly visited. They needed to make the movie about that tracking shot, basically.
Instead, in many ways it's kind of a typical pre-Code procedural much in the vein of Night Flight (almost annoyingly so in several cases) as well as John Fordian man's picture, with typical Fordian comic relief, which isn't really something I really enjoy a whole lot.
The experience was made infinitely worse because in the completely packed theater that I only reached via standby, I was stuck sitting a seat away from the worst case scenario Old Movie Weirdo. First, he kept his coat and hat on a seat so that it would stay empty during the screening, despite the fact that over two dozen people didn't make it in. Then, he also reacted to every single thing either Leonard Maltin said in the introduction or that happened to the movie like he was having a conversation with the people involved. It was intimately aggravating.
6:00 PM – The Apartment (1960)
So here's the part I loathe to confess, since I've already received several looks of horror as well as a number of angry fists shaken at me when I revealed that I was the very first person in line for The Apartment, waiting 2 1/2 hours in line in front of Graumann's Chinese Theater with Anne Marie. And we were the first two people to leave after the Q&A was done.
It was such a busy day that I couldn't justify (or probably stay awake through) a movie I'd already seen before. However, it was my first time inside the Chinese Theater before, and the thing is just so damn impressive. But you don't have to take my word for it…
The Q&A was great, and very sweet. After how 42nd Street turned out, I was instantly impressed with how well Leonard Maltin handled the questions– in fact, whenever MacLaine was stumped with a name of a coworker, crewmember or not, Maltin could rattle it off like a machine.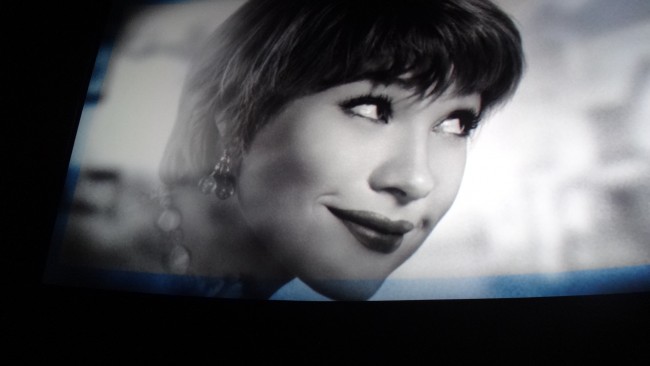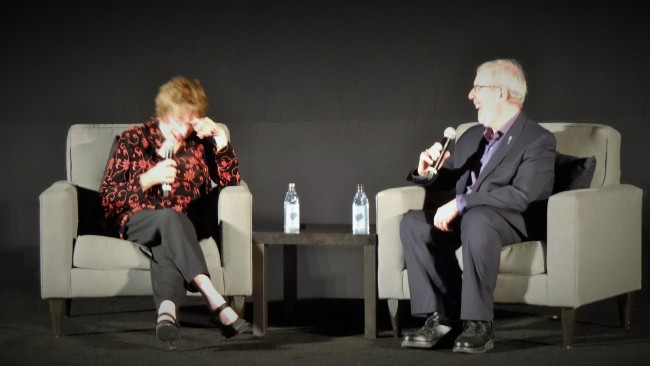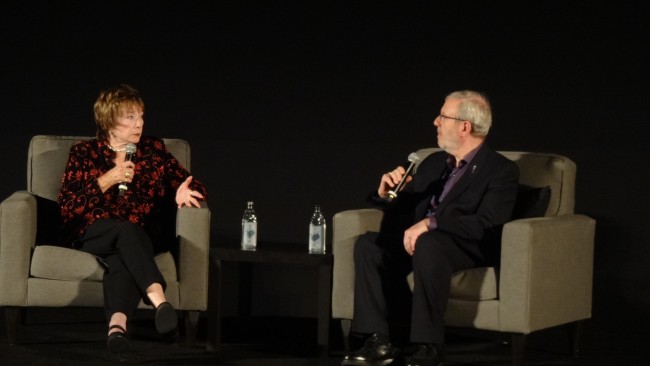 MacLaine was chatty and funny, with a number of anecdotes about the movie including how her line about loving girafes actually originated in a conversation with Wilder, or how she put Wilder and Lemon together as inseparable compatriots.
9:30 – The Return of the Dream Machine
It is not without a certain amount of irony that I must inform you… I fell asleep during Return of the Dream Machine. The event, featuring a handcranked projector demonstrating some of the most widely treasured silent films with live accompaniment was in a warm theater with some very nice men thrilling the audience with their obvious passion and commitment to this method.
But it was so comfy in there. So I took off– a mistake, as I later learned that the showing climaxed with a fresh print of a color-tinted short film that hadn't been seen since its general release over 110 years ago.
I had to take a break and east some real food, having not eaten much more than a bagel or a KND bar that one nice lady gave me after I mentioned I hadn't eaten everything. I was so hungry that I actually thought I saw a mannequin wink at me. Considering I had seen a dog wearing sunglasses earlier in the day, that means I'd finally completed my SoCal Cheesy 80s Movies Montages Bingo Card Challenge.
I went back in after a great deal of soda, however, to hit…
12:00 PM – Nothing Lasts Forever (1984)
The history of Nothing Lasts Forever is pretty fascinating, a movie with some big name stars that got shelved back in 1984 and is only now getting a release. The star, Zach Gilligan, and director, Tom Schiller, both made appearances at the festival to talk about it, and were funny and informative.
The movie is very tough to explain. A young man wants to move to New York and become a great artist, but the city is plagued by strikes and is under the iron fist of the Port Authority. The young man's dedication, though, and his willingness to be nice to hobos, impresses the city's kind, President Knickerbocker, who tells the boy about how he will go to the moon and fall in love and everything will work out.
It's both an homage to older Hollywood movies and a simple, child-like fable. I'd call it along the lines of The Lost Skeleton of Cadavara or a Terry Gilliam movie without the harder edge. It's also utterly bizarre and unmarketable, something that only a few people will see and appreciate. I would be one of that type.
The highlight of the movie, though, besides the entirety of the movie itself, was Will being a few seats down. Another audience member nodded off and began snoring loudly in the film, and Will had to continuously elevate his efforts to get this man awake to no avail, from shaking him, splashing water on him, and finally, coolly and calmly, just swiftly kicking his chair nothing worked. The worst part? The snoring man was only a few seats away from where Schiller had decided to sit.
It was embarassing, but the movie was so wonderful and the rest of the audience fairly awake, I hope Schiller still saw how his long-forgotten movie could still captivate so many years later.
And yeah! Then I slept. I slept a lot.
TOMORROW: Podcasting, a real life escape act, crushing a puny styrofoam cup with my bare hands, a not-as-real but still escape act, and the finale to the big shebang.