"I mean, I don't want to throw around the phrase Nazi sympathizer…"

"Hey now, let's stick with collaborator."
The second true day of the Turner Classic Movies Film Festival was a humbling experience in some ways, utterly nutty in others. I saw Angela Lansbury blow kisses to the masses, I saw Adam West and Lee Meriwether banter with a bemused Ben Mankiewicz, I ate a Macademia Coconut chocolate for posterity, and I sat at the bar in the Chinese Theater writing this. Now did I actually finish any of the movies I watched? I think I have. Let's review.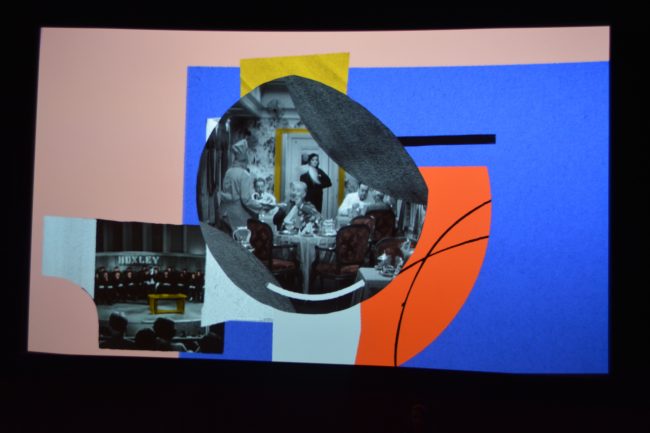 Shanghai Express
If there was an entire film festival dedicated to showing Shanghai Express over and over again, I would probably fly from Tokyo to attend that, too. As it was, despite that I've seen the movie twice in the last month thanks to my new review, it was still utterly stunning. The new digital print, restored for an upcoming blu-ray release, is a gorgeous piece of work, fully emphasizing the radiant beauty of Marlene Dietrich and Anna May Wong with sublime beauty.
The film was preceded by a talk between author Jeremy Arnold and Josef von Sternberg's son, Nicholas. Nicholas told a number of great stories, explaining how his father relished his first bad review: "My dad liked that. He wanted to be hated." While I didn't quite agree with Nicholas' assessment of the film as "pretty much a silent with a little bit of sound" his observation of his father always focused on three planes of action for each shot—foreground, middleground, and background—gave me a lot to focus on for this viewing, and really explains how his compositions still seem so alive. The interview ended after Arnold asked him about Dietrich, and Nicholas smiled, noting, "I used to sit on her lap growing up." The whole theater lost it, as I'm sure you can imagine.
Wonderful fucking film.
Double Harness
Anyway, afterward, myself, Christina and Darrin duck and rolled into the line for Double Harness. Important note—Double Harness is one of a handful of films actually owned by Turner Classic Movies thanks to a deal with the estate of Merian C. Cooper. It's actually shown on TCM and was available on DVD for quite a while. And it's a great film, as my review attests, with great performances from Ann Harding and William Powell.
Double Harness played in the 177-seat Theater 4 at the Chinese Multiplex, so you would think, as I was number 52 in line, I would make it in. However, TCM didn't remember that everyone with the expensive, $1,000+ 'gets in first' Spotlight Pass are exactly those kind of people who would flip their shit for a William Powell movie. So the number of non-VIP and Spotlight pass members were, somehow, less than 40. Everyone was a bit shellshocked, and the staff immediately promised the movie would a TBD on Sunday at 9:15.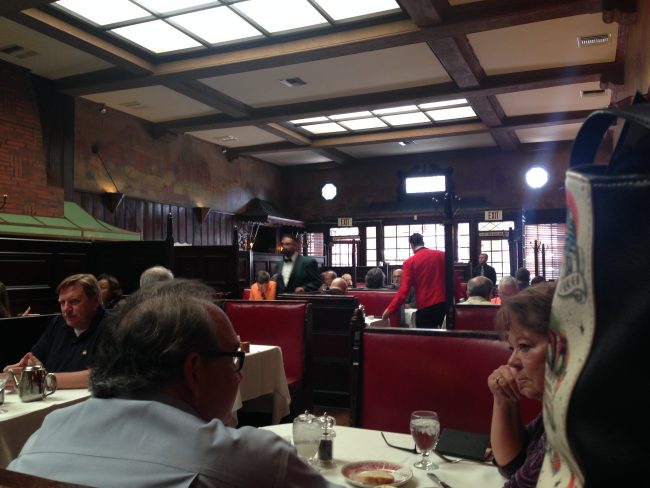 We headed to Frank and Russo's for lunch instead. Established in 1919, the restaurant still has rustic charm and décor out the wazoo. It was a popular gathering place for stars and moguls in the old days and, almost as if to drive the point home, 102-year-old Norman Lloyd sat down a booth away from us with Bruce Goldstein. I don't do photos with celebrities—you'd like that, wouldn't you— but it was still pretty cool to have that feeling like you're seeing history sashaying into the room.
Ran over to the Roosevelt to send out one beautiful tweet for the day, as well as see the newest Lassie walk by. It's Lassie! It's a dog! She was a good girl. In fact, she is such a good girl, I assure you.
Then it was time to wait in line for…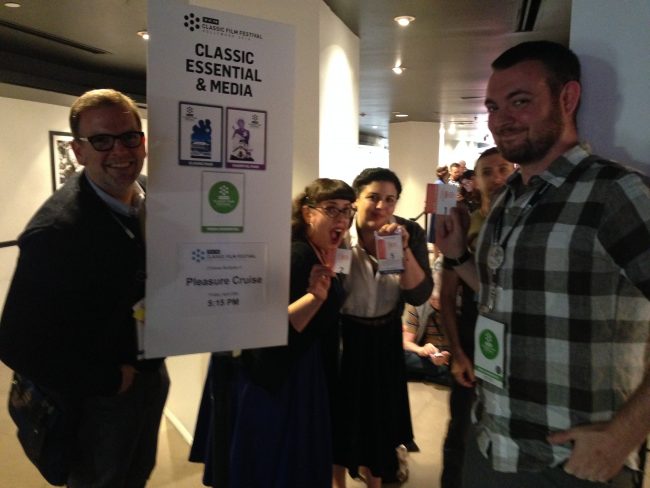 Pleasure Cruise
Fans of this blog or people who follow me on Twitter or perhaps casual acquaintances who simply made the mistake of asking me about my passions know that I have a thing for 1930s star Genevieve Tobin, going so far as to have a blog centered on her in preparation of my (very) eventual biography that I've been tinkering with.
Thus, when I discovered this movie was announced, I had to be there. I had to be first in line. And I was! Even though it meant getting there, ya know, three hours early. Which I really didn't have to be. But because Christina and Darrin and Em (from The Vintage Cameo who's a gem and listened to my dumb stories about comic book collecting) were there, it was a blast. I did some doodles, we argued about Carole Lombard and Alfred Hitchcock (and, along those lines, bitched about Mr. and Mrs. Smith). Honestly, just sitting around and talking is like half the fun of the festival, and this, to get to see a movie I had to see with friends supporting me was just great.
I got the prestigious number 1 ticket and bravely resisted kicking all of the Spotlight holders in the shins as they showed up ten minutes before starting time to get better seats than me, but hey, those are the potatoes of life. In fact, it turned out pretty okay since the lovely woman I was seated next to told me she chose to see the film after reading a post on a blog that was very complimentary. Yep, that was me. I may have made a very unattractive squeal at that revelation, but I think I was totally justified.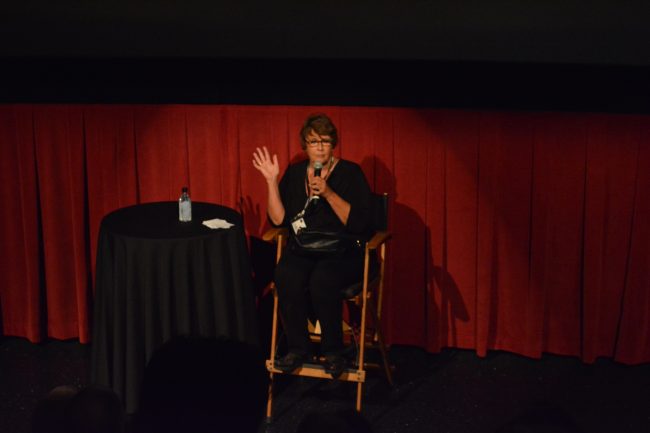 The print of Pleasure Cruise was lovely, and looked a fair sight better than the one I reviewed for my site a few years back. The careful jabs and slight wit were all there, as well as that scene that made me fall in love with Tobin as she silently debates with a framed picture of her husband whether or not to violate the sanctity of their wedding vows. It's such a masterpiece of restraint as Tobin plays drunk on a storm-tossed ship while very firmly non-verbally fighting her sexual appetite—just a hoot.
And here's where things get a bit weird for me. I mentioned above I loved Tobin in this, and I hunted down a few people afterward to talk about the film. They said some nice things, and most were warmly positive about it, even with the semi-infamous skeeziness I allude to in my review. But it was—I don't know. No one loved it. And I don't suspect I even expected anyone to, but it was this kind of moment where I realized, no matter that even when people see Genevieve Tobin films, they're just not going to get the same things out of it as I did. You're can't magically make people love the same things you do. C'est la vie.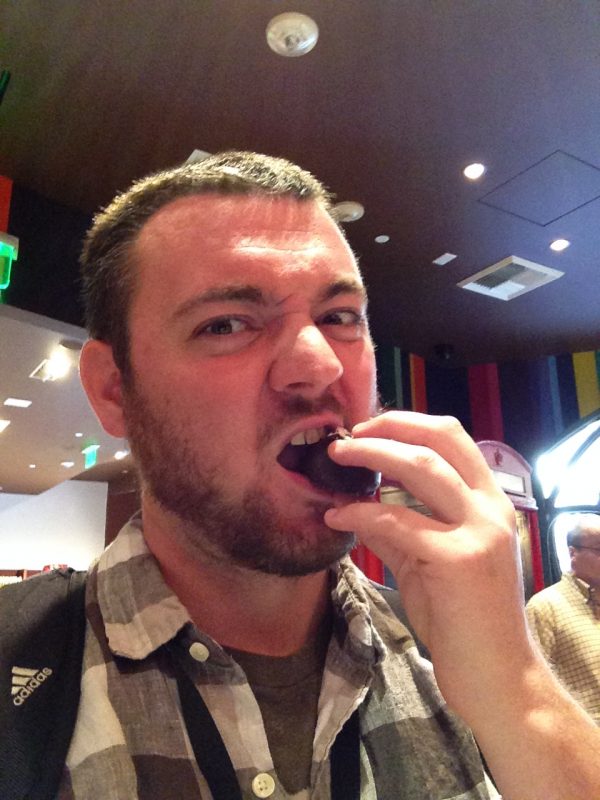 At some point in here, Christina and I went down into the TCM Boutique and I found that they were almost out of those Footlight Parade caramel bars. "Here, you can have the display case models!" they said, not really catching that my asking about their availability was more out of curiosity than wanting to make a heavy investment on a stack of $8 chocolate bars. However, yesterday, after I posted about spending far too much money on alcohol, my lovely wife sent me a message saying that I should be spending my money on chocolate instead, so lo and behold, I obeyed her whims and bought a small fortune in ridiculously overpriced chocolate. Thank you, honey—hopefully the kid can subsist on these bars whenever she starts teething.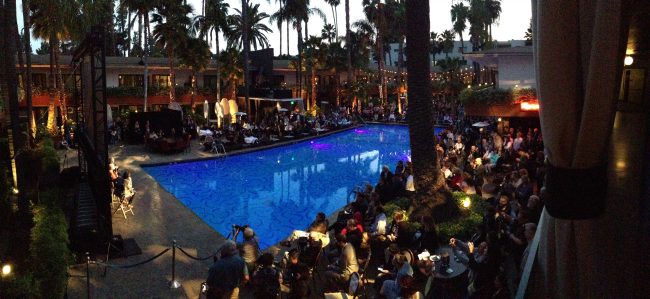 Batman
The poolside was absolutely packed when I arrived 45 minutes early for the 1966 Batman and it made me a little dour. I tried to double back and catch 6 Hours to Live because I felt incredibly guilty about not seeing it, but missed out by about 10 places. That's when I remembered a key fact—there's a bridge that overlooks the Roosevelt pool that no one really pays attention to.
So I sat out there waiting for the program to begin, ruefully contemplating the mysteries of life, and, eventually, Lee Meriwether and Adam West came out. They were interviewed by Ben Mankiewicz in an interview filled with playful jabs and jokes. It was really funny, with Adam West tossing of lines like "What's an Affleck?" while Meriwether explained how she got the part, "by doing cat things." It was light and breezy, and if either of the actors had much of an ego, it was subdued. It went so well, that a fellow on the balcony muttered under his breath, "Man, they are killing this shit." And it was true!
I sat inside in Club TCM where they were showing the film simultaneously as it played by the pool (Club TCM has cheaper drinks and is warmer at night, if you were wondering) and enjoyed listening to a scattering of riotous laughter as Batman deduced the fiendish foes' evil plans. That's when Angela and Jessica grabbed me to go wait in line for…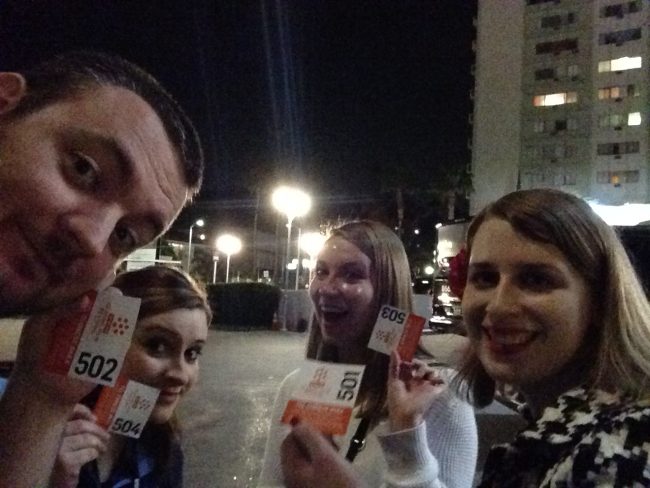 The Manchurian Candidate
And wait in line we did! In fact, in searching for the end of the line, we circled the entirety of the Chinese theater, almost lapping ourselves, which is not an easy task by any stretch. I was #502 and one of the last to make it in.
Alec Baldwin—who at one point noticed he had a pillow on his crotch and wasn't quite sure why—was a lovely interviewer, and connected well with Lansbury. He mentioned "a long running detective show that has its fans" and she blew a kiss to a cheering audience, and later she got teary as she discussed picking Robert Osborne as the man who would present her her honorary Oscar. She was spry and delightful, almost shockingly so considering her age.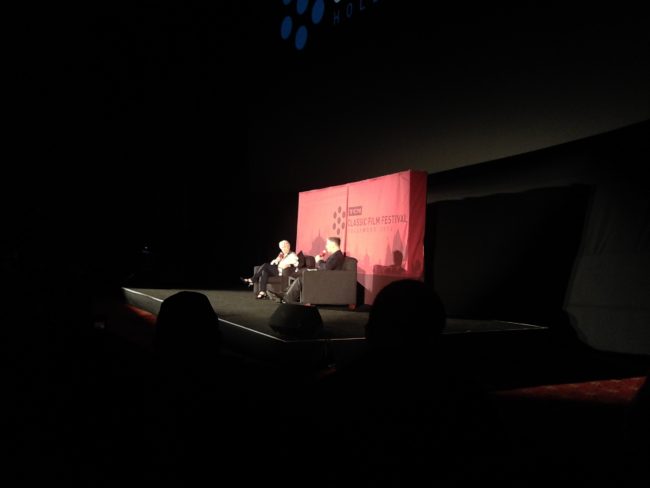 I ran into Nitrate Diva in the lobby who was pretty much melting down at seeing Lansbury in person and had to be shushed by the Chinese Theater staff before she set the building on fire through sheer force of ecstasy. … I think there's actually a French movie about just that scenario, actually, and if there isn't, there will be.
So, yes, I didn't actually watch The Manchurian Candidate. In fact, the only films I made it all the way through today were Shanghai Express, Pleasure Cruise and….
Roar
I spent the two hours between the interview and the midnight show, uh, well, drinking. I drank at the TCL Chinese because it wasn't really much cheaper anywhere else, and because the bartender and I have beards and funny stories about ex-girlfriends. A few festival workers were drinking as well, with one explaining how Paul Newman was her perfect man because, "All men need a salad dressing." I also used very frank terms as such happens when I'm drinking, so I thank everyone for whatever forgiveness they can spare.
I got pretty ripped, which was the best possible scenario for Roar. The movie itself is crazy. Angela called it, "a divorce attorney's wet dream," and, personally, I've never seen a film both so carefully and obviously edited to conceal the actors being mauled before in my life. I think it's supposed to be about a family learning that wild cats are gentle, lovely creatures after spending most of the move running for their lives as a mix of lions, tigers and panthers wrap their jaws around the human's necks, but who the hell knows.
It's nuts, completely misconceived and accompanied by one of the worst scores you can imagine. The closing song promises that the family is now in 'Eden' as those wild animals that spent a good 60 minutes trying to eat them are now suddenly a-okay. The plot is barely there, and most of the dialogue is the hippie father (Hedren's then-husband who thought this film was a great idea) screaming "TOGAR!" at one of the 'bad' lions, who is really okay once you get to know him.
Meanwhile, apparently, don't diss Walter Pigeon in front of Jessica Pickens. Remember that, world.
My wrap-up for the day, as I'm trying to reconcile polishing this with getting up in 5 hours, is that friends make the festival. Angela and I trying to explain to people the wonders of Sextette, Angela and Jessica's friend Nikki who also shares a loathing from "Jack and Diane" (also a Midwesterner), and those hours I spent with everyone sitting on the concrete floor, waiting for me to get a glimpse of Tobin up on the big screen. God, she was a knockout.
Seeing a movie on the big screen is just such a visceral thrill, and, like I talked about last year, seeing these movies with a sold out house of powerfully eager and devoted attendees is stimulating to no end. There are so many groups of friends there—not just the Twitter pals—who travel together and are eager to share trivia, gossip about showings, and talk all about the presentations they've seen that day.  Even if I rarely mention it on here simply because I'm really terrible at names (so, so terrible), there are so many moments where people help each other out, watching out for one another as we shuffled from venue to venue. It's one of those rare, really heartening things, even if it means sometimes letting people take a nap in a movie and only elbowing them when they start to snore.
TOMORROW— Will I wake up in time for History of Vitaphone? Will I stick with a bunch of pre-Codes? Will I see the actress who played Meredith on the American version of "The Office" and almost mistakenly ask her about her non-existent blog again? And can Gog be as possibly nuts as Roar managed? Find out! …. After I sleep!
Like I noted yesterday, follow me @ PreCodeDotCom for updates whenever I can—I only get wifi in the Roosevelt, where, noticeably, is not where I spent most of today standing in line. However, check it out, I try and retweet the good stuff whenever I can. Cheers!