"With the buttons, it was like, hey, look at my chest. Now with the ribbons, it's like, hey, now check out my crotch!"
The good news is that today I woke up and realized that I wasn't hungover Saturday—it was jetlag! That's because I was jetlagged today too. Boo. Oh well, two hours off isn't that bad in the whole run of things, even if it means I missed most of the morning programming. And, honestly, it puts me back to where I was before I had a kid. The golden days.
This meant I missed Scent of Mystery AKA Holiday in Spain (those words may not be in the right order) over at the Cinerama Dome. It sounded like a lot of fun, including vials and machines that pumped in a wide variety of aromas. And while I'm bummed when I heard there was no chance for the audience to just smell Peter Lorre (I'm betting he smelled like vermouth), I did get to huff both Anne Marie and Kim, and I can tell you that movie must've smelled pretty sweet.
A few quick notes: yes, I mistakenly called Helen Chandler "Helen Walker" in my wrap-up yesterday, my proofreader has been taken outside and thoroughly whipped. Also, I did get over my existential grief eventually and am back in full force state of denial, which, as you may know, comes in quite handy when it's the fourth and last day of the Turner Classic Movies Film Festival.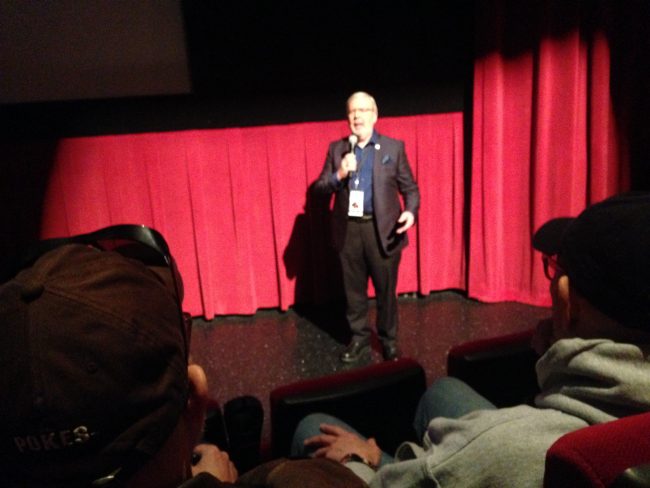 Law and Order
Mildly exciting Western retelling of the Wyatt Earp story with Walter Huston getting a precious few moments to liven the proceedings. It's not bad—I mean I did a ton of z-grade Westerns last year, this was definitely a cut above. Nora, AKA Nitrate Diva, pointed out the climax's bloody gunfight and its similarity to another 1932 release with Huston, Beast of the City, and she was right on point. The film even ends with a very vague but not-so-subtle dig at 20th century gangsters in one of the only nods there were to the time it was made. It's one of those 'solid but unexciting' movies, but, like when the hell are you going to get a chance to see it again on the big screen?
Leonard Maltin introduced the film and said as much. He noted that you could watch a double feature of this and House Divided with an intermission and still finish up before the guy in the theater next door wraps up Transformers 4. He added with a grin: "These films are short, but you're never short changed. God bless short films!"
I also noted in my notebook that the film had a good montage editor, in case, ya know, if that's your thing.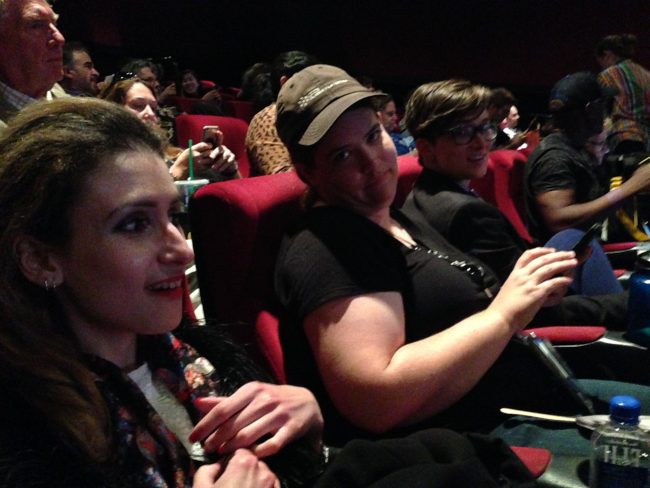 Horse Feathers
Okay, so I'm a bit on the mixed side for this one, and I want you to hear me out, even though you're reading and what I'm saying makes no real sense. First the introduction by David Steinberg was fine, and the stories he told about hanging out with Groucho were a treat. This includes this exchange between a pair of priests and Marx:
"We just wanted to thank you for bringing so much joy into the world."

"And I want to thank you for taking so much out."
However, the digital restoration has a few tics. First, a number of scenes had the frame a bit wobbly, most notably in the canoeing scene—which isn't super surprising, but a bit of stabilization would help. But the scene in Thelma Todd's bedroom where the brothers rush in and out—well, it looked like it skipped. I know there are bits of this section that were cut and lost to the ages, but watching it as an audience, it seemed like the blu-ray was dirty and needed a cleaning. It threw much of the audience out of the movie for a bit, which is a bummer. I hope it was just a bad digital file and that that isn't the actual planned version of the new master, or there are going to be a lot of angry people when it comes out.
I took a break to Club TCM to start my writing (I'll be in bed before 4 tonight for sure!) when Elise and Kim told me about the secret Backlots party at one of several bars on the first floor of the Roosevelt that are carefully concealed.
Backlots Party
This was the only time the whole festival I got free booze, so sign up for TCM Backlots. Totally.
Okay, I was pretty down on it on Friday (or was it Thursday? who knows), but over the course of the weekend, TCM really hammered on all the cool exclusives the site will have. This ranges from contests and trivia games at the festival (truth in advertising: I won a t-shirt and chocolate for answering a trivia correctly and won nothing for all the wrong answers I had) to exclusive web content.
During the me drinking the wine thing, one of the content managers came around looking for suggestions of what to add to backlots. I mentioned some of the old documentaries they made that Turner made back in the early 90s on Stanwyck and Harlow, and he seemed interested. He also mentioned including crazy original TCM Underground comics on the site, so my curiosity was piqued.
Also during this, a woman I was sitting near admitted that she didn't know what "pre-Code" was and, before I got to launch into my usual 30 minute presentation, I was interrupted when Illeana Douglas sat next to Peter at the table to chat. Now, I've had a crush on her since Ghost World and Dummy is one of those movies I just always go back to. So I told her I loved Dummy and practically ran away before I started, like, embarrassing myself even more than usual.
Side story: Marya Gates gave me a box of cheese to carry around at this point. I want you to remember that for later.
Bulldog Drummond Strikes Back
After Law and Order with Nora in the morning, she told me the real money for the last show of the evening would be at Bulldog Drummond. Since Kim had fallen asleep in it the first time, we decided to give it a shot, and, playing up against some major hitters, it was still pretty well attended. (Nora was there, too, which meant she definitely put her money where her mouth is.)
Because of rights entanglements, this was only the second public screening of Bulldog Drummond Strikes Back in 80 years, with the other one being the day before. Film archivist Michael Schlesinger promised the movie was, "one of the greatest movies you've never seen", which sounds like a tall order of goods until you actually get into the film.
One of Daryl Zanuck's 20th Century Pictures productions, the film itself is cheeky and lighthearted. It has a fantastic cast, including Warner Oland, Kathleen Burke and Arthur Hohl as the slinking villains, while Ronald Colman, Loretta Young, and Charles Butterworth check in on the good guys' side. The movie is surprisingly meta for 1934 (finding his butler tied up in a closet, Colman exclaims, "Where do they always find so much rope?!") and a whole boatload of humor is derived from the very risqué jokes about why Butterworth must get back to his new bride Una Merkel so that they can enjoy their wedding night. The lighting is amazing, and even if it doesn't make a lick of sense, there's a very real sense of everyone just having a blast making it.
Schlesinger said that because of the trio of rights holders, Drummond was a movie that needs a push to get them to consider even releasing it. If you're interested in seeing it, just write a tweet about your interest—it could go far.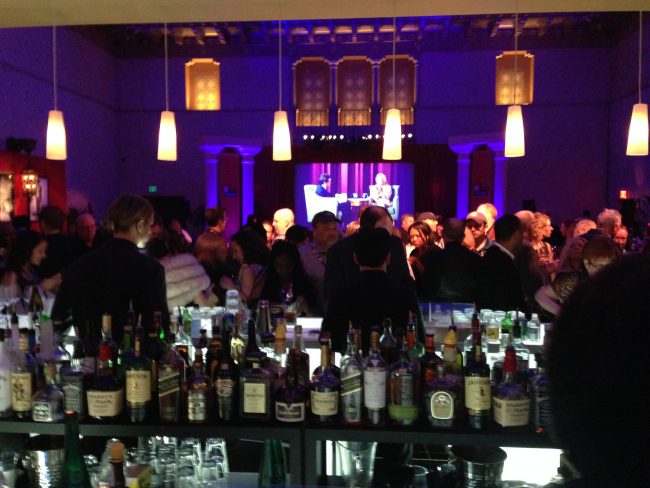 Closing Night Party
Anyway, I still had cheese in backpack and no fork to eat it with and Marya spent like three hours not finding me a fork. Eventually a got a fork, and she threw away the cheese. It was aggravating.
I also drunkenly told Kim Morgan she was awesome, and I was in awe of her review of Ecstasy. I think she thought I was nuts, which, hey, I've been thought of worse by people who know me much better.
Also aggravating was the sheer number of people I tried to help connect to each other. I think there were only a handful of people I missed saying 'hi' to, but I really wanted to make sure everyone saw everyone else. (One person told me she spent forever trying to find Paula Guthat, when I swear Paula seemed to be hiding behind every corner for me.)
But I think I was so into that because so much of the festival is making new friends and connecting with all those other movie geeks in the dark. Some people pack their schedules with screenings, others do special events, others stalk the celebrities and then there are people like me who'd rather find someone fun to wait in line with above all else. TCMFF is a madhouse, a gunshot of kinetic energy that's exhausting and invigorating at the same time. Time flashes in a second (on Sunday, I had to remember something I did on Wednesday and it may as well been a lifetime earlier), and all of the raw emotions march to a steady beat the whole event through.
It's expensive, don't get me wrong. Even with my media credentials, Hollywood Boulevard is a money pit, and good food costs you fantastical prices. I don't know where I'm going with this, but if you're at the Fest and not bitching about food prices, you're doing something wrong. (or maybe very right)
Most of the festival's attendance is older than me, and I still get weirded out when someone calls me a younger fan. But truth be told, if you're under your 40s, you're a rarity in the festival attendance. That means, as a whole, it's a mecca for the mature. Even though Angela, Jessica, Nikki and I received a good amount of annoyed silent looks in line for The Manchurian Candidate as we exchanged bad words in discussing our favorite and least favorite actors, we are the exception. If you're of a certain age and disposition, it's such a great way to relax and just seep into that all-too-rare feeling that you belong somewhere.
As a blogger, it's simply great to go there and be surrounded by people who have the same passion, so whether you're arguing about the best film noir or talking about places to find some really good obscure stuff, the conversations are always a few steps away from a new discovery or connection. The TCMFF is a time to cherish some great old movies and find some new ones, and if you've got the money to go, great, do it. If you don't, well, I'll try and do this again next year.
Anyway, it's like 3 AM and I'm listening to the Rocky soundtrack by the pool at the Magic Castle. I will be back tomorrow with a wrap-up post that talks about the hits and misses of the event, as well as some pictures from the last few days that didn't fit in anywhere else. Cheers!
TOMORROW – The wrap up! … didn't you read that last paragraph?