The first official day of the 2018 Turner Classic Film Festival kicked off with… uh, I went book shopping. But that's okay! The festival starts in the afternoon (unless you're a first timer), so I got to kick around and relax for a bit, as well as make my annual trip to Larry Edmund's Bookstore, the best place in the world for film-based books and they have a good chunk of posters, too. While there, I managed to pick up Karen Burroughs Hannsberry's massive two-volume Bad Boys of Film Noir book, which I've been looking for for years. And then I asked her to sign it for me, because we're pals and she's amazing.
Meet TCM
Since the annual press conference this year was more of a way to expense-account drinks (totally fair), Meet TCM seemed like the best place to get some information about what's happening at the network. Major website revisions are coming, though any hope of a stand-alone service for the network itself is seen as 'an option' rather than 'an eventuality'. Here's some more tidbits from me and some fellow blogging pals:
Here's the whole crew responsible for @TCM and #TCMFF! Thank you thank you!! pic.twitter.com/UDtGfD9ePa

— Elise Crane Derby (@EliseCD) April 26, 2018
"What is the general state of TCM?"
"We're rockin it!"
– @JScottMcGee and @JRDorian #TCMFF

— Pre-Code.com (@PreCodeDotCom) April 26, 2018
They just told us the posters decorating Club TCM this year are from Robert Osborne's personal collection and may be part of a future Bonham's Auction. #TCMFF pic.twitter.com/68V3aiFrJM

— Pre-Code.com (@PreCodeDotCom) April 26, 2018
An audience member asked if the cruise would return. @JRDorian responded, "Never say never. I think you guys are goong to be happy." #scoop #MeetTCM #ClubTCM #TCMFF

— Beth Ann Gallagher (@missbethg) April 26, 2018
@ctabesh reveals the William Holden 100th Celebration with @Stefanie_Powers was a promise made to the late Robert Osborne @tcm #TCMFF pic.twitter.com/niJXTCUyJT

— Christy (@suesueapplegate) April 26, 2018
"We like to make your lives miserable." Hell of a way to end a panel. #TCMFF

— Pre-Code.com (@PreCodeDotCom) April 26, 2018
That last joke was meant lovingly, I'm sure.
So You Think You Know Movies
Bruce Goldstein's annual trivia contest was no less completely cruel this year than in previous years. Here's team "Nobody's Perfect":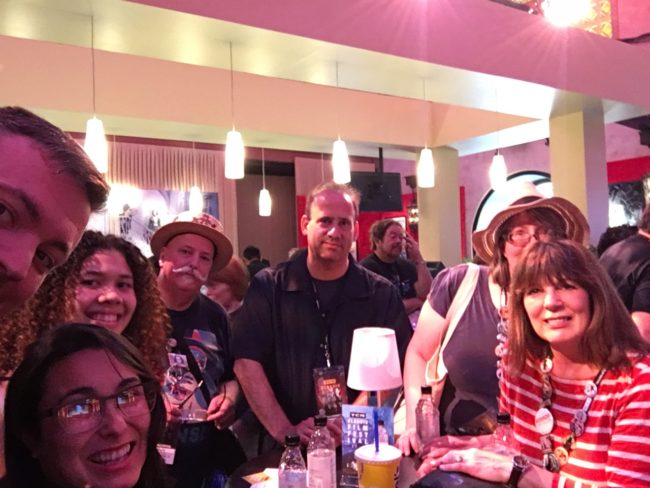 And let's just say we scored fewer points than there were team members. Toughie questions included what Judy Holliday's first film was (she is in less than three seconds of 1944's Greenwich Village) and who Marnie Nixon had dubbed– other than the people you're already thinking of.
There was also a brief moment where Academy Award Winner Ben Burtt stood up and was asked some pointed questions by Goldstein about The Star Wars Holiday Special. Apparently, studio execs were worried about the beginning where it's only Wookie dialogue for ten minutes. "And for once they were right!"

Finishing School
"A whole bunch of Little Lord Fauntleroys […] You could take all the chest hair in the room and not have enough to make a wig for a grape."
The 'hot ticket' tonight was Finishing School. Let me put it this way: I arrived two and half hours early and I was sixth in line. There was a woman up front knitting; she probably finished a sweater.
Jeremy Arnold and Wyatt McCrea introduced the film. McCrea talked about his grandmother's reluctance to talk about her stardom days and amazement that people still recognized her decades after her career ended. McCrea also discussed what close friends his grandparents were with Lew Ayres and Ginger Rogers, and that definitely shows in the film's little details.
Finishing School itself definitely improved on the big screen. It's very much a film about perceptions and how they can be warped if you don't stay within the lines. It's not much of a surprise that the movie was condemned by the Legion of Decency; unplanned, premarital pregnancy presented in a heavily sympathetic light can do that. I was also very glad that the wholly visceral sequence where one of the girls rips out her retainer completely horrified the audience as much as it did for me at home. And, man, Ginger Rogers gets some great lines in this.
I still think the climax gets cut out from underneath it, which is too bad. The moments where they apply the school's awful teaching and the wrong moment to expound on Anna Karenina is brilliant. It's worth checking it on DVD if any of that sounds intriguing, and it's not too expensive at the moment either.
The Sea Wolf
"There's a price no man will pay for living."
For my second film of the festival, I picked something I hadn't seen before over some very tempting possibilities. Introduced by Alan K. Rode (author of Michael Curtiz: A Life in Film), he discussed how the Jack London adaptation came about and how the film reflected Warner Bros.'s extreme dislike of Hitler and his ilk. (And for good reason: after their German distributor was broken into in 1933, the studio withdrew from that market completely. Apparently the last Warner Bros. picture shown in Germany until after World War II was I Am a Fugitive from a Chain Gang.)
OMG, it's pronounced "Michael Curt-ezz", not "Curt-ease". Watching @alancinephile's great intro to The Sea Wolf. #TCMFF pic.twitter.com/SOv5irorpk

— Pre-Code.com (@PreCodeDotCom) April 27, 2018
Knowing that the film was angling for an anti-fascism film, it's really interesting to peel back the layers on the character relationships, especially how the effete  Humphrey Van Weyden  (Alexander Knox) never figures into a romantic triangle. Instead, he seems like a real representative of the ineffective intelligentsia who lets his competing sympathies doom himself and many others to die.
Ida Lupino and John Garfield and pretty good in some rather one dimensional roles, but it's Edward G. Robinson's ship captain, a tortured, wannabe Satan who really makes the film so compelling. He's a bundle of fears huddled in pure malice, kicking the legs out from under whoever pleases him, no matter how short sighted that may be. Robinson glowers, glares, and smiles. His Captain 'Wolf' Larsen is a man who aspires to be both learned and evil but can only seem to manage the latter. It's such an interesting character, and it makes the film irresistible.
Some Twitter highlights from Thursday
Thanks to TCM for the #TCMWineClub in my check in bag–carrying around a bottle of wine all day is truly the mark of an authentically seedy Hollywood Blvd experience #tcmff

— emily // the vintage cameo (@vintagecameos) April 26, 2018
Just so you know, @donnalamour is worried you may not find her. pic.twitter.com/oG66sOSkTv

— Pre-Code.com (@PreCodeDotCom) April 26, 2018
IT BEGINS!! Die-hards already on line for FINISHING SCHOOL! #TCMFF pic.twitter.com/R5s71D9nCI

— Aurora (@CitizenScreen) April 26, 2018
You know it's #TCMFF weekend when the bootleg Scarface T-shirts on Hollywood Blvd. all have Paul Muni's face on them. @tcm

— Brendt Rioux (@BrendtRioux) April 27, 2018
🖐 @MelBrooks has arrived at @TCM Classic Film Festival! #TCMFF pic.twitter.com/UTbbBX4eph

— TCL Chinese Theatres (@ChineseTheatres) April 27, 2018
"My first classic film was West Side Story. We watched it in band class and I was captivated by Natalie Wood. My grandmother was a big influence, too. She was really into Japanese cinema and introduced me to Kirosawa films. #TCMFF #HumansOfTCMFF pic.twitter.com/GVM0dK1K7T

— Julia Ricci (@julsrich) April 26, 2018
Who doesn't want to eat Fredric March's face? Thanks @biscuitkitten #TCMFF pic.twitter.com/VeFHq0XNnn

— Pre-Code.com (@PreCodeDotCom) April 27, 2018
Aww, people behind me in line for the Sea Wolf are talking about Baby Face. I love this place. #TCMFF

— Pre-Code.com (@PreCodeDotCom) April 27, 2018
On that last one, a couple even started singing "Drum Boogie," followed by "Play It on the G String." What a place.
Some more pics just cuz
Tomorrow: Eva Marie Saint! Harold Lloyd! A super rare pre-Code! And hopefully some heaven-leaving-to!
If you're interested in following more of my up-to-the-minute coverage of this year's TCMFF, follow along on my Twitter feed, @PreCodeDotCom. And, if you want some exclusive content and pictures, consider joining my Patreon for just $1 a month!