It's here. I breath a sigh of relief. The arrival of the full TCMFF Schedule means that the countdown is real– tangible, even. I spent the last week at my job covering double shifts no one else could, building an escape room, running two story times, and desperately trying to get my library's circulation numbers up by getting rid of books that calmly report that it's likely that East and West Germany will never be reunited. (I am not exaggerating this in the least.)
But TCMFF promises possibilities. It promises experiences, emotions that I often have to dial down as a parent and employee. At home, family comes first, then career, then my passion for old films. I think that's reasonable. But TCMFF comes and I'm unencumbered. (I almost wrote unhinged!)
Now I'm trying to temper my excitement because three weeks is still a long time. While I certainly enjoyed my bachelor experiences for my first two years at the festival, experiencing the whole rigamarole through my wife's eyes as a co-passenger has been delightful. I have much more experience with movies than her. When I tell her Do the Right Thing and Marty are among the greatest films ever made, her ears perk up. Then when I mention my utter disdain for Hello, Dolly!, she gets even more excited. I'm not sure this a healthy relationship but I'm not seeing Hello, Dolly!, so there's that.
I have and continue to enjoy reading people's take on the schedules and what they're planning on seeing, just because everyone has their methods, their reasons. Mine are usually straightforward: I prioritize pre-Codes, then unique experiences, then movies I love followed by movies I haven't seen and, eventually, food and/or sleep. I still haven't puzzled out what my wife's priorities are, other than ogling at Jeff Goldblum, which isn't any crime for sure.
Our train gets into Hollywood Tuesday afternoon. My wife and I are planning something new for that evening; we are visiting the Magic Castle, the LA landmark only about a block away from the Chinese Theater. I don't have a lot of other extracurriculars planned, bar an actual trip to Amoeba Records, but that's okay– half the fun is doing stuff on the fly.
My Festival Plans
   Thursday
I've seen and reviewed Night World, and enjoyed it immensely. To get to see it in a nice print with a full introduction by Sara Karloff seems absolutely sublime to me. My wife is much more up on Dark Passage, which she hasn't seen though I wholeheartedly recommended.
For our second show, we both managed to agree on The Bachelor and the Bobby-Soxer. I was also tempted to sneak over for the second half of Ocean's 11, but it seems unlikely. And while I love Umbrellas of Cherbourg, that movie has always been heavily attached to one of my former romantic relationships which I definitely never need to think about again, so there.
Friday
Why did I tell my wife that I liked High Society? She made the plan to go without me! Not that I mind; Merrily We Go to Hell is a great picture, and I know I'll have pals (or at least Jill) there to enthuse over it with.
My wife's method of picking movies is to listen to me (well, listen to my words anyway) and then base most of her decision on the film's trailer. Which is why we both may be seeing Out of Africa in the
The 2:00 slot is tricky for me; Raiders is a personal favorite, and seeing in the Chinese Imax would be great. But when else am I going to see Sunrise: A Song of Two Humans with an orchestra? And with my wife, who's never seen it before? Maybe it's not so tricky after all.
The next slot is tricky as well. I haven't seen Vanity Street, which is a new pre-Code to me. Then again, Steel Magnolias does look like a lot of fun, and my wife is obsessed with it since she saw Reese Witherspoon praise it in her book.
The 9:00 time slot is easy-peasy. Desert Hearts looks fascinating, and I've never seen it. Is there a better place in the world to give it a shot?
And I will attending Santo Versus the Evil Brain at midnight. Still trying to unpack the cultural baggage involved in wearing a Santo mask. Probably not a good idea, but who knows what'll happen in the delirium of the night…
Saturday (AKA I'll Be In Multiplex #6)
My wife had chosen to see Dark Passage on Friday night, and I told her she picked the wrong Bogie flick. I'm all for a rewatch of All Through the Night, though she wants to use this slot to watch (sigh) The Little Colonel. Look, I love her no matter what. I just do.
Moment of cinematic shame: I haven't watched the essential Tarzan and His Mate in over a decade at this point, so it's time for a revisit. I'm sad to miss Sleepless in Seattle with my wife, but you know how it is. Besides, we're going to meet up next anyway to see…
Working Girl. Working Girl? Working Girl.
My wife's complicated plan involves skipping through introductions from Blood Money to Nashville to It Happened Here, while I'll probably stick it out in Blood Money and grab some food. (Look, I mentioned taking time to eat! That's a good sign!)
For Saturday at 9, my wife picked Samson and Delilah, feeding off her recent Hedy Lamar obsession. I'm torn between Waterloo Bridge and Escape from New York, though. I mean, come on, John Carpenter and Kurt Russell? That seems like an introduction that'll be hard to skip, though I also know Mark Vieira's one for Waterloo Bridge will be stunning. Decisions!
My wife is a nurse, so Student Nurses will likely incite a great deal of rage and frustration in her. Sounds like fun!
Sunday
I may opt to sleep in Sunday. I don't know if any of the TBAs will appeal to me; I'm guessing some of the pre-Codes will get a replay (Night World would be a solid guess, I think, but I've been wrong before), and they usually don't get the *big* guests back for these spots
Cold Turkey looks hilarious and I'd never heard of it before. So that sounds like a plan.
Barring any surprising TBAs, I think A Woman of Affairs and The Dolly Sisters sound like a great way to round out the festival. Ending it at the Egyptian always gives it a great finale.
Pre-Codes Featured at the Festival And My Reviews
Date & Time
Film
Thursday
@ 6:45 PM
Night World
@ the Chinese Multiplex House 6
Friday
@ 9:00 AM
Merrily We Go to Hell
@ the Chinese Multiplex House 1

Friday
@ 5:30 PM
Vanity Street
@ the Chinese Multiplex House 6

Saturday
@ 11:45 AM
Tarzan and His Mate
@ the Chinese Multiplex House 6

Saturday
@ 5:15 PM
Blood Money
@ the Chinese Multiplex House 6
Saturday
@ 9:45 PM
Waterloo Bridge
@ the Chinese Multiplex House 6
Collect My Pins!
As with previous years, my wife and I will have pre-Code pins to give out to people who approach me and say the secret phrase. (As always, the secret phrase is, Hi, can I have a pin?)
And then, if you're backing me on Patreon by the day before the festival begins, I will give you this unique Tarzan and His Mate pin: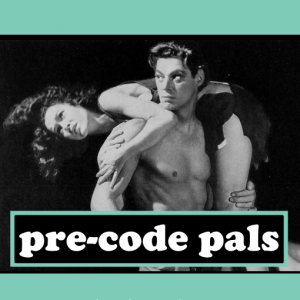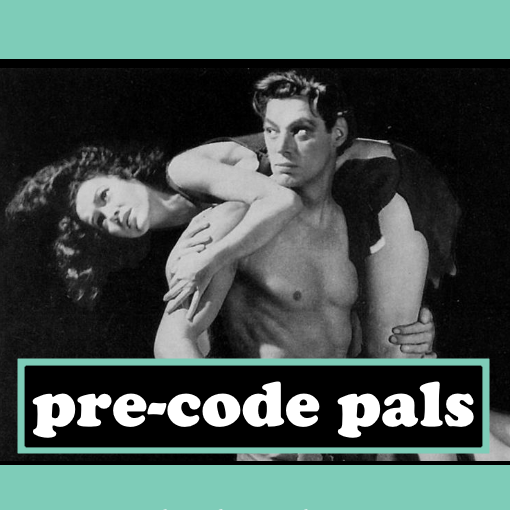 Lastly, if you're new to the festival or have questions about the proceedings, I have a Tips & Tricks Guide to TCMFF here on my site, as well as a page with my coverage from the last four fests as well. Check it out!