"That's Gene Kelly's widow! I see her here every year. I just like that I can say that."
I slept in on Thursday. Are you surprised? No. I slept in and got a free Snickers bar from the Magic Castle. Life isn't too bad, I guess.
I stumbled my way down to the Roosevelt and ran into someone. I'm beginning to remember why I kept notes last year. Joel! It was Joel! I shook him down for details about his life for any future identity fraud that strikes my fancy, and also because he's one of those really genuine, awesome guys who is also taller than me. There aren't many of them!
The TCM Boutique moved over into the "Sweet!" store in the TCL endless multiplex. Luckily, there are signs, so don't blame me, I'm not your guide. With the extra space, TCM went all out with shirts, hats, candy bars, and chocolates with the names of movies attached (Pleasure Cruise is a macadamia coconut number, and I never thought I'd be writing on specialty chocolates based on Genevieve Tobin films). One nice piece was a Footlight Parade chocolate bar, promising a "fountain" of salt and caramel. The back even notes, "It's calling you – oo – oo- oo!" (Dick move getting that song stuck in my head and not playing the movie at the festival, guys.)
I tagged along with Karen, her friend Kim, and Kristina to Larry Edmunds, that specialty bookstore I drooled over last year. I sussed out a Tobin still from Snowed Out as well as a book on Broadway in the 30s. Karen and I drooled over some repros of some old Jean Harlow fan magazine covers, and I saw way too much Eric Blore as I dug through the Warren William file.
Went back to the Roosevelt to chill in Club TCM. No free booze this year—why did I even come—but I took a glass of TCM's Wine Club Merlot (tasty) before remembering, oh, yeah, all I'd eaten that day was a Snicker's bar.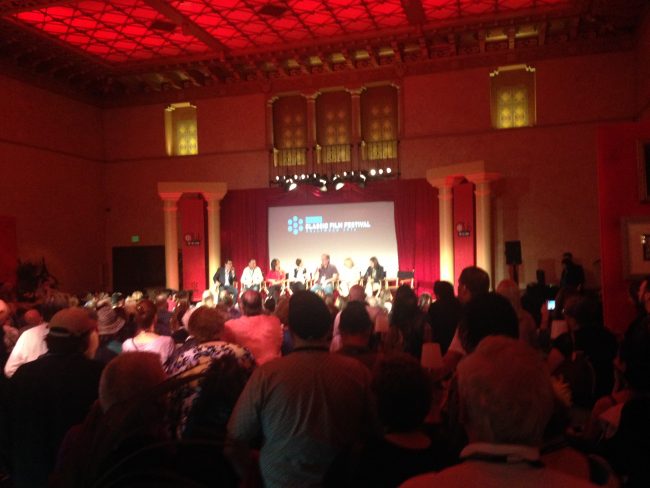 Meet TCM
Anyone who has attended a public Q&A Presentation and you can imagine how this sort of thing goes. Much of the TCM upper staff was there along with a jovial Ben Mankiewicz as they offered some news about Filmstruck (Criterion will be off Hulu by the end of year, the service will be 90% foreign/independent films) and talked about their business growing bigger and better. There were a few random rants from the audience, and your usual "I just want to make a ten minute comment about something you have no control over", but it was nice and relaxed. And I got lunch afterward so things got better.
I talked to one-of-my-favorite-people Kim for a bit about a super-secret awesome book idea I had and then we got roped into participating in…
Trivia
I'm awful at trivia, and Bruce Goldstein's yearly test of mettles is mostly focused on the obscure, always with nice little links to the festival. To give you an example, the opening question that popped up was "Who played Norman Bates in Psycho?" before a quick fade fixed it to "Who played Norman Bates' jailer in Psycho?" And if you knew it was Ted Knight, you're one up on me.
(Side note: team didn't go with my suggestion to name itself "Beef Mankiewicz", another opportunity lost there.)
My team won thanks to my awesome knowledge of Zasu Pitts and Ricardo Cortez! Oh, and a ton of knowledge everyone else had, especially Will McKinley's impressive coterie about the old Superman television show. Which is my kryptonite.
I ended up giving my winning bag to the runner up since I already got a media bag and, good god, I don't need to lug anything else to Japan. The nice old man with a limp smiled and had his first question ready to go– "Do you like Night of the Hunter?" and, fyi to film lovers out there, "Eh, it's okay I guess" is never the right answer. In fact, if someone tells you their favorite movie, lie. Say, "oh, that's a good one." That's like 50% of my takeaway tonight. Lie. Constantly. It turns out that he'd actually written a book on Night of the Hunter, which is one of those things where if literally any of my other friends were in my place they would have freaked out and gone into it, so I felt kind of bad. Not the first time of the evening, not the last.
Anyway, back to old movies and not being a bad influence on children—actually, wait. There's a ten year-old-kid here who was a "superfan" guest programmer and he's cute and charming and like at that perfect kid age where this must be magic to him. I just want to sneak up behind him and go, "Kid, when I was your age, I watched TCM, too, and look what happened to meeeeeeeeee…" and he'll shake his head and roll his eyes until he realizes that I'm a blogger and he'll scream and run into the night.
ANYWAY, really back into things. Trivia led to the "Going to the TCM Film Festival" meetup which was by the pool and when I finally realized that beer poolside is $12 a glass. My kid will no longer be attending college. I sniped for a bit with the wondrous Kristen Sales before I got my picture taken 20 times (I've had one good picture taken of me his whole festival, trust me) and then headed in to celebrate the opening of Club TCM and the opening night party.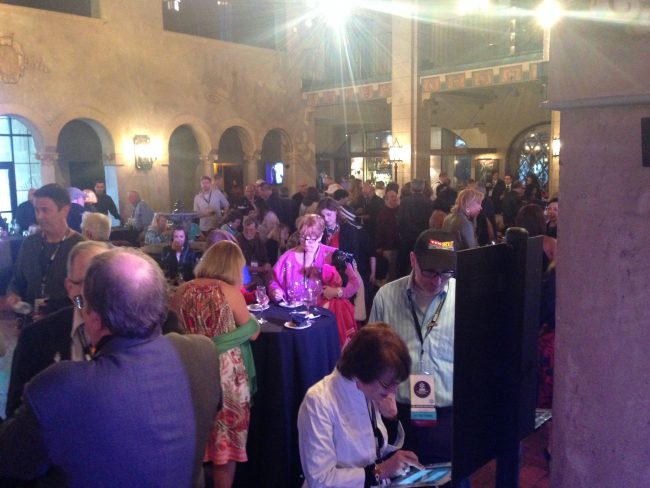 Opening Night Party
I skipped out on even trying to get onto the red carpet this year. I mean, seeing Roger Corman would be cool. And whoever else is attending (my brain is so gone right now). But, you know, drinking. I also met Monica, who wrote this piece that popped up in L.A. Weekly where I'm quoted several times. I told her I liked the structure of the piece, which I do, though then I realized I'd already told her all my good travel stories during that time and now we just had to stare at each other in silence.
Time has been going by so fast, and I realized it was time to book it to A Tree Grows in Brooklyn. I was 138th in line.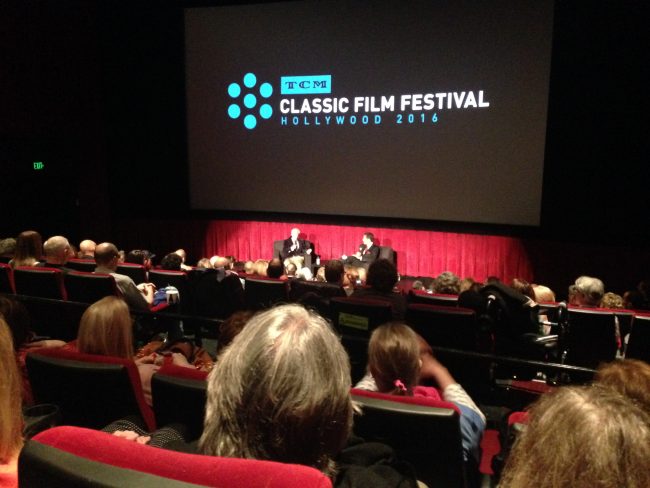 A Tree Grows in Brooklyn
Let me preface this section by saying… I didn't actually see A Tree Grows in Brooklyn. I did see the introduction by 82-year-old Ted Donaldson, who plays the kid in the movie, and he regaled the crowd with stories about Elia Kazan's first directorial effort and his first movie role playing a kid with a dancing caterpillar that intrigued Cary Grant. Look, it's Golden Age Hollywood, you know I'm not making that plot description up.
The best story he told, at least from my perspective, was his last one about his relationship to Joan Blondell. He called her something akin to "one of the most sexually appealing women I've ever known" (boy howdy) and talked about how he'd asked her to marry him—yes, when he was all of ten. He said that she was very sweet about it, didn't smirk or condescend, and then, at the end of filming, gave him an autographed portrait signed, "Joan 'I'll be waiting' Blondell".
But then I left, because right before the talk, as I conversed with the ever fabulous Christina Rice and Darin about the schedule and Tokyo and parenthood, I realized that my very expensive camera which is taking some of these very large pictures you're seeing on my blog, uh, wasn't in my bag. It wasn't anywhere. And worse, it wasn't mine—it's my father-in-law's, who is a very nice guy, but I know all well and good you don't fuck with him, so it was time to either find the camera or start digging my own grave plot.
Thank goodness for honest classic film fans, because I made it back to the Roosevelt to find that it'd been taken to security. (My wife, who is surely reading this, probably let out a sigh of relief loud enough to hear across the Pacific.) I chatted with the hotel's guard about the festival and military life, and I had my camera back. And since all of the other theaters were now packed with their 6 o'clock shows, there was only one place to go.
The Freshman
So the best reason to attend an event poolside is, besides the truly unusual venue, is that there's a bar right there. (Drinks are still $12. I'm sorry, daughter, college is overrated anyway.) Host and "Czar of Noir" (and possibly other phrases that look like they shouldn't rhyme but miraculously do) Eddie Muller congratulated the crowd on making the right pick as he sipped on a martini. The crowd for the picture were definitely those who walked the red carpet but didn't want to start the festival with the downer(-ish) All the President's Men. Everyone was dressed to the nines, and the opening talk with Lloyd's granddaughter, Suzanne Lloyd, was warm and fabulous.
That leads me to the film, which I, uh, didn't. Finish. I mentioned this in the original post that The Freshman isn't one of my favorite Lloyds, and this showing introduced a score by DJ Thomas Golubic. The title 'DJ' may have tipped you off—instead of strings, a band, or one guy going wild on an organ (cough story of my life cough), we were treated to a loud, funky remix of popular hits played over Lloyd's abortive attempts to fit into the college life. Yes, that cute aforementioned 10-year-old in his porkpie hat was treated to Vampire Weekend's f-bomb-filled "Oxford Comma" as Harold did a cute crossword with his leading lady. I actually appreciate that on some twisted level.
Look, there are people who are going to be annoyed Lloyd practicing his college dance to the Ramones—that's a given. I'm okay with that. I think remixing, reinterpreting film is a valid art, and one filled with fascinating possibilities. Golubic's choices were interesting because it's music that thematically matches the pace and the essence of the scene.  Think about it—most comedic silent film scores underline the action, hitting a cymbal on a pratfall or building as someone climbs a building bare handed. Most silent scores compliment what's happening, while Golubic's mirrored it. I think his approach drowned out a few laughs, but it was fun seeing it recontextualize the film by making the 90-year-old movie seem eerily contemporary and timeless.
Then one of the songs he played sampled "Jack and Diane" and I bolted. Look, I lived in the Midwest for 20 years, and I'm fairly certain that there was a local ordinance that demanded that that goddamn song be played on every local radio station at exactly 5:30 every single day. You will never miss it driving home. You'll always hear the song about people voluntarily crushing their own dreams to provide for each other. You will always be miserable like them. Always. Miserable.
I no longer live in the Midwest.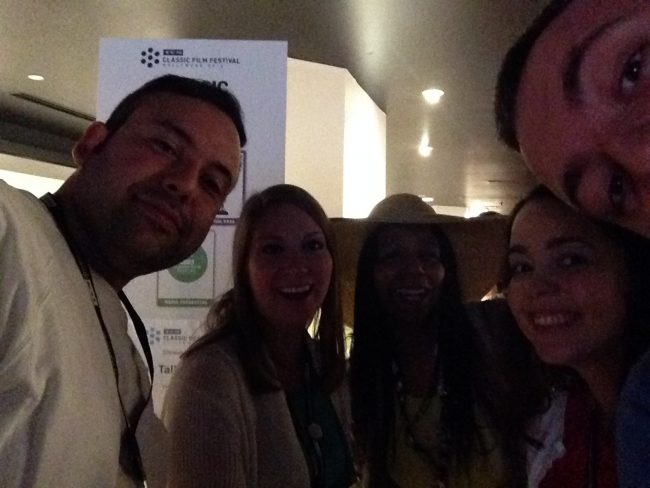 Los Tallos Amargos
So I bolted and headed to the TCL Chinese Theater 6 to get in line for the next (and last) film of the night. What I found was actually pretty surprising—a fire alarm had sounded in the theater and everyone had been forced to file out. They stood in line, some really frustrated, some wryly amused. The alarm had apparently gone off right before the ends of many of the films, meaning that you had audiences in tears as Bette Davis slipped the mortal coil in Dark Victory when WOOOP WOOOP GET OUT OR DIE suddenly popped on. It was fun for me, in a way, since I got to see a ton of people and explain why they may have seen me run in a panic earlier. I also heard Kellee Pratt toss off the funniest bon mot of the night—it was "A TCL Chinese fire drill." But the staff was extremely nice and chill and did their best to put things right, including rewinding the movies a bit (not easy for those on film) so audiences could get back into the proceedings.
Anyway, got in line for Los Tallos Amargos. The Argentinean noir, whose title translates to Bitter Stems, was, ya know, alright. It looks great, and one extended, silent flashback sequence perfectly captures the main character's utter shame and weakness with an array of dizzying shots. The plotting was a bit off, as a lot of noir clichés cropped up (eliciting a few giggles), and personally, I thought the ending lacked poetry. It was just off—that train needed to mean something—though the final scene was a nice beat all the same.
I also managed to finish a film, so go me.
I headed home. Now I am in the courtyard writing. It's cold. But I'm so goddamned jazzed right now. It's really interesting to me that this year, with the formality of real introductions done at the last go around, I fit in. Like, I've got time this year to wander off and talk to Karen and Kristina, who I barely saw in 2015, or I have the time so that I can hang around and listen to Ariel extol the virtues of One Potato, Two Potato with passion and eloquence. (I'm hoping it'll be a TBD for Sunday, though it has developed the unfortunate reputation to be known as "the potatoes movie" which may make it a hard sell for some.) This year is really just whipping by, and I'm worried it's only going to get worse.
Some speculation to wrap things up. What sound like the festival must-sees? From my gathering, the silent masterpiece accompanied by orchestra and choir Joan of Arc, the pre-Code Pleasure Cruise, the restoration of The King and I, Angela Lansbury at The Manchurian Candidate, and the presentation on the history of Vitaphone. So stay on your toes if any of those are among your must-sees.
TOMORROW – will I wake up in time for Shanghai Express? Will I ruin yet another person's dreams? Are people just going to follow me around playing "Jack and Diane" until I start flipping tables? And how the hell are people going to react to Pleasure Cruise? Damn, I can't wait to find out.
Follow me (whenever I'm on wifi) at @precodedotcom on Twitter for more dumb observations, pictures, and the rare moment of unguarded wonder. If you see me at the festival, feel free to say hi and offer me food if I'm looking especially miserable. Food is the greatest love. Well, after classic film, of course.